Ever wonder who is behind the scenes at Canine Journal®? Our team has been involved in the canine world for 210+ years when you combine our experience with dogs both personally and professionally. Each of our writers are committed to providing the most in-depth and unbiased information via research, reviews and stories to ensure you have all the tips you need for every aspect of caring for your beloved pup.
Expertise You Can Trust
Our writers have been featured in many notable online media outlets, including The Washington Post, NBC News, The New York Times' Wirecutter, Reader's Digest, Forbes, Money, People, Entrepreneur, and countless others. View our press page to see some highlights.
Learn more about your favorite authors and view their articles. You're also welcome to get in touch with your feedback or questions. Thanks for reading and stopping by to get to know us. Here's to keeping dogs smiling and their tails a-waggin'.
Michelle Schenker
Michelle holds an MBA from Vanderbilt University and has worked in marketing at Bank of America, Mattel, and Hanes. She also is a licensed insurance agent, helping pet parents protect the health of their fur babies via pet insurance. The proud co-founder of Canine Journal, Michelle is a dog lover through and through.
Since the day she was born, Michelle has lived in a home full of dogs. Her adult home is no exception where she and her husband live with Lily and Barley, their two adorable rescue pups. In addition to her love for snuggling with dogs, Michelle also has enjoyed working professionally in the canine field since 1999 when she started her first dog-related job at a dog bakery.
Alex Schenker
Alex holds BS degrees in Management Science from the University of California at San Diego, and Computer Science from the New Jersey Institute of Technology. He is the co-founder of Canine Journal, and his first dog was a Dalmatian named Domino. Alex and Domino quickly became best pals as dog walks, hikes, an uncanny sense of what Alex was going through at any particular time, and other canine adventures enhanced Alex's life and well-being.
Alex's experience as a parent to several dogs since then has given him over 15 years of canine insight and perspective that he brings to Canine Journal. While he's been versed in everything from basic dog training techniques, canine diet and health, to pet insurance, the takeaways he holds most dear are the inspiration to live every moment to the fullest and start each day with gusto and a tail wag.
Kimberly Alt
Kimberly received her Bachelor of Arts in multimedia journalism from Simpson College. She has been writing about dogs since 2014, covering subjects such as dog insurance, training, health, accessories and more. Her natural curiosity helps her research as she seeks the truth when learning about, comparing and personally testing canine products and services. With every piece she writes, her goal is to help our readers find the best fit for their unique needs. Kimberly grew up in a family that loved Labrador Retrievers and remembers running and playing in the yard with them as a child.
In 2017, she and her husband adopted their Coonhound mix, Sally, from a local shelter. Kimberly's research was put to good use since Sally faced some aggression issues with other dogs and needed some training to be an inside dog. She worked daily with Sally and sought help from professionals to help Sally become the happy pup she is today. One of Kimberly's favorite pastimes is spoiling Sally with new toys, comfy beds and yummy treats (she even makes homemade goodies for her). She tries to purchase the safest products for Sally and knows that each canine has their own specific likes and dislikes. Kimberly is passionate about dogs and knows the bond between humans and canines is like no other.
Sally Jones
Sally holds a BA in English from James Madison University and began her 25-year writing career as a grad student at the UNC-Chapel Hill School of Journalism & Mass Communications. She's been a pet parent since college years (and spent her whole childhood with pets). Now as a parent of two teenagers, she's made sure to raise her daughters to learn how to love and care for pets (and other animals) in the most responsible and loving ways. As a result, she and her daughters now have 5 rescued dogs and cats who essentially rule their home! Sally has also volunteered over the years to help raise funds for various animal nonprofit organizations.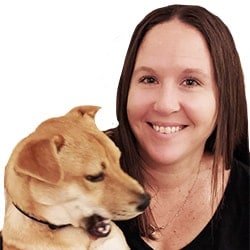 Julie Fritz
Julie has been writing professionally since 2012. Growing up, she enjoyed living in a house that always had a Brittany Spaniel and is very happy now when she gets to spoil the dogs in her life with love and snuggles. She enjoys writing about a variety of things, from blogging about her family to informative articles about dogs, technology, events, and healthcare. In her free time, you might find her hiking, trail running, biking, or swimming. You might also find her in the kitchen where she loves to cook and bake.
Sadie Cornelius
Sadie graduated from the Moody School of Communications at the University of Texas at Austin with a Bachelors's in Advertising and a minor in Business. Her love of pets started from an early age with her childhood cocker spaniel, Peanut, and cats Lucy and Tabby. She is currently a dog mom to Georgie, a Cavalier King Charles Spaniel. She has been covering dog-related topics since 2012 and is proud to share her latest personal experience, resources, and information with fellow pet parents.
Apiffany Gaither
Apiffany manages comments for Canine Journal. She holds a graduate degree from Nova Southeastern University and an undergraduate degree from Meredith College. Apiffany loves all things dog-related, volunteering and fostering for a local maternity-based dog rescue in Charlotte, NC.
She is truly in her element when spending time with her husband and five rescue dogs (Maple, Gus, Diggle, Maya, and Morticia) or hanging upside down in aerial classes or exploring the National Whitewater Center.

Jeff Butler
Jeff received his Bachelors in Business Administration with a Concentration in Finance from Malone University. He can't remember a time in his life without dogs, his family always had dogs growing up. Now with three children of his own, his dog Gary is essentially a fourth child, and he enjoys seeing his kids' love of dogs blossom. Jeff has actively researched dog-related topics since 2012.
Dane Morgan
Dane is a US Army veteran and a self-taught web developer. He passed on formal education and opted to make the whole world his classroom instead. He's worked in several different industries over the years but has always gravitated toward the computer sciences.
He has loved and shared his life with dogs as far back as he can remember. His current best friend is Lyle, 'The Big Brown Dog.' They met at the Cape Girardeau ASPCA shelter in 2010 and they've been exploring nature, geocaching, napping, and eating together ever since.
Lily And Barley Schenker
Lily and Barley are the Co-Chief Dog Officers and the pups behind the scenes at Canine Journal. Their combined 13+ years of life as mixed-breed dogs provide them with the unique perspective and experience you can only gain from squirrel hunting, tail chasing, butt sniffing and trading tricks for treats. When not lounging outside in the sun, they spend time sidled up to the humans who fill this website with stories and love.