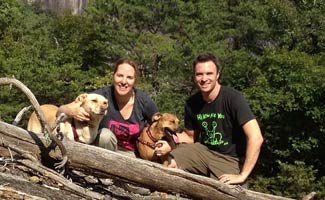 Welcome Dog Lovers! We are your go-to resource for all things dog in every aspect of caring for your beloved pups. From health concerns and food to pet insurance and dog resorts, we are here for you and your favorite furry friends.
We love dogs! In fact, we would adopt every dog that needed a home if we could!
Where does this love of dogs come from, you might ask. Well, I spent my entire childhood surrounded by wonderful dogs – four silly and loving Shih-Tzus – E-Nuff, Jazz, Khan and Pooh. As an adult, I was blessed with the companionship of my dear and charming 75-pound "lap dog" Dalmatian, Domino, for almost 14 years. And since then it's been rescue city around here: Storm (black lab mix), Bella (a yellow lab mix), Barley (rat terrier/feist/pittie mix), and Lily (dingo/rhodesian ridgeback/terrier/pit bull/sweetness).
The Canine Journal story started with me, a devoted dog-lover who wanted to save all the dogs but did not have the space, time or money to do so physically. So, we launched CanineJournal.com, a one-stop resource for all dog tips, questions and concerns. We offer our readers the content you want to create a better life for our four-legged friends. To learn more about us, visit our team page.
A big thank you to Kelly Yates for the original design of our logo and to Stephen Lockwood from Astronaut Crew for its recent evolution.
Please take your time and explore the site! If you get lost, use the search box at the top or ask our community for help. And we'd love it if you'd pass CanineJournal.com along to all of your pet loving friends!
– Michelle and her canine crew