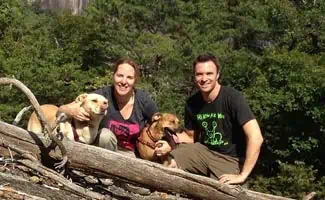 Welcome, Dog Lovers! Canine Journal® is your go-to resource for all things dog in every aspect of caring for your beloved pups. From health concerns and food to pet insurance and dog resorts, we are here for you and your favorite furry friends.
We love dogs! In fact, we would adopt every dog that needed a home if we could!
Where Does Our Love Of Dogs Come From?
Well, I spent my entire childhood surrounded by wonderful dogs – four silly and loving Shih-Tzus – E-Nuff, Jazz, Khan and Pooh. As an adult, I was blessed with the companionship of my dear and charming 75-pound "lap dog" Dalmatian, Domino, for almost 14 years.

And since then it's been rescue city around here: Storm (black lab mix), Bella (a yellow lab mix), Barley (rat terrier/feist/pittie mix), and Lily (dingo/rhodesian ridgeback/terrier/pit bull/sweetness).

– Michelle Schenker, Co-Founder
The Canine Journal® story started with a devoted dog-lover who wanted to save all the dogs but did not have space, time, or money to do so physically. So, we launched CanineJournal.com, a one-stop resource for all dog tips, questions, and concerns. We offer our readers the content you want to create a better life for our four-legged friends. To learn more about us, visit our team page.
Made In The Good 'Ol U.S.A.
We pride ourselves on being 100% U.S.-based, and our content is 100% USA-made.
A big thank you to Kelly Yates for the original design of our logo and to Stephen Lockwood from Astronaut Crew for its evolution.
Please take your time and explore the site! If you get lost, use the search box at the top or ask our community for help by commenting at the bottom of the article you're reading. And we'd love it if you'd pass CanineJournal.com along to all of your pet-loving friends!
Where Can I Find Canine Journal® On Social Media?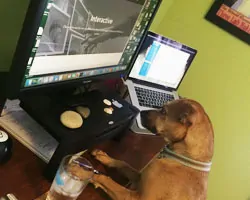 Our web community goes far and wide beyond this website, and we are proud to offer you some awesome cute photos, funny dog quotes, pup training tips, dog food reviews, and more wherever you may want to hear from us on social media. Join our pack today, and let's start sharing all the puppy love!
Where Is Canine Journal® Located?
We are located in beautiful Winston-Salem, North Carolina. If you need to reach us via snail mail, please can contact us at 380-H Knollwood St, #165, Winston Salem, NC 27103. However, we prefer to save trees, so we suggest you try our contact form first.
Is Canine Journal® Affiliated With Any Charitable Organizations?

Yes, Canine Journal® is a proud supporter of our local Forsyth Humane Society. Your participation in our web community is not only special to us here at Canine Journal® but also crucial to these organizations' rescue, spay/neuter, and life-saving missions.
Your Testimonials Keep Our Tails Wagging
We love reading about how we have helped you live a happier, healthier life with your dogs. Here are a few testimonials our readers have shared with us over the years. If this web community has helped you in any way, please leave a comment below, letting us know so we can add them here. And thank you for your continued support – helping you and your dog live a better life together is why we do what we do every single day.
Thank you for all the help! My dog has starting to eat grass this morning and I was afraid that grass can affect the dog's diet. So I went to CanineJournal.com and I found out why he was eating grass! 🙂 Thanks a lot! – Crystal

Thank you for this very good article. Healthy dogs are really important for me. Dogs can live 17 years. I learned it from one website. They also give very important information about food that dogs cannot eat. I have a little Golden Terrier and your article really helped me. – Martha

Thank you for the tips. Actually I'm having trouble feeding my Maltese because he's not eating his dog food which his former owner gave me when he passed the dog to me. I'm so worried so I might bring him to his vet to make sure that he will be fine. Is it OK if I feed him chicken with rice? – Sarah

Thank you for your comparison. I have recently changed my dogs food to Taste of the Wild. Being a Corgi she was too overweight for her frame. Then I found out that she has an allergy to gluten and grains. Since changing her diet she is slimming up and eats less food. I feel better knowing that she is actually absorbing the food what she is eating and not just storing it as fat. Thank you for sharing. – Michele

Thank you for replying. I was asking because we are picking our new puppy up this weekend and I wanted to be able to put a collar on him to travel to his new home with us. I want to be able to get the right size collar for when we pick him up. – Tanya