A flea infestation is arguably the worst part of owning pets. These prolific parasites can take over your home in a matter of days if you don't get them under control quickly. If you've found a few fleas on your pup, it's time for action. See our top picks for the best flea shampoo for dogs to kill these pests in their tracks, whether you're looking for medicated or all-natural products.
Best Flea And Tick Shampoo For Dogs
We've chosen our top picks based on how effective they are, the combination of safe ingredients, their reputation, customer feedback, and pricing.
Best Overall: Adams Plus Flea & Tick Shampoo With Precor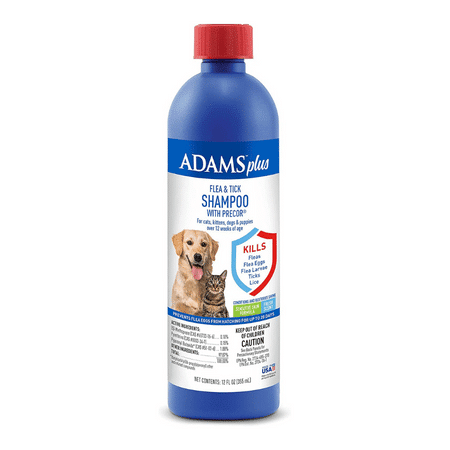 View on Amazon | View on Chewy
The most popular flea killer shampoo for dogs on the market, Adams Plus is extremely effective in killing fleas, flea eggs, flea larvae, ticks, and lice. It's fast-acting and provides 28 days of control for pre-adult fleas. This shampoo is medicated with methoprene, pyrethrins, and piperonyl butoxide, but it contains very low levels that are considered safe for both dogs and cats.
Adams Plus is also formulated with soothing aloe, lanolin, coconut extract, and oatmeal to be easy on sensitive skin. Many pet parents say it's a fantastic flea killer, has a pleasant scent, and leaves their dogs' coats super soft and shiny. Safe for dogs 12 weeks and older.
Price
Best Overall (Runner-Up): Vet's Best Flea and Tick Advanced Strength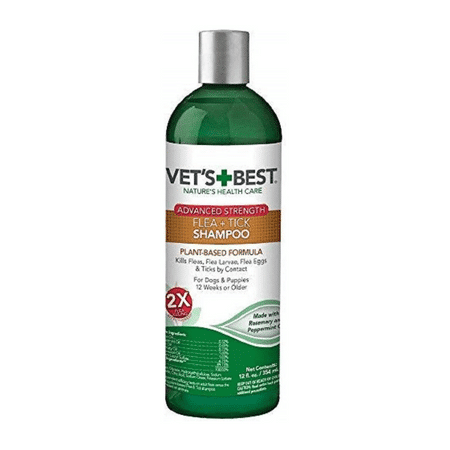 View on Amazon | View on Chewy
If you're not a fan of chemicals, this Vet's Best Advanced Strength shampoo uses a blend of essential oils to get the job done. And many pet parents say it's quite effective. It's vet-formulated to kill fleas, flea eggs, flea larvae, and ticks on contact. While some customers raise concerns over essential-oil toxicity in dogs, this shampoo contains heavily-diluted amounts of thyme, peppermint, clove, rosemary, and cedarwood oils.
These essential oil concentrations are generally considered safe for dogs, but cats are particularly sensitive to essential oils. So, this product isn't recommended for cats. Some users said the shampoo's odor is too strong, but others like the scent. Safe for dogs 12 weeks and older.
Price
Best Natural: TropiClean Natural Flea & Tick Shampoo For Dogs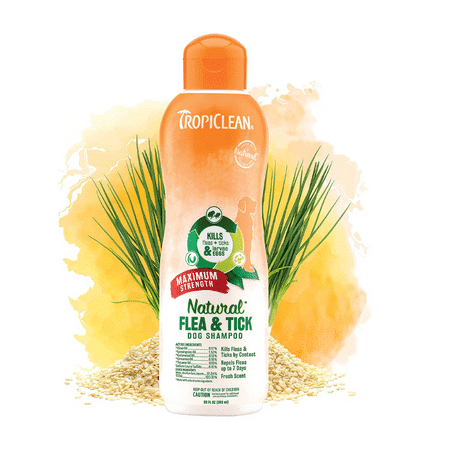 View on Amazon | View on Chewy
TropiClean is another extremely popular dog flea shampoo that contains safe concentrations of essential oils (clove, lemongrass, cedarwood, cinnamon, and sesame) as active ingredients. It's formulated to kill adult fleas, flea eggs, flea larvae, and ticks, but it only provides seven days of flea control.
One thing to note about this shampoo is that it contains the anionic detergent and surfactant sodium lauryl sulfate (SLS), a chemical compound commonly used in shampoos and cleaning products to create a lather. While SLS can be naturally-derived or synthetic, the plant-derived SLS in TropiClean is all-natural.
While SLS may cause mild eye irritation in pets, scientists consider it safe in small concentrations in pet shampoo. We wanted to address this issue because there's a lot of misinformation out there about SLS causing cataracts or permanent eye damage in dogs.
This product isn't recommended for cats due to heightened essential oil sensitivity. Safe for dogs 12 weeks and older.
Price
Best Budget: Sentry Oatmeal Flea And Tick Shampoo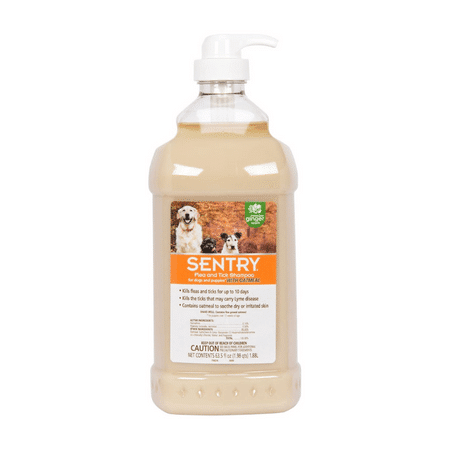 View on Amazon | View on Chewy
If you have multiple dogs in your home and are facing an unfortunate outbreak of fleas, you may be looking for the best bang for your buck in a flea shampoo. If so, this Sentry product could be a good solution. Permethrin, a synthetic insecticide of the pyrethroid class, is the active ingredient in this shampoo. It's safe for dogs but toxic in cats until it dries, so avoid using this product on cats.
It also contains oatmeal to soothe itchy and dry skin and is great at conditioning your pup's coat. The downside is that it only kills adult fleas and ticks but not flea eggs or larvae. And it only provides 10 days of flea control. Safe for dogs 12 weeks and older.
Price
Best For Puppies: Biosilk Tearless Puppy Shampoo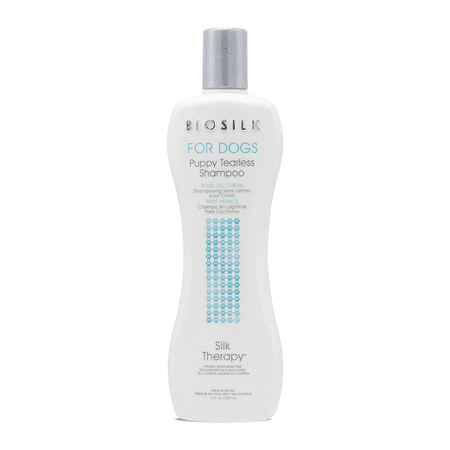 Unfortunately, you should avoid shampoos formulated to treat fleas on puppies under 12 weeks of age because they're too strong for their young bodies. While it won't kill or deter fleas, this alternative puppy flea shampoo features soothing ingredients like milk protein, aloe vera, honey, chamomile, and vitamin E that can help relieve your youngin's itchy skin from flea bites.
This shampoo is safe for puppies eight weeks and older. Some tips on managing fleas on little ones include:
Price
Looking For Home Remedies?
If you'd rather tackle fleas on your dog and in your home entirely naturally, check out our article on home remedies for fleas. We recommend several all-natural products, homemade "recipes," flea soap for dogs, and more. We also give you extensive advice on how to get rid of fleas in your home and your yard using entirely natural methods and products.
Follow These Tips To Rid Your Home Of Fleas (Video)
Once you've treated your furry friend, it's time to act fast to kill the fleas lurking in your home. This video has some excellent advice to make sure you cover all your bases.
Consider A Long-Lasting Flea Preventative
Topical flea-preventative treatments are considered the gold standard of flea control in conventional veterinary medicine. And many vets agree that they're much more effective than flea shampoos and collars. See our ultimate guide on the best flea and tick prevention for dogs, which includes our top picks for topicals and sprays. You'll also want to check out our guide on how to get rid of fleas to prevent re-infestation.
Tagged With: Comparison, Fleas, Skin, Ticks