Believe it or not, sunglasses and goggles are popular accessories for dogs. But does your dog need glasses? Are they just a waste of money? Glasses for dogs do more than merely bring out the hipster in your dog. They can help their eye health and vision. Learn more about this functional fashion statement and prescription glasses for dogs.
At A Glance: Best Dog Goggles
| Overall | Small Dogs | Medium Dogs | Large Dogs |
| --- | --- | --- | --- |
| | | | |
| Doggles ILS | Enjoying | Vevins | Pet Leso |
| | | | |
| | | | |
Do Dogs Need Glasses?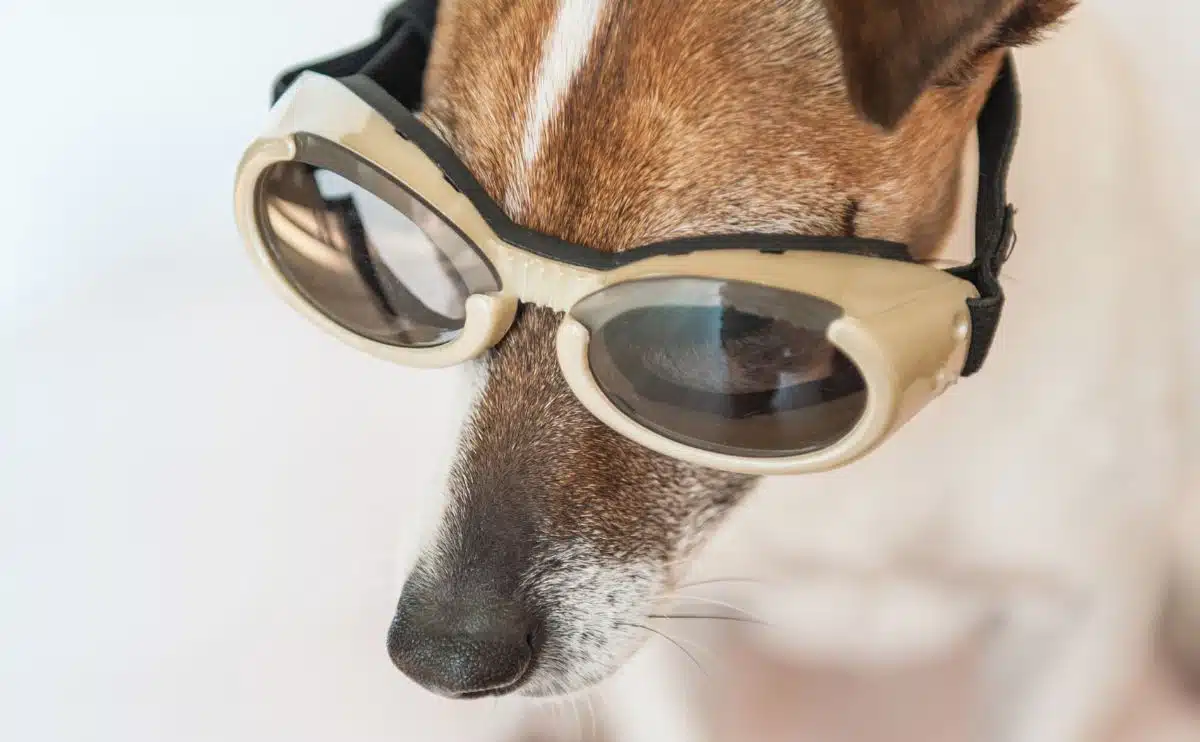 Dogs are naturally nearsighted. In fact, they have terrible eyesight compared to humans. But can can dogs wear glasses?
According to Psychology Today, researchers have found that dogs have 20/75 vision compared to humans with normal 20/20 vision. This means that an object a dog can barely recognize at 20 feet away is clear enough for a person with normal vision to identify at a distance of 75 feet.
Fortunately, Doggles, a leading manufacturer of dog eyewear, offers prescription dog glasses for pups of any size. The company says their corrective lenses have helped dogs who previously missed their mark on agility courses but now can pass. To get eye sight-correcting Doggles, you'll need a prescription from your vet or a vet ophthalmologist. An autorefractor machine is used to determine the prescription strength, and the process is similar to finding the prescriptive strength of lenses for very small children.
Learn more about how to get Doggles prescription glasses on their website.
Why Would My Dog Need Goggles Or Sunglasses?
Protecting your dog's eyes from damaging UV rays, debris, or wind damage is just as significant as protecting your own eyes if you and your pup spend a lot of time outside. Goggles and sunglasses are particularly beneficial for older dogs with eye problems or diseases.
Goggles protect your dog's eyes from outdoor irritants such as dust, sand, ice, snow, water, and other elements. They're also ideal for dogs who spend a lot of time in open vehicles and boats to guard against wind damage.
Our Personal Experience With Googles For Dogs
"I used doggles for Maple when she was younger briefly to protect her eyes when because she loves having her head out the window. Nothing required but it was cute and made me feel better about any debris. We used them at the dog beach as well to make sure she did not get sand in her eyes."

– Apiffany, Canine Journal
What Are The Best Dog Goggles & Sunglasses?
We chose our top picks based on several factors, including fit, comfort, durability, protective features, and more. The best dog goggles are easy to put on your pup and have polarized lenses, rather than clear lenses, to reduce glare and shield their eyes from UV rays.
Best Overall: Doggles ILS Review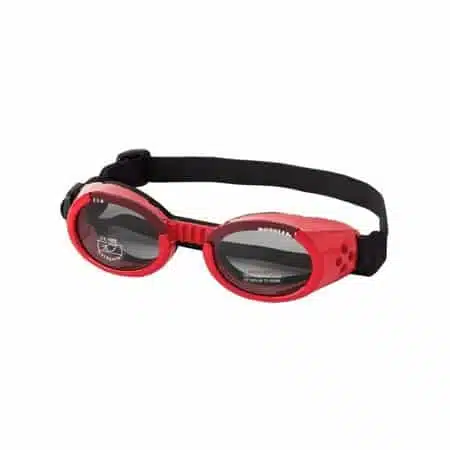 View on Amazon | View on Chewy
Doggles has been making top-quality dog goggles for over 20 years. Its ILS line is feature-packed for optimal fit and comfort. These goggles have 100% UV protection, shatter-proof lenses, and anti-fog treatment on the inside of the lenses.
The lenses are also interchangeable and replaceable so that you can use them for a variety of lighting situations. Doggles come in various sizes and feature an extra-wide nose bridge for a more accurate fit around your dog's eyes.
| Pros | Cons |
| --- | --- |
| UV, debris, and wind protection | Some complaints that the lenses scratch easily |
| Soft elastic adjustable straps for the perfect fit | |
| Extra-wide nose bridge | |
| Waterproof and anti-fog treated | |
| Deep lens cups and padded, flexible rubber frame | |
| Available in 5 sizes and 13 colors | |
Price & Tech Specs
Best For Small Dogs: Enjoying Dog Goggles Review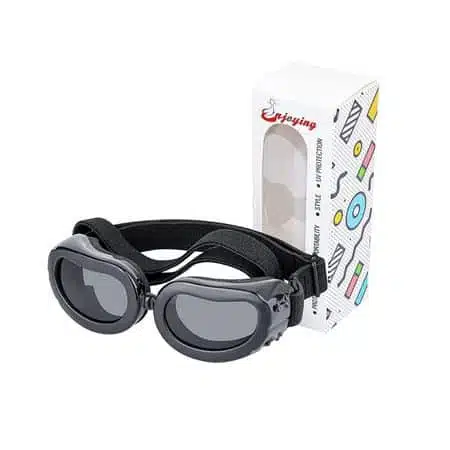 If you have a small dog, Enjoying Dog Goggles could be your best bet. These dog sunglasses/goggles feature easily adjustable straps for your dog's head and chin. And the straps stay put once you get the right fit. Many customers say these are the only dog goggles their dog will keep on.
| Pros | Cons |
| --- | --- |
| UV, debris, and wind protection | Only ideal for small dogs from 10-20 lbs |
| Adjustable straps that don't slip off | Some customers say the foam folds over easily |
| Users say they're easy to put on and adjust | |
| Waterproof | |
| Foam-cushioned frames for added comfort | |
Price & Tech Specs
Best For Medium Dogs: Vevins Dog Goggles Sunglasses Review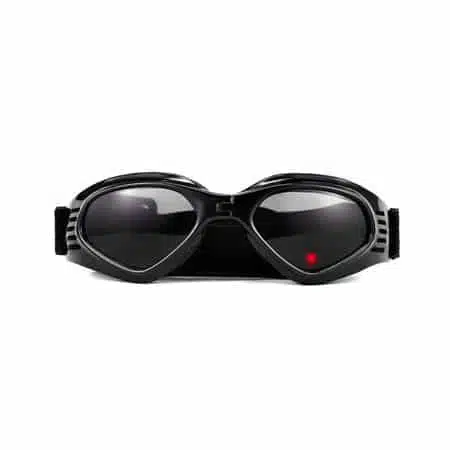 Vevins dog goggles come in one size, but the straps are adjustable enough to accommodate a wide range of sizes. These glasses are 100% UV resistant, waterproof, and have a flexible bridge design that fits many face shapes. Customers say they're high-quality and durable.
| Pros | Cons |
| --- | --- |
| UV, debris, and wind protection | Won't fit tiny dogs |
| Adjustable head and chin straps | |
| Waterproof | |
| Folding bridge design and foam pads for a flexible and comfortable fit | |
| Attractive design available in 6 colors | |
Price & Tech Specs
Best For Large Dogs: Pet Leso Large Dog Goggles Review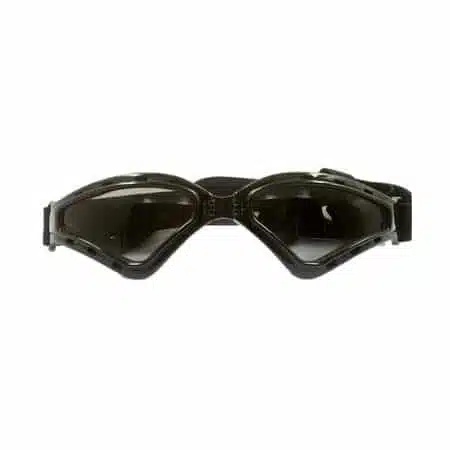 Pet Leso's goggles are ideal for medium to large-sized dogs. They're durable and have dark lenses to protect your pup's eyes from the sun. They're also suitable for different sizes and face shapes with quickly adjustable elastic head and chin straps and two hinges at the nose piece to work for a thin or wide nose.
| Pros | Cons |
| --- | --- |
| UV, debris, and wind protection | Won't fit dogs under 20 lbs |
| Light and flexible over the nose area | Some complaints that the straps come undone too easily |
| Lenses made with shatter-proof polycarbonate | No strap measurements are available online |
| Waterproof | |
| Two hip styles to choose from | |
Price
How Do Dogs See The World? (Video)
Didn't know that dogs are nearsighted? Aren't you curious to learn more about how your dog's vision compares to yours? This brief video is full of fascinating insights into how your dog views the world.
Other Gear For Your Active Dog
If your dog loves car rides, goggles aren't the only protection you need. Don't forget about your car seats. Car seat covers for dogs can help keep all the fur and dirt at bay. Do you like to take your dog hiking with you? You can let them roam free but know where they are using a GPS collar. You can even outfit your pup with a doggie camera. And don't forget to protect their feet from harsh terrain with dog booties.
Tagged With: Comparison, Eyes