Did you know there are dog treadmills for sale that can help your pooch get in shape? A treadmill has many benefits and can help dramatically improve the quality of your dog's life. There are probably more benefits to owning a dog treadmill than you've considered. Read more about treadmills for dogs and find out which one we think is best for your furry friend.
Why Does My Dog Need A Treadmill?
Dogs need exercise just like us. A doggy treadmill can help keep your pup healthy. Below are some reasons you may want to look into a treadmill for dogs.
Prevent Obesity – Regular exercise and a proper diet can keep your furry friend healthy and happy.
Lower Vet Bills – Exercise improves your dog's overall health, which means fewer trips to the vet.
Reduces Allergies – If your dog (or you) suffers from allergies and can't be outside for too long, he can still get the exercise he needs at home.
Exercise Takes Time – You may not always have time to exercise your dog outside, but you can exercise your dog at home.
Dog Treadmill Safety
Before you purchase a treadmill for your dog, it's a good idea to talk to your vet about it. Make sure your dog is in good health, and a treadmill is an okay form of exercise for him. If your vet okays it, be sure to read the instructions thoroughly. It's essential to keep your dog safe and ask the manufacturer any questions before using the treadmill.
Best Dog Treadmill: dogPACER Treadmill Review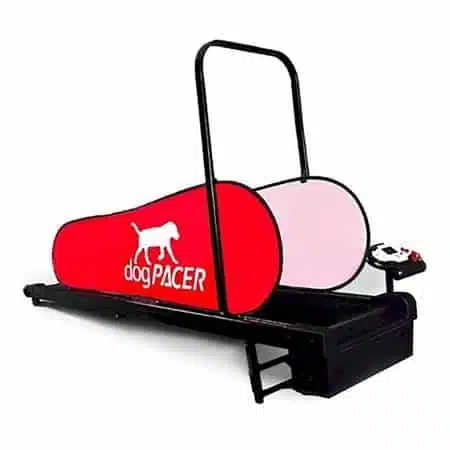 DogPACER has treadmills in two sizes: a regular one for dogs up to 179 pounds and a mini dogPACER for smaller dogs up to 55 pounds. This treadmill is not a self-propelled dog treadmill. It has a small motor that can get your pup running to speeds of 7.5 mph and has an adjustable incline.
The foldable design allows for easy storage, so it won't clutter up your space, and it comes with a lifetime warranty. DogPACER will enable you to exercise your dog indoors simply and safely.
The reviews for the dogPACER doggie treadmills are overwhelmingly positive. However, some customers had trouble with the motor, while others said customer service was not responsive or helpful.
| Pros | Cons |
| --- | --- |
| Quiet motor | Some users reported motor issues |
| Folds up | Customer service can be spotty |
| Adjustable incline | |
| Safety key | |
| Great reputation | |
| Excellent performance | |
Price
Runner-Up Treadmill: PETSITE Dog Treadmill Review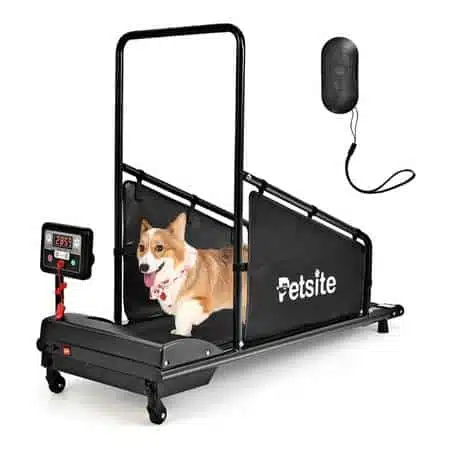 The PETSITE Dog Treadmill is a motorized treadmill that can help you get your small to medium-sized pup (up to 200 pounds) the exercise he needs indoors. This treadmill has very similar features to the dogPACER. They both have identical speeds, incline abilities, and safety features. It does go up to the same speed of 7.5 mph as the winner.
The PETSITE is the runner-up because it only comes in one size and can't fold down for storage. Also, while its weight capacity is higher than the dogPACER, larger dogs won't fit due to height and length restrictions.
| Pros | Cons |
| --- | --- |
| Quiet motor | Doesn't fold up |
| Adjustable incline | Works best for smaller dogs because of height and length restrictions |
| Safety key protection | |
| Cones with remote control | |
| Excellent performance | |
Price
Best Manual Dog Treadmill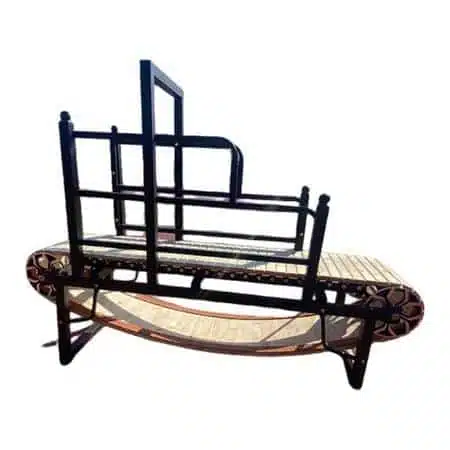 If you want a manual dog running machine without a motor, you might want to check out this treadmill.
It's only for small dogs, but the free-standing machine doesn't require power, and your dog can entertain themselves whenever they want (although supervision is always recommended). This treadmill has safety sides and a natural wooden tread that mimics a real-life deck or boardwalk.
| Pros | Cons |
| --- | --- |
| Cord-free and can use indoors or outdoors | More expensive |
| Quieter than motorized machines | Works best for smaller dogs because of height and length restrictions |
| Safety training rainings | Only one speed |
| Excellent performance | |
Price
Dog Treadmill Training Tips
You're probably wondering how to train a dog to use a treadmill, and once you do, how can you use treadmill training to exercise your pup? We have some tips to help you start.
Training A Dog To Use A Treadmill
The first thing you should do before you get your dog on the treadmill is to allow him to explore on and around this new "toy." Run the motor so he can get used to the sound before you put him on the treadmill.
Next, put your dog on a leash, get him on the treadmill, and turn the treadmill to the lowest setting. Stand next to your pup, holding the leash as he walks. Increase the speed slowly and over several sessions to ensure he is comfortable and is figuring out how to use the treadmill. Keep it fun by giving praise and treats so your dog enjoys the experience.
Treadmill Training For Exercise
Once your dog is comfortable on the treadmill, you can allow him to run at his desired speed for 30 seconds to a minute. Each day, you can increase the speed by 30 seconds to one minute. Eventually, you can let him run for 15 to 30 minutes, depending on his athletic ability.
Frequently Asked Questions
Our experts put together a list of some frequently asked questions about treadmills for dogs.
Are Dog Treadmills A Good Idea?
Treadmills are an excellent tool to help exercise your pup for a few reasons.
Can use during inclement weather
Helps decrease anxiety and nervousness
Can help build confidence in timid dogs
Can become part of a consistent routine
How Much Is A Dog Treadmill?
Depending on the brand, they can range from a few hundred dollars to over a thousand.
Is There A Puppy Treadmill?
Because puppies can be a bit clumsy, you have to be careful with them on a treadmill. It would be best to wait until they are at least six months old to start them on a treadmill.
Do I Need A Harness?
Using a harness is debatable. Some trainers say that using a harness can be dangerous, while others believe attaching a leash from each side of the treadmill to a harness keeps the dog in the center of the machine and prevents him from falling off.
How Do I Get A Scared Dog On A Treadmill?
Want to know how to get a scared dog on a treadmill? Start slow and be consistent. Use treats to get your dog to stand on the machine while it's off and praise him when he gets on. After you notice an increase in his comfort, see if you can get him to walk slowly on the treadmill. Again, use treats and praise to encourage a positive response. Over time, you can increase the speed as long as he is doing well. With a scared pup, slow, consistent exposure will work best.
How Do I Get My Dog To Run On A Treadmill?
You can put a dog on a treadmill and hope for the best, but if you want to know how to get your dog to run on a treadmill, that is a little different. Once your pup is comfortable getting on the treadmill, slowly increase the speed each time using it until you get him up to a running pace.
Can Dogs Walk On Treadmills?
Dogs can keep whatever pace is comfortable on a treadmill, from walking to running.
Underwater Treadmill Helps Dogs Heal
Have you ever heard of an underwater treadmill for dogs? This three-minute video from Insider shows you how this water treadmill for dogs, also known as a dog hydrotherapy treadmill, helps vets get dogs moving after an injury or surgery.
Should I Consider A Pet Wellness Plan?
Treadmills are an excellent way to get your pup a little more exercise. If you're concerned about making sure your pup stays healthy, you might want to consider a pet wellness plan to help you cover the cost of staying on top of his preventative healthcare.
While pet insurance covers your pup for accidents and illnesses, routine wellness is not typically covered. A wellness plan covers annual checkups, some standard tests like bloodwork, routine vaccines, dental cleanings, and more. It's another way to ensure you're doing all you can to keep your pup as healthy as possible.
Tagged With: Comparison, Exercise