To sustain this free service, we receive affiliate commissions via some of our links. This doesn't affect rankings. Our review process.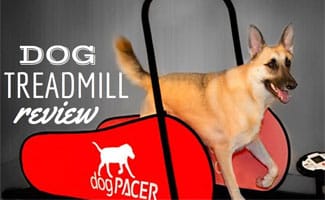 Did you know there are dog treadmills for sale that can help your pooch get in shape? A doggie treadmill has many benefits and can help dramatically improve the quality of your dog's life. In fact, there are probably more benefits to owning a dog treadmill than you have considered. Read more to learn about treadmills for dogs and to find out which one we think is best for your furry friend.
Why Does Your Dog Need a Treadmill?
Dogs need exercise just like us. A doggy treadmill can help keep your pup healthy. Below are some reasons you may want to look into a treadmill for dogs.
Prevent Obesity – Regular exercise and a proper diet can keep your furry friend healthy and happy.
Lower Vet Bills – Exercise improves your dog's overall health which in turn means fewer trips to the vet.
Reduces Allergies – If your dog (or you) suffers from allergies and can't be outside for too long he can still get the exercise he needs at home.
Exercise Takes Time – You may not always have time to exercise your dog outside, but you can exercise your dog at home easily.
Dog Treadmill Safety
Before you purchase a treadmill for your dog, it's a good idea to talk to your vet about it. Make sure your dog is in good health and the treadmill is an okay form of exercise for him. If your vet okays it, be sure to read the instructions thoroughly. It's important to keep your dog safe and ask the manufacturer any questions before using the treadmill.
DogPacer dog treadmill Review
View on Amazon
DogPacer has the best dog treadmill in two different sizes: one for smaller dogs and one for larger dogs. The reviews for the DogPacer doggie treadmills are overwhelmingly positive. In fact, in searching through dog treadmills reviews online, we couldn't find any cons for this dog treadmill.
Pros

Cons

Quiet motor
Folds up
Lifetime warranty
Great reputation
Excellent performance
Price
Dog Pacer LF 3.1 Dog Pacer Treadmill – $558.75

Dogs 1 to 179 pounds
71″ x 16.5″ running surface
84.4 pounds product weight
0.5 to 7.5 mph
Minipacer Treadmill by Dog Pacer – $522.85

Dogs 1 to 55 pounds
36.6″ x 16″ running surface
48.4 pounds product weight
0.5 to 7.5 mph
Video of Dogpacer in Action
Watch Livi workout on the DogPacer treadmill.
Treadmills Improve Overall Canine Health
A treadmill does the same for your dog as it does for you. So why not get a doggie treadmill to put next to your's so the two of you can workout together. How cute would that be?!
What differences do you think a treadmill could make in your dog's life?
We are a participant in the Amazon Services LLC Associates Program, an affiliate advertising program designed to provide a means for us to earn fees by linking to Amazon.com and affiliated sites.
Disclaimer: The information provided through this website should not be used for diagnosing or treating a health problem or a disease. It is not a substitute for professional care. If you have or suspect you may have a health problem, you should consult your health care provider.
Disclaimer: This website contains reviews, opinions and information regarding products and services manufactured or provided by third parties. We are not responsible in any way for such products and services, and nothing contained here should be construed as a guarantee of the functionality, utility, safety or reliability of any product or services reviewed or discussed. Please follow the directions provided by the manufacturer or service provider when using any product or service reviewed or discussed on this website.