The best pet insurance companies in 2023 are Pets Best, Fetch, Figo, Healthy Paws, Embrace, and Lemonade, according to Canine Journal's evaluation and inspection of price, coverage, customer service and reputation, claim processing, plan customizations, and more. Extensive plans are also available from Trupanion, ASPCA Pet Health Insurance, Spot Pet Insurance, and Paw Protect.
What Is Pet Insurance?
There are many unknowns in owning a pet. Will Fido be diagnosed with a chronic condition? Will he tear his ACL during a game of fetch? Will he develop an appetite for eating shoes, wood chips, and other objects? All of these can result in unplanned trips to the vet, which means unexpected costs and stress for you.
This is where pet insurance can ease your mind. Instead of facing hundreds or thousands of dollars in vet bills, you can focus on your pet's health.
Pet insurance helps pay for covered veterinary treatment of the insured pet's illnesses and/or injuries. Insuring your pet can help you save money on unexpected vet bills during a medical emergency.
But, pet insurance does not cover routine vet visits, related lab work, or vaccinations. Further, it does not cover the deductible portion outlined in your policy, the remaining reimbursement percentage, or anything beyond your annual payout limit.
Pet Insurance Reviews
The number of pet insurance companies to choose from is overwhelming. People often decide to go with the largest, most well-known company, failing to spend the essential time needed to consider their options fully.
Below we rank, review, and highlight a brief snapshot of each major U.S. company, including what stands out regarding coverage and exclusions, what may sway you to choose a company, and the pros and cons for each. We encourage you to get a quote and compare rates from at least three companies and read our in-depth reviews of those you are interested in before signing up.
Best Pet Insurance Overall: Pets Best Review
Pets Best is our best overall pick for pet insurance because it offers extensive coverage at a competitive price on average compared to the competition. Its plans are completely customizable, so you pay for the coverage you want and what you can afford. There are no upper age limits, so even if you adopt a senior dog or decide you want coverage for your pet when they're older, you won't be limited in your coverage options.
Pets Best also has some unique plans and features. In fact, it's one of the few pet insurance providers to offer an accident-only plan, which can be a useful option for those wanting a true emergency-only option at a lower price. Additionally, it offers coverage for curable pre-existing conditions once healed or cured.
Wellness plans are also available through Pets Best as an add-on to your pet insurance policy. This may be a convenient option for your household and help you budget for those routine expenses like vaccinations, flea/tick prevention, heartworm testing, and more. Overall, Pets Best has a lot to offer to fit each pet parent's needs, which is why we think it's worth your consideration.
Pets Best also administers policies through Farmers Insurance, PEMCO, and Progressive.
Pets Best offers the following discounts:
5% off for multiple pets
5% off for military members and their families
Use this link to take advantage of the best possible price. No promo code is needed. You can also visit our dedicated Pets Best discounts page to learn more.
Best For Young Pets: Fetch Review
Fetch is excellent if you want coverage for a very young puppy because it offers coverage as young as six weeks old, while you have to wait until eight weeks with most competitors.
Another unique feature of Fetch policies is its VirtualVet visit coverage. You can have up to $1,000 covered in virtual vet visits, whether over video chat, call, or text.
Fetch offers coverage for several conditions commonly excluded by other providers without requiring an extra fee. So if you want a pet insurance policy without worrying about add-ons and extra fees, Fetch may be worth your consideration.
Fetch offers the following discounts:
Up to 10% off for animal shelter adoptees and employees, corporate benefit plans, medical services pets, strategic partners, military, veterinary staff, and students
10% off premiums for Walmart shoppers
Save $25 or more when you pay quarterly or annually
10% off for AARP members for life
Use this link to take advantage of the best possible price. No promo code is needed. Alternatively, call 800-237-1123. You can also visit our dedicated Fetch promotion page to learn more.
Best No-Cap Payouts: Healthy Paws Review
All of Healthy Paws' plans include unlimited payouts. An insurance plan with no cap on payouts means you never have to worry about hitting the maximum on your coverage payouts and you can always expect to be reimbursed for covered costs after you have met your deductible.
We often find Healthy Paws to have the lowest prices compared to other providers' unlimited payout plans. Healthy Paws helps reduce economic euthanasia because pet parents aren't stressed about the cost of a life-saving procedure that could be restricted by policies with lower payout limits.
Healthy Paws also has one of the fastest claim processing timelines, averaging only two days. Compared to competitors, this is a speedy turnaround and prevents further financial stress one might experience while waiting for a claim to be considered and paid back.
The company is known for being consistent in its offerings and not rocking the boat. It hasn't undergone significant turbulence with underwriter changes or price fluctuations as many of its competitors have.
Customer service is a top priority for Healthy Paws, and it has some of the best reviews in the business. Healthy Paws tries to minimize customers' risk of unexpected financial consequences when using pet insurance.
Use this link to take advantage of the best possible price and get a quote for your pet from Healthy Paws. You can also visit our dedicated Healthy Paws promotion page to learn more.
Best Coverage: Embrace Review
Embrace has the most comprehensive coverage for accidents and illnesses, including $1,000 per year for dental illness coverage. Conditions that some insurers exclude from their policies, Embrace maintains coverage for.
There are several ways to customize your Embrace plan to fit your budget and coverage needs. It's one of the few insurers to offer both a wellness plan and accident-only plan in addition to its accident and illness plans.
Embrace is also a great option to consider, as it covers behavioral therapy and training diagnosed by a licensed veterinarian for a covered condition. So if your dog is anxious, aggressive, or destructive when you leave them, it may be due to a behavioral issue that may be covered under an Embrace policy under the right conditions. Behavioral therapy and training aren't commonly covered by most pet insurance providers.
Embrace also administers policies through Allstate, American Family, Geico, and USAA.
Embrace offers the following discounts:
10% off (5% off in NY) for multiple pets
5% off for military and veterans (NY and TN excluded)
10% off if your company or clinic offers Embrace as an employee benefit (FL, ND, NY, and TN excluded)
5% off in NY if you pay annually
Up to 25% off for eligible USAA customers
Your deductible automatically goes down $50 each year you don't receive a claim payment
Use this link to take advantage of the best possible price. No promo code is needed. You can also visit our dedicated Embrace discount page to learn more.
Best Pet Insurance Value: Figo Review
We've chosen Figo as our pick for the best value in pet insurance because it offers extensive coverage, low pricing, excellent customer service, and fast claim processing (averages three days). Figo's plans are customizable, with several options to fit your budget and coverage needs, plus two optional wellness plans. There are no upper age limits, and the minimum age to enroll your dog is eight weeks old.
Figo offers coverage for conditions sometimes excluded by other providers, such as behavioral therapies, alternative/holistic therapies, and C-sections. It's also one of the only companies to offer a 100% reimbursement option. Additionally, Figo offers coverage for curable pre-existing conditions after one year free of treatment and symptoms.
Figo has a one-day waiting period for accidents, which is the shortest length of any company included in this article. Overall, Figo has thorough coverage and competitive pricing, which makes it an excellent option for pet parents.
Figo also administers policies through Costco.
Figo offers the following discounts:
5% off any new Figo pet insurance policy (exclusive for Canine Journal readers – use this link)
5% off for multiple pets
Your deductible automatically goes down $50 each year you don't receive a claim payment
Use this link to take advantage of the best possible price. No promo code is needed. You can also visit our dedicated Figo discount page to learn more.
Best Newcomer: Lemonade Pet Insurance Review
Lemonade began selling insurance in 2015 and branched into pet insurance in 2020, offering low prices, which made it appealing to many customers. After a couple of years in business, their prices fall towards the mid-range, but the company is still creating a lot of buzz with its AI-driven claim process.
Lemonade's Artificial Intelligence (AI) speeds up the reimbursement process. Most Lemonade claims are processed within two days, but many are processed within minutes of submission. Beyond speed, another unique thing about Lemonade is that you can bundle your pet insurance policy with your Lemonade homeowners, renters, co-op, or condo insurance, which might save you 10%.
Why You Should Be Cautious
Because Lemonade started selling pet insurance in 2020, it's very new to the industry and considered unproven compared to stable companies that have been selling pet insurance for much longer. We recommend choosing a company with at least five years of national experience in the industry. Why?
Too often, we've seen new companies, like Lemonade, enter the pet insurance space with astonishingly low prices. After some time paying claims, these companies increase premiums to improve profitability. Some customers feel trapped because their pet now has pre-existing conditions, making it harder to find coverage with other companies.
Is this something you can expect from Lemonade? It's hard to say. Lemonade has been selling other insurance products (renters, homeowners, cars, and life) since 2015. So we're hopeful that this related experience makes Lemonade less likely to spike customer premiums. However, after three years in business, we can say that Lemonade's premiums aren't among the lowest any longer, falling more in the middle. We can't guarantee anything, so we urge caution when choosing a company with fewer than five years of experience or a rocky history.
Lemonade offers the following discounts:
10% off if you bundle with your renters, homeowners, auto, condo, or co-op insurance
5% off for multiple pets 
5% off if you pay annually
Use this link to take advantage of the best possible price. No promo code is needed.
Trupanion Review
One of Trupanion's most talked about features is Trupanion's Vet Direct Pay, which eliminates the claim processing wait time. Many other pet insurance companies offer a vet direct pay option, but Trupanion's Vet Direct Pay is the only option that allows payment during checkout. If Trupanion Express isn't available at your vet's office, you can call to ask about it or speak with your vet about them setting it up.
Trupanion is also an excellent choice for breeds with a past injury or ailment to one side of their body but not the other. This pet would be considered predisposed to a bilateral condition, but many Trupanion policies have no bilateral exclusions. A bilateral condition is any condition or disease that could affect both sides of the body. Examples include hip dysplasia, CCL injuries, cataracts, and more. Most pet insurance providers exclude bilateral coverage because if something happens on one side of the body, there is a solid chance it could happen to the other as well over time. However, Trupanion is willing to take this risk.
Finally, Trupanion is commonly selected by breeders because of its Breeder Support Program. The program's primary focus is the Go Home Day Offer, which lets breeders provide buyers with an offer for Trupanion enrollment without waiting periods. This means a pet parent can pick up their puppy from the breeder and get pet insurance immediately without any waiting periods. Additionally, Trupanion policies cover breeding-related health conditions, which is another perk for breeders.
Trupanion also administers policies through Geico and State Farm.
Use this link to take advantage of the best possible price and get a quote for your pet from Trupanion. You can also visit our dedicated Trupanion promotions page to learn more.
ASPCA Pet Health Insurance Review
ASPCA Pet Health Insurance has a big name behind its pet insurance product, which may give you the assurance you need to choose them. Their policies are thorough, and they offer coverage for many conditions that are often excluded by other providers.
As for pricing, ASPCA Pet Health Insurance typically falls more in the middle, but that can vary based on your pet's details as well as the plan customizations you choose. For example, an accident-only policy will be less expensive than an accident and illness policy with a $100 deductible, 90% reimbursement, and a $10,000 annual payout limit.
There are also optional wellness plans available to help you budget for routine expenses, such as dental cleanings, annual vet checkups, flea/heartworm prevention, and more. There are many ways you can adjust your coverage to fit the cost of pet insurance into your budget.
ASPCA Pet Insurance also administers policies through Travelers and Waffle.
ASPCA Pet Insurance offers the following discount:
10% off for multiple pets
Use this link to take advantage of the best possible price. No promo code is needed.
Spot Review
Spot Pet Insurance was founded in 2019, and at launch, was backed by an impressive chairman, Cesar Millan, from "The Dog Whisperer." But don't sign up for that reason because he is no longer affiliated with the company.
As for the product, Spot offers many ways to customize your plan. You can choose an accident-only policy or accident and illness policy, add on a wellness plan, and adjust your deductible, reimbursement, and payout options. All of these options provide a wide range of ways to help fit Spot into your budget.
Spot also has rather short 14-day waiting periods for CCL surgery and hip dysplasia compared to many other pet insurance providers. So if either of these conditions concerns your dog, then Spot may be worth consideration.
Spot offers the following discount:
10% off for multiple pets
Use this link to take advantage of the best possible price. No promo code is needed.
Nationwide Review
Nationwide is the only pet insurance provider we review that offers exotic pet insurance in addition to dog and cat insurance. So if you have a rabbit, bird, reptile, ferret, or another small mammal, you may want to consider insurance through Nationwide.
Like dog or cat insurance, exotic pet insurance covers unexpected visits to the vet that are subject to the insurance plan you choose. Depending on your selections, this may include accidents, illnesses, the death of your pet, and more.
Nationwide is also the only company we review to offer a traditional pet insurance product as well as a benefit schedule-style plan set up similar to a wellness plan with monetary coverage limits per condition/treatment. If you're already familiar with Nationwide's insurance products in other areas of your life, then it may be worth considering sticking with them, but it's also worth getting multiple quotes from others, just in case.
Nationwide Pet Insurance offers the following discounts:
5% off for 2-3 pets covered
10% off for 4 or more pets covered
Use this link to take advantage of the best possible price. No promo code is needed.
What Are The Different Types Of Pet Insurance Plans?
There are two types of pet insurance plans: accident-only and accident and illness. Some companies also offer an optional wellness plan for an extra charge, but it isn't an insurance product. Since several pet insurance providers offer wellness plans during enrollment, we included them to ensure you are aware of the full range of options during new enrollment.
What Do Accident-Only Pet Insurance Plans Cover?
An accident-only plan only covers vet bills associated with an accident, such as broken bones, foreign body ingestion, poisoning, injuries, and bite wounds. Illnesses are excluded from this coverage. An accident-only pet insurance plan is typically less expensive than an accident and illness one since it covers fewer expenses. However, not every company offers this policy type.
What Do Accident & Illness Pet Insurance Plans Cover?
This is the most common and popular type of pet insurance plan. It covers injuries (like broken bones, foreign body ingestion, and other items covered in accident-only plans) and sickness-related conditions (like cancer, allergies, urinary tract infections, arthritis, and ear infections). This type of policy is more comprehensive than an accident-only one.
What Do Wellness Plans Cover?
Wellness coverage is purchased as an add-on or a standalone product and comes with an incremental fee. Typically, this program covers things that occur during an annual exam, such as vaccination, flea/tick/heartworm treatment, teeth cleaning, and spay/neuter procedures. A wellness plan is a financial tool to help cover the costs associated with preventative measures that assist your dog's overall health and prevent illnesses where possible. Regular vet visits, especially ones covered with a wellness plan, also encourage owners to be more proactive with their pet's health. Wellness plans are not pet insurance as they don't cover costs associated with accidents or illnesses.
What Pet Insurance Plans Are Available From Each Company?
The table below shows each company's plan options, including deductible, reimbursement, and payout limit options. Please know that not all deductibles, reimbursement levels, and payout limits are available for every pet in every state.
What Does Pet Insurance Cover?
Pet insurance coverage varies based on the policy type and the company you choose. The majority of accident and illness pet insurance plans cover the following items when they are deemed medically necessary. However, this coverage may have limitations, so please check your policy.
Pet Insurance Company Coverage Comparison Table
The table below helps you see which company will best protect your pet and your wallet during the darkest times.
What Are Waiting Periods?
All pet insurers have waiting period requirements – the time between enrollment and when coverage kicks in. Companies generally have about a 14-day waiting period for illnesses and a 3-day waiting period for accidents. Additional waiting periods may exist for cranial cruciate ligament (CCL) surgery, hip dysplasia, and other orthopedic conditions. These waiting periods can be as high as six or twelve months, so be sure to check these details closely before you sign up.
*Waiting periods for California, Maine, and Mississippi are as follows:
Accidents - 0 days
Illnesses - 14 days
Cruciate Ligament Conditions - 30 days
Routine Care - 0 days
Are There Age Restrictions For Pet Insurance?
Is there an age limit on your pet's ability to enroll in a new pet insurance policy? The table below shows pet insurance age restrictions for some of the top pet insurance companies. Please know that once you've purchased and maintained a pet insurance policy from one of these companies, they will not end coverage as your pet ages so long as you keep your policy paid and active.
The best age to buy a pet insurance policy for your dog is as young as possible to minimize the pre-existing conditions that could be excluded from your coverage.
Pros & Cons Comparison Table
The table below points out the most significant strengths and weaknesses to help you see the key differences between the pet insurance providers.
How Much Is Pet Insurance? Let's Compare Price Quotes
How Is Pet Insurance Cost Determined?
The cost of each pet insurance policy is unique to your specific pet. It's calculated based on many variables.
Plan Details
The type of plan you select (accident only or accident and illness), as well as the annual payout limit, deductible, and reimbursement percentage for that plan impacts your pet insurance premium.
Payout Limit
The payout limit is the most money a pet insurer will reimburse during the policy term or the pet's insured lifetime. Plans with lower payouts are less expensive than those with higher or unlimited annual payouts. However, a lower payout limit also means you're liable for more costs if your pet has expensive vet treatment.
Deductible
The deductible is the portion of the vet bill you're responsible for paying before the provider will pay out or reimburse your claim. Typically, plans with higher deductibles are less expensive than those with lower deductibles. However, a higher deductible also means you must cover more vet costs before your pet insurance kicks in.
There are two deductible types: annual and incident.
Annual Deductible
Policies with an annual deductible require you to fulfill the deductible once per policy period. Most pet insurers use annual deductibles for their policies.
Pet insurance plans with annual deductibles are easier to budget for because you know the deductible only needs to be met once during the policy term.
Incident Deductible
Plans with a per-incident deductible require you to meet the deductible once for each new emergency your pet has. Trupanion and Nationwide are the only insurers we review that utilize per-incident deductibles.
Dogs who suffer from a chronic condition may benefit from a policy with an incident deductible because you only need to pay the deductible once for each condition. So once you've paid the deductible for your dog's chronic condition, you won't need to pay that condition's deductible again.
Reimbursement
The reimbursement is the percentage of a claim eligible for repayment by the insurance company after your deductible. Plans with lower reimbursement percentages are less expensive than those with higher reimbursement percentages. However, a lower reimbursement percentage also means your copay is higher for each pet insurance claim you submit.
Pet's Age
Younger pets typically have lower premiums than older pets. This is because older pets are at an increased risk of experiencing an accident or illness, resulting in more costly vet bills. Policyholders with older pets should expect higher pet insurance premiums to match the increased risk and an increase in premiums as your pet ages.
Pet's Breed
Purebred dogs have a less diverse gene pool than mixed-breed dogs, resulting in an increase in hereditary condition diagnoses. Therefore, mixed-breed dogs tend to be healthier than purebreds. Because of this, mixed breeds typically have fewer vet bills than purebreds. Less health-related expenses lead to lower risk for insurers and often are reflected in premium prices.
Pet's Gender
Males are typically larger than females, so they often require higher doses of medication, larger medical equipment, and additional medical supplies. All of this increases the cost of male vet care over that for females.
According to NAPHIA's latest report, of the top ten claims paid for dogs in North America in 2022, seven of them were for males, totaling $328,081 (an increase of more than $63,000 from 2021), and three were for females, totaling $151,847, (an increase of more than $14,000 from 2021).
This stat further demonstrates how much pet insurance claims have increased in just one year, making the argument for buying pet insurance even more convincing.
Your Location
Where you live (your zip code) influences your premium because the cost of supplies, office space, staff, etc., impacts your vet bill. This is why medical procedure costs vary from city to city and nationwide. Each vet office must determine the cost of the procedure, including equipment, personnel, medication, etc. Just as living costs vary from the country to the city, so does the cost of vet care.
What Is The Average Cost Of Pet Insurance?
According to NAPHIA (North American Pet Health Insurance Association), the average monthly premium for an accident and illness dog insurance policy in the U.S. is $53.34 ($32.25 for cats).
You should expect annual increases in your premiums from most pet insurance companies. These rates and increases will vary based on your location, changes in vet care costs, inflation, and more. Since the price for your pet may differ significantly from that of others for any given provider, we encourage you to get your own quotes from multiple companies.
We ran quotes and created price comparison tables (below) to help show how pet insurance prices can vary by provider. We tried to compare apples-to-apples, but sometimes, it's just not possible since not everyone offers the same payout limits, reimbursement percentages, and deductible amounts. The quotes listed have the fewest exclusions possible from each provider.
To create a broad range of quote examples, we chose locations and breeds based on the most popular geographic areas to own a pet insurance policy and the most popular breeds in those locations. All payout limit terms for the companies are annual except for Trupanion (lifetime) and Nationwide (per condition annually). Scroll down to see them all, or jump to a specific quote below.
Labrador Retriever In Texas
6-month-old
Female (not spayed)
No pre-existing conditions
Houston, Texas (77005)
Quotes are from August 2023
French Bulldog In California
1-year-old
Male (neutered)
No pre-existing conditions
Los Angeles, California (90016)
Quotes are from August 2023
French Bulldog In New York
3-year-old
Female (spayed)
No pre-existing conditions
New York, New York (10005)
Quotes are from August 2023
Printable Pet Insurance Comparison Charts (PDF)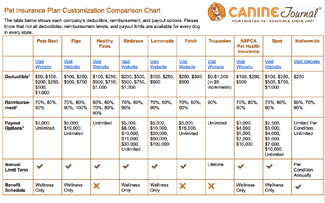 Want a printable, easy-to-reference version of the pet insurance comparison charts above? Look no further. We've put one together for you with all the charts condensed onto four pages (two if you print double-sided). Click here to view it and print it. Included are:
Plan Customization Comparison – shows each company's plan options.
Coverage & Exclusions Comparison – shows what's included with coverage (everything from behavioral therapies to exam fees).
Waiting Periods Comparison – lists each company's waiting period requirements before your new pet insurance policy coverage takes effect.
Age Limitations Comparison – shows new enrollment age restrictions. Once you've purchased and maintained a pet insurance policy, coverage won't end as your pet ages if you stay current on payment.
Why Trust Our Reviews?
We know choosing the right pet insurance policy for your pet is a personal decision. That's why we value your trust in us to provide all the objective information you need to make an informed choice. Here is a quick comparison table showing what we offer compared to the competition.
Is Pet Insurance Worth It?
Veterinary bills can be costly, but pet insurance can help reduce the burden. What would you do if you encountered a $1,000 pet-related emergency tomorrow? Would it crush your budget and leave you in a difficult place financially? Would you hesitate to move forward with an expensive vet treatment?
If you answered yes to any of these questions, then pet insurance is worth it if you can afford the monthly premium for your dog. Having your dog insured can help you prepare financially and benefit your dog with more well-rounded health coverage. It also provides peace of mind during already stressful times.
We have an entire article dedicated to helping you decide if pet insurance is worth it. It can help you understand how pet insurance works and how it can benefit your pet's life and your own.
How Does Pet Insurance Work?
Visit the vet and pay your bill at the time of service.
Send a completed claim form and an itemized receipt to your insurance company. Some companies require a signature from your vet, so it might be wise to take a printed copy of your claim form to your visit, just in case.
Once the claim's approved, the insurance company will send your reimbursement* via your chosen payment method (check, direct deposit, etc.).
*The reimbursement timeline can vary from a few minutes to a few weeks, depending on the complexity of your claim and the promised processing time. The reimbursement amount depends on your policy details, including deductible, annual payout, reimbursement percentage, coverage, and exclusions.
Pet Insurance Claim Example
Let's walk through an example to get a better feel for how it works.
Suppose your policy has the following coverage:
$250 annual deductible
80% reimbursement
$5,000 payout limit
In that case, you're responsible for the following:
Any unplanned vet bills related to covered items up to $250,
20% of the total vet bill up to $5,000, and then
100% above the $5,000 payout limit.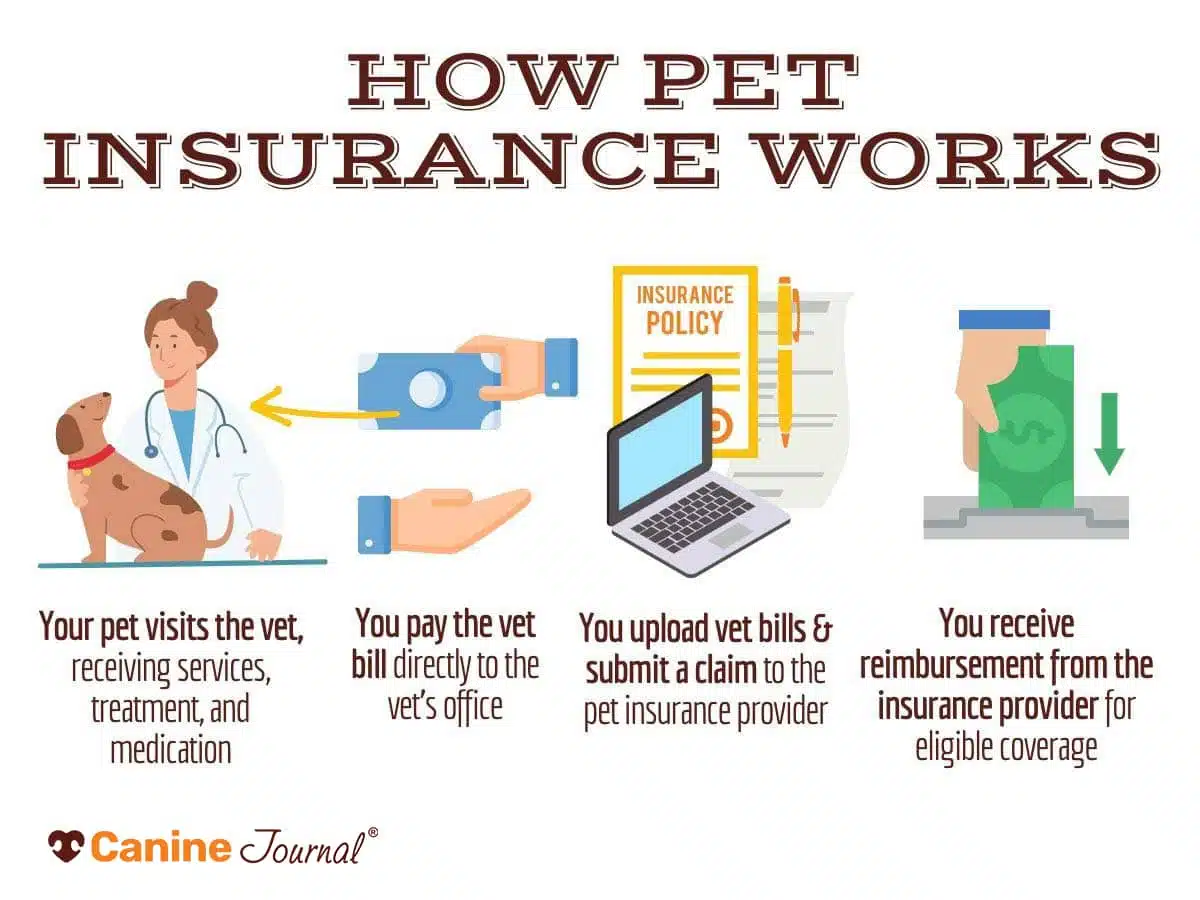 How To Choose The Best Pet Insurance For You
With so many pet insurance companies to choose from, how can one decide? This is why it's crucial to take the time to consider your options carefully. By understanding the key considerations and committing to the research, you may find a provider that's an excellent fit for your particular breed and health concerns.
It is wise to consider any illnesses your dog's breed may be predisposed to. For example, if your pet is predisposed to hip dysplasia, you'll want to ensure you're satisfied with the terms associated with hip dysplasia coverage. Some companies add additional waiting periods to hip dysplasia or consider it a bilateral condition, thus excluding it from coverage as a pre-existing condition. Additionally, you might consider a conversation with your vet about any potential conditions they'd recommend covering based on the breed or mix.
After you have a list of your must-haves, you're ready to narrow down your list of options.
Your biggest concern as a pet parent should be the reputation of the pet insurance provider. Have you heard of them? Do family and friends use them? What has their experience been when they've had to file a claim? Getting a pet insurance policy is useless if it doesn't cover what you expect it to cover or if you can't afford the monthly premium. Remember, although the monthly cost is important, it's not the most crucial factor when choosing insurance. The whole point of any insurance policy is to ensure that you have the coverage to pay for otherwise unaffordable bills in emergencies.
Decide what type of coverage you want for your dog and which additional perks may be negotiable to lower your costs. If you'd like to learn more about what some of the commonly referenced terms in pet insurance mean, check out our terminology 101 section that breaks the lingo down into laymen's terms for you.
Obtain quotes from at least three companies to get an idea of how much your monthly premium will be. Pricing varies drastically, and just because a company charges you more doesn't mean the coverage is more thorough.
Don't hesitate to contact potential providers with any questions before signing up. And pay close attention to that experience — it may reflect customer service quality down the road.
Consider the claim reimbursement process, including how it works, the average processing timeline, and whether there's an option for the company to pay the vet directly. If a company takes longer than you can wait for reimbursement, you may want to seek other options.
Picking a pet insurance plan is a personal choice, and no one knows what your dog needs better than you. Take the time to make an informed decision, and know it'll be worth the added protection in the long run.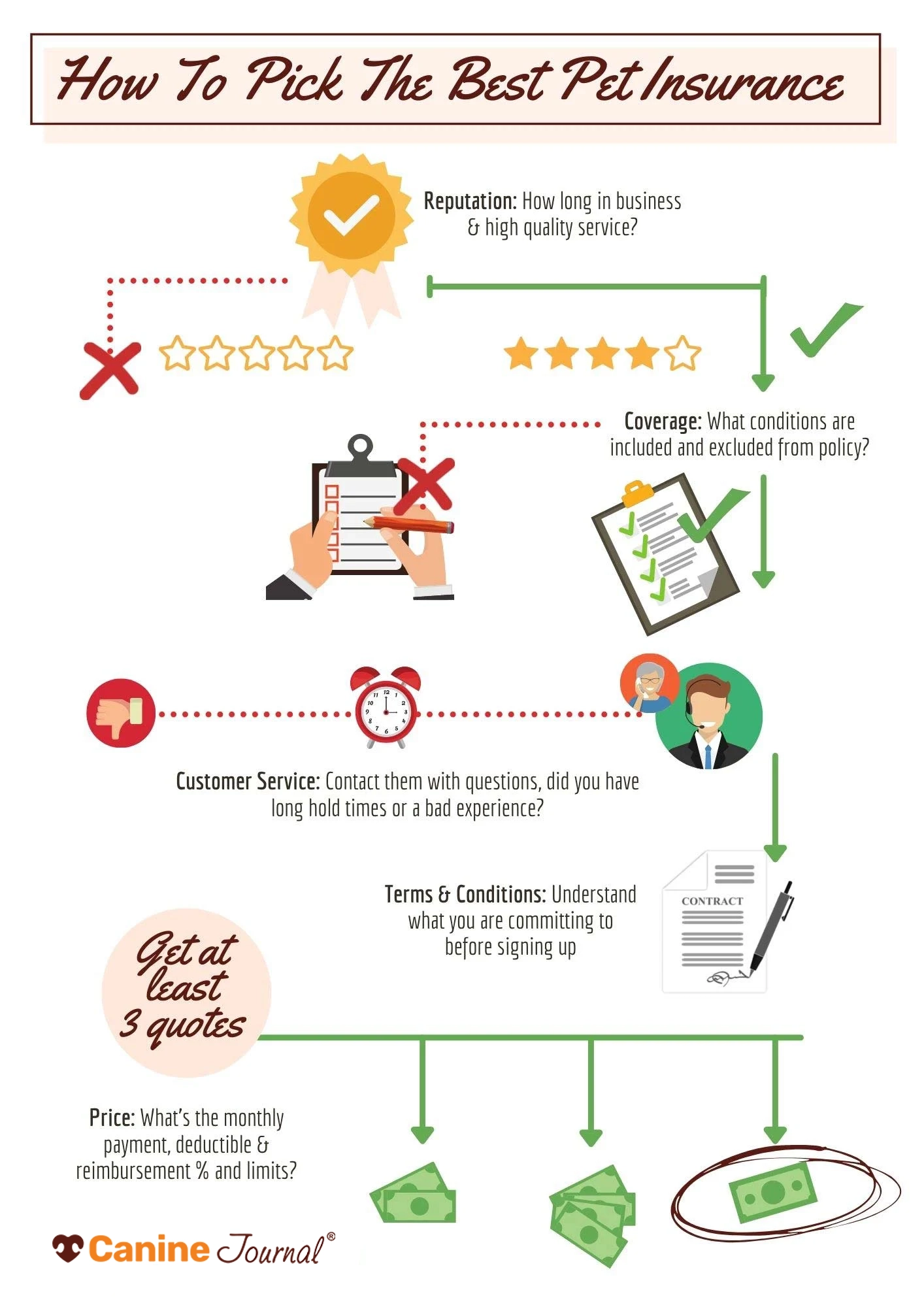 Frequently Asked Questions
Can I Go To Any Vet With Pet Insurance?
Most pet insurance companies allow you to choose any licensed vet for your pet's health care needs. We are aware of one company, Companion Protect, that is the exception to this rule. Companion Protect claims to cover more of the cost within its approved network of vets. While they allow you to use an out-of-network vet, it may cost you more money.
What Are The Disadvantages Of Pet Insurance?
Although we feel that pet insurance is valuable and worth it for most, here are four cons to be aware of:
Routine preventative exams and associated expenses aren't included in your pet insurance policy. To cover these, you must purchase a wellness plan at an incremental cost.
You will still have out-of-pocket expenses, including your deductible and any amount that surpasses your payout limit. You will also be responsible for covering the balance of the reimbursement amount (i.e., if you chose an 80% plan and your provider agrees to cover your claim, you will still owe 20%).
Pre-existing conditions are excluded from coverage by most pet insurance providers, and you are responsible for associated costs.
Unlike human health care, most pet insurance companies require you to pay for vet expenses upfront and wait for reimbursement. Some companies offer a vet direct pay option as an alternative to this standard reimbursement model, but you will need to work with your vet to ensure this is in place before you begin treatment.
What Should I Ask Before Buying Pet Insurance?
These are questions we recommend asking your provider before you sign up.
Can I choose my vet?
What are the waiting periods?
What's excluded from coverage?
Are there extra fees for coverage related to exam fees, prescription medication, or other items?
Can you show me an example of how a claim is handled?
What will I be responsible for paying?
What happens if I buy a policy after my pet gets sick or hurt?
Are there any limits on benefits (per-incident, annual, or lifetime)?
How fast will my claim be processed and repaid?
5 Ways To Buy Pet Insurance
There are five ways to buy the best pet insurance policy to fit your needs.
Use our free pet insurance comparison form to answer a few quick questions about your dog and compare quotes from multiple providers.
Go directly to insurers' websites and fill out their free quote forms.
Call or email pet insurance providers to speak with them directly and get all of your questions answered.
Ask your employer if pet insurance is offered as an employee benefit.
If you feel overwhelmed, contact an independent insurance agent for guidance.
Is Pet Insurance Tax Deductible?
No, pet insurance is not tax deductible.
According to IRS publication 502, if you have a guide dog or service animal, you may be able to deduct expenses related to the cost of buying, training, and maintaining the animal. This can include any costs, including food, grooming, and veterinary care.
Does Pet Insurance Cover Only Dogs And Cats?
Most insurers limit pet insurance policies to dogs and cats. However, Nationwide also offers pet insurance for exotic pets, including reptiles, birds, rabbits, ferrets, miniature pigs, guinea pigs, goats, sugar gliders, chinchillas, and other small mammals. Nationwide's exotic pet insurance policy has 90% reimbursement, and plans average $11 per month for reptiles, $13 per month for birds, and $19 per month for rabbits.
You can also purchase horse insurance if you have a passion for horses but it is a different type of policy so be sure to do your homework before registering.
How Do Pet Insurance Companies Know About Pre-Existing Conditions?
Upon enrollment, insurers may require a vet exam or your pet's medical records. If a vet exam is required for enrollment, the insurer typically requests it be within 30 days of the policy's effective date. During this appointment, your vet will assess your dog's overall health and note any abnormalities. Some providers require a detailed exam of your dog's legs and hips for orthopedic issues.
Additionally, providers may collect this information by analyzing your dog's past vet records. If your dog hasn't had a recent vet exam, the insurer may ask you to have your dog assessed.
Generally speaking, pre-existing conditions are determined as accidents and illnesses that have manifested before the policy's effective date or during the waiting period. For example, if your dog was diagnosed with hip dysplasia in June and you bought pet insurance in the following month of the same year, the condition won't be covered.
However, a few insurers offer coverage for curable pre-existing conditions if they are free from treatment and symptoms for a set period. Conditions that may be covered include ear infections, urinary tract infections, kennel cough, gastrointestinal issues, and more. Furthermore, AKC Pet Insurance is entering new territory for the industry and offering coverage for pre-existing conditions after 365 days of continuous pet insurance coverage.
Does Pet Insurance Cover Dental?
Pet insurance companies generally cover a portion of non-routine dental-related claims. However, the extent of coverage varies by provider. Embrace and Pets Best offer some of the best dental coverage for pet insurance.
Pet insurance doesn't cover dental cleanings, but if you have a wellness plan (as a standalone product or added to your pet insurance policy), it may include coverage for a portion or all dental cleanings.
Does Pet Insurance Cover Spaying And Neutering?
No, accident and illness pet insurance policies don't cover spaying and neutering. However, you can purchase a wellness plan as a standalone product or add it to your pet insurance policy, which may cover a portion of your dog's spaying/neutering procedure. We cover this in more detail in our Does Pet Insurance Cover Spaying & Neutering article.
Are New Companies Eligible To Win Categories?
No. Historically, new companies have entered the pet insurance space by offering low prices to gain market share. However, after some time in the business with more paid claims, these companies tend to increase rates to improve their profitability. This hurts you, the customer because this causes their premiums to increase significantly — and if you visited your vet or submitted a claim, your pet now has a pre-existing condition. So, if you wish to change providers to find a more competitive rate, that condition is unlikely to be covered. In the end, you may have been better off going with a different, more well-established company from the start.
Because of these issues, we've decided only to include pet insurance companies in our top spots with at least five full years of national experience. We think this approach gives companies time to establish a consistent pricing system and reputation, giving you and our team a better idea of what to expect.
That being said, our experts will still cover new entrants (subject to reader demand) and bring you everything we can find on these companies in our reviews because we want you to know all of the available options. Further, we added a "Best Newcomer" category to our rankings to provide a recommendation among new entrants in the pet insurance space. We also consider whether a company is new to the insurance industry or just new to the pet insurance sector.
Pet Insurance Companies (All Of Your Options)
Besides the insurers listed above, there are many other competitors in the marketplace. Listed below, as well as on our dedicated pet insurance companies page, are the remaining U.S. pet insurance providers alphabetically. Included are links to our in-depth individual reviews if you'd like to learn more about a company.
Doggo
Odie (also manages Wishbone Pet Insurance)
PetPremium
Physicians Mutual Pet
Spokk
TrustedPals
If you live outside of the U.S. and want to learn about your options, below are pet insurers you can consider.
Allianz (Ireland)
OneDegree (Hong Kong)
Peppermint (Canada)
Pets Plus Us (Canada)
Tesco (Australia)
Itch (United Kingdom)
Waggel (United Kingdom)
Still Can't Decide?
We have spent countless hours researching the pet insurance space and have extensive content to prove it. You can benefit from exploring our site to read individual company reviews, compare specific companies in our head-to-head showdowns, learn all the ins and outs of what is and what is not covered by pet insurance, and more. And if you'd like to get some free quotes for your four-pawed friend right now, you can do so via our quote form.
Tagged With: Comparison, Reviewed By Insurance Agent