To keep the lights on, we receive affiliate commissions via some of our links. Our review process.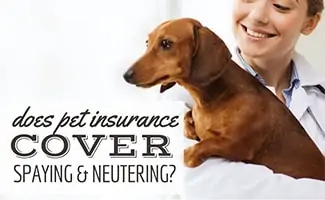 There are many decisions you'll make for your dog during his life. Possibly one of the first decisions is when to desex him. This can vary based on the dog breed and what your vet recommends, but ultimately, there are many benefits of spaying and neutering pets, including preventing unwanted litters and stray animals.
But if you're getting your pet fixed, can you get the procedure covered through a pet insurance policy? We'll explain how spaying and neutering may be covered by pet insurance and which companies offer it.
Does Pet Insurance Cover Desexing?
No, and yes. Basic accident and illness pet insurance policies don't cover spaying and neutering. However, if you purchase a pet insurance policy with an optional wellness plan, then that may cover a portion of the spaying/neutering procedure.
What Is A Wellness Plan?
Wellness plans cover a portion of routine vet treatment, such as annual exams, spay/neuter procedures, heartworm testing, vaccinations, flea and tick prevention, microchipping, and more. The items and amounts covered vary based on the pet insurance company you purchase your policy through. Accident and illness pet insurance policies don't cover these types of expenses.
Which Pet Insurance Companies Offer Wellness Plans?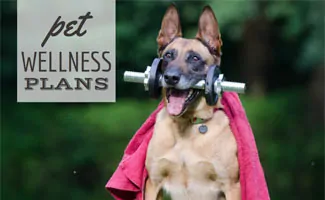 We have reviewed pet wellness plans offered by various companies. Some providers require you to purchase a pet insurance policy and then add a wellness policy to that plan. But, other companies allow you to enroll in wellness coverage without buying a pet insurance plan first. To find a company to assist with expenses associated with spaying or neutering your dog, read more about pet wellness plans.
Pet Insurance May Save You Money & Headaches
At the current time, having your pet spayed or neutered can cost anywhere from $100 to $400, depending on where you live. A wellness plan can cover a hefty portion of that bill in addition to many other routine expenses. When tacked onto a pet insurance policy, you're eliminating the decision to choose between your bank account and your pet's health.
Pet insurance policies for dogs average around $50 per month (around $30 for cats). Budgeting for a monthly premium for pet insurance and a wellness plan may be your saving grace to keep you from having to pay thousands of dollars if your dog suffers an unexpected accident or illness. We review the best pet insurance companies and rank them based on coverage, customer service, price, and more, so you can choose the best policy for your pet.
Tagged With: Reviewed By Insurance Agent