To sustain this free service, we receive affiliate commissions via some of our links. This doesn't affect rankings. Our review process.
A big misconception about pet insurance is that it's too expensive. We spend hundreds of dollars on ourselves each month for health insurance, yet we don't get coverage for our furry "children." In reality, spending $35/month for pet insurance could end up saving your pet's life.
Instead of being hit with a $6,000 vet bill because your dog was diagnosed with cancer and needs treatment you can have almost all of that covered through pet insurance. The worst thing that can happen is learning that your dog has cancer, but then having to turn down treatment because you can't afford the bills.
No one wants to be faced with that decision and signing up for pet insurance takes care of it. Pet insurance allows you to make the best choices instead of the least expensive ones when an emergency arises.
For this reason, it's important that pet owners consider buying pet health insurance to protect their loved ones (and their wallets) from some of life's most unfortunate accidents.
This comprehensive pet insurance guide will explain all you need to know to determine what's most important for you and your pet. We will also provide helpful recommendations for the best pet insurance plan to fit your needs.
Article Overview
What Is Pet Insurance?
Pet insurance is the human health insurance equivalent, but for your pet. Having your dog or cat protected by a good health insurance plan can put your mind at ease knowing that large, unexpected medical bills will be covered.
There are 3 types of pet insurance coverage: accident, illness and wellness. Depending on your preference, you may sign up for 1, 2 or all 3 of these coverages.
1) Accident Coverage
There is no way to plan for an accident, but you can prevent it from costing you a fortune. Accident coverage is the most common type of pet insurance and every pet health insurance company offers it. Accident coverage can include things like a torn ligament, broken bones, bite wounds and more.
2) Illness Coverage
Illness coverage is often limited and becomes more expensive as your pet ages. That's why it's important to get pet insurance while your pet is at the youngest age possible to reduce pre-existing condition exemptions and your monthly cost. Illness coverage can cover things like cancer, arthritis, UTIs, allergies and more.
3) Wellness Coverage
Wellness coverage is always optional. Depending on your preferences, you may choose to save up and pay for wellness expenses on your own, or you may wish to spend a little every month for this coverage to avoid paying out of pocket all at once during your routine vet visit.
A Pet wellness plan may include:
Annual exams
Spay/neuter
Routine blood panels
Heartworm testing
Fecal testing
Urinalyses
Routine vaccinations (rabies, DHLP, Bordetella, parvo, Lyme, giardia)
Teeth cleanings
Flea, tick and heartworm treatments
Keep in mind; a single routine annual vet exam can cost upwards of $300 depending on your vet, where you live and the types of procedures, vaccinations and tests your pet requires during an annual exam. Wellness plans are becoming increasingly popular to manage these expenses, which is why more companies are offering them, including as an add-on to a pet insurance health plan.
Read our article on pet wellness plans to learn how you can cover all your bases.
Video: Pet Insurance & Types Of Plans Explained
How Does Pet Insurance Work?
The majority of pet health insurance plans reimburse you for the cost of veterinary care. After paying the initial cost of your pet's vet visit, you'll request a duplicate, itemized receipt which you then send to your pet's insurance company along with a completed claim form. Claims are usually processed within a month and a reimbursement check is sent back to you.
Some companies guarantee a certain turnaround time for payout as an added benefit. The amount of your reimbursement depends on your insurance policy details and exclusions, the type of procedure, the cost of that procedure, the allowance per procedure on your policy and your plan's deductible.
Can You Provide An Example?
Let's say you faithfully saved $35 a month for 5 years and your vet bill savings account sits at $2,100 — that's roughly the equivalent of 5 years of pet health insurance premiums. Unfortunately, your $2,100 in savings won't stretch beyond initial testing, diagnosis and a few treatments for most pet illnesses.
With a pet health insurance plan, that monthly investment of $35 ensures that you are financially covered for minor and major accidents and illnesses such as cancer, unexpected injuries, chronic condition care and in some cases even routine visits. So if your cost was $10,000 for an emergency treatment, pet insurance would cover you well above the $2,100 you saved in the example above.
Insurance ensures that a significant portion of what you spend at the vet is reimbursed to you. (Keep in mind, just like human health insurance, vet insurance reimbursements can vary based on a variety of factors such as level of coverage chosen, the breed and age of the animal, pre-existing conditions, etc.).
Why Do I Need Pet Insurance?
There are 2 primary reasons we feel you should consider obtaining pet insurance for your furry friend.
1) You'll Never Have to Decide Between Your Wallet and Your Pet
Choosing whether or not to have a surgery in a case of emergency is one of the hardest decisions you will ever have as a pet owner. With pet insurance, you can take the financial aspect out of your consideration and base your costly medical decisions purely on what's best for your pet.
2) Accidents Happen
It doesn't matter how well you take care of your pet, accidents happen. Whether it is a toenail that gets caught in the couch cushion or a cruciate ligament that gets torn from jumping off the bed, your dog could have an accident that leads to large vet bills. A pet accident or illness can cost thousands in vet bills, but having a good emergency pet insurance plan will ensure that you're able to recoup up to 90% of the costs.
3) You Can Pick a Plan That Fits Your Needs
Pet insurances can be tailored to fit your budget and needs. If you sign up when your pet is young, you have more options to choose from. These options range from major accidents and illness to vaccinations and general checkups. Check out our pet insurance reviews to see the different options that are available.
How Much Does It Cost?
Get 3 Free Pet Insurance Quotes
Pet insurance prices vary by provider and plan. They are also unique to your pet's breed, age, geographical location, pre-existing conditions and other variables. So, how do you know which is cheapest?
Well, you don't until you run price quotes with a few companies to know what to expect. We've made this easy for you by creating a free quote widget (above) that will pull price quotes from our top 3 companies when you fill out one short form with your pet's details.
We suggest you get quotes from at least 3 companies to find the best value (best coverage for the price). Just because the pet insurance company is a household name or has he best price doesn't mean it's the best for your pet. Vet costs are on the rise and the best way to protect your wallet is by purchasing pet insurance.
What Does Pet Insurance Cover?
Want to know if pet insurance will cover what you need? The table below helps you see which company will give you the best bang for your buck and protect your dog during the darkest times.
| | 1st: Healthy Paws | 2nd: Pets Best | 3rd: Petplan | 24PetWatch | ASPCA/Hartville | AKC | Embrace | Figo | Nationwide | PetFirst | Trupanion |
| --- | --- | --- | --- | --- | --- | --- | --- | --- | --- | --- | --- |
| | 1st: Healthy Paws | 2nd: Pets Best | 3rd: Petplan | 24PetWatch | ASPCA/Hartville | AKC | Embrace | Figo | Nationwide | PetFirst | Trupanion |
| Visit Website | Visit Website | Visit Website | Visit Website | Visit Website | Visit Website | Visit Website | Visit Website | Visit Website | Visit Website | Visit Website | Visit Website |
| Read Review | Read Review | Read Review | Read Review | Read Review | Read Review | Read Review | Read Review | Read Review | Read Review | Read Review | Read Review |
| Exam Required to Set Health Baseline | | | | | | | | | | | |
| X-Rays | | | | | | | | | | | |
| Blood Tests | | | | | | | | | | | |
| Ultrasounds | | | | | | | | | | | |
| Cat Scans | | | | | | | | | | | |
| MRI | | | | | | | | | | | |
| Rehabilitation | | | | | | | | | | | |
| Behavioral Therapies | | | | | | | | | | | |
| Specialized Exams | | | | | | | | | | | |
| Surgery | | | | | | | | | | | |
| Hospitalization | | | | | | | | | | | |
| Exam Fees | | | | Extra Fee | | ExamCare Plan | | Extra Fee | Extra Fee | | |
| Emergency Care | | | | | | | | | | | |
| Specialty Care | | | | | | | | | | | |
| Hydrotherapy | | | | | | | | | | | |
| Pre-existing Conditions | | | | | | | | | | | |
| Preventative Care | | Extra Fee | | Extra Fee | Extra Fee | Extra Fee | Extra Fee | | Extra Fee | | |
| Non-Routine Dental Treatment | | | | | | | | | | | |
| Chronic Conditions | | | | | | | | | | | |
| Illness Waiting Period | 15 Days | 14 Days | 15 Days | 14 to 30 Days | 14 Days | 14 Days | 14 Days | 14 Days | 24 Hours or 14 Days | 14 Days | 30 Days |
| Accident Waiting Period | 15 Days | 3 Days | 5 Days | None | None | 2 Days | 48 Hours | 5 Days | 24 Hours or 14 Days | 1 Day | 5 Days |
| Hereditary Conditions | | | | | | InheritedPlus Plan | | | | | |
| Congenital Conditions | | | | | | InheritedPlus Plan | | | | | |
| Cancer Treatments | | | | | | | | | | | |
| Diagnostic Treatment | | | | | | | | | | | |
| Alternative/Holistic Therapy | | | | | | | | | | | Extra Fee |
| Prescription Medications | | | | | | | Extra Fee | | | | |
| Euthanasia | | | | | | | | | | | |
| ACL Surgery Waiting Period | 15 Days | 6 Months | 6 Months | 14 to 30 Days | 14 Days | 180 Days | 6 Months | 6 Months | 12 Months | 12 Months | 30 Days |
| Hip Dysplasia Waiting Period | 12 Months | 14 Days | 15 Days | 14 to 30 Days | 14 Days | 180 Days (InheritedPlus Plan) | 6 Months | 14 Days | 14 Days | 14 Day | 30 Days |
| Claim Limits | Unlimited | $5,000 or unlimited | $2,500, $5,000, $10,000, $20,000, $25,000 or unlimited | $1,500, $3,000, $5,000, $10,000 or $20,000 | $5,000, $10,000, $15,000, $20,000 or unlimited | $3,000 to $16,000 | $5,000, $8,000, $10,000, $15,000 or $30,000 | $10,000, $14,000 or unlimited | Unlimited | $2,000, $5,000 or $10,000 | Unlimited |
| Claim Repayment | 2 days (Allows 10 days) | Averages 5 days or less | 5-14 days (Allows 30 days) | Allows 60 days | Averages 8-9 days | Allows 30 days | Averages 5 business days for wellness, 10-15 days for illness/accident | N/A | Allows 30 days | 10-14 days | Allows 60 days |
InheritedPlus endorsement is only available for dogs enrolled who are two-years-old and younger.
Compare Pet Insurance Providers Side-By-Side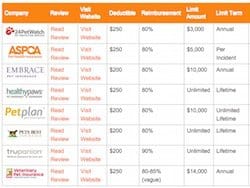 Do you have a good idea of what pet insurance is all about and are now ready to start comparing providers? Visit our pet insurance quotes article to see quote samples from all the pet insurance companies we review in one place. That way you can get a better idea of what your deductible and reimbursement costs might be for each provider given the type of dog (or cat) you have.
Puppy Insurance Comparison
Below is a table with quotes for younger dogs from our 3 top pet insurance providers: Healthy Paws, Pets Best and Petplan. Note: these prices are provided only for example purposes; quotes will vary based on your pet's specific breed, geographic location, age, etc.
| Company | Purebred Golden Retriever Age | Location | Deductible | Reimbursement | Limit Amount | Limit Term | Monthly Price |
| --- | --- | --- | --- | --- | --- | --- | --- |
| Healthy Paws | 5 months old male | New York City (zip code 10011) | $500 | 70% | Unlimited | Annual | $30.46 |
| Pets Best | 5 months old male | New York City (zip code 10011) | $500 | 70% | Unlimited | Annual | $43.28 |
| Petplan | 5 months old male | New York City (zip code 10011) | $500 | 70% | Unlimited | Annual | $45.22 |
| Healthy Paws | 7 months old female | Chicago (zip code 60617) | $250 | 80% | Unlimited | Annual | $41.41 |
| Pets Best | 7 months old female | Chicago (zip code 60617) | $250 | 80% | Unlimited | Annual | $56.55 |
| Petplan | 7 months old female | Chicago (zip code 60617) | $250 | 80% | Unlimited | Annual | $47.46 |
*Quotes are from May 10, 2018, and all prices are monthly premiums.
Video: How Much Does Vet Care Cost?
This video visually summarizes some of the vet costs you should expect during your pet's life. Feel free to watch and share with others who you think could benefit from learning these facts about pet health and the rising cost of pet ownership.
How Do I Choose The Right Dog Insurance?
Before you purchase your dog's insurance plan, make sure to familiarize yourself with what each plan offers. Compare the coverage offered under each plan with individual health concerns for your dog and it's breed.
Even if you have a healthy puppy today, knowing what illnesses are prevalent in your dog's breed will help you select the right plan for your dog. Talk with your vet about what you should plan for as your pet ages. For example, some breeds are more susceptible to hip and joint problems and cancer. While no one wants to anticipate the worst, it is the best plan of action when shopping for an insurance policy for your dog. Choose the best plan based on the right cost AND coverage benefits, not price alone.
Narrow down your choices from our pros and cons lists in our review of the top 3 providers.
Contact at least 3 companies and obtain quotes based on information you provide about your pet's breed, age, health, conditions and needs. (Use our quote form to get pricing from our top 3 picks.) If you have more than one pet, ask about a multi-pet discount.
Pro tip: Have your vet send in each of your pet's records to the company that you are considering. A company that is truly interested in your business will review your pet's records and clearly outline any conditions that will be excluded from your pet's insurance plan (such as pre-existing conditions). It's important to understand exactly what will and will not be covered before you buy any insurance plan.
Weigh the cost of monthly premiums against the types of coverage offered: accident, illness and wellness, as well as any add-ons.
Review plan deductibles and payout percentages that may impact your real out-of-pocket costs.
The sooner you sign your pet up for health insurance, the lower the premiums will be. So, consider purchasing a plan for your puppy before they get too much older and possibly develop pre-existing conditions.
Note: No pet insurance company covers pre-existing conditions, but different companies may have different criteria and waiting periods for what they consider a pre-existing condition. If you're not sure, ask. It's better to know upfront.
What Are The Top Pet Insurance Companies in 2018?
Our best pet insurance comparison covering the top companies are continually being updated so be sure to check in regularly for new information. We maintain constant watch on this sector and audit our reviews of companies on a regular (quarterly and annual) basis.
Why Trust Our Reviews?
Our reviews are conducted in unbiased fashion by independent researchers that do rigorous analysis and gather consumer feedback from across the Internet. Check out our review process for details.
Best Insurance For Cats & Other Types Of Animals
If you're looking for cat insurance, you're in luck. Our ratings for cat insurance are the same as dog insurance. Cat insurance works the same as dog insurance and is a great protection against extremely large vet bills.
Our reviews above can help you decide the best company to cover your feline and we encourage you to get a personalized quote from our top 3 to help you get specifics about your cat. The nice thing about cat insurance is you can typically cover your cat for around $20 (or less) per month. Investing $20 per month toward cat insurance will ensure that your cat is protected in the event of an emergency and you won't have to think twice about whether you can afford the bill or not.
Looking for other pets? We have covered those topics in our articles on insurance for exotic pets and horse insurance.

What Criteria Do I Need To Consider?
These are the factors that we find most important when deciding who is the best company to manage your pet's emergency funding needs. These are also the criteria that we use to evaluate the companies in our reviews.
A.M. Best Ratings
How stable is the company? Can I trust them to pay when an emergency happens?
A.M. Best has reported on the financial stability of the insurance industry for over 100 years with the goal of giving consumers insight into the financial strength and stability of insurers. They report on more than 3,500 insurance companies in over 90 countries. An insurance company's A.M. Best rating is similar to an individual credit score, only it's done as a letter grade instead of a number. Ratings range from A++ (superior) to D (poor). Pet Insurance buyers, like all buyers of insurance, should seek companies with as high a rating as possible.
BBB Rankings
What does the public think of the company and are there any complaints that have been made to the Better Business Bureau about how the company operates? If so, how are these complaints being handled?
Most pet insurance companies tend to score high with the BBB. This is a very promising sign for us as consumers.
Claim Repayment Reputation
Are claims easy to submit? Are the claims paid in a timely manner and is what the customer expecting to be covered actually covered in the case of emergency?
Contract Coverage
This is a unique category that you will not find included on many websites but we think it is crucial for you as a customer to know what the contract says and whether you can count on it to truly cover what you think an insurance policy should. This was there are no surprises when an urgent situation presents itself. We have reviewed all of the company's contracts to understand what is covered and, more importantly, what is not (look for the exclusions before you sign on the dotted line).
Customer Service
This is pretty self-explanatory but this is how well customers feel they are treated when problems or questions arise. Are they able to reach someone quickly who can help? Are there lots of different communication methods available to reach a customer service representative? Is that person friendly and helpful?
Multiple Accidents
If your pet is accident prone or not the healthiest, you will want to make sure you find a policy that pays claims with an annual deductible vs. a per incident deductible. This means that if you have three accidents in one year, all claims will be applied to one annual deductible and after that is met, the company will pay in full for all covered portions of the vet bill vs. per incident policies which will restart the $ count on the deductible for every new emergency.
Price
How expensive is the policy on a monthly, annual, and/or lifetime basis? How does this monthly cost compare to that of other companies with comparable coverage? How much do annual premiums increase over the life of the pet? What do I expect to be paid back in the case of emergency treatment (reimbursement % amount) and how much am I willing to pay out of pocket before insurance comes into play (aka deductible)?
Pet Insurance Statistics & Facts
Below are some pet insurance trends that fascinated us and we think may surprise you too.
The #1 reason pet owners buy pet insurance is that they, "Want to make decisions about my pet's health care without worrying about whether or not I could afford the procedure."2
91% of U.S. pet parents consider their pets to be family members and 81% consider their pets as equal members of the family2
50% of pet insurance policyholders file a claim each year2
35% of pet insurance claims are for chronic conditions (ongoing issues with recurring vet bills)2
Less than 1% of pet parents have pet insurance even though healthcare costs are increasing faster than human healthcare4
Pet insurance companies allow you to use any licensed veterinarian, clinic or specialist in the U.S.2
No pet insurance company covers pre-existing conditions, which is why you should cover your pet sooner rather than later2
Dog owners spend an average of $257 per year on routine vet expenses and $474 per year on surgical vet visits1
Allergies are one of the most common pet insurance claims for dogs4
In 2015, 1.6 million pets in the U.S. and Canada were insured which is a 12% increase from 20143
Pet Insurance Stats Infographic

To share this infographic on your site, simply copy and paste the code below:
Real Reimbursement Stories
Some of our readers that have pet insurance for their pups have shared real reimbursement stories with us. Check them out to get an idea of what's covered (and what's not) given specific conditions and circumstance.
Pet Insurance Terminology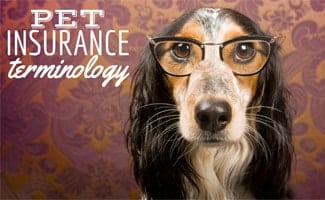 We know that insurance can be a confusing topic. Here's a breakdown of any terms you might come across so you have a better understanding of the lingo.
Chemotherapy and Radiation Treatment Allowance: The schedule of benefits will also list the maximum reimbursement limit for chemotherapy and radiation treatment as they apply to specific conditions. These two amounts are generally split into two allowances with the allowance for radiation being much higher than that for chemotherapy.
Code: The word "code" is listed on your schedule of benefits with most pet insurance companies. Underneath this term you will see a number listed. This is the "code" the company uses to identify the diagnosis given to your pet.
Co-Payment: The co-pay is the amount of out-of-pocket expense you must cover per incident after your deductible. The co-payment is usually listed as a percentage, for example 80/20 means that the insurance company will cover 80% of the remaining balance after your deductible is paid and you must pay the remaining 20%.
Deductible: The deductible is the amount of money you must pay out-of-pocket before you are eligible to receive reimbursement from your pet's insurance plan. For most companies this deductible must be paid per incident rather than per year. Be sure to understand your agreement, as the annual vs per incident deductible is a big deal.
Endorsements: Depending upon the insurance company you choose, you may be given the opportunity to purchase an "endorsement." Usually this comes in the form of a cancer endorsement. This is like an add-on to your purchased insurance plan and extends the amount of coverage your pet receives for the specific illness listed – in this case, cancer.
Exclusions: Exclusions are items that are not covered by your policy. This can include: pre-existing conditions, certain musculoskeletal disorders, congenital disorders, hereditary disorders, intentional injuries caused by you or your family and elective or cosmetic procedures. Again, be sure to request a quote and go over any exclusions in detail before signing up.
General Anesthesia Allowance: On the schedule of benefits, companies will also outline the maximum limit for general anesthesia costs as they apply to specific conditions.
Incidents: The term incident is used to refer to the condition that is causing you to visit the veterinarian. Chronic conditions such as skin allergies are considered to be a single incident even if you pay your veterinarian multiple visits.
Pre-Existing Conditions: Every major company in this category excludes pre-existing conditions from their coverage. This means that any ongoing condition your dog or cat was diagnosed with prior to being covered by their policy will not be covered in future claims. For example, if your dog has already been diagnosed with hip dysplasia, any costs associated with this condition will not be covered by most insurance.
Primary Diagnosis or Condition: This term will appear on your schedule of benefits and refers to the financial limit that the company places on a primary diagnosis or condition which includes injections, hospitalization, exams, surgery and treatment.
Primary Diagnostic Testing Maximums: This term also appears on your schedule of benefits and refers to the cost limit the company places on primary diagnostic testing. This allowance is generally made per bodily system. In many cases, this benefit limit does not extend to specialized diagnostic tests.
Schedule of Benefits: The schedule of benefits is a document that is provided to you when you sign up for your policy. This document outlines conditions that are covered under your plan and the monetary allowance you are provided for each diagnosis.
Secondary Diagnosis or Condition: If your pet is treated for a second condition that occurs as a result of the primary diagnosis then it will be covered under the benefits listed as a secondary diagnosis or condition. This secondary condition will receive financial reimbursement in addition to the primary diagnosis or condition.
Ready To Get Pet Insurance?
It's easy to become confused with all the insurance lingo, pricing plans, coverage, etc. That's why we're here to help. We are pet insurance experts, so feel free to ask any questions below. If you're ready, head on over to our best pet insurance comparison to see the current rankings of our top recommendations.
Do you have enough information to choose the best pet insurance plan for you?
Sources: [1] American Pet Products, [2] InsuranceNewsNet, [3] NAPHIA, [4] Pet Life Today
Disclaimer: Information regarding insurance company offerings, pricing and other contract details are subject to change by the insurance company at any time and are not under the control of this website. Information published on this website is intended for reference use only. Please review your policy carefully before signing up for a new pet health insurance contract or any other contract as your unique circumstances will differ from those of others who may be used for example purposes in this article.
Disclaimer: The information provided through this website should not be used for diagnosing or treating a health problem or a disease. It is not a substitute for professional care. If you have or suspect you may have a health problem, you should consult your health care provider.