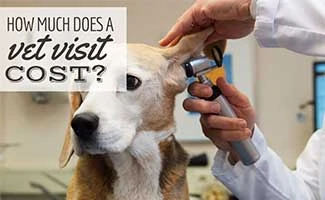 Healthcare — whether it's for humans or animals — has become outrageously expensive. Due to rising costs, pet insurance is an attractive alternative for owners to avoid high veterinary bills. Pet insurance helps protect your pet while saving you from paying pricey out-of-pocket expenses when your beloved furry family member needs it most.
List Of Vet Prices
Wondering how much your dog's checkup at the vet will run you? We've prepared a list of the average U.S. costs for common vet visits and procedures below.
Please keep in mind that these are estimations compiled from our experts' personal experiences in various states across the United States paired with independent research. Vet costs may vary depending on where you live, but the prices below will give you an idea of what various illnesses, accidents, and procedures may cost you.
Additionally, these expenses are likely to rise over time since it's natural for vet care to increase due to operating costs, cost of veterinary education, inflation, and more. If you want a more accurate estimation of prices in your area, request a quote directly from your vet at your next visit.
Wellness & Routine Care
Vaccines
DHLP-PV (distemper, hepatitis, leptospirosis, parainfluenza, parvovirus): $30
DAPP (distemper, adenovirus-1 (hepatitis), parainfluenza, parvovirus): $32
DA2PP (distemper, adenovirus-2, parainfluenza, parvovirus): $7 – $55
Leptospirosis: $27 – $46
Lyme: $54
Bordetella: $27 – $31
Rabies (every 3 years): $22-$30
Learn more about which immunizations are needed and when in our vaccine guide.
Preventative Medicine
Heartworm

Heartguard Plus (6 count): $42
Iverhart (50-100 pound dog):

6 count: $46.20
9 count: $70.30

Flea & Tick

NexGuard (6 count): $127
Bravecto* (large dog): $60
*We highly advise not using Bravecto as there have been many reported links to issues (and even death).
Dental
Exam: $55
Cleaning: $310
X-Ray: $80
Extraction: $80
Surgery & Pre Surgical Lab Work: $480
Find out how you can save money on routine and dental issues with dental insurance for dogs.
Diagnostic Testing
Ultrasound: $175
Thyroid Testing: $55
Liver Testing: $45
Bloodwork Panel: $130
CT Scan: $1,345

CT Interpretation: $310
Biopsy: $150
Lab Work: $250

Radiographs: $525
Flu Testing: $330
Accident & Illness
Vet Exams

General or Sick: $45 – $65
Emergency: $180 – $800

Overnight Stay: $600+
Sedation**: $50 – $90
Induce Vomiting: $110
Anal Sac Abscess: $256
Medical Waste: $7
Ears
Nail Removal (due to broken nail exposing the quick): $20
Medications

Atropine .54 mg/ml Injection (0.6): $25
Benadryl (Diphenhydramine) 50 mg/ml Injection (0.63): $24
Caraprofen 75mg 3 count: $21
Cephalexin

250mg 40 count: $25
500mg 30 count: $29

Cerenia 0.95: $85
Clavamox 125mg 10 count: $52
Deracoxib 25mg 5 count: $24
Doxycycline 100mg 7 count: $20
Hydrocodone 5mg/Homatropine 1.5mg 21 count: $104
Maropitant Citrate Injection 10 mg/ml (2): $80
Methadone HCI 10 mg/ml (0.08): $60
Sucralfate 1 gram 20 count: $20
Cancer
Oncology Consult: $210
Oncology Reassessment: $105
Chemo

Treatment: $250
Administration: $100

Removal Surgery & Hospitalization

Tonsillectomy: $1,250
Lymph Node Excision: $330
Anesthesia**: $710
IV Fluids: $220
Other Fees & Medication: $1,145
We go more in-depth on signs of cancer in dogs and the various treatment options.
**Sedation vs Anesthesia – Sedation is when the patient is very sleepy and relaxed in consciousness but doesn't feel pain. In contrast, general anesthesia results in a complete loss of consciousness, which means the patient won't feel, hear, or remember anything.
Other
Infographic: Top Accidents And Illnesses For Dogs
Below are the top five reported health claims according to one of our top-ranked pet insurance providers, Healthy Paws. We also included the potential total costs associated with each, so you can get an idea of how much you might expect to pay for these common conditions.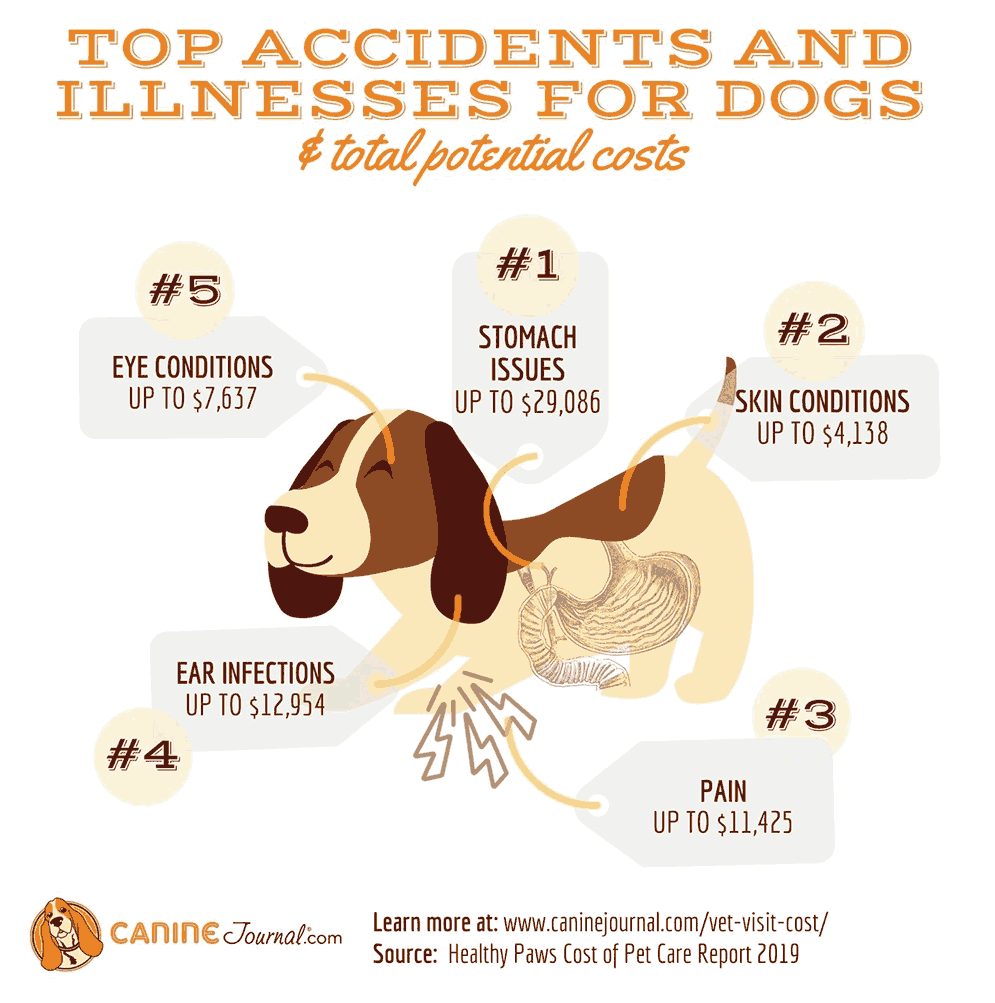 Why Are Veterinary Costs Rising?
We attribute increasing vet costs to several factors:
Vet School Is Expensive – Veterinarians graduate with sometimes hundreds of thousands of dollars in student loans. They need to get paid enough to pay off their debts in addition to the typical costs (food, housing, etc.).
Our Pets Are Family Members – Most dogs and cats are family members who live indoors in modern times. However, in the past, when animals became ill, the standard solution was euthanasia. Today, pet parents will spend thousands of dollars to cure their sick pet's ailments or heal their wounds. This increases the demand for vet care and more advanced treatments.
Specialist Care Is More Costly -Just as we humans sometimes have issues that a general practitioner can no longer manage, so do our pets. But they can refer our pets to board-certified oncologists, ophthalmologists, dermatologists, and neurologists. With advanced care comes advanced knowledge, and with enhanced experience comes higher fees.
Operating Costs For Vets
Vet clinics have many expenses to keep the practice running, including:
Staff And Employee Retention – Veterinarians, vet techs, receptionists, kennel attendants, and other staff all require competitive salaries, wages, and benefits to maintain quality vet care.
Building And Maintenance– Lease or mortgage payments for the clinic, taxes, utilities, and adhering to local government rules and ordinances.
Equipment And Supplies – Syringes, gauze sponges, surgical equipment, and more
Medications – Many clinics have in-house pharmacies, which means they spend money paying drug manufacturers and distributors.
How Pet Insurance Can Help You And Your Pet
Pet insurance works similar to how human health insurance works. When you get sick, your insurance is there to make sure you don't clean yourself out financially while taking care of yourself. It works the same for your pet. Instead of having to dig deep into savings to care for your furry family members, you can rest easier knowing that pet insurance will cover a defined portion of most treatment costs.
Accidents Happen
Let's say your pup gets bit by a car, eats something he shouldn't, or hurts himself playing. Just because a fluke accident occurred doesn't mean you have to be left to pick up the full check. Most pet insurance policies cover accident protection. Just be prepared to pay the deductible.
Certain Breeds Are More Prone To Health Issues
We know you love your English Bulldog, but that doesn't mean you can wish away his greater risk of hip dysplasia, cardiac disease, or respiratory disease. However, you can protect yourself against the odds. Many pet insurance policies offer protection against hereditary and congenital conditions, so you're financially covered.
When Pet Insurance Isn't An Option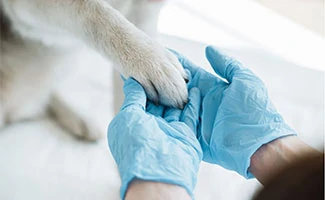 We get it. Pet healthcare is a luxury for many animal owners in the U.S. While we strongly suggest trying to find a pet insurance policy that fits your needs and budget, we understand that sometimes, pet insurance just isn't an option — not to mention if your pet has pre-existing conditions that won't be covered.
Whether you're able to cover your pet under a policy or just want to keep your insured pup healthy with preventative measures, here are a couple of tips for taking the edge off rising vet costs.
Use Free Clinics
Several times a year, vets may offer free clinics where they nix appointment fees. It's a great time to schedule your pet's vaccinations and annual checkups. If your vet doesn't provide this service, check with your local Humane Society or animal control; they should be able to offer you a list of available options.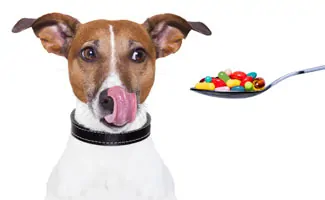 Learn about financial assistance options
Order Pet Meds Online
For non-emergency prescriptions, try using an online pet pharmacy for your pet's prescription needs. Learn safe practices when ordering pet medications online.
Preventative Care Is Key
Whether you choose to cover your dog with pet insurance or not is ultimately a personal decision. However, a significant factor in helping your four-legged family member live the happiest, longest life is through prevention. Regular wellness exams, quality food, and spaying/neutering can go a long way in preventing unnecessary health issues for your pup.
Tagged With: Cost