Trimming your dog's nails can be a major hassle. Veterinarians recommend doing it every four to six weeks to keep them at a healthy length. However, using a clipper to trim your dog's nails can pose some safety concerns if your dog is super squirmy or you don't know where to clip them off safely. So, what's the best method to keep your pup's nails trimmed? Many pet owners and professional groomers swear by dog nail grinders. These tools help you avoid cutting the quick (the blood supply and nerve) of your dog's nails, which can lead to bleeding, pain, and possible infection. Our top picks for the best nail grinder for dogs can help you keep your dog's nails trim and healthy.
Things To Consider Before Buying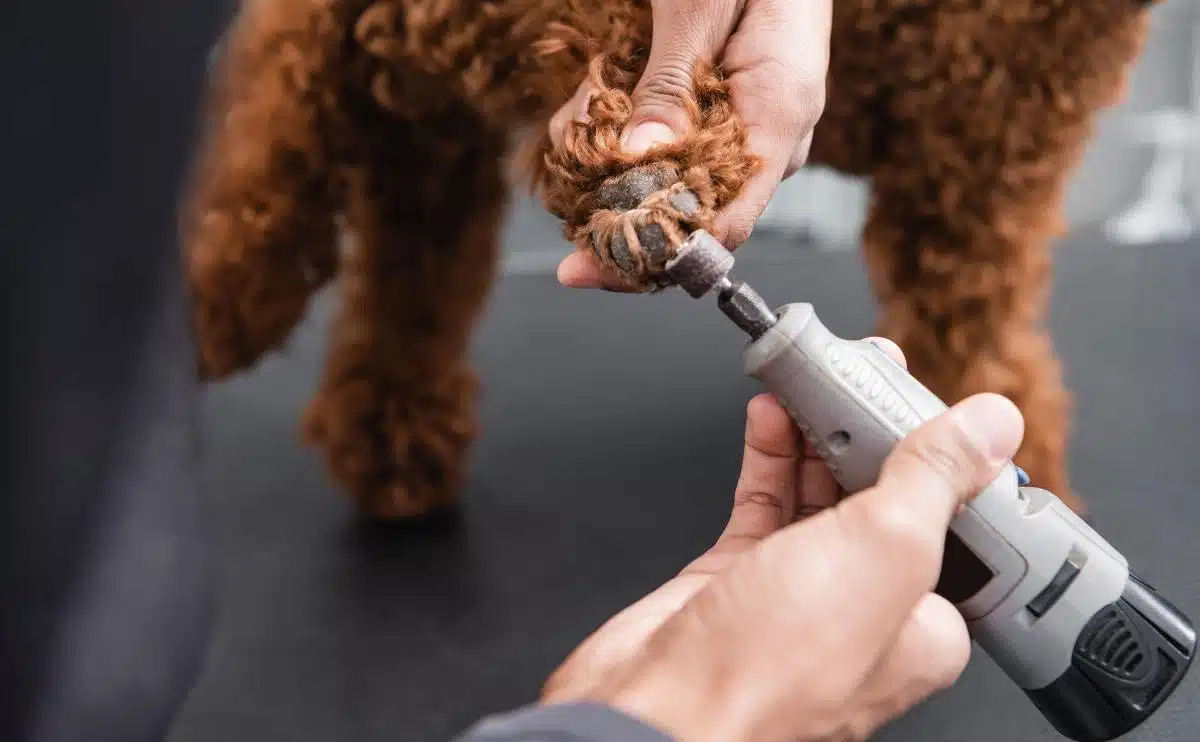 In addition to avoiding cutting the quick, dog nail grinders also help you file your dog's nails around all sides of the nail to create a smooth nail edge. There are a few features you'll want to consider before purchasing a dog nail grinder.
Noise Level
The possible downside with dog nail grinders is the noise of the motor, which could turn your dog off immediately. The best grinder motors have a relatively low noise level but can still be a major factor. Some dogs will be spooked by the motor noise, so the quieter, the better. You know your dog best, so take this into consideration when choosing a nail grinder.
Corded vs Cordless
Most dog toenail grinders come cordless these days, but a few corded models are available that you must plug into the wall while using. As pets are prone to chew on cords, we don't recommend a corded electric grinder. All of the products we review here are battery-operated.
Batteries
Nail grinding takes some time — it's not as quick as simply clipping your dog's nails. So pay attention to the battery life of the device you're considering, as well as if it's rechargeable. Some of the products we review here use disposable batteries, so that may impact your decision.
Safety Nail Guard
Some dog nail grinders come with an attachable safety nail guard. This is a protective plastic cap that you can click into the top of the drumel to help keep your dog's fur out of the grinder and also avoid grinding the quick. These can be helpful for many dogs, but some aren't ideal for large dogs because you can't fit the nails into the guard.
Best Dog Nail Grinders
We've chosen our top picks based on each tool's performance and quality, features, customer feedback, pricing, and other factors.
Winner: Dremel 7760-PGK 4V Pet Grooming Cordless Kit Review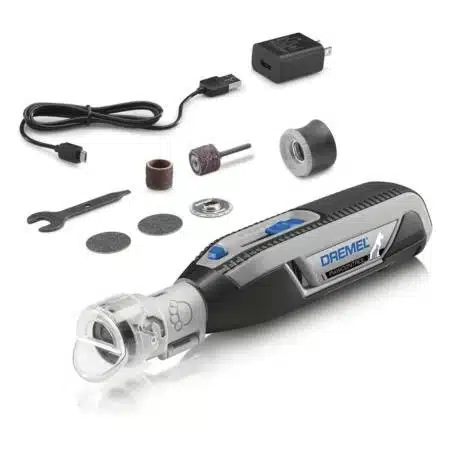 View on Amazon | View on Chewy
We picked the Dremel 7760-PGK 4V Pet Grooming Cordless Kit as the overall best Dremel for dogs. This model is an excellent, albeit pricier, option if you want some more bells and whistles. We also think it's the best large dog nail grinder. This four-speed Dremel model comes with a nail guard to help prevent injuries or cutting the quick. It also includes a grooming kit for multiple coarseness options.
| Pros | Cons |
| --- | --- |
| Works well for dogs of all sizes | Pricey compared to other models we review here |
| Attachable nail guard | Some complaints that the nail guard is awkward to use due to its design |
| 4 speeds | Some users say the motor is louder than expected |
| Relatively quiet nail grinder motor | |
| Cordless | |
| Rechargeable | |
| 2-year warranty | |
Price
Runner-Up: Casfuy Dog Nail Grinder Review
View on Amazon | View on Chewy
This Casfuy upgraded dog nail grinder is a major favorite of many pet parents and comes in as a close second to our top pick. What are the major differences between this grinder and the Dremel? Many users say the Casfuy has a quieter motor than Drumel devices, and it has three port sizes. But we also saw several customer reviews that reported that this tool isn't powerful enough to trim hard, thick nails — and that the largest port size was still too small for very large nails.
| Pros | Cons |
| --- | --- |
| 3 grinding port sizes for small, medium, and large dogs | May be too small and not powerful enough for very large dogs |
| 2 speeds | Some complaints that the battery stops holding a charge after multiple uses |
| Quietest nail grinder for dogs | |
| Cordless | |
| Rechargeable | |
| Lifetime warranty | |
Price
Third Place: Oster Gentle Paws Nail Grinder Review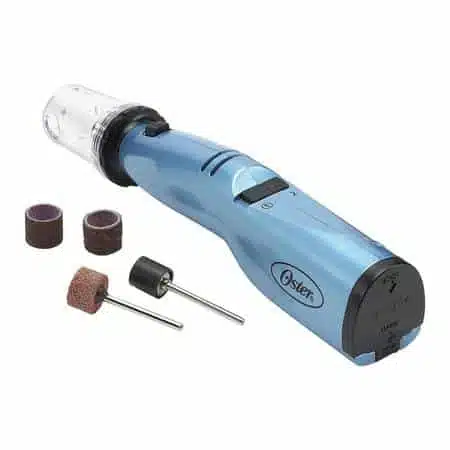 If you don't want to fork out $30 for a nail grinder but still want a device that works well, you might want to consider this Oster electric dog nail trimmer. However, it uses disposable batteries (4 AA) rather than a rechargeable battery like our top two picks. We like that it comes with a fully adjustable nail guard and four different grinding bands so you can choose your level of coarseness.
| Pros | Cons |
| --- | --- |
| Affordable price | Motor is a bit louder than our top 2 picks |
| Has an adjustable nail guard that catches shavings | Some users say it's not powerful enough for large dogs and/or thick nails |
| 2 speeds | Not a rechargeable dog nail grinder (requires 4 AA batteries, which aren't included) |
| Cordless | |
| Includes coarse stone, fine band, and 2 coarse bands | |
| 1-year limited warranty | |
Price
Honorable Mention: LuckyTail Nail Grinder Review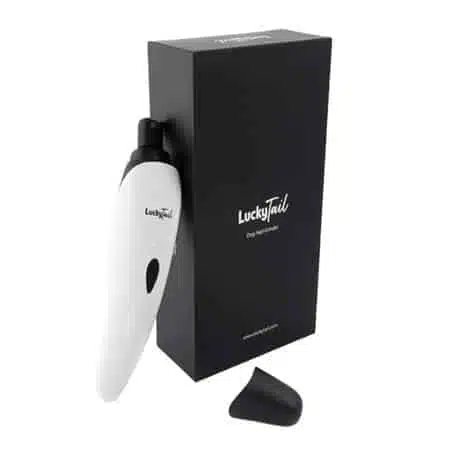 LuckyTail's nail grinder has power without sound. Its quiet motor grinds with an ultralight vibration and bright light so you can see the nail better. The 30 DB noise (or lack there of) is one less thing your dog has to worry about when getting a trim. It has two motor speeds and is rechargeable with a USB cord. The battery lasts around four hours without a charge (and charges up in 1 hour). The most unique feature that we love about this product is the shape of it which is easy to hold in the natural fit of your hand.
| Pros | Cons |
| --- | --- |
| Quiet motor and lightweight | Extra heads are available for additional cost |
| Blows away grinding | More expensive than other top picks |
| 2 speeds | |
| Cordless | |
| Erganomic design makes it easy to hold | |
| Only 30-day guarantee (1-year warranty is extra) | |
Price
Our Personal Experience With LuckyTail Nail Grinder
"It's curved handle makes it easy to grip, super quiet and Georgie almost enjoyed the nail trimming experience. The very fine sander blows the debris away from the nail as you grind and it has a very bright light so you can see the nail easily (which is good with a dog who has a lot of fur around their paws like ours). Compared to other grinders which are loud and abbrassive, this was very quiet and smooth. I could easily shape and round the edges of the nails so they aren't sharp in addition to grinding them down. It came with a cleaning cloth and re-chargeable cord too."

– Sadie Cornelius, Cavalier King Charles Spaniel parent
What About FURminator, Paw Perfect & Whal?
The following devices didn't make our top three, but you may still want to consider them. We have some budget options, a higher-end option, and ones with LED lights to help illuminate your dog's nails while you work on them.
FURminator Nail Grinder Review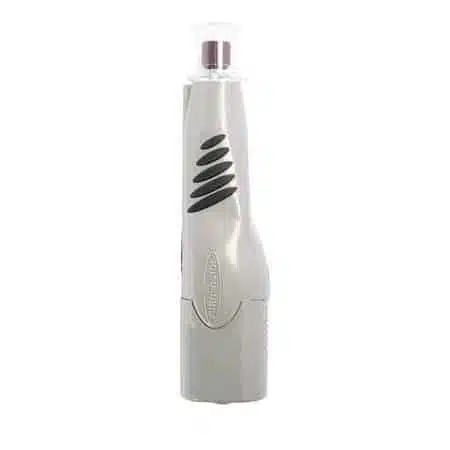 View on Amazon | View on Chewy
If your pup has black nails, the FURminator Nail Grinder could be your best bet because it has an LED light that illuminates your dog's nails as you trim them. It has two speeds, an attachable nail guard, and comes with two grinding bands. This device runs on four AA batteries, which are included. While it's one of the most affordable on the market, the downside with this grinder is that the motor isn't very powerful, so it can take a lot of time to file your dog's nails down, especially with thick nails.
| Pros | Cons |
| --- | --- |
| Good budget buy | The motor isn't as powerful and not quite as quiet as our top picks |
| LED light | Doesn't have a rechargeable battery |
| Comes with an attachable nail guard | Some complaints that the grinding band slips out of place during use |
| 2 speeds | |
| Cordless | |
| 1-year limited warranty | |
Price
Our Experience
"We used the FURminator on our Cavalier King Charles Spaniel. It's plenty powerful for just using AA batteries but wish it was re-charable. The light helps you see the nail better as not to trim too short. The guard has an extra safety precaution. It came with a spare band too. It's not as good of a job as what they do at the vet, but it at least helps hold you over between trips to the groomer."

– Sadie Cornelius, Cavalier King Charles Spaniel parent
PawPerfect By Bell+Howell Pet Nail Rotating File Review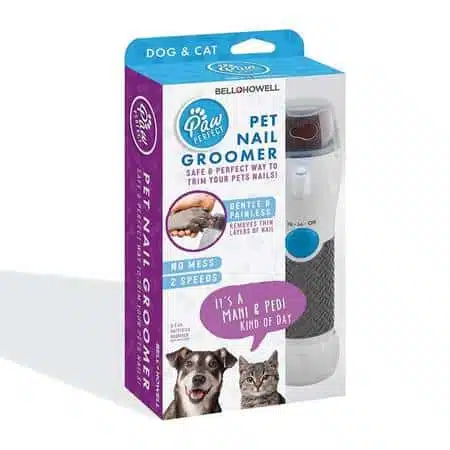 Have you come across the PawPerfect dog nail grinder "As Seen On TV" and wonder if it's worth considering? The standout feature with this grinder is the LED light that helps make the process easier to see. It also comes with one extra-fine and two fine bands. But otherwise, this dog nail trimmer doesn't blow us away. It uses three AA batteries, and many users say the motor is underwhelming.
| Pros | Cons |
| --- | --- |
| Affordable price | Many users say it's loud |
| LED light | Some complaints that the motor isn't powerful enough |
| Comes with safety nail guard | No rechargeable battery, and 3 AA batteries not included |
| 2 speeds | |
| 1-year limited warranty | |
Price
Wahl Professional Dog Nail Grinder Classic Review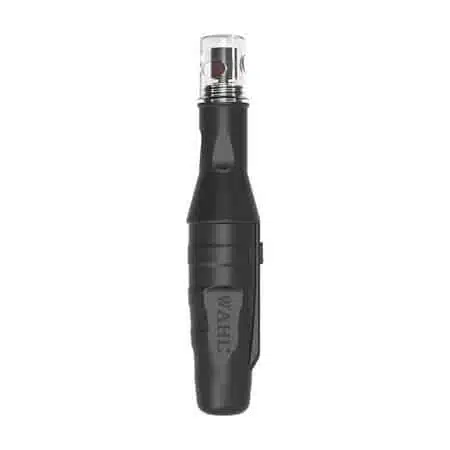 View on Amazon | View on Chewy
This Wahl small dog nail grinder is a good option if you're on a tight budget, but keep in mind it's not meant for medium or large dogs (or dogs with thick nails). It comes with a safety cap, two sanding drums, and five sanding bands. But it only has one speed, which rotates slower than many other products.
| Pros | Cons |
| --- | --- |
| Among the least expensive you'll find | Only good for small dogs (1 speed that's not very powerful) |
| Safety cap and safety stop feature | Not rechargeable and 2 CC batteries not included |
| Quiet motor | |
| Includes 2 sanding drums and 5 bands | |
| 1-year limited warranty | |
Price
How To Grind Dog Nails
It's best to read any instructions that come with your dog's nail grinder, so you know how to properly use the tool. But as a general rule, here are the steps to help you know how to use a dog nail grinder properly:
Prepare Your Dog: Choose a quiet and well-lit location for the nail grinding session. Calmly introduce your dog to the grinder without turning it on. Let them sniff and get comfortable with the tool.
Trim Excess Hair (If Needed): Some dogs have hair growing around their nails. Trim this hair away so that it doesn't interfere with the grinding process.
Turn On The Tool: Before turning on the grinder, show it to your dog and allow them to become familiar with the noise and vibrations.
Gently Touch the Grinder To The Nails: Hold your dog's paw gently but securely. Lightly touch the grinder to one of their nails for a brief moment to let them feel the vibration. Reward them with a treat and praise.
Begin Process: Start by grinding a small amount of nail at a time. Avoid grinding too close to the quick (the blood vessel inside the nail) to prevent bleeding and pain. Hold the grinder at a 45-degree angle to the nail, and use a gentle, slow, and controlled motion. Keep the grinder moving to avoid overheating the nail, which can cause discomfort.
Check Your Progress: Frequently check the nail's tip to see how much you've ground away. Stop grinding when you're close to the quick or when you reach the desired length.
Repeat On Each Nail: Continue the process on all the nails, being patient and cautious with each one. Use treats and praise as positive reinforcement throughout the process.
Smooth The Edges: After you're done, you can use the grinder to smooth the sharp edges of the nails.
Reward And Praise: Once you've finished grinding all the nails, reward your dog with treats and lots of love.
Clean Up: Use a damp towel to remove any nail dust and maintain its performance. This step often gets overlooked but is important for their hygiene.
Practice And Patience: If your dog is anxious or uncomfortable, take breaks and try again later. Gradually build up their tolerance to the nail-grinding process.
Tip
Remember that patience and positive reinforcement are key when grinding your dog's nails. If you're unsure about how short to trim the nails or if you're uncomfortable doing it yourself, consider seeking help from a professional groomer or your veterinarian. Overly long nails can be painful and can lead to various health issues for your dog, so regular nail maintenance is essential.
This brief video also has a helpful tutorial on how to trim dog nails with a grinder.
Frequently Asked Questions
Here are some questions our readers often ask about dog nail grinders.
Is A Nail Grinder Better Than Clippers?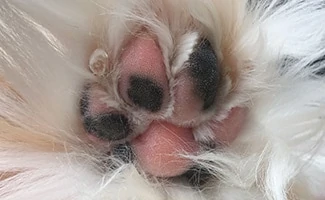 So what's the consensus between a dog nail grinder vs clippers? It really comes down to you and your pup. Some dogs won't go near a grinder because of the noise, and a grinder takes much longer to do the job than a simple clipper.
However, dog nail trimming can leave your dog's nails rough and spiky, and there's a better chance that you'll cut the quick with clippers. But if you know how to avoid the quick, clippers could be a good choice for a quick trim.
How Do I Grind Black Dog Nails?
Grinding or clipping dark nails can be a bit more challenging because it's much harder to see where the quick is. Take it slow, and grind down a small part of the nail. Then, take a peek at the center of your dog's nail straight on.
If it's whitish, it's safe to file some more. Continue this process. You'll know you're getting close to the quick when the center appears black or has a pinkish tone.
What Do I Do If I Accidentally Grind The Quick?
If you accidentally cut the quick and your dog's nail begins bleeding, it's usually not a huge deal. But it's a good idea to have some styptic powder handy to apply to the nail. While styptic powder is ideal, you can also apply corn starch or ice the wound until the bleeding stops. Call your vet if you're concerned, or the bleeding won't stop.
More At-Home Grooming Needs
A nail grinder is just one of the tools you can use at home to save money on your dog's grooming needs. Check out our comprehensive guide on grooming a dog, including grooming tips and some of our recommendations for the best brushes, shears, fur clippers, and much more.
Tagged With: Comparison, Grooming