Not all dog breeds require regular clipping, but for those that do, professional grooming can easily break your budget. Fortunately, several high-quality dog clippers on the market can make home grooming a breeze. We've researched dozens of products and give you our top picks for your pup's frequent or even occasional clipping and trimming needs.
At A Glance: Best Dog Grooming Clippers For Home Use
What To Consider When Choosing The Best Dog Clippers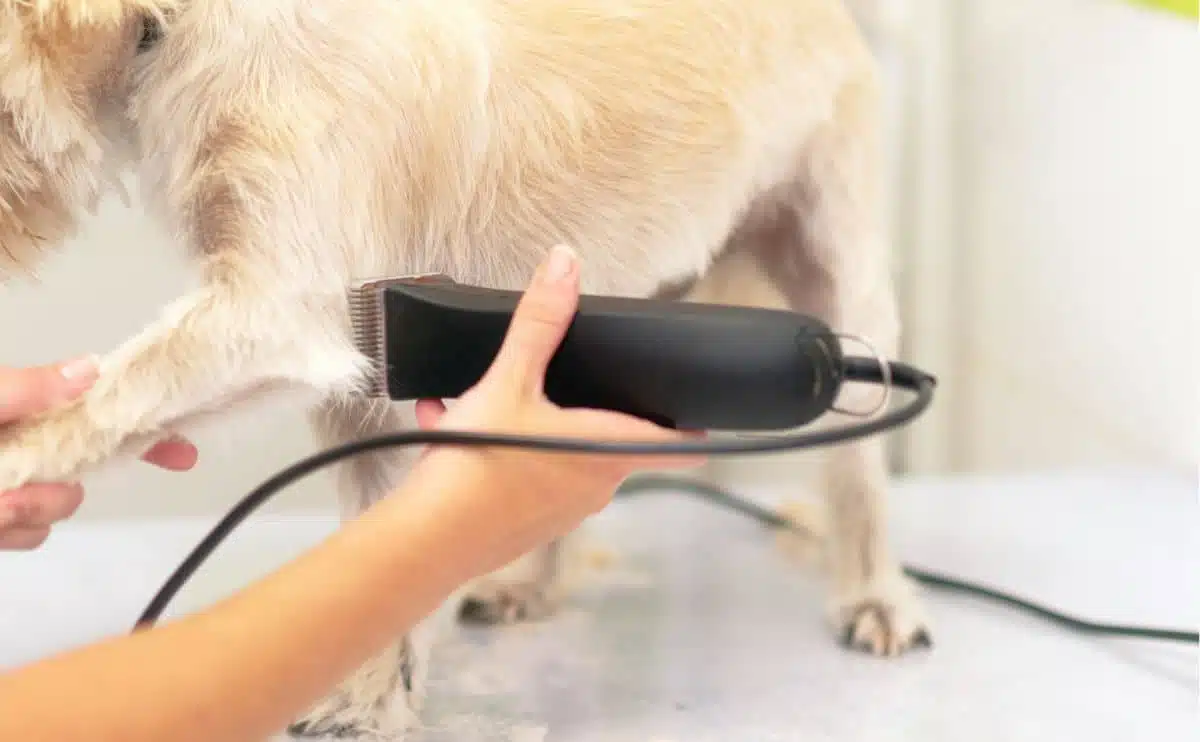 High-quality dog clippers are pricey, but the investment saves you a ton of money versus getting your dog professionally groomed. There are several factors you'll want to consider when looking for the best clippers for your pup's specific needs.
Corded vs cordless: Each type has its pros and cons. Corded clippers generally have a stronger motor, and you won't have to worry about the battery dying during a grooming session. On the other hand, cordless clippers are easier to maneuver around your pup and allow you to groom anywhere.
Speed: Single or lower-speed clippers work for smaller dogs with finer hair. But if your pup has coarse, thick hair, you'll want a multiple or higher-speed device that can tackle all that fur. If you have more than one dog with varying coats, make sure you get a multiple-speed clipper.
Noise level: Loud motors can make some dogs anxious, so you may want to factor in the noise level if you have a sound-sensitive pup.
Blade material: You'll want to look for blades made with stainless steel, titanium, or another durable metal.
Blade size: It's helpful to get a clipper that accommodates multiple blade sizes, depending on your pup's needs. Using different sizes allows you to get the style you want on different areas of your dog's coat. It's also useful in trimming delicate areas that are best handled with a smaller blade.
7 Best Dog Hair Clippers
We've chosen our top picks and based our reviews on several factors, including performance, features, ease of use, customer feedback, pricing, and more.
Best Cordless Dog Grooming Clippers: WAHL Arco Review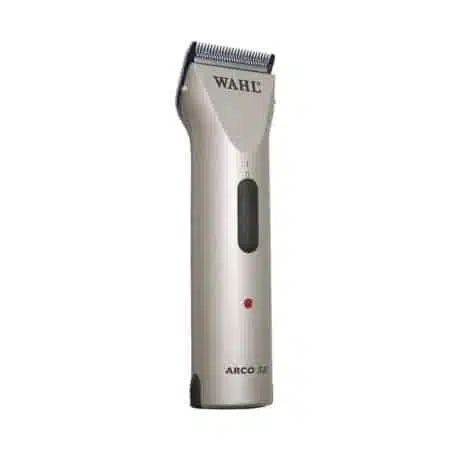 View on Amazon | View on Chewy
WAHL is one of the most popular brands professional groomers use, and this cordless Arco model (#8786) is an excellent option for home clipping. It's lightweight and easy to maneuver around your pup, even in hard-to-reach places. These clippers have five-in-one adjustable blade lengths (#9, #10, #15, #30, and #40) and come with four comb guides.
It also comes with a cleaning brush, blade oil, and two rechargeable battery packs, a huge plus so you can finish your entire clipping session even when one battery dies. The WAHL Arco is a one-speed unit that runs at 5500 strokes per minute. It's best suited for small to medium dogs without extremely thick hair.
| Pros | Cons |
| --- | --- |
| Sharp blades in five sizes to get a clean, polished look all over | Not ideal for very thick fur |
| Lightweight and easy to grip | Only has one speed |
| 80-minute battery life (2 rechargeable batteries included) | Some complaints about poor battery life |
| Low noise and vibration | |
| Comes in 3 colors | |
| 1-year warranty | |
Price
Best Professional Dog Grooming Clippers: Andis UltraEdge Review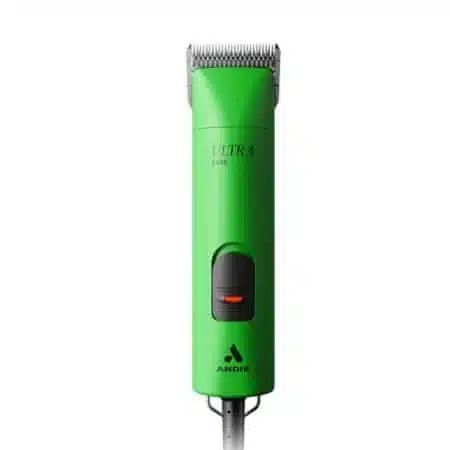 View on Amazon | View on Chewy
A leading manufacturer of professional clippers, Andis doesn't disappoint with these corded dog grooming clippers for home use. Constructed with a powerful two-speed motor (3400-4400 strokes per minute) and detachable carbonized steel #10 blade, this product can tackle thick, curly, and matted hair but is effective for any coat type. You can use the lower speed to trim your pup's face and other delicate areas and kick it up to high speed for whole-body clipping.
The 14-foot, heavy-duty cord makes it easy to maneuver around your pup, and you won't have to worry about a battery dying before you're finished. These clippers are compatible with all UltraEdge, CeramicEdge, and ShowEdge blades (must purchase separately).
| Pros | Cons |
| --- | --- |
| Excellent for all coats and breeds | On the pricey side |
| Durable construction with long cord | Only comes with a #10 blade and no guide combs |
| Doesn't require a battery | Heavier than some others we review here |
| Low noise and vibration | |
| Detachable blade makes it easy to clean | |
| Comes in 4 colors | |
| 1-year warranty | |
Price
Best Value: oneisall Dog Shaver Clippers Review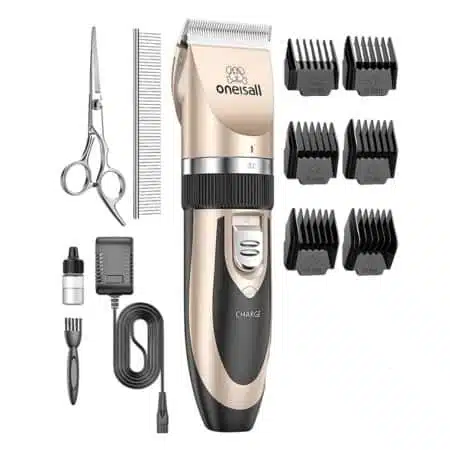 If you can't swing the expense of our other top picks, we recommend this top-selling oneisall clipper kit. The device includes a built-in rechargeable battery that you can use cordlessly or with the cord while charging. The kit comes with six guide guards (3mm, 6mm, 9mm, 12mm,15mm, and 18mm), allowing for versatile coat cuts. It also includes stainless steel scissors, a stainless steel comb, and blade oil.
The sharp blades give you a precise cut and are easy to detach for cleaning and sharpening. The downside to these clippers is that they only have one speed, but for a few dollars more, you can get oneisall's two-speed kit, which offers all the same features as this one-speed model.
| Pros | Cons |
| --- | --- |
| Excellent value | Clippers jam up with long, thick hair, so you'll need to cut long fur with scissors first |
| Sharp stainless steel fixed blade and ceramic moving blade | Only has one speed |
| Can use as cordless or corded | Not compatible with other blades |
| Low noise and vibration | |
| Comes with 6 guide guards, scissors, comb, and blade oil | |
| 3-year warranty | |
Price
Best For Thick Coats: Oster Turbo A5 Review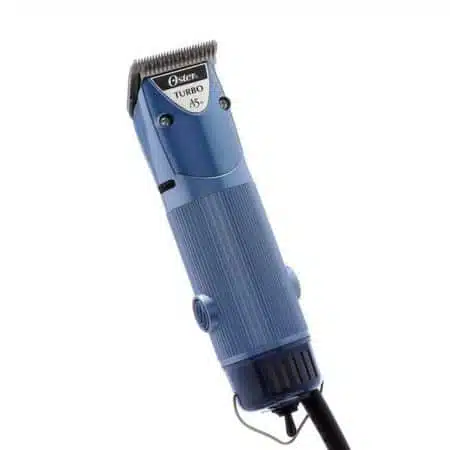 View on Amazon | View on Chewy
Similar to the Andis clippers we review above, the Oster Turbo A5 is another professional corded option that has a powerhouse motor with two speeds (3,000 spm and 4,000 spm). It's a top choice among professional and home groomers for tackling thick and matted fur. It has a detachable A5 blade system that makes blade changes quick and easy. Oster blades are constructed and cryogenically treated for extended durability.
This model comes with a detachable #10 CryogenX blade, blade oil, clipper grease, cleaning brush, and replacement carbon brushes. It's compatible with Oster A5 Cryogen-X blades and Elite Cryogen-X blades.
| Pros | Cons |
| --- | --- |
| Excellent for thick hair | Only comes with a #10 blade and no guide combs |
| Durable construction with long-lasting blade | 10-foot cord can be a bit cumbersome |
| Doesn't require a battery | Some complaints that it gets hot with prolonged use |
| Detachable blade makes it easy to clean | Some customers say it's a bit loud |
| 1-year warranty | |
Price
Best For Face, Ears & Paws: oneisall Dog Clippers For Small Areas Review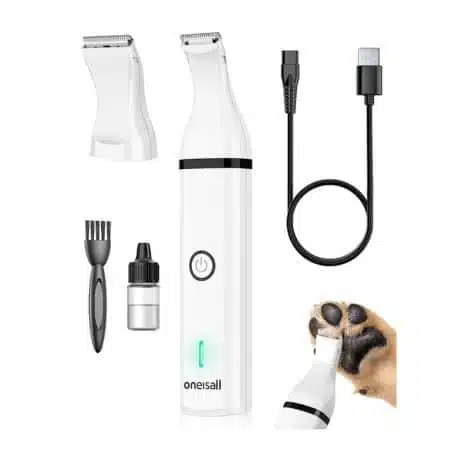 If you don't need full-body clippers or want a separate trimming tool, these affordable oneisall trimmers are great for grooming your dog's face, ears, paw pads, rear end, and other sensitive areas. It comes with two easily detachable sharp stainless steel blades in small and medium sizes, as well as a USB charging cord, blade oil, and a cleaning brush. These trimmers are easy to use and clean.
Personal Experience With oneisall
"We use this mini shaver on our dog's paw pads. Cavaliers are known for their hairy, longer 'grinch feet' so we wanted to keep that look while not getting his paws dirty on walks.

Oneisail's trimmers for small dogs are perfect to get into small, delicate areas like between paw pads. It's quiet and doesn't require charging very often.

It's also cordless and super compact so you can easily take with you if need be when on the go."

– Sadie Cornelius, Cavalier King Charles Spaniel dog parent
| Pros | Cons |
| --- | --- |
| Affordably priced | Doesn't come with guide guards |
| Stainless steel blades in 2 sizes | Some complaints that the blades get dull quickly |
| 2-hour battery life | |
| Low noise and vibration | |
| 3-year warranty | |
Price
Best Grooming Vacuum: Bunfly Dog Clipper Grooming Kit & Vacuum Review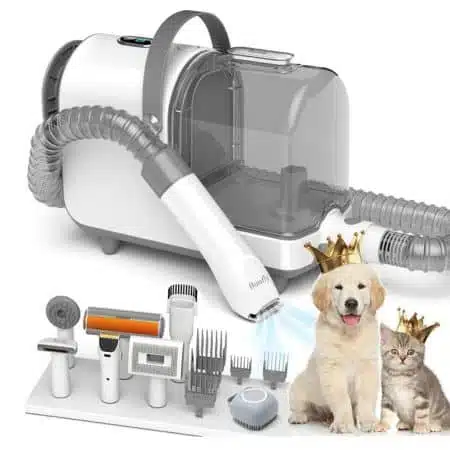 Make your grooming sessions (and cleanup) as easy as possible with this Bunfly 7-in-1 pet grooming vacuum kit. While these tools won't accomplish the major clipping job, you'll get from the WAHL, Andis, and Oster clippers. It's an excellent option for your regular brushing, de-shedding, and trimming needs.
You simply attach each tool to the vacuum hose, which suctions up your pup's fur directly into the container. It comes with a grooming brush, de-shedding brush, massaging comb, and trimmer with three trimmer guards (12mm, 16mm, and 24mm). It also comes with two attachments to suck up pet hair from your flooring and furniture. Most users rave about how quiet and effective this product is, as well as super easy to use.
| Pros | Cons |
| --- | --- |
| Easy to use and mess-free | May not tackle clipping very thick fur as well as some other products we review here |
| Clipper comes with 3 guard guides | A few complaints that the motor burnt out |
| Powerful suction | |
| Low-noise technology | |
| Large 3L vacuum container capacity for pet hair | |
| 1-year warranty | |
Price
Best Budget Pick: Ceenwes Pet Clippers Review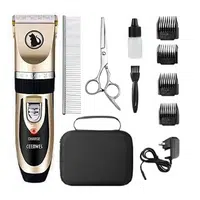 If you're seriously strapped for cash, these cordless clippers could be your best bet. They feature a titanium stable blade with a ceramic movable blade for smooth and efficient cutting. With this kit, you get four guide comb attachments (3, 6, 9, and 12mm), a rechargeable battery that can last for 3-4 hours of use, and a cleaning brush.
Personal Experience With Ceenwes
"I purchased these clippers to use on my Poogle Falkor. He is a Poodle Beagle mix and has a thick coat of wiry hair that is softer underneath. He gets very scraggly and needs regular trimming on the back end to help keep his potty habits safe and clean. I have asked the vet to do this sanitary shave for me a few times, but I needed to learn to do it myself. These clippers proved to be effective and easy to use. They are slightly heavy in my hand, but I appreciate the ease of use. They are cordless, which really helps with a squirmy dog.

Though described as low noise, I found these to be louder than I expected. It took my pup a few minutes as the sound startled him at first. However, I was able to get a trim done on him and clean up the areas that needed sanitary shaving. Overall, I am happy with the way they work, as well as the results, but I had hoped for something quieter. I also think they need to offer a longer attachment. The longest was half an inch. I need something a tad longer. This was good for a quick face trim and the sanitary shave."

– Danielle DeGroot, Canine Journal writer and pet parent of many dogs and cats
| Pros | Cons |
| --- | --- |
| Budget-friendly | Better as trimmers than clippers for long and thick hair |
| Clipper comes with 4 comb attachments | Some complaints that the blades are dull |
| Good rechargeable battery life | |
| Comes with a cleaning brush | |
| 1-year warrenty | |
Price
Which Breeds Need Regular Clipping?
The most common breeds that require regular clipping include:
Poodle
Bichon Frise
Yorkshire Terrier
Maltes
Lhasa Apso
Pekingnese
Shih Tzu
Schnauzer
Cocker Spaniel
Even for breeds that don't need all-over clipping every few weeks, it's still helpful to have grooming clippers on hand. It's important to keep your pup's fur trimmed around his paw pads and around his rear end to avoid poop getting stuck in his fur.
Quick Tips On How To Groom Your Dog's Hair
New to dog clipping at home? Here are some basic tips to help you have a successful grooming session.
Prepare your pup's coat before clipping by bathing, drying, brushing, and removing matted hair.
Place a large towel under your dog. This will help keep him more comfortable and make cleanup easier.
Examine your pup's skin for any sores, rashes, or cuts so you can avoid these sensitive areas when you're clipping.
Don't shave into any skin folds. Pull the skin tight to create a smooth surface to avoid injury.
Need A Complete Guide To Dog Grooming?
Clipping your dog's fur is only one part of grooming that dogs need. Some dogs don't even need clipping. So be sure to see our ultimate guide on how to groom your furry friend. We also have a ton of grooming advice on everything from getting rid of matted fur and bath tips to trimming your dog's nails and teeth brushing.
Tagged With: Comparison, Grooming