If you have a furry friend with long or curly hair, you've more than likely experienced matting. These pesky little balls or clumps of fur not only look bad, but they can also cause discomfort and health issues with your pup or kitty. My Cavalier King Charles Spaniel's fur is prone to matting, so I searched for solutions and found the best way to get mats out of dog hair. Here's a complete guide on how to get rid of matted dog hair for your pet too.
What Causes Matted Hair In Dogs?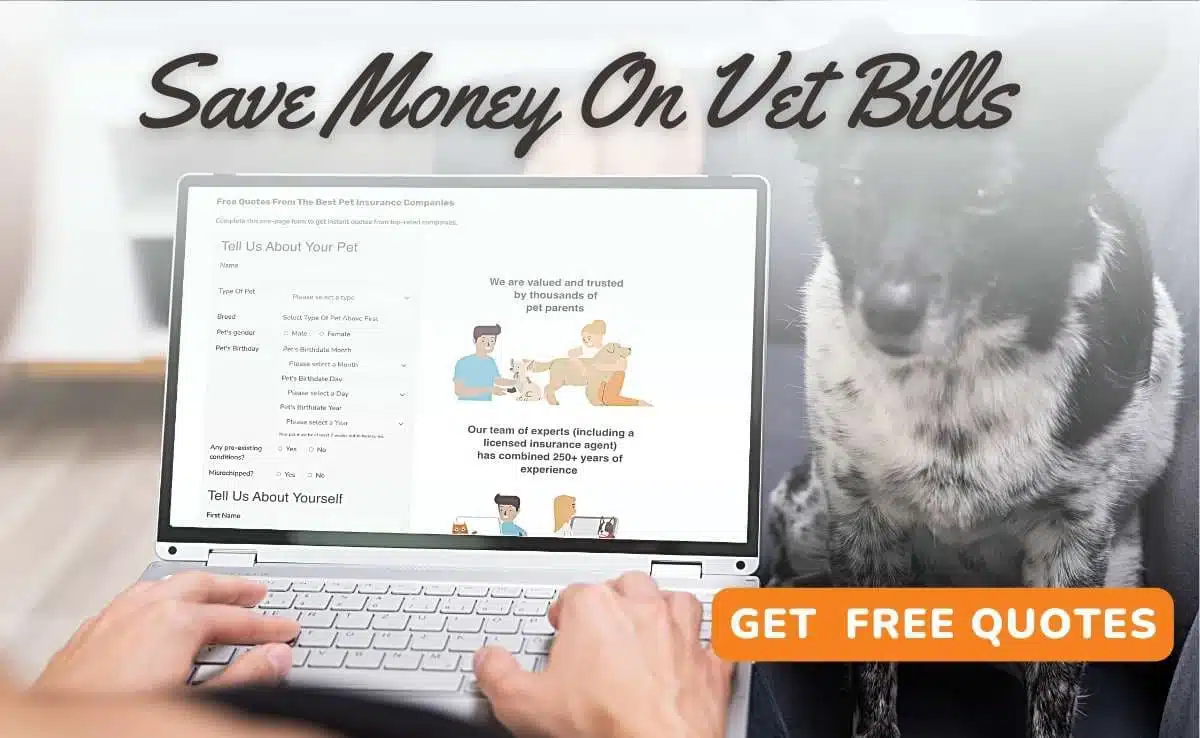 "Matting" is dense or tangled clumps of hair in a pet's coat. Mats are more prevalent in long-haired dogs (and cats), especially during shedding season. The extra fur needs to be adequately extracted via a brush, or else matting will occur. Mats can also result from dogs scratching themselves and getting their fur wet in rain or snow.
Mats usually start with a small knot, but this can quickly turn into a large clump. Left untreated, mats get larger and more difficult to remove. Sometimes, eliminating large mats involves pulling on the skin, which is extremely painful for your pup. That's why it's important to understand the best way to remove them. You should seek a professional's assistance if the mats get unmanageable.
In addition, severe matting can lead to health problems, such as poor ventilation and blood flow. If mats start to turn pink or red (or smell), you should contact your vet right away — this could be a sign of infection, which requires expert removal and treatment.
Where Do Mats Form?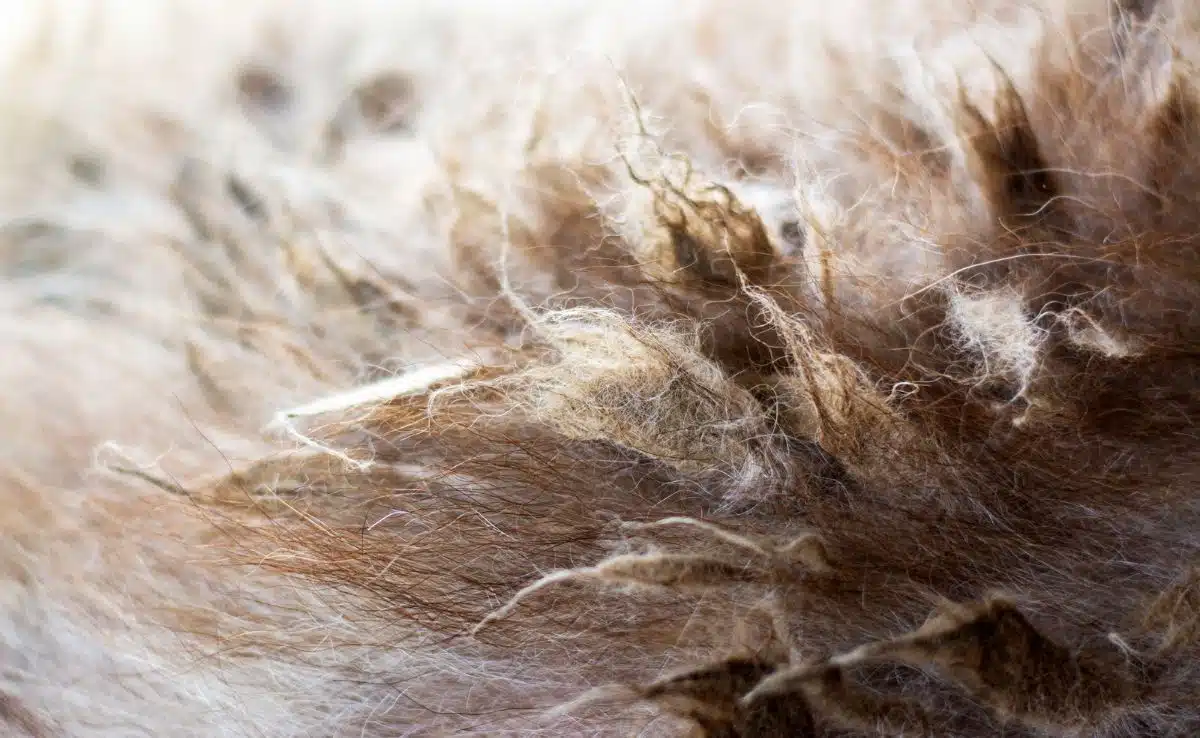 Mats can form anywhere on a dog or cat's coat but especially where their hair is extra long: the backs of their ears, butts, tummy area, and under the arms and legs.
Maintaining a healthy coat can prevent mats from forming, so removing excessive hair through regular brushing and grooming is critical. But often, they sneak up on you out of nowhere.
Best Dog Dematting Tools
Before we dive into how to demat a dog, you'll first want to make sure you have all the right tools and products handy. These will help set you up for dematting success. After the product reviews, we share some tips on how to get knots out of dog hair.
Shampoo: Honest Paws 5-in-1 Dog Wash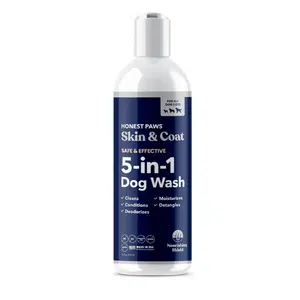 If your dog is prone to tangles, we recommend a shampoo that both cleans and conditions. Honest Paws (a top producer of dog CBD oils) has developed a 5-in-1 Dog Wash that does just that (and more). They make their plant-based formula in the USA with coconut, palm, oatmeal, and aloe extracts. It washes, conditions, deodorizes, moisturizes, and detangles. We got the opportunity to try it out in exchange for an honest review.
Our Experience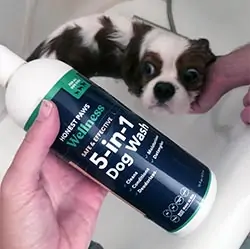 We've used several different shampoos and conditioners for our King Charles Cavalier, who has hair that tangles easily.

Right away, we noticed the lovely aroma of the Honest Paws 5-in-1 Dog Wash. Its fragrance is subtle but not too strong and left her smelling fresh and clean. It's a more natural product than much of what's on the market, so it didn't lather up and get as sudsy as other shampoos. But we didn't need to use a conditioner or detangling spray to brush his coat afterward. We let his air dry, and the next day, his coat was so fluffy, shiny and silky smooth.

– Sadie C., Canine Journal
Dog Detangler Brush: Poodle Pet Dematting Fur Rake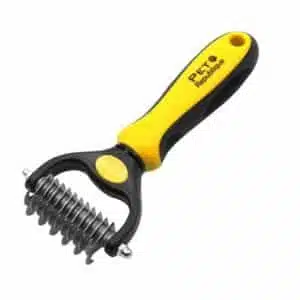 While reshedding dog brushes work great for general maintenance and excess fur removal, you'll need a specific detangler brush to remove mats as painlessly as possible. But what's the best brush for matted dog hair? We recommend the Pet Republique Dematting Rake (or something similar) that has serrated stainless steel blades to help break up the hair while combing.
In addition to a brush and dematting comb, it's a good idea to have a gentle comb like this stainless steel one by Frisco to smooth out the hair. It has a comfortable handle and comes in three sizes, including a double-sided option.
Best Dog Detangler Spray: Scout's Honor Conditioning Spray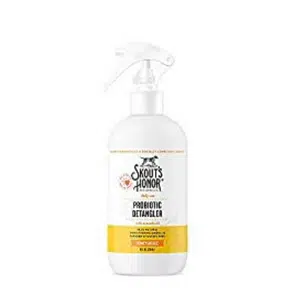 Next in your arsenal is a detangling conditioning spray. While there are many products on the market, including the highly recommended Cowboy Magic spray, our top pick for the best dog detangler is SKOUT'S HONOR Probiotic Daily-Use Spray. I personally used this on our dog (in the lavender scent for a calming effect) and love that it's an all-natural, non-GMO, tear-free treatment that stands behind a 100% guarantee (and also gives back to dogs in need).
Best Dog Clippers For Matted Hair: Chibuy Professional Pet Grooming Scissors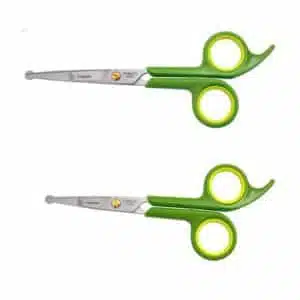 You don't need heavy-duty dog clippers for matted hair. A simple set of shears should do the trick. But these Pet Magasin Grooming Scissors (come in a two-pack) are designed with dogs in mind since the tips are rounded to prevent poking or sharp stabs if your pup gets fidgety. You might also try thinning shears which help break up the hair without completely snipping it off. You can also try a professional grooming setup that can be used at home.
How To Get Mats Out Of Dog Hair
Now that you're prepared with products, it's time to pamper your pup. Keep in mind that this isn't a doggy spa treatment. Untangling a dog's matted coat is a delicate process that requires both patience from you and your pet. Here are some steps on how to unmat dog hair.
Get you and your dog in a comfortable position where you can maintain control of your pup without making him feel trapped or scared. The kitchen counter, dining room table, or another stable piece of furniture works well, so they're at eye level with you (to mimic being at the vet or groomer). If your dog is large or skittish (like my pup), you might try to cradle him on the sofa or get in a more relaxed spot.
Use your fingers to massage the knot gently. This helps to loosen the hair naturally before getting the tools out.
Separate the mat from the surrounding hair by gently brushing back the areas around the clump of hair to focus on the problem spot.
Gently brush the matted area with a soft bristle brush in alternating directions. Place your fingers under the base but above the skin to help keep tugging the skin to a minimum when brushing. Sweep the brush sideways to break up the hair fibers.
Using a dematting comb, start at the top (furthest from the skin) to detangle the mat and work your way toward the base. Be extra careful not to snag the skin (keeping your hand under the fur helps).
Spray your conditioner around the matted area until it's slightly damp. This step is optional, but we found that the conditioner makes it easier to get the brush to glide through the hair.
Use a stainless steel comb to finish going over the newly detangled hair, working the conditioner in evenly.
Don't forget to pet your pup. Give him words of affection and treats once the process is complete (and throughout the steps above if needed).
How To Prevent Matting In Dogs
While it's satisfying for you and your dog to get mats out of your dog's hair, wouldn't it be nice to prevent them from happening in the first place? By brushing your dog regularly, you can avoid getting mats in their hair. Also, keeping their coats clean and bathing them often keeps their coats shiny and smooth, helping prevent tangles.
How To Trim Mats Out Of Dog Hair
If you're still having trouble removing the knots after the process above, you might resort to trimming. Wondering how to cut matted dog hair out safely? See this effective trimming method.
If your pup has severely matted dog hair, it's probably better to shave your pup. Want to know how to shave a dog with matted hair yourself? Here's a guide to grooming at home, but with massive matting, we'd recommend leaving that to the experts and taking your dog to a groomer.
Home Remedies For Matted Dog Hair
You might have heard of cornstarch to get mats out of dog hair. It's a good hack that can be used in conjunction with the tools above. Liberally rub the cornstarch into the matted fur. Then, using a fine-tooth comb, slick the hair from the bottom to the top, starting at the root.
Some people also swear by using baby oil for matted dog hair, but we don't recommend it because it's not vet-formulated and can cause irritation to a dog's skin.
For additional reading, be sure to check out our bathing tips article, which can be an extra resource in your ongoing journey for mat-free hair.
Tagged With: Grooming