To sustain this free service, we receive affiliate commissions via some of our links. This doesn't affect rankings. Our review process.
Want to "weed" out man-made pharmaceuticals to help relieve some of your pup's ongoing health problems? You're not alone. More and more pet parents are turning to an all-natural alternative, Cannabidiol oil (better known as CBD oil), made from the hemp plant.
Studies have shown that CBD oil and other CBD products are beneficial for several human health issues, including anxiety, pain, seizures and neurological disorders. But is CBD effective and safe for dogs?
Best CBD Oil For Dogs
Here are our top picks for companies that sell high-quality CBD oils, CBD dog treats and other related products. Some of the companies we review specialize solely in formulating and producing pet CBD products, while others offer both human and pet CBD products. However, all of the companies reviewed here have special veterinarian-formulated products.
King Kanine Review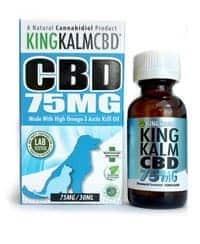 #1
King Kanine is a top manufacturer of CBD products exclusively made for pets. Their King Kalm line includes oils, treats, balms and soothing sprays. They make their CBD oil from naturally occurring Phytocannabinoid-rich (PCR) broad spectrum oil.
They then suspend the CBD in omega-3 rich krill oil, which includes essential fatty acids known to be an efficient catalyst for delivering CBD to the body. Many holistic vets recommend King Kanine products. Learn more in our interview with King Kanine's founder Jeff Riman.
Pros

Cons

Fully-tested by a Certified ISO-17025 Lab (you get a COA with every product you purchase)
Derived from non-GMO and organic hemp
Pesticide and solvent-free
CO2 extraction process
Can use for cats as well
Made in the USA
30-day money back guarantee

External syringe can be messier than others with a built-in dropper (also the dosage guide on the syringe tends to rub off quickly)
Price
$29.99 per 75mg bottle
$49.99 per 150mg bottle
$74.99 per 300mg bottle
$99.99 per 600mg bottle
Free shipping over $100
Coupon
King Kanine is having a Black Friday sale: get
40% off with the promo code BF40
valid 11/25-11/26 and Cyber Monday sale
save 40% off with code CYBER40
11/29 - 11/30 (plus free shipping over orders $100+). Use
this link
to take advantage of these offers.
Read Our In-Depth King Kanine Review
HempMy Pet Review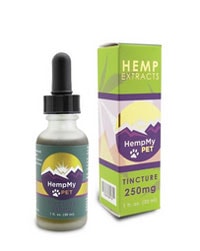 #2
HempMy Pet makes all of its products from their own organically-grown Colorado hemp and certified organic carrier oils and ingredients sourced from sustainable growers. They use hemp seed oil and coconut oil as their carriers, both of which are beneficial dietary supplements.
HempMy Pet's tinctures and oils are made to human-grade quality and contain less than 0.3% THC. The company also contributes to animal rescues and sanctuaries.
HempMy Pet is also working on a lineup of hemp-infused oils featuring CBG (cannabigerol). CBG is found in cannabis plants and like CBD, it does not get your pet high. Early research shows that it could be promising. We will be sure to update our content when these products become available.
Pros

Cons

Third-party tested (COA comes with every product or available upon request)
They grow their own organic hemp
Gluten-free, GMO-free and vegan
Pesticide and solvent-free
CO2 extraction process
Can use for cats
Also offers CBD oil for horses
Made in the USA

30-day money back return policy only applies to unopened products
Limited product offerings
Price
You can save 10% if you sign up for auto shipping with HempMy Pet.
$39 for 100mg hemp-infused coconut oil (5 fl. oz. jar)
$99 for 500mg hemp-infused coconut oil (5 fl. oz. jar)
$79 for 250mg hemp seed oil (1 fl. oz. bottle)
$149 for 1,000mg hemp seed oil (1 fl. oz. bottle)
Free shipping on all orders
HempMy Pet also offers hemp infused olive oil spray for horses (equine).
$399 for 5,000mg olive oil infused with hemp extract (4 fl. oz. bottle)
Coupon
Get
20% off your order at HempMy Pet
with coupon code
CanineJournal20
. Just
click here
to get started!
Read Our In-Depth HempMy Pet Review
Green Roads Review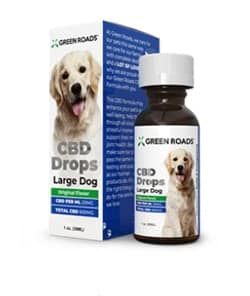 #3
Green Roads is among the most reputable U.S. manufacturers of CBD oil for humans, and they've branched out to offer high-quality pet CBD oils at an attractive price point. Unfortunately (at least for now), they don't carry treats or other CBD pet products. There are also limited product reviews since the pet oils are so new to the market.
Green Roads' unique full-spectrum CBD oil includes crystalline isolate CBD that's suspended in MCT oil, which is easy on your pet's digestion. You can also rest assured that what you're giving your dog is free from harmful chemicals for every batch they make. All of their COA results are available via a QR code on their packaging.
Personal Experience
We tried the CBD oil for medium dogs (210mg bottle) in exchange for an unbiased review. Our dog, Tiny, suffers from anxiety with loud noises, car rides, vet visits, and other situations. We started out on a very low dose to make sure he didn't have any side effects and gradually built up to the recommended dosage. Once we got to the ideal dosage, we could tell that it was helping ease our dog's fears.

We've had relentless thunderstorms this summer, and we've been giving him the CBD oil about 45 minutes before the storms are supposed to hit. While he's still wary, he's not shaking as much and sits with me instead of going to his storm hiding spot. He also seems to tolerate car rides a bit better with the oil. It gives us peace of mind that we can help his anxiety with an all-natural product.

We also tried the CBD cat oil with our 15-year-old kitty who suffers from arthritis, and she's not wobbling around as much as she was before giving her the oil every day. – Sally, writer at Canine Journal
Pros

Cons

All products tested by an independent lab (COA results available for every package)
Uses 100% organic, industrial hemp grown in Colorado
Solvent-free CO2 extraction
Pesticide-free and non-GMO
Also offers CBD oil for cats

30-day money back return policy only applies to unopened products
External syringe can be messier than others with a built-in dropper
Price
$19.99 for 60mg bottle (recommended for dogs under 15 lbs)
$39.99 for 210mg bottle (for dogs 15-50 lbs)
$59.99 for 600mg bottle (for dogs over 50 lbs)
$19.99 for 60mg bottle (for cats)
Free shipping on orders over $50
Coupon
No coupon codes are available at this time, but Green Roads is offering free shipping on orders more than $50. Use
this link
to take advantage of this offer.
Comparison Table
*A COA is a Certificate of Analysis that provides details of everything an independent lab has tested for in a CBD product.
What Is CBD Oil?
Cannabidiol (CBD) is extracted from the flowers and buds of cannabis (marijuana or hemp plants). CBD, however, doesn't produce the "high" associated with marijuana because it doesn't contain the chemical tetrahydrocannabinol (THC).
For further clarification, hemp and marijuana both come from the cannabis plant but contain different levels of THC. Marijuana can contain as much as 30% THC while the hemp plant has a max of only 0.3% THC. So, while marijuana-derived CBD oil is still illegal in most states, the hemp-derived oil is legal in all 50 U.S. states.
Human use of CBD oil is growing in popularity, especially in states where medicinal and recreational marijuana use is legal. But can you give CBD oil to dogs? Is it safe for our canine friends and other pets?
Many vets recommend CBD oil for dogs, even as veterinary scientific research into this new treatment is in its infancy. Studies in humans, however, show that cannabinoids have anti-inflammatory effects and can help with anxiety, aggression, pain, seizures, muscle spasms and neurological disorders.
CBD Oil vs Hemp Oil: What's The Difference?
Many people think CBD oil and hemp oil are essentially the same, but they're not.
CBD Oil
CBD is an active cannabinoid compound that comes from the leaves, flowers, and sometimes stems of mature cannabis plants. It's this compound that provides the medical and therapeutic benefits you get from CBD oil (see below).
Hemp Oil
In contrast, hemp oils are made from cannabis seeds, which contain little to no amounts of CBD (or THC, for that matter). While hemp seeds don't share the same therapeutic characteristics as CBD, hemp oils have their own unique nutritional benefits. Many pet owners use hemp oil as a nutritional supplement because it's vitamin and mineral-rich.
How Can CBD Oil Help My Dog?
Like humans, dogs and cats have an endocannabinoid system that allows them to benefit from CBD oil. This system allows the active ingredients in hemp to help relieve many symptoms. Learn more about the endocannabinoid system in dogs.
CBD drops for dogs or CBD dog treats can ease several conditions your pup may suffer from either occasionally or chronically, including:
Anxiety and stress
Moderate to severe pain
Chronic inflammation
Joint pain
Digestion problems
Expert's Take On CBD's Effectiveness For Dogs
Dr. Erin Chu, a veterinary geneticist at Embark Veterinary, weighs in on how CBD can help dogs.
Veterinary scientists have demonstrated that CBD oil can be effective in pain management for osteoarthritis (Source: Gamble et al, 2018) and are actively exploring its use for intractable epilepsy (Source: McGrath et al, 2019). While CBD is very commonly recommended (or inquired about) for anxiety, there is no formal research as of yet that demonstrates its efficacy.
Learn More About The Benefits Of CBD Oil For Dogs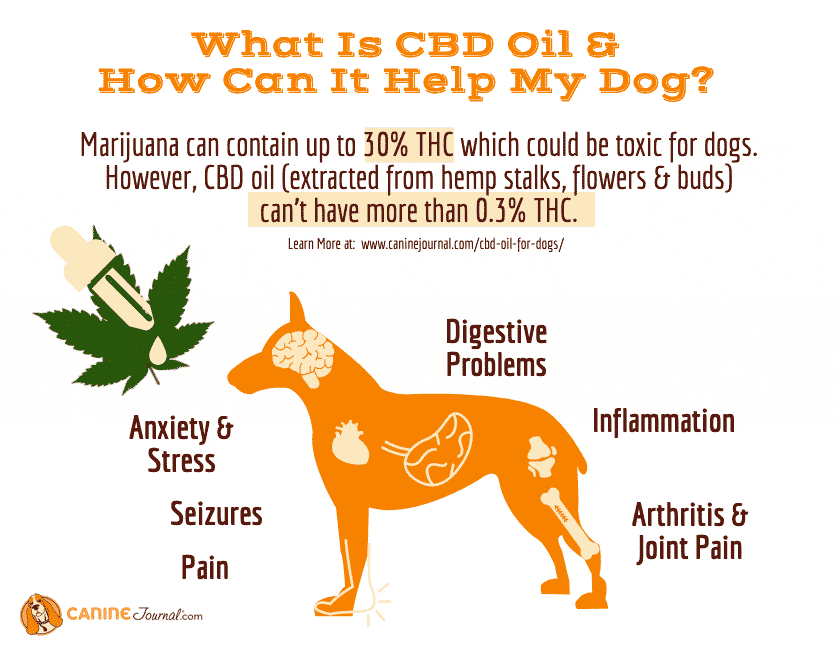 How Do I Find High-Quality CBD Oil?
Since CBD oil for pets isn't yet regulated, there are some vital factors to consider when searching for the most effective and safe products.1
Is it organic? High-quality CBD oils are made from organically grown hemp that's free of toxins.
How is it processed? Safe methods include carbon dioxide and cold press extraction. Some companies, however, use cheap methods and potentially toxic solvents, like propane, hexane and butane, to extract THC from the plant.
Is it independently tested? Look for companies that independently test their products and provide a certificate of analysis (COA). Testing can include Microbiology, Pesticide, Mycotoxin, Residual Solvent, Heavy Metals and more.
What's the THC level? Check every product for its THC potency. Some products contain higher levels of THC, which could be harmful to your pet. Look for products with less than 0.3% THC. All of the products we recommend are derived from hemp and, thus, should always fall below this level.
How Much CBD Oil Should I Give My Dog?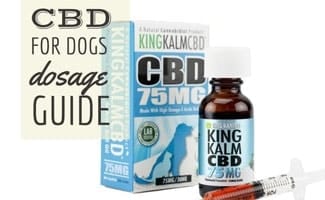 Vets and experts urge using caution when giving CBD for dogs, mainly because there haven't been enough scientific studies to prove its efficacy or safe dosage level. Still, many vets already recommend CBD oil for dogs. Unfortunately, there aren't regulated dosage levels yet, but you can learn more in our CBD dosage guide.
Here are some tips from holistic veterinarians, who have loads of experience using CBD for pets:
Consult your veterinarian before you give your pet any treatments.
Start with a very low dosage (0.25 mg once a day) and slowly increase if needed. Monitoring your dog's response to CBD (or any medication) is crucial.
Take into account your dog's weight, size and activity level — these factors can help you determine how your dog will metabolize CBD (and other medications).
Consider your dog's other health conditions that may affect his ability to react to or metabolize CBD, e.g., liver or kidney problems
Find a high-quality CBD oil that's free of any kinds of toxins. Since the industry isn't yet regulated, there are some potentially sketchy products out there.
Buy the correct potency for your dog's size. Most oils come in different CBD potencies, e.g., 75mg for small dogs; 300+mg for large dogs. Each company differs in the potency levels offered. Note: this is not the THC potency.
It's also important to know that dog's have many more cannabinoid receptors than we humans do, so a little CBD goes a long way.
How Long Before It Takes Effect?
You're probably wondering when you'll start to notice CBD taking effect after you give it to your pup. It depends on what condition you're using it for. For anxiety, you may notice changes as quickly as 5 to 30 minutes. If you're using it for chronic pain, arthritis or inflammation issues, it may take a couple of weeks to see consistent results. It can also vary by the brand and dosage amount you're using.
Can My Dog Overdose On CBD?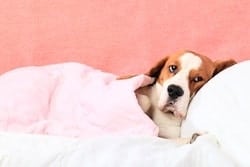 It can depend on the type of CBD product your purchase for your dog. If the product contains no THC whatsoever, then an overdose is less likely. But if the CBD product contains a percentage of THC and Fido gets into the stash, an overdose could occur.
Dog owners commonly report these signs in their pets when an overdose may have taken place:
Lethargy
Impaired balance or coordination
Urinary incontinence
Increased sensitivity to the senses
If you think your dog has ingested too much CBD and is experiencing these symptoms, you should call your vet. Treatment can vary depending on the severity of the symptoms. Some mild cases can be managed at home, but more significant cases may require IV fluids and medical care.
As with anything you give your dog, you should always talk to your vet before administering anything new.
Other CBD Oil Reviews
Canna-Pet | cbdMD paw CBD | Green Roads | Hempure | Honest Paws | MediPets
Canna-Pet Review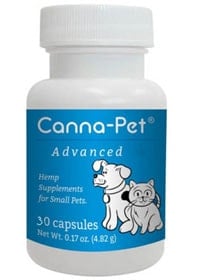 Visit Website
Canna-Pet manufactures CBD oils and capsules for dogs, cats and horses and a variety of CBD dog biscuits. They claim that their products deliver 10-15x the bioavailability of other hemp products.
Canna-Pet's website, however, doesn't provide any proof to back up that claim, nor do they make public a COA that their products are independently tested for potency or toxins. Their website also claims that they offer the highest concentrations of CBD compared to other pet products, but we've easily found others that do.
The company also received an FDA warning letter in 2015 concerning medical claims they were making on their product labeling and website about their products that essentially broke the law. Canna-Pet has since altered these practices. But all of these issues give us pause to recommend Canna-Pet over the other products we've reviewed here.
Pros

Cons

Derived from organic and non-GMO hemp
CO2 extraction process
Made in the USA
Steep discounts for nonprofit organizations and shelters
30-day money back guarantee

They say their products are third-party tested, but no testing analysis reports are available
Only one oil strength available (most products are capsules)
Price
You can get discounts for auto-shipping with every product.
Advanced Formulas
$29.99 for 30 capsules with 4mg CBD per capsule (for pets under 20 lbs)
$57.99 for 60 capsules with 4mg CBD per capsule (for pets under 20 lbs)
$33.99 for 30 capsules with 8.5mg CBD per capsule (pets over 20 lbs)
$64.99 for 60 capsules with 8.5mg CBD per capsule (pets over 20 lbs)
Advanced MaxCBD Formulas
$79.99 for 680mg strength CBD oil (0.33 fl. oz.)
$39.99 for 10 capsules with 30.2mg CBD per capsule
$99.99 for 30 capsules with 30.2mg CBD per capsule
Coupon
Save
25% off of Canna-Pet
and have an additional 25% donated to WildLife SOS with code
WILDLIFESOS
via
this link
.
cbdMD paw CBD Review
Looking for a high-quality CBD oil and treats for your pup that won't break your bank account? cbdMD's oils are among the most affordable you can find. cbdMD is a well-respected company that produces CBD products for humans and pets (including dogs, cats and horses).
Their CBD oils include CBD suspended in MCT oil (derived from coconuts) with no added preservatives. They also offer dog and cat CBD treats, soft chews, peanut butter and a CBD topical balm.
Pros

Cons

All products tested by an independent lab (COA results listed on their site)
GMO-free and vegan
Pesticide and solvent-free
Hemp grown in the USA
Peanut butter-flavored oil available
Also offers CBD oil for cats and horses
30-day money back guarantee

No information about their extraction process
While their farms use organic farming methods, they don't say their hemp is 100% organic
Price
$19.99 for 150mg bottle
$29.99 for 300mg bottle
$69.99 for 750mg bottle
$99.99 for 1,500mg bottle
$149.99 for 3,000mg bottle
Free shipping on all orders
Coupon
Our reader's have access to
15% off at cbdMD
with coupon code
cbdmd15
. Just use
this link
to get started.
Hempure Review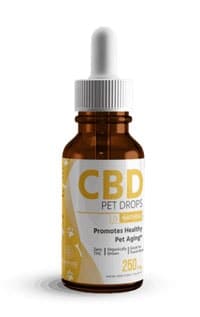 Visit Website
Hempure manufactures and sells a wide variety of CBD products for humans, but they do offer CBD oil and chews for pets. They only carry one size of oil and one type of pet chews, and their formulas don't specify whether they're for dogs or cats. However, they guarantee that their formulas contain 0% THC.
Pros

Cons

Fully-tested by a certified ISO/IEC 17025:2005 lab (COA results listed on their site)
Derived from organic hemp grown in Colorado
Gluten and GMO-free
Pesticide and solvent-free
CO2 extraction process

Limited product offerings
30-day guarantee doesn't give specifics
Price
$30.00 for 250mg bottle
$26.00 for 24 ct. chew pack (2mg CBD per chew)
Free shipping over $25
Coupon
Our readers can save
15% off all Blue Label Hempure CBD Products
with code
BLUE15.
Use
this link
to take advantage of this offer.
Honest Paws Review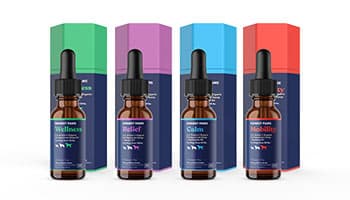 Honest Paws offers CBD-infused dog oils, treats, soft chews, topical balm and even a creamy peanut butter. They also have CBD oil for cats and horses.
This company uses its proprietary supercritical CO2 process to extract the CBD from "premium-grade" hemp plants and then emulsifies it in all-natural MCT Oil that's extracted and refined from renewable coconut farms. Their website also has a lot of helpful information about CBD for pets.
Pros

Cons

Independent lab testing COA available on their website
CBD derived from organic hemp grown in Colorado
GMO-free and soy-free
Supercritical CO2 extraction
Made in the USA
30-day money back guarantee

Lab results say they don't test for pesticides (many others do)
Price
You can save 15% if you subscribe for monthly auto shipments on all products. See more CBD subscription options for dogs. And shipping is free with orders over $40.
$39.95 for 125mg oil (for dogs up to 25 lbs)
$49.95 for 250mg oil (25-50 lbs)
$79.95 for 500mg oil (over 50 lbs)
Coupon
Get 25% off site wide with discount code: BLACKFRIDAY
. Use
this link
to take advantage of this offer.
Read Our In-Depth Honest Paws Review
MediPets Review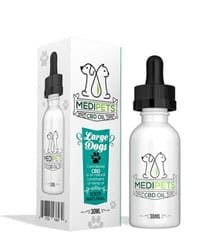 Visit Website
MediPets, the pet care arm of Diamond CBD, is a top U.S. manufacturer of pure CBD oils, treats and sprays for both dogs and cats. If you prefer treats to oils, MediPets sells more than a dozen types of dog treats and even cat treats.
Your purchase from MediPets also contributes to their nonprofit partner, Saving Sage Animal Rescue Foundation, a nonprofit and volunteer-run animal rescue organization in South Florida. Saving Sage dedicates time to the most urgent, abused and neglected animals to keep them out of shelters.
If you like this product for your pet, you might also consider Diamond CBD products for you and your human family members as well.
So why isn't MediPets in our top 3? MediPets has a had a lot of turnover in the company and is constantly changing its team and marketing. We've tried contacting them directly and they've gone radio silent. This causes concern in our minds that if this is how they conduct business, how do they treat their customers?
Pros

Cons

All products tested by an independent lab (COA results listed on their site)
Derived from organic hemp
Pesticide and solvent-free
CO2 extraction process
Also offers cat-specific oils and treats
Made in the USA
15-day money back guarantee

They only offer refunds for unopened products returned within 15 days
Price
$20.99 per 25mg bottle
$27.99 per 50mg bottle
$34.99 per 100mg bottle
$41.99 per 150mg bottle
$48.99 per 250mg bottle
$55.99 per 350mg bottle
$62.99 per 550mg bottle
Free shipping over $100
Coupon
Get 30% off your MediPetsCBD
order with the coupon code
CBDEALS30
via this link
.
Video: CBD For Dogs
Want to learn more about CBD and the benefits for your dog? Check out this brief video for more info.
What Meds Are Safe For My Dog?
If you're still wondering about the safety of cannabis for dogs, be sure to read our in-depth article that discusses 7 things you need to know about marijuana and dogs.
Not sold on hemp products to relieve your dog's pain or other health concerns? Some other natural options include essential oil therapy, acupuncture and massage. If you are seeking a more pharmaceutical route, read our companion articles to learn which pain meds are best for dogs and which OTC medications are safe for dogs.
Lastly, if you are impressed with what CBD can do to relieve your dog's symptoms, imagine what it could do for you. Our #2 recommended pet CBD company, MediPets, is run by Diamond CBD, who also makes premium products for humans.
Have you ever given your dog CBD oil? What happened?

Sources: [1] Dogs Naturally
Disclaimer: The information provided through this website should not be used for diagnosing or treating a health problem or a disease. It is not a substitute for professional care. If you have or suspect you may have a health problem, you should consult your health care provider.
Disclaimer: This website contains reviews, opinions and information regarding products and services manufactured or provided by third parties. We are not responsible in any way for such products and services, and nothing contained here should be construed as a guarantee of the functionality, utility, safety or reliability of any product or services reviewed or discussed. Please follow the directions provided by the manufacturer or service provider when using any product or service reviewed or discussed on this website.