Is salmon oil good for dogs? The omega-3 fatty acids in salmon oil have a ton of health benefits for our canine companions. And it's extremely safe for most dogs as long as you use a quality-tested formula. See our top picks for the best salmon oil for dogs, the multiple benefits, and some cautionary tips about using this supplement.
At A Glance: Our Top Picks
Benefits Of Salmon Oil For Dogs
When looking for the best salmon oil for your pup, you want to ensure it contains both eicosapentaenoic acid (EPA) and docosahexaenoic acid (DHA), the most beneficial omega-3 fatty acids. So, what does salmon oil do for dogs? Fish oil for dogs and cats has been studied more than most types of pet supplements. Here are a few of the many health benefits for dogs.
Skin allergies: moisturizes the skin and reduces inflammation and itchiness.
Decreases shedding & improves coat health.
Supports immune and brain health and may improve cognitive function.
Joint problems and injuries: reduces inflammation and pain and improves mobility.
Lowers blood pressure.
May decrease the risk of certain cancers.
Heart disease: vets often recommend omega-3 fatty acids for dogs with congestive heart failure and to protect against irregular heartbeats (arrhythmia).
Slows the progression of chronic kidney disease.
Another benefit of salmon oil is that it helps balance out omega-6 fatty acids in their diet. While dogs need some omega-6, many commercial dog foods, especially those containing a lot of grains, corn-fed meat, or refined oils, contain too much omega-6. And excessive amounts of omega-6 fatty acids can cause chronic inflammation. But giving your pup salmon oil can solve this problem.
Is Salmon Oil Safe For Dogs?
Understandably, many pet owners are concerned about harmful levels of mercury and other heavy metals and toxins in fish oil. And this is a definite problem with some low-quality oils because the FDA doesn't regulate pet supplements.
Therefore, it's extremely important to choose a salmon oil from a manufacturer who has their products independently tested for purity. Also, look for pet supplements with the National Animal Supplement Council (NASC) Quality Seal, which is given to brands that meet this organization's strict quality requirements.
Best Salmon Oil For Dogs
We've chosen our top picks based on several factors, including quality and purity, sustainable sourcing, company reputation, pricing, customer feedback, and more.
Best Overall: Pet Honesty Wild Alaskan Salmon Oil
Pet Honesty's salmon oil is an excellent value if you sign up for auto-shipping. This oil is sourced from a Marine Stewardship Council (MSC)-certified fishery in Alaska. The MSC is an international nonprofit whose mission is to end overfishing and ensure that seafood is caught sustainably.
One teaspoon contains around 423mg of EPA and 465mg of DHA (total omega-3s of 1,227 mg), so it's more potent than Zesty Paws and will last longer. Made in the USA, this salmon oil is 100% all-natural with no added ingredients and has the NASC Quality Seal of approval. Pet Honesty offers a 30-day money-back guarantee. The only downside is that several customers complain that the pump top is leaky.
Recommended Dosage
Add one pump (2ml) for every 25 lbs of your dog or cat's weight per day.
Price
You can subscribe for auto-shipping and save 20% off the following price.
Most Popular: Zesty Paws Wild Alaskan Salmon Oil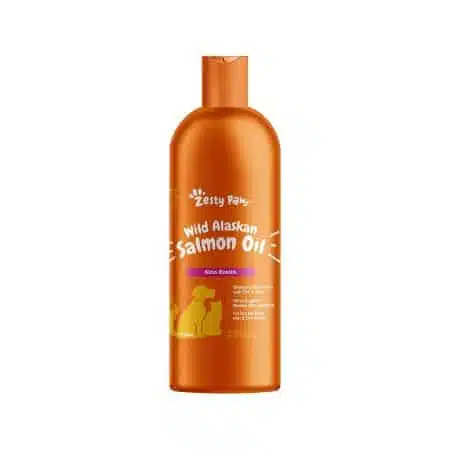 Zesty Paws is the bestselling salmon oil on Amazon, Chewy, and other sites for its combination of high-quality, safe ingredients, and competitive pricing. This oil is extracted from wild-caught Alaskan salmon, and one teaspoon contains 850mg of omega-3 fatty acids (with DHA and EPA). Made in the USA, it carries the NASC Quality Seal and contains only pure salmon oil and mixed tocopherols (a natural preservative that's a combination of different sources of vitamin E).
It comes in a pump-top bottle that's easy to squirt on your pup's food (or your kitty's food). And Zesty Paws offers a 100% satisfaction guarantee. Just keep in mind when choosing a size that Zesty Paws recommends you store it in your refrigerator after opening it.
Recommended Dosage
Give one teaspoon (approx. two pumps) for every 20 pounds of body weight once per day. Amounts can be split between AM and PM.
Price
Best With CBD: Honest Paws Wild Alaskan Salmon Oil + CBD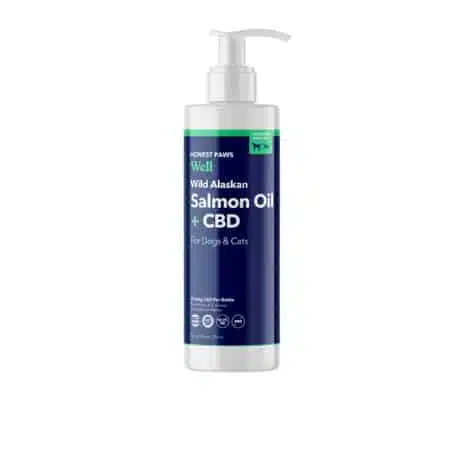 If you want to give your furry friend the health benefits of both omega-3s and CBD oil, this product may be the perfect solution. Cannabidiol (CBD) can help ease chronic pain and inflammation, anxiety and stress, and several other health issues (see the benefits of CBD for dogs to learn more). Honest Paws is a high-quality and well-trusted manufacturer of CBD pet products.
All of Honest Paws' products are made in the USA and third-party tested for purity, and the company also meets NASC's quality requirements. Per two pumps (3.2ml), this product contains 2.9g of oil extracted from wild-caught Alaskan salmon and 4.2mg of CBD from organic full-spectrum hemp oil. The only other ingredients are MCT oil and mixed tocopherols. Honest Paws has a 30-day money-back guarantee.
Recommended Dosage
Under 25 lbs: 2 pumps daily
25-50 lbs: 4 pumps daily
Over 50 lbs: 6 pumps daily
Price
If you subscribe for auto-shipping, you can save 15% off the following price.
Best Budget: Dogswell Wild Alaskan Salmon Oil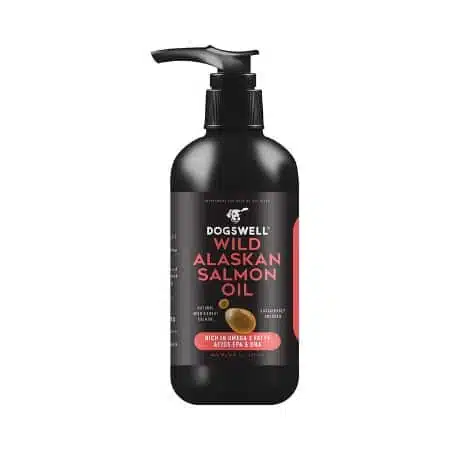 Salmon oil can be pricey, especially if you have a large dog. But we've found an excellent budget option in this Dogswell product. Made in the USA, this oil is extracted from sustainably caught wild salmon, each teaspoon contains 1,227mg of total omega-3s (423mg of EPA and 465 mg of DHA). The only other ingredient is mixed tocopherols. Dogswell also meets NASC's strict quality requirements. This product also gets some complaints about a leaky pump.
Recommended Dosage
Up to 10 lbs: ½ pump or ⅛ tsp
11-20 lbs: 1 pump or ½ tsp
21-30 lbs: 1.5 pumps or ¾ tsp
31-40 lbs: 2 pumps or 1 tsp
+ 10lbs: + ½ pump or ½ tsp
Price
How Much Salmon Oil Should I Give My Dog?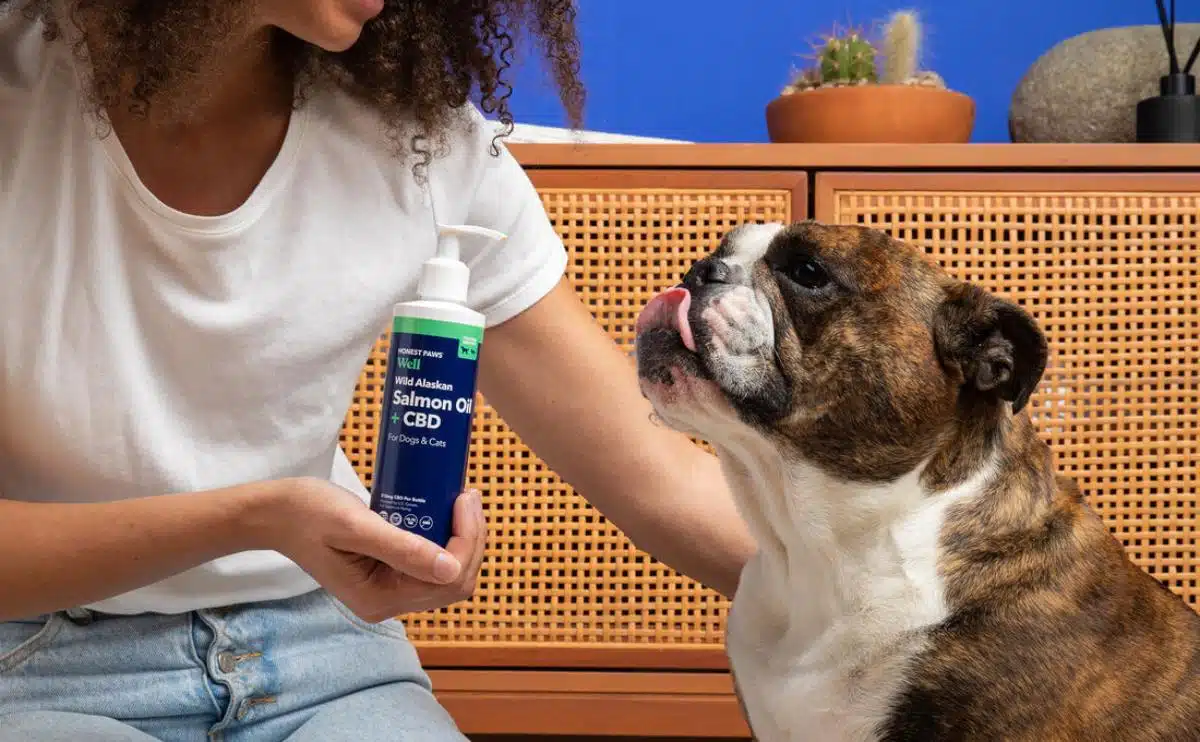 It depends on your pup's diet because some dog foods already have omega-3 fatty acids in them. So, check the list of ingredients in your dog food. If it contains salmon or fish or is fortified with omega-3s, you should consult your veterinarian to determine how much salmon oil to give your pup as a supplement. Too much fish oil can cause side effects.
Even if your pup's food doesn't contain omega-3 fatty acids, it's a good idea to get the okay from your vet before giving your dog any type of supplement. You should be fine as long as you follow your product's dosage recommendations unless your vet has other guidance.
What Are The Risk Factors & Side Effects Of Salmon Oil For Dogs?
Fish oil is relatively safe, but some conditions could present risks, including dogs with bleeding disorders, diabetes, a history of pancreatitis, and diarrhea. For these dogs, it's important to discuss fish oil supplementation with your vet.
In healthy dogs, fish oil is considered very safe. Potential side effects, which typically occur with doses that are too high, include vomiting, diarrhea, slow wound healing, an oily coat, and fishy breath. Also, if your dog is on a grain-based diet, taking salmon oil daily over a long period may cause a vitamin E deficiency. Check with your vet to see if you should be giving your pup a vitamin E supplement as well.
Frequently Asked Questions
Here are some additional questions we see frequently from our readers about salmon oil.
Salmon Oil vs Fish Oil For Dogs: What's The Difference?
Both oils are excellent sources of omega-3 fatty acids, but salmon oil usually has higher levels and is better absorbed by the body. Products labeled "fish oil" or "omega-3" contain oil extracted from multiple wild-caught fish (e.g., herring, pollock, etc.), and it may or may not contain salmon. Typically, salmon-free fish oil has less of a fishy odor and taste than salmon oil. See our reviews of the best fish oil for dogs if you'd prefer an odorless option.
Is Salmon Oil For Humans Safe For Dogs?
Pure salmon oil (without any other ingredients) that's made for human consumption could be safe for your pup. But you should consult your vet to ensure the product you're considering is okay. Your vet can also determine the safe dosage.
Is Salmon Oil Good For Dogs' Itchy Skin?
Many pup owners find a lot of success with a daily salmon oil supplement to relieve their dog's itchy skin. DHA and EPA found in salmon oil help reduce skin inflammation and itchiness. These omega-3s also moisturize the skin, which helps protect it from allergens such as dust, pollen, etc.
Best Dog Allergy And Joint Supplements
If you're considering salmon oil to relieve your dog's itchy skin or ease joint pain from arthritis, you may want to check out some other top supplements formulated specifically for these conditions. See our top picks for the best dog allergy supplements and the best joint supplements for dogs. You may find a better solution for your pup's issues or a complement to salmon oil.
Tagged With: Comparison, Supplements