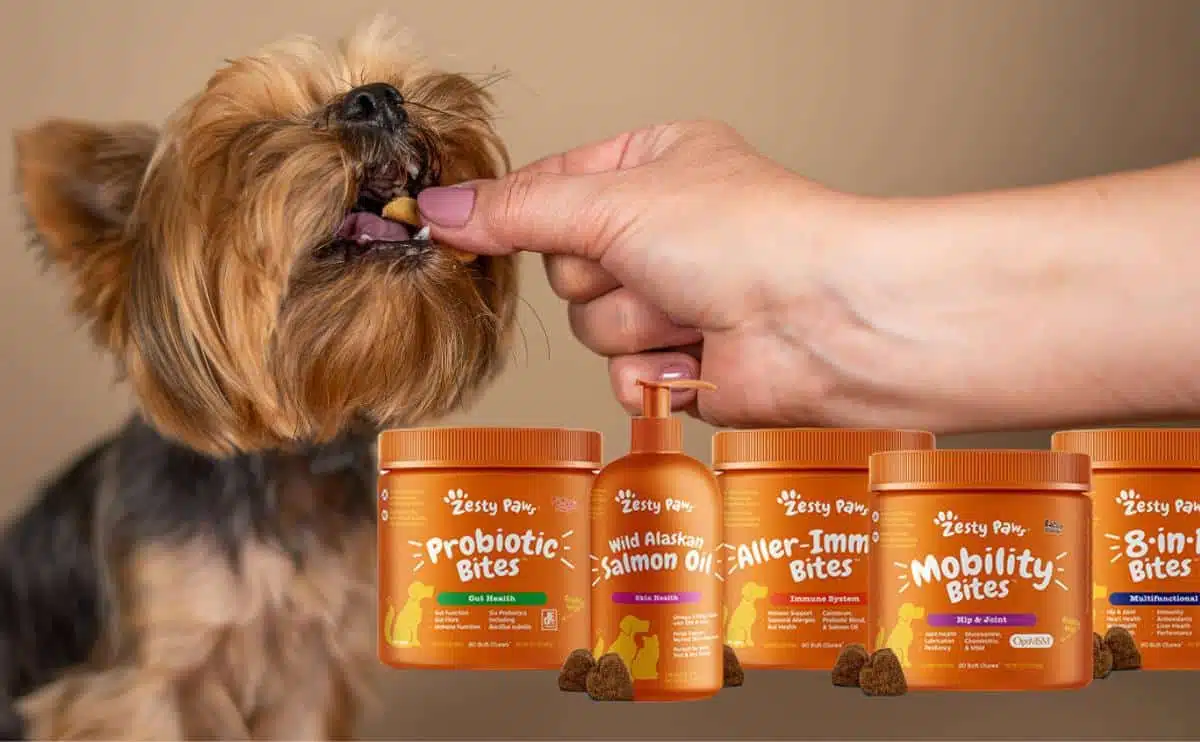 With a market flooded full of pet supplements, it's difficult to know what our best options are to improve our furry friends' health and quality of life. Zesty Paws, the most popular brand by far, offers numerous dog and cat supplements for everything from allergy relief to joint health. But is Zesty Paws a good brand? We've reviewed dozens of pet supplement brands over the years and share how Zesty Paws compares to others.
View Zesty Paws on Amazon | View Zesty Paws on Chewy
Zesty Paws Reviews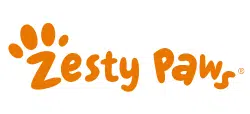 Product Name: Zesty Paws
Product Description: Zesty Paws offers pet supplements, vitamins, oils, and other pet products.
Summary
If you're looking for all-natural health supplements for your pet, Zesty Paws' products are worth considering. Our team at Canine Journal has found success with some of their supplements, and we've seen countless positive reviews from happy customers.
Our team rates dog supplements based on several factors, including the quality of ingredients, variety of products, price, customer support, and more.
Pros
Affordably priced compared to many other premium supplement brands
Wide variety of all-natural supplements
Products contain no grains, corn, soy, or artificial preservatives and flavors
100% satisfaction guarantee
A majority of positive reviews for effective products 
Cons
Some customers say their dogs don't like the taste
A few complaints that the chews are too crumbly
Key Features
Top 8 Zesty Paws Products & Pricing
With such a huge variety of pet supplements and other products on the market, it's impossible to include all of Zesty Paws' offerings. Here are highlights of some of Zesty Paws most popular products. Before giving your furry friend any supplement, it's important to check with your veterinarian to ensure it's safe for your dog's specific health needs.
Zesty Paws Calming Bites Review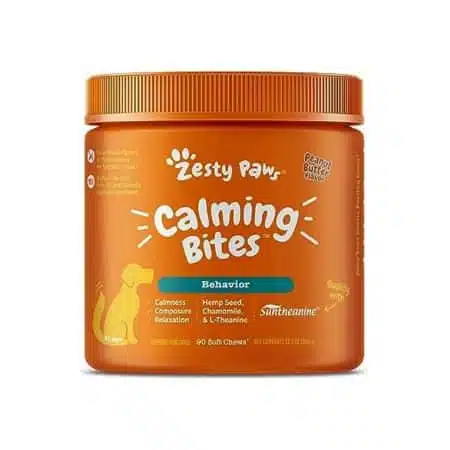 Does your pup need some anxiety relief during car rides, vet visits, fireworks, and other stress-inducing situations? Many customers (and our team at Canine Journal) find that Zesty Paws Calming Bites are extremely effective. These peanut butter-flavored soft chews feature nine calming ingredients, including a premium form of L-theanine and ashwagandha to maximize the effects of calmness, relaxation, and mental focus. Other notable ingredients include hemp seed powder, chamomile, L-tryptophan, passionflower, and more.
Their turkey-flavored Advanced Calming Bites add melatonin to the same blend of calming ingredients for enhanced relaxation. They even have a puppy formula for dogs as young as eight weeks old. Zesty Paws Calming Bites' side effects are nonexistent or quite minimal for most dogs. However, a handful of pet parents reported diarrhea or vomiting.
Price
More Calming Supplement Reviews
Our First-Hand Experience With PetHonesty's Calming Products
"Zesty Paws sent me a couple of their calming products to help my dog with fireworks during the Fourth of July.

The first one I tested out with my dog, Sally, was the Calming Flavor Infusions, which is formulated to help dogs stay relaxed throughout the day. The liquid supplement has L-Theanine, ashwagandha, chamomile, melatonin, and more to promote relaxation, focus, clarity, and calming support.

I found the packaging to be rather messy. The liquid supplement is in a bottle, but there is no pump with it. This made administering the proper dose a little tricky because it recommends one teaspoon (or one pump) per 10 pounds of dog weight. It also says to refrigerate it after opening, which would normally be fine, but the bottle got messy easily, and then it transferred into my fridge.

Sally was not a fan of the taste of it either. She would avoid eating her kibble if I didn't mask the supplement with wet food or peanut butter.

Overall it was difficult to tell if it helped Sally with fireworks because I would give it to her earlier in the day, and then once the fireworks started going off in the evening, she still seemed stressed. I found better luck with Zesty Paws Advanced Calming Bites.

For Sally's weight, I would give her two chews about one hour before I anticipated fireworks to start in our neighborhood. She refused to eat them and clearly didn't like the taste of them. So again, I covered the chews in peanut butter or wet food, and she happily ate them then.

The chews were much easier and less messy to get her to eat, and I noticed her being more relaxed during the fireworks too. Once I found out how helpful they were for Sally, I made doggy bags for other neighborhood dogs with instructions for their two-legged parents. Several of my neighbors said their pups were much more calm and comfortable on the days around the Fourth of July. Making Fourth of July goody bags for the dogs in my neighborhood is now my tradition."

– Kimberly Alt, Coonhound Mix Parent
Zesty Paws Aller-Immune Bites Review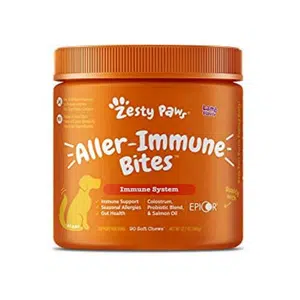 Zesty Paws' Aller-Immune Bites are one of this brand's highest-rated supplements, with many customers finding much-needed relief for their dogs' itchy skin. The combination of colostrum, salmon oil, 250 million CFU of a 5-strain probiotic blend, astragalus root, and other active ingredients support immune, histamine, and digestive health for dogs with skin, seasonal, and environmental allergies.
These allergy supplements are also available in mini-bites for small dogs, a puppy formula, and an advanced formula. The most common Zesty Paws Aller-Immunity side effects include loose stools or diarrhea, but most dogs tolerate them well.
Did You Know?
You can
order an at-home allergy test
 to determine possible irritants causing your pup's itchy skin or upset stomach. These kits test for sensitivity or intolerance to food and environmental factors that develop over time. You send in a saliva or hair sample to the company's lab and get results within a few weeks. You can then share these results with your vet to help further narrow down possible causes.
Price
More Dog Allergy Supplement Reviews
Zesty Paws Salmon Oil Review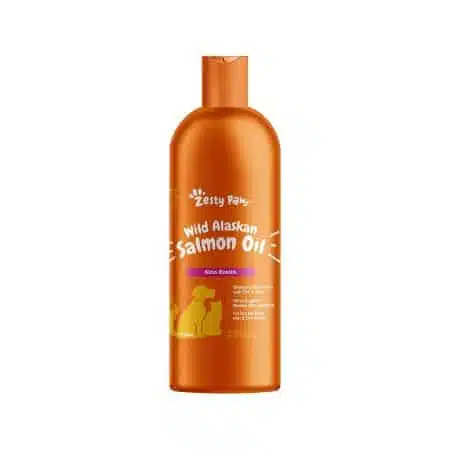 A daily pump of salmon oil can give your furry friend multiple health benefits. The omega fatty acids in salmon oil support immune, brain, heart, joint, skin, and coat health. Omegas also help reduce skin inflammation and itchiness from allergies and ease inflammation and pain in aching joints.
Zesty Paws has the bestselling salmon oil on Amazon, Chewy, and other sites for its combination of high-quality, safe ingredients, and competitive pricing. This oil is extracted from wild-caught Alaskan salmon, and one teaspoon contains 850mg of omega-3 fatty acids (with DHA and EPA). It contains only pure salmon oil and mixed tocopherols (a natural preservative that's a combination of different sources of vitamin E).
Price
More Salmon Oil For Dogs Reviews
Zesty Paws Omega Bites Review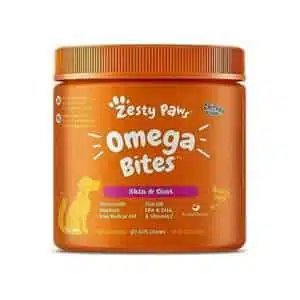 Another excellent option for chronic itchy skin, a healthy coat, and joint support, Zesty Paws' Omega Bites feature "AlaskOmega Fish Oil," a rich source of EPA and DHA derived from sustainable wild Alaskan pollock. Available in bacon and chicken flavors, these soft chews also contain a blend of omegas, vitamins, and antioxidants to help improve dry, irritated skin, hot spots, bald spots, etc. Many pup parents say these Omega Bites are excellent at reducing shedding and restoring their dog's shiny, lustrous coat.
Price
Zesty Paws Mobility Bites Review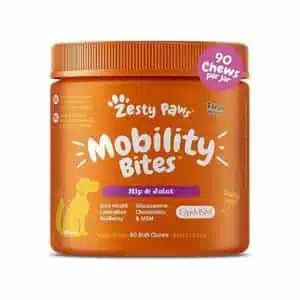 If your furry friend suffers from joint problems due to arthritis, hip dysplasia, etc., a joint supplement can help reduce inflammation in joints and rebuild cartilage and connective tissue to increase flexibility, movement, and mobility. Zesty Paws' Mobility Bites could be your dog's best bet. These soft chews include a proprietary blend of premium ingredients, such as glucosamine, chondroitin, MSM, and kelp, to help your pup who's dealing with joint stiffness and decreased mobility.
While a few pup owners report diarrhea as a side effect, most customers find these chews effective in relieving joint issues with their pups. Zesty Paws also offers mobility bites in senior advanced, vet-strength, and hemp-infused formulas, so you have several options based on your pup's specific needs.
Price
More Dog Joint Supplement Reviews
Zesty Paws Probiotic Bites Review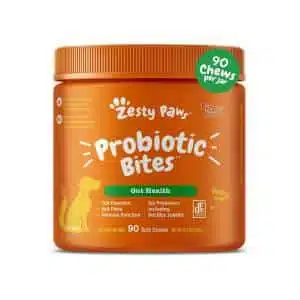 If your canine companion suffers from ongoing digestive problems, this Zesty Paws probiotic supplement could help ease his symptoms. Not only can probiotics help with diarrhea, gas, constipation, and other tummy troubles, but they also strengthen your dog's immune system to fight off infections and allergy symptoms as well as other benefits.
Available in pumpkin and chicken flavors, each soft chew contains six billion CFUs (colony-forming units) of six different beneficial live bacteria cultures for dogs. These good bacteria strains help keep harmful bacteria under control in your pup's gut. A few pet parents report Zesty Paws Probiotic Bites side effects, such as diarrhea and vomiting. But most customers say this product eased their pup's stomach woes.
Price
Zesty Paws 8-In-1 Review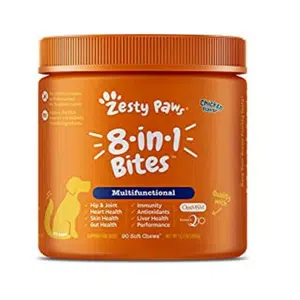 Zesty Paws' 8-in-1 multivitamin contains much more than essential vitamins and minerals that dogs need for whole-body wellness. These multifunctional soft chews are also fortified with glucosamine, chondroitin, and MSM for joint health, probiotics and digestive enzymes for gut health, and fish oil for a healthy coat and skin. And the vitamin/mineral blend also supports heart, liver, and immune health.
They're available in chicken and peanut butter flavors. The most common Zesty Paws 8-in-1 side effect reported by pup parents was vomiting, but a vast majority of customers said their dogs had no adverse reactions to this supplement. Many said it improved their dog's low energy level.
Price
Zesty Paws 11-In-1 Review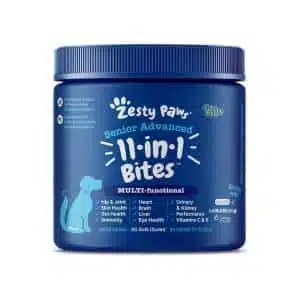 Zesty Paws 11-in-1 bites contain advanced ingredients to address common health issues our dogs face as they age or for adult pups who need a health boost beyond what their 8-in-1 bites offer. In addition to glucosamine, chondroitin, MSM, fish oil, and digestive enzymes, this multivitamin features nutrients to help with urinary and kidney health and brain function.
It also has higher antioxidant levels to boost a weakening immune system and protect cells from damage as they age. However, unlike the Zesty Paws' 8-in-1 bites, these soft chews don't contain probiotics. They're available in beef and chicken flavors.
Price
Frequently Asked Questions
Here are some questions pet parents often ask about Zesty Paws.
Has There Ever Been A Zesty Paws Recall?
Based on our research of pet product recall records by the U.S. Food & Drug Administration (FDA) and the American Veterinary Medical Association (AVMA), there have been no Zesty Paws recalls in the company's 10-year history.
Pet Honesty vs Zesty Paws: Which Brand Is Better?
One of Zesty Paws' top competitors is the brand Pet Honesty, another manufacturer of all-natural pet supplements. We love Pet Honesty's products, and our team has found them healthy and effective. It's difficult to choose a winner between these two high-quality brands, but we'd give the slight edge to Pet Honesty because they use an FDA-approved facility and follow all good manufacturing process (GMP) guidelines and are SQF (Safe Quality Food) Level 3 certified. See our Pet Honesty review to learn more.
Are You Looking For Healthier Dog Food?
View Zesty Paws on Amazon | View Zesty Paws on Chewy
Our team here at Canine Journal gives Zesty Paws' supplements two paws up for their high-quality, all-natural products that are affordably priced. There's a good reason Zesty Paws is the bestselling pet supplement brand in the U.S. — they're effective for millions of dogs, including ours.
In addition to health supplements, you may also want to ensure that your pup is getting the healthiest diet possible. Be sure to check out our reviews of premium, all-natural fresh meals for dogs, the top human-grade dog foods, and the best dog food delivery services, whether you need name-brand kibble, customized fresh dog food, or several other options. We also have an extensive article on the best dog foods by type and specific health needs.
Tagged With: Supplements