To keep the lights on, we receive affiliate commissions via some of our links. Our review process.
If you're like four out of five adults in the U.S. who take vitamins or supplements, you may wonder if they're a good idea for your furry family member as well. Do dogs actually need to supplement their diets with vitamins and other nutrients? Which vitamins do dogs need? Are you sure your dog is getting all of the necessary nutrients from his diet? We'll help answer these questions and more to help you understand your dog's dietary needs.
Do Dogs Need Nutrient Supplements?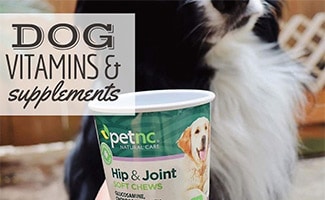 If your commercial dog food says it's complete and balanced, then your dog should be getting all the vitamins, minerals, and nutrients he needs from his dog food. This means you do not need a dog multivitamin unless your vet has recommended one. Be sure to check the labels and ingredients on your dog food to ensure it's complete and balanced. And to ensure he's getting the appropriate levels for his age, always give your dog commercial dog food that's life stage suitable — puppy, adult, or senior. He shouldn't need any nutrient dog supplements unless your veterinarian recommends them.
However, if your dog is eating mainly homemade dog food or a vegan diet, he may not be getting everything he needs. You should consult with your veterinarian to develop a plan to supplement your dog's homemade food diet. Your vet may recommend adding certain foods to your recipes or going with a dog multivitamin supplement.
Never give your dog human vitamin supplements. Dogs have very different nutritional needs than humans, and too much of specific vitamins can make dogs very ill. Suppose you're considering giving your dog species-specific vitamins. In that case, it's essential to contact your veterinarian to ensure your dog gets everything he needs without overdoing certain vitamins that he may already be getting in his diet.
Best Multivitamins For Dogs
Here are some top-rated multivitamins for puppies, adults, and senior dogs explicitly formulated for dogs. Be sure to read the label to determine the correct dosage amount for your pet (varies by size and weight).
For Any Age: Zesty Paws Multivitamin Bites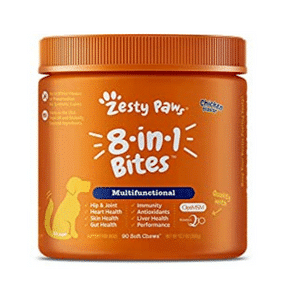 Zesty Paws Multivitamin Bites contain 20 vitamins, minerals, and nutrients that support the skin, coat, joints, heart, digestion, and immune response for dogs of all ages and sizes. They're free of grains, corn, and soy and have no artificial flavoring or preservatives. They come in chicken, lamb, and peanut butter flavors.
Price: $28.97 (90 ct.)
For Any Age: PetHonesty 10-For-1 Multivitamin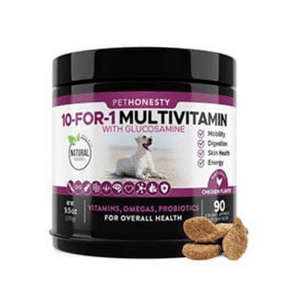 PetHonesty's multivitamin packs in 10 benefits into one tasty chicken-flavored bite, including help with mobility, digestion, skin health, energy, and more. Like Zesty Paws' vitamins, they are free from additives like wheat, corn, soy, dairy, harmful chemicals, preservatives, or artificial flavoring. Made in the USA in a Good Manufacturing Practices-certified and FDA-approved facility, you can trust that you're giving your pup only the best with this daily supplement that includes glucosamine (for joint health). They have a money-back guarantee and subscription option to save 20% on recurring purchases.
Price: $25.99 (90 ct.)
For Any Age: Rockwell Pets Pro Natural Dog Vitamins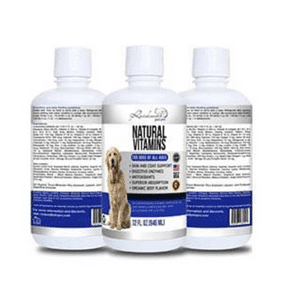 Rockwell Pets Pro Natural Dog Vitamins is unique from other vitamins. This liquid form of this supplement makes it easy to top your dog's food with a boost of nutrients and flavor. The beef-flavored, all-natural product supports allergies, better digestion, physical and mental endurance, fights disease, boosts energy, and more. Made in a Good Manufacturing Practices certified factory in the USA, they have a 100% satisfaction guarantee and a subscription to save 20% on recurring purchases. Read the label for the dosage guide (based on weight). Refrigerate after opening.
Price: $41 (32 oz)
Our Personal Experience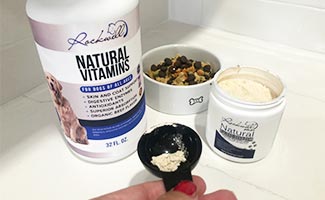 We had the opportunity to try out Rockwell Pets Pro in exchange for an honest review. The vitamin is in a liquid format which is easier to give our dog than chews since we can mix it with his food. Our 11-month-old puppy is using this product along with their probiotics sprinkled on top. The product is an orange color and relatively odorless. Georgie gobbles it up and has shown growth in size and weight with use (he was relatively lean before). Due to his small size, he doesn't require a large dose. So, the bottle should last us a good 3-4 months, providing a great value. – Sadie C., Canine Journal
For Puppies: NaturVet VitaPet Puppy Daily Vitamins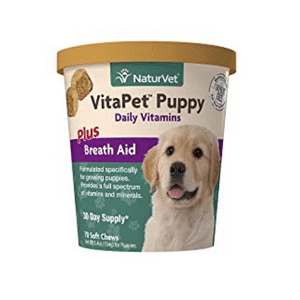 These VitaPet soft chews are vet-formulated specifically for the needs of growing and active puppies. They contain a full spectrum of essential vitamins and minerals, as well as amino and fatty acids. They're wheat-free and also have a bonus breath aid to help freshen your pup's breath.
Price: $12.99 (70 ct.)
For Senior Dogs: VetriScience Laboratories Canine Plus Senior Multivitamin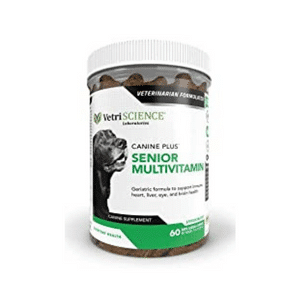 These VetriScience vitamins are vet-formulated for senior dogs to support heart, liver, brain, and eye function and promote physical and mental well-being that can be challenging for older dogs to maintain. These vegetable-flavored chews contain A, D3, E, B1, B2, B6, B12, and C vitamins, antioxidants, amino acids, and omega fish oil. This company is women-owned, and all its products are developed by vets and made in the USA.
Price: $10.75 (60 ct.)
Best Dog Vitamins & Supplements For Specific Conditions
If your pet has specific issues, some supplements can help target that area or problem.
Joint Health: PetNC Natural Care Hip and Joint Soft Chews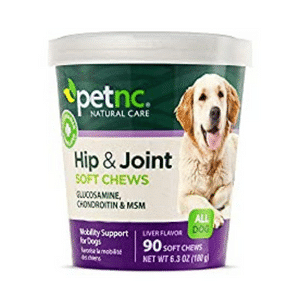 If your dog suffers from joint or hip issues, these soft chews could help strengthen his joints and ease aches and pains. In addition to vitamins and minerals, they contain glucosamine, chondroitin, and methylsulfonylmethane (MSM) — all ingredients that help maintain hip and joint health. Many dog owners say they see a big difference when they give their pups these chews regularly. See more joint supplements for dogs.
Price: $9.15 (90 ct.)
Skin & Allergy Health: Zesty Paws Aller-Immune Bites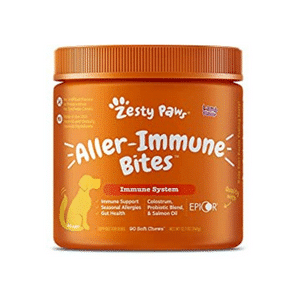 Does your dog suffer from skin, seasonal or environmental allergies? These grain-free soft chews contain immune-boosting EpiCor (a five-strain probiotic for a healthy gut to help combat allergies), apple cider vinegar, salmon oil for a healthy coat and skin, and colostrum, which helps with allergies, immune function, and digestion.
Price: $28.97 ($0.32 / Count) (90 ct.)
Dog Allergy Testing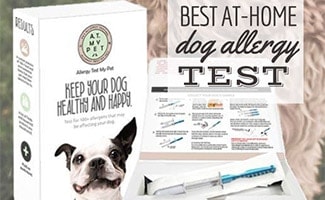 Consider doing an at-home dog allergy test if you suspect your dog may have allergies or want to identify possible environmental, food, or other sensitivities.
These scientifically backed tools can help you learn more about your beloved pet's health and how to treat any existing conditions in consultation with your veterinarian.
Digestive Health: Nusentia Probiotic Miracle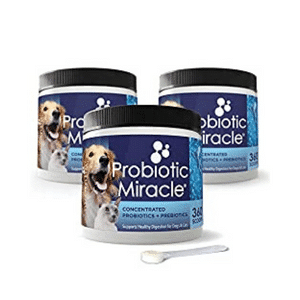 Giving your dog a daily probiotic can help regulate his digestive system, especially if he has problems with diarrhea, an upset stomach, or constipation. Nusentia Probiotic Miracle contains six probiotic strains to help with these issues and more, including yeast overgrowth, bad breath, itching, and scratching.
Price: $107.99 (3 jars)
See our reviews of the best probiotics for dogs
Eye Health: Ocu-GLO Vision Supplement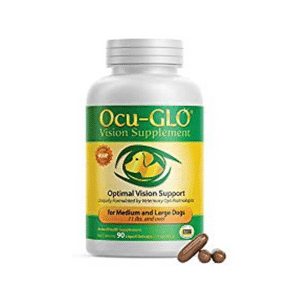 If your dog is suffering from age or illness-related vision problems, you may want to consider the Ocu-GLO liquid gelcaps. Board-certified veterinary ophthalmologists formulated them with essential vitamins, minerals, grape seed extract, omega-3 fatty acids, and lutein for optimal eye support.
Price: $78.75 (90 ct.)
Prenatal Health: Revival Animal Health Oxy Mate Prenatal Vitamin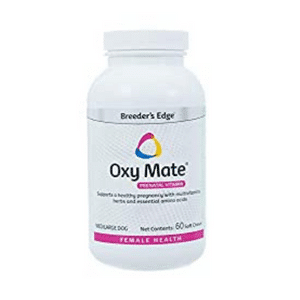 Revival Animal Health Breeder's Edge Oxy Mate prenatal vitamins are fortified vitamins, minerals, and elevated levels of iron, folic acid, and zinc to provide pregnant dogs and their developing embryos with the optimal nutrients for healthy growth. It's suitable for both dogs and cats.
Price: $55.93 (60 ct.)
What Essential Vitamins Do Dogs Need?
Here's a quick rundown of the essential vitamins all dogs need as well as a refresher for you about which foods contain these vitamins. Keep in mind that this is not an all-inclusive list of all the nutrients dogs need; it's just the basics.
Vitamin A
Vitamin A is a fat-soluble vitamin that's important for dogs for normal vision, the immune system, growth, fetal development, and proper organ function. Foods rich in vitamin A that are safe for dogs include carrots, eggs, fish oil, liver (in minimal amounts), pumpkin, spinach, sweet potatoes, and turnip greens.
Vitamin B
B vitamins are vital for maintaining good dog health and directly impact brain function, energy levels, and cell metabolism. Vitamin B complex helps prevent infections and helps support and promote cell health. Foods rich in vitamin B that are safe for dogs include whole grains, beans, some kinds of nuts,* leafy green vegetables, beef, pork, and liver, and dairy products in tiny amounts.
Vitamin C
All parts of a dog's body tissue require vitamin C for growth and repair. It's also necessary for many body functions, including the immune system, wound healing, the maintenance of cartilage, bones, and teeth, and iron absorption. Foods rich in vitamin C that are safe for dogs include some fruits,* some vegetables,* and organ meats.
Vitamin D
Vitamin D helps your dog's body regulate minerals like calcium and phosphate. These nutrients are needed to keep bones, teeth, and muscles healthy. Foods rich in vitamin D that are safe for dogs include fatty fish, marine fish oil, egg yolks, beef, and liver and dairy products in very small amounts.
Vitamin E
Vitamin E is a fat-soluble vitamin essential for cell function and fat metabolism. If your dog doesn't get enough vitamin E, he could develop muscle and eye degeneration and reproductive problems. Foods rich in vitamin E that are safe for dogs include leafy green vegetables, some seeds,* wheat germ, whole grains, salmon, and trout.
Vitamin K
Vitamin K is a fat-soluble vitamin that's vital for normal blood clotting. Foods rich in vitamin K that are safe for dogs include leafy green vegetables, green beans, beef liver, chicken, and pork.
*Some foods aren't safe to feed your dog. See which foods are and aren't safe for dogs.
Why Does Homemade Dog Food Need Nutrient Supplements?
This brief video from a certified dog nutritionist does a fantastic job explaining why your dog very likely may need a dog multivitamin and nutrient supplements if he's on a homemade dog food diet.
Should I Consider A Premium Dog Food Delivery Service?
Are you concerned about the quality of your commercial kibble? Or are you worried that your homemade dog food is nutrient deficient? If so, a great option could be to introduce a fresh dog food delivery service. These services not only deliver human-grade dog food right to your door, but many also tailor your dog's food for age, weight, health concerns, and other factors. See our reviews of the best dog food delivery services to find some excellent options.
Tagged With: Comparison, Reviewed By Dr. Racine, DVM, Supplements