Human probiotics have become a health craze due to their numerous benefits, but have you considered them for your furry friend?
We all know how fickle a dog's digestive system can be. Fortunately, specially formulated dog probiotics can be a life-changer for dogs suffering from digestive and other health problems. What do you need to know about pup probiotics, and which products are your best bets?
Note: Always consult your vet before giving your pup any medications or supplements.
What Are Probiotics?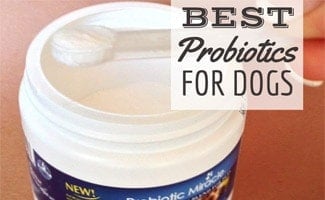 Probiotics are formulas that contain living gut-friendly bacteria found naturally in the digestive tract and other areas of the body. The goal of ingesting probiotics is to maintain healthy levels of good bacteria, prevent gastrointestinal (GI) problems, and boost the immune system after it's been disrupted by illness, infection, antibiotic treatment, or other stressors.
Benefits
Probiotics have many health benefits, but some key advantages include:
Decreases incidences of diarrhea and flatulence
Improves bad breath
Helps recovery from illnesses and infections
Enhances immune response
Helps manage many diseases, like inflammatory bowel syndrome and kidney disease
Reduces pain and swelling due to anti-inflammatory properties
Improves stress response
Expert Tip
Many report diarrhea or other stomach upset upon starting a new probiotic regimen. However, this is common with any major dietary adjustment — for pets and humans. So, it may be best to ease into the treatment with less than the recommended dose, allowing time for your pet's tummy to calibrate to this nutritional change.
What To Look For
Each dog's health needs are different, so you want to look for a probiotic formula that contains bacterial strains that address those individual needs, e.g., intestinal infections, diarrhea, etc. For that reason, we've listed the probiotic blends included in each product we review.
Products you're considering should list the specific bacterial species and strains, such as Bifidobacterium animalis. The best formulas include several different strains to help multiple aspects of their digestive and immune systems at the same time.
We've included a summary of the best bacterial strains for dogs and their specific benefits. Click here to jump to that section.
What Is CFU?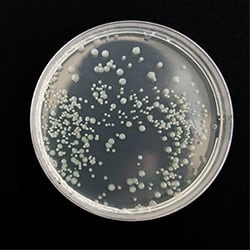 When comparing probiotic formulas, you'll usually notice a CFU count as a prominent "selling point." CFU stands for "colony-forming unit," and a CFU count quantifies how many live bacteria cultures in a probiotic are active and can divide to form these beneficial colonies.
Is a higher CFU count better? It depends. If you're giving your dog probiotics daily to maintain digestive and immune health, a lower CFU count should suffice (between 3-10 billion CFU).
However, a higher CFU count is ideal for illnesses and health problems, such as inflammatory bowel disease (IBD), food allergies, after antibiotic treatment, and other cases. Studies suggest you can also give healthy dogs probiotics with high counts — it's not believed to be harmful.
Prebiotics
You'll want to look for a probiotic blend that includes a prebiotic. Prebiotics promote probiotic growth, which helps keep harmful bacteria under control in the dog's gut.
Best Probiotics For Overall Dog Health
We've chosen our top picks based on several factors, including the variety of blends, other ingredients, customer feedback, and pricing.
Nusentia Probiotic Miracle Review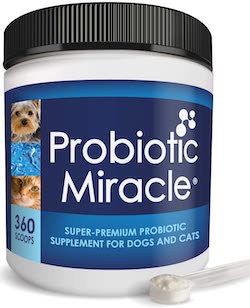 #1
We chose Nusentia Probiotic Miracle as the best dog probiotic for its combination of blends, reasonable price, and overall fantastic customer reviews. It even has a 60-day 100% money-back guarantee.
This formula contains 6 different strains and a prebiotic to combat dog diarrhea, loose stool, yeast overgrowth, bad breath, constipation, itching & scratching, allergies, digestive issues, and gut-related problems.
Recommended use: Sprinkle a small scoop of this tasteless and odorless powder on your dog's food. You can store it at room temperature for up to a year.
Blend includes: Inulin (prebiotic), Bifidobacterium animalis lactis, Lactobacillus acidophilus, L. rhamnosus, L. saluvarius, L. plantaram, and L. reuteri.
Pros

Cons

All-natural formula with no rice, soy, dairy, fillers, or byproducts
Good for a variety of health concerns
One billion CFUs per serving
Tasteless and odorless
60-day money-back guarantee
Safe for dogs and cats
Made in the USA

A few pet parents said it upset their dog's stomach and/or caused diarrhea
Can get lumpy
Price
Nom Nom Probiotic Support Review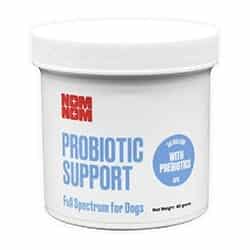 #2
Nom Nom, a popular fresh dog food delivery service, has two different probiotic blends for dogs (full spectrum and GI-targeted) and a probiotic for cats. Their blends are formulated by their expert team of veterinary nutritionists and microbiologists. The company also offers a gut health test for dogs and cats that can help you determine if they need a probiotic.

The full-spectrum probiotic formula includes a prebiotic and 7 different strains of live bacteria to help maintain normal digestive and immune function and intestinal tract health. The GI-targeted formula includes Saccharomyces boulardii, which can help treat diarrhea, Clostridium difficile, and inflammatory bowel disease in dogs.
Nom Nom's probiotics didn't take our top spot because at $40 for a month's supply, they're pricier than many other probiotics for dogs. But, they're worth considering for their strong nutritional formula.
Recommended use:
Mix one level scoop of the powder into food once daily.
Protect from light, high temperatures, and moisture.
Refrigerate for optimal preservation.
Full Spectrum Blend includes: Inulin (prebiotic), Bifidobacterium animalis, Enterococcus faecium, Lactobacillus acidophilus, L. reuteri, L. fermentum, L. rhamnosus, and Pediococcus acidilactici.
GI-Targeted Blend includes: Inulin (prebiotic), Bifidobacterium animalis, Enterococcus faecium, Lactobacillus reuteri, Pediococcus acidilactici and Saccharomyces boulardii.
Pros

Cons

Formulas contain no dairy, rice, wheat, soy, or artificial ingredients
Each batch is independently tested for quality
20 billion CFUs, including strains derived from healthy dogs
Made in the USA

Expensive
Not much customer feedback
No money-back guarantee
Price
Read Our Full Review of Nom Nom
VetriScience Vetri Mega Probiotic Review
#3
VetriScience is a well-respected canine supplement brand, and its probiotic formula doesn't disappoint. If your dog scoffs at powder on his food, VetriScience's capsules could be an excellent solution.
This product contains a prebiotic, 7 bacterial strains, and 5 billion CFU per capsule. It's recommended for supporting digestive health and issues related to food sensitivity and allergies. It also promotes a healthy immune and neurological system.
Recommended use: Give one capsule daily for dogs under 40 lbs (2 capsules for dogs over 40 lbs). Store in a cool, dry place.
Blend includes: Fructooligosaccharides (FOS) prebiotic, Bifidobacterium bifidum, B. Iongum, Enterococcus thermofilus, Lactobacillus acidophilus, L. brevis, L. plantarum, and L. casei.
Pros

Cons

All-natural and non-dairy
Promotes healthy digestive, immune and neurological systems
5 billion CFUs per capsule
Safe for dogs and cats

Contains rice flour (some dogs are sensitive)
Several pet parents said it caused diarrhea
Price
Honorable Mention: PetHonesty Digestive Probiotic Chews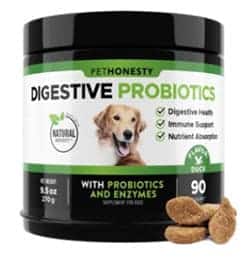 Visit Website
If you are looking for an alternative to powders or pills, these PetHonesty's probiotic chews with enzymes help support digestive health, immunity, and nutrient absorption. They come in two flavors (duck or pumpkin) and do not contain wheat, corn, soy, dairy, harmful chemicals, preservatives, or artificial flavoring.
Made in the USA in a Good Manufacturing Practices certified and FDA approved facility, you can trust you are giving your pup a trusted daily supplement. They have a money-back guarantee and subscription option to save 20% on recurring purchases. You can also save 10% if you bundle three together.
Recommended use: Best when taken on a full stomach after mealtime. 1 chew per day per every 25 lbs of dog's weight.
Cost: $25.99 for one-time purchase (90-count)
PetHonesty if having a sale. Our readers can get
20% off all products with Promo Code: FITDOG20
. Also, get free shipping on orders over $45. Use
this link
to take advantage of these offers.
Read Our Full PetHonesty Review
Probiotics For Specific Health Conditions
Best Probiotic for Dogs With Allergies: Zesty Paws Aller-Immune Bites Review
A healthy gut can go a long way to alleviate your dog's allergy issues. Zesty Paws Aller-Immune Bites combines a 5-strain probiotic formula with special ingredients to help combat more serious allergy and immunity problems.
These chewable bites contain organic licorice root, apple cider vinegar, colostrum, and 80 mg of EpiCor, which provides vitamins, protein, fiber, and antioxidants that are clinically proven to boost the immune system. The peanut butter chews also include wild Alaskan salmon oil to support your dog's immune system health and skin allergies.
Note: Many customers say it takes a few weeks to improve allergies and itchy skin, so stick with it.
Blend includes: Inulin (prebiotic), Lactobacillus acidophilus, L. brevis, L. fermentum, L. lactis and L. plantarum.
Pros

Cons

Budget-friendly
Formula is free of grains, corn and soy
Contains antioxidants to relieve itchy skin and immune-boosting EpiCor
Chews are easier to give than powders
100% satisfaction guarantee
Many customers say their dogs love the peanut butter and lamb flavored chews

Not dairy-free
CFU count is lower than other products reviewed here (250 million per chew)
A few reviews that it upset their dog's stomach
Price
Best Probiotic for Dogs With Diarrhea: Purina Pro Plan FortiFlora Review
Vets have been recommending Purina FortiFlora to their patients for years to regulate dogs' digestive systems when things go awry. This product contains 100 million CFU per gram of Enterococcus faecium and other beneficial ingredients, such as vitamins E, B, and C, antioxidants, beta-carotene, and zinc.
Pros

Cons

Effective against flatulence and diarrhea
Comes in pre-measured pouches
Made in the USA

Can be hit or miss, depending on your dog's gut makeup (since it's only one strain)
Doesn't include a prebiotic
Price
$30.99 for 30 individual pouches
Most Beneficial Bacteria Strains For Dogs
Bacterial species used most frequently in probiotics for dogs are Bifidobacterium and Lactobacillus.
Bifidobacterium animalis is found in your dog's large intestine. It helps to improve overall intestinal health, prevent inflammatory activity and infection and resolve canine diarrhea.1
Enterococcus faecium aids in digestion and helps to maintain a healthy mix of bacteria in the dog's stomach. It also supports inhibitory effects against shigella, E. coli, salmonella, and other pathogens.1
Lactobacillus acidophilus helps to promote antibacterial and antifungal properties in the GI tract. It also helps prevent diarrhea associated with an antibiotic. Finally, it may help reduce cholesterol levels and improve weight gain/growth in puppies and younger dogs.1
L. fermantum, L. rhamnosus, L. saluvarius, L. reuteri, L. plantarum and L. casei all figure prominently in populations of normal canine microbiota. Along with providing strong anti-microbial activity in the GI tract, these bacteria are also extraordinarily vigorous and capable of significantly modifying and improving inferior intestinal health.1
Pediococcus acidilactici is used to treat constipation and diarrhea, relieve stress, and enhance the immune response. It's also known to protect the small intestine from pathogens, such as E. coli and Salmonella.2
Why Do Vets Recommend Probiotics?
See one family's story about how their vet-recommended probiotic helped their senior Shih Tzu.
Other Ways To Remedy Digestive Problems
Besides adding probiotics to your dog's diet, there are other things you can do to treat your dog if they're suffering from chronic GI problems. First, check out our tips to cure a dog's upset stomach.
You may also want to consider switching your dog's diet. Several companies specialize in all-natural, high-quality dog food blends that are formulated to address GI problems and allergies. And they deliver right to your door. Read our reviews of the best dog food subscriptions to learn more.
Why are you considering adding a probiotic to your dog's diet?
Sources: [1] Doggy's Digest, [2] NCBI