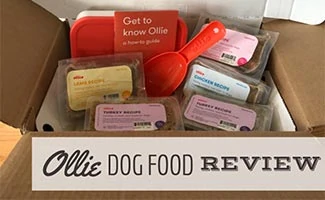 Our furry friends need high-quality food to stay healthy and fit, but many dog owners resort to over-processed kibble or canned dog food full of unnatural fillers and empty calories. Ollie has an easy and very healthy solution.
This company offers human-grade dog food chock full of healthy proteins, veggies, and superfoods that they customize for your dog's particular nutritional needs. And they deliver right to your door.
How does Ollie work? And are their meals worth it? See our Ollie dog food review and read all about our personal experience.
Ollie Overall Rating
4.55/5.00
Our team rates dog food delivery companies based on several factors, including variety, nutritional value, pricing, customer support, customization, and more.
Pros & Cons Comparison Table
| Pros | Cons |
| --- | --- |
| 4 recipes to choose from | Dog profile doesn't take health issues into account (only allergies) |
| All-natural fresh ingredients with no preservatives or fillers | Ships every four or eight weeks, so you may not have room in your freezer for the full meal plan |
| Auto-shipping that you can pause, skip or cancel anytime | |
| Free shipping | |
| 100% money back guarantee | |
| Made in the USA | |
Key Features
Company works with specialized veterinarians to formulate their recipes
Meal plans based on your dog's age, breed, activity level, allergies, and ideal weight
Human-grade food made in the U.S.
All meals contain no soy, corn, or wheat
Meats sourced from family-run farms in the U.S. and Australia
Every recipe includes high-quality proteins, veggies, and superfoods, like cod liver oil and chia seeds
All recipes meet the guidelines of the Association of American Feed Control Officials
Ollie donates 1% of their revenue to rescue organizations
Pricing
The following price* is based on the profile of a mixed-breed male, 1 years old, 38 pounds, healthy size, neutered, no health problems, or allergies.
Full plan: $58.00*/week
Free shipping
Coupon
Our readers can get 50% off their first order. Use this link to take advantage of this offer (no discount code needed).
Our Personal Experience With Ollie
We got the opportunity to test out Ollie with my dog Tiny in exchange for an unbiased review.
The Ordering Process
To get started, you simply answer a series of questions about your pup (if you have more than one, you can add them once you get to the checkout page). These details help Ollie determine the right nutritionally balanced portion size based on your dog's age, breed, activity level, allergies and ideal weight.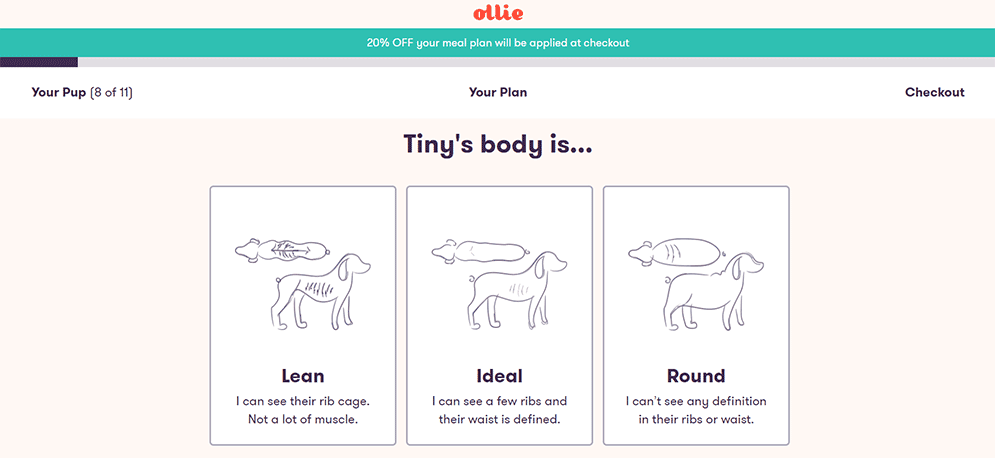 Once you go through the Q & A section, you can select any mix of the four different recipes: beef, turkey, chicken or lamb. On this page, you can also adjust the portion sizes you want to receive.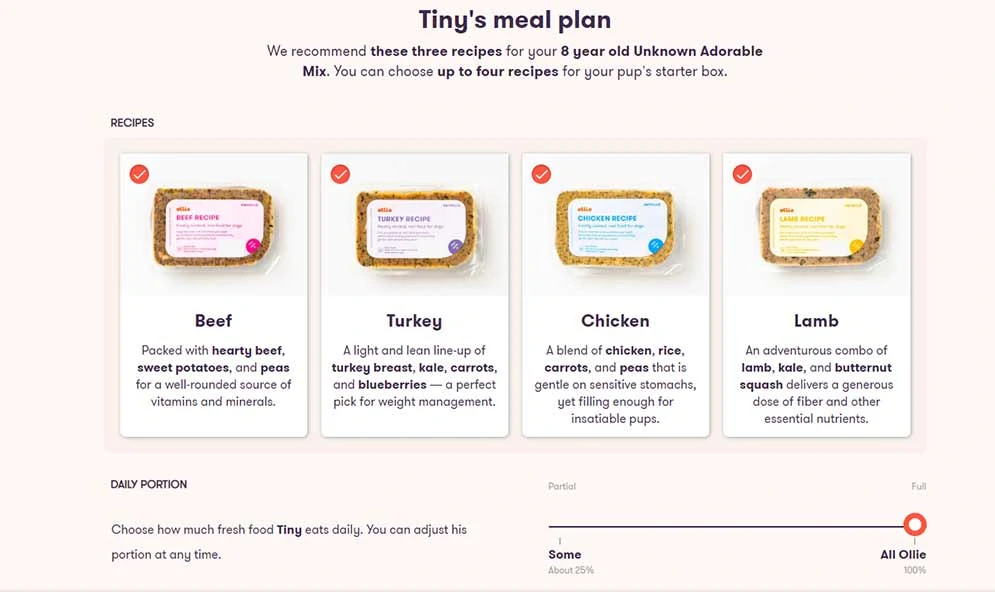 At any time, you can log into your Ollie account and adjust the recipes you want to receive, portion sizes (25%, 36%, 50%, 72% or 100%), the frequency of deliveries (every 4, 6 or 8 weeks) and even add Ollie's dog treats to your next order.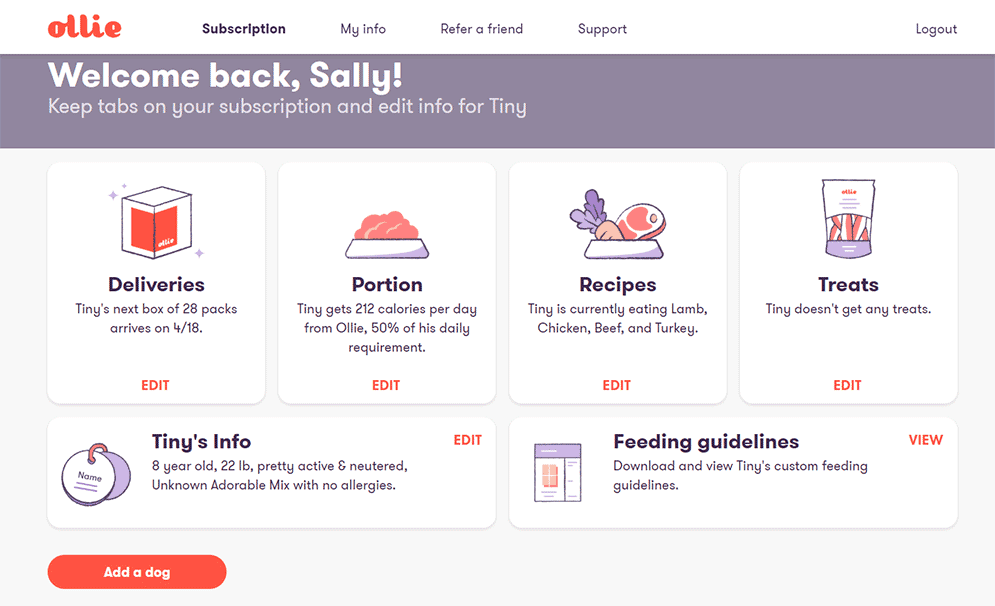 The Box Arrives
Two days after I placed my order, the cardboard box arrived, carefully sealed with ice packs and biodegradable insulation to keep the frozen meals cool. Included were several individually packaged meals, feeding instructions and a plastic container to store any unused food in the fridge. Note: You have to thaw the frozen meals for at least 24 hours in the fridge (sealed food can last up to 14 days in the fridge).
Personal Experience (The Verdict)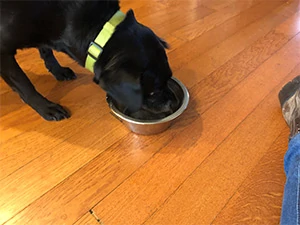 I switched from feeding Tiny 100% dry kibble to mixing the kibble 50/50 with Ollie. Tiny gobbled up his new mixture immediately and was begging for more. This was a big change from him typically turning his snout up when I feed him only kibble. After a few weeks on the new diet, Tiny continues to love his new food. I've also noticed that he doesn't having nearly as much gas, and his every-other-day vomiting has calmed down a lot as well. The only challenge is making room in my freezer for his food packets and remembering to keep enough thawed in the fridge for his next few meals.
How Does Ollie Compare?
If you're committed to your dog's health and have the budget for human-grade dog food, Ollie is a reliable and yummy option for your dog and our choice for the best dog food for allergies. They're one of the more affordable companies that deliver fresh meals, although several others don't come frozen.
If you want to see your other options, like The Farmer's Dog, and how Ollie compares to them, check out our review of the best dog food delivery services or best fresh dog food options. You can also learn more about Ollie in our interview with their Head of Food.
Tagged With: Food Delivery, Review