Many dogs with allergies benefit from a diet change to help relieve their symptoms. But with so many dog foods on the market that claim to be good for allergies, how do you know what will work for your dog? We've researched dozens of the top dog foods for allergies and give you our top picks.
What's Causing Your Dog's Allergies?
The best dog food for dogs with allergies depends on what's causing your dog's allergies — food, environmental factors, and fleas are all common triggers for dog allergies. Food allergies can cause gastrointestinal (GI) problems and/or itchy skin. In contrast, environmental and flea allergies typically cause skin problems rather than GI issues. But a healthy diet can help regardless of the cause.
If you're unsure what's causing your dog's allergies, you can give your pup an at-home dog allergy test. These kits test for sensitivity or intolerance to food and environmental factors that develop over time. You send a saliva or hair sample to the company's lab and get results within a few weeks. You can then share these results with your vet to help further narrow down possible causes.
Best Dog Food For Allergies
We've chosen our top picks for prescription options, food allergies, skin-care diets, limited-ingredient dog food, and more. We based our decision on several factors, including the quality and type of ingredients, customer feedback, and the pet food company's reputation.
Best Hypoallergenic Dog Food (Prescription): Hill's Prescription Diet z/d Dog Food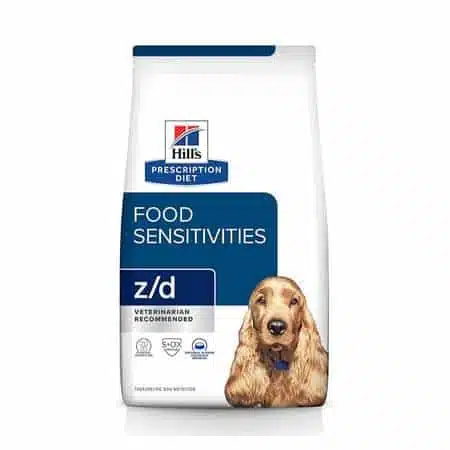 Hill's Prescription Diet z/d is a special chicken-flavored kibble for dogs with skin and/or food sensitivities. This food, which requires a vet's prescription, is formulated by nutritionists and veterinarians and clinically tested to help dogs avoid skin and digestive symptoms from adverse food reactions. It includes hydrolyzed animal protein and a single purified carbohydrate.
What is hydrolyzed protein? Hydrolysation is a process that breaks a protein structure down into basic amino acids. In this form, the protein is small enough that it's unlikely to cause an adverse immune reaction.
While it's not cheap, many customers say Hill's z/d worked wonders for their dogs' symptoms and is worth the cost. If you've tried out several non-prescription hypoallergenic foods with no improvement, you may want to discuss this diet with your veterinarian.
Price
Best Dog Food For Skin Allergies: Purina Pro Plan Sensitive Skin & Stomach Review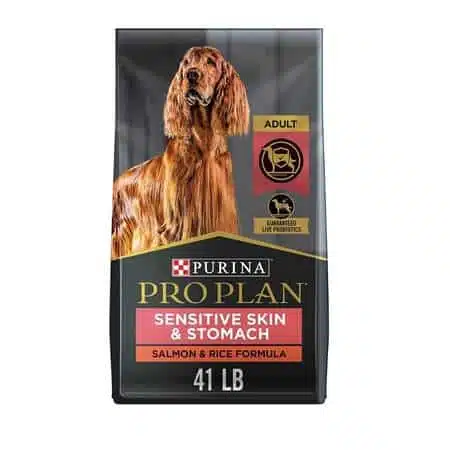 If you're looking for the best dog food for itchy skin, then this may be the product for you. Many pet parents find that this Purina Pro Plan dog food formula is a huge help for their dog's skin issues compared to similar products. Its primary ingredient is salmon, rather than traditional chicken, beef, pork, or other protein sources that aggravate skin allergies. It also contains no corn, wheat, or soy.
This sensitive skin dog food formula is also fortified with live probiotics for digestive and immune health and contains oatmeal as a healthy carbohydrate source. And if you're looking for hypoallergenic puppy food, Purina Pro Plan Sensitive Skin & Stomach also comes in a puppy formula.
Price
Best Dog Food For Food Allergies: Open Farm Grain-Free Dry Dog Food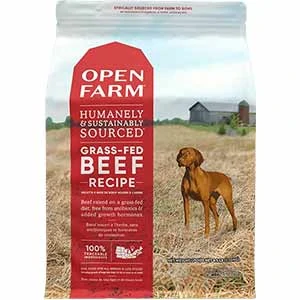 Introducing a novel protein (one that your pup has never had before) to your dog's diet may help ease food allergies. If you've already tried out the common proteins (chicken, beef, pork, lamb), you may want to introduce venison, salmon, duck, or another novel protein into your dog's diet. These less-common protein sources may not trigger food allergies as much as the usual suspects.
This grain-free dry dog food formula from Open Farm contains pasture-raised venison as its primary ingredient, a mix of nutritious non-GMO fruits and vegetables, and essential vitamins and minerals — all without any artificial preservatives or flavors. It also doesn't contain grain, corn, or soy that could also cause food allergies.
Open Farm is also a popular choice for pet parents who are devoted to eco-friendly and cruelty-free practices. This company has extremely high standards for humanely and sustainably sourced ingredients. They also offer salmon, whitefish, and many other varieties, as well as dry food with grains, freeze-dried raw dog food, wet food, and treats.
Price
Pricing varies by the formula, but to give you a general idea, the beef recipe for a 24-pound bag is $94.99.
Best Limited-Ingredient Dog Food: Canidae Pure Salmon & Sweet Potato
Many pet parents choose limited-ingredient dog foods to help with food sensitivities. Canidae's pure salmon and sweet potato formula only contains eight key ingredients, with no wheat, grain, soy, or artificial preservatives. It's fortified with vitamins, minerals, taurine, and a probiotic mix. This is also one of the best grain-free dog foods for skin allergies. Salmon-based dog foods can also be a double blessing for pups with allergies because salmon is less likely to trigger food allergies, and it also contains omega-6 and 3 fatty acids to help ease dry, itchy skin.
Price
Best Personalized Dog Food For Allergies: Ollie
We've chosen Ollie, a company that delivers personalized fresh dog food right to your door, as the best wet dog food for allergies. Their all-natural meals contain fresh, whole-food ingredients with no soy, corn, or wheat. Ollie can customize ingredients based on your dog's specific allergy issues — you can let them know about your pup's allergies when you fill out your dog's profile on their website.
Ollie offers four vet-formulated recipes (beef, turkey, chicken, and lamb). Each includes high-quality proteins, fresh produce, and healthy oils, vitamins, and minerals, with no artificial preservatives or ingredients. They ship in bulk every four or eight weeks, so you'll need plenty of freezer room.
Price
Smaller dogs start at $2.50/day. The following price* is based on a mixed-breed male profile, one-year-old, 38 pounds, healthy size, neutered, no health problems, or allergies.

Full plan: $46.13*/week
Topper plan (50%): $24.80*/week
Free shipping
Frequently Asked Questions
Here are some of our readers' most commonly asked questions about the best dog food for allergies.
What Are The Most Common Dog Food Allergies?
Dogs can develop sensitivities to food ingredients at any point in their lifetime. The most common food allergens in dogs include:
Beef
Chicken
Lamb
Chicken eggs
Soy
Gluten (from wheat)
What's The Best Dog Food For Ear Allergies?
Does your dog have chronic ear infections or anal gland issues? If so, food or environmental insensitivity could be the culprit. Some experts say that an excess of grain and/or sugar in food contributes to ear infections. But we encourage you to speak to your vet if your dog has a lot of ear infections to help determine the cause and get proper treatment.
What Do Elimination Diets Involve?
In this brief video by JustFoodForDogs, Dr. Laura Wilson, DVM, DACVD, discusses food elimination diets for dogs with food allergies. JustFoodForDogs is another company that delivers all-natural fresh dog food. For a $250 formulation fee, you can have their vet specialists personalize your pup's food for allergies or other health problems.
Has Your Vet Recommended Allergy Medicine?
Finding the right dog food isn't always enough to relieve allergy symptoms in some cases, especially if your dog has severe allergies. If this is the case, your vet may recommend giving your dog allergy medication or administering allergy shots to help reduce symptoms.
Tagged With: Allergies, Comparison, Food Delivery