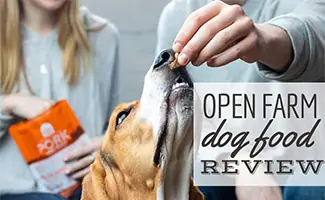 Are you looking for ethically sourced dog food? If so, Open Farm's dog food could be just the ticket for you and your pup. Open Farm prides itself on providing the most responsibly sourced ingredients for customers devoted to eco-friendly and cruelty-free practices. What do they offer? And are their products worth the higher price for their ingredients?
Open Farm Dog Food Review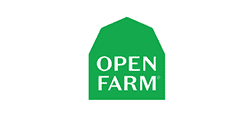 Product Name: Open Farm Dog Food
Product Description: Open Farm offers various dog foods, including kibble, wet, freeze-dried, and more.
Summary
Compared to many other competitors, Open Farm's practices surpass many in terms of carefully sourced ingredients.
Our team rates dog food based on several factors, including variety, nutritional value, pricing, customer support, and more.
Pros
Wide variety of all-natural food products for dogs and cats
Ethically and sustainably sourced ingredients
Produce is fresh, locally sourced, and non-GMO
Free from artificial preservatives and flavors
Company is entirely transparent about all ingredients on its website
Save 5% with auto-shipping
Cons
On the pricey side
Not all ingredients are organic
Some customers said that their dogs didn't like the taste of their food
Key Features
All of their pet food is formulated and produced by a team of animal nutrition, animal science, and food manufacturing experts
Manufacturing facility is regularly audited by the U.S. Department of Agriculture (USDA), the U.S. Food & Drug Administration (FDA), the American Institute of Baking (AIB International), and Certified Humane to ensure strict food safety practices
Every batch of Open Farm's food is tested by an independent third-party lab
They don't experiment on animals when testing their products
Partners with TerraCycle for recycling of their packaging
Free shipping on orders over $50
Customer support available via live chat, phone, and email
Open Farm Dog Food Ingredients
Because Open Farm carries such a wide variety of products, it's hard to detail all of their ingredients here. You can see all the types and formulas of the dog food they offer below.
All of their products are made with all-natural ingredients with no artificial fillers, preservatives, or flavors. Vegetables and fruits are sourced locally and regionally from carefully selected partner farms.
All of the meat hails from Certified Humane farms. Certified Humane sets high slaughter, cruelty-free standards and restricts the use of hormones and steroids. The seafood adheres to both Ocean Wise and Seafood Watch standards. They don't use any farmed fish in their recipes.
The company is founded on clear transparency of all ingredients used in their products. Their website has detailed descriptions of the ingredients in every bag, including the origin. And you can search for this information by each bag's lot number.
Products & Price
The following products are for dogs, but Open Farm also carries wet and dry cat food and cat supplements (mostly broth).
Open Farm Kibble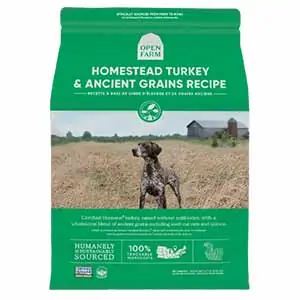 Open Farm's traditional kibble includes healthy grains such as oats, brown rice, quinoa, and sorghum. All of these grains are high-nutritional options that are minimally processed. These formulas don't include more common grains that can cause allergies, such as corn, wheat, soy, etc.
These formulas are available in 4, 11, and 22-pound bags.
Wild Caught Salmon & Ancient Grains
Whitefish & Ancient Grains
Homestead Turkey & Ancient Grains
Grass-Fed Beef & Ancient Grains
Chicken & Ancient Grains
Farmer's Table Pork & Ancient Grains
Pasture-Raised Lamb & Ancient Grains
Puppy Recipe & Ancient Grains
Kind Earth Premium Plant Recipe
Kind Earth Premium Insect Recipe
Price: starts at $19.99 (4-lb bag)
Open Farm Kibble (Grain-Free)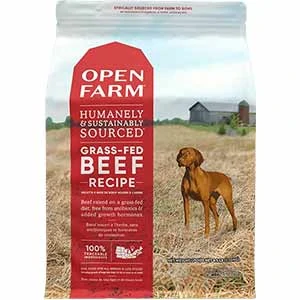 Meat is the first ingredient in all formulas. The grain-free recipes are available in 4, 11, and 22-pound bags.
Homestead Turkey & Chicken
Farmer's Table Pork
Grass-Fed Beef
Pasture-Raised Lamb
New Zealand Venison
Whitefish
Puppy Recipe
Senior Recipe
Price: starts at $24.99 (4-lb bag)
Open Farm Gently-Cooked Fresh Recipes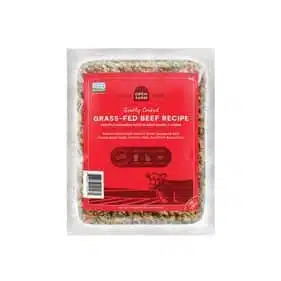 Fresh, whole food ingredients slowly-cooked to preserve nutrients.
Grass-Fed Beef
Homestead Turky
Surf & Turf
Harvest Chicken
Puppy
Price: starts at $84.99 (8x 16-oz packages)
Open Farm Freeze-Dried Dog Food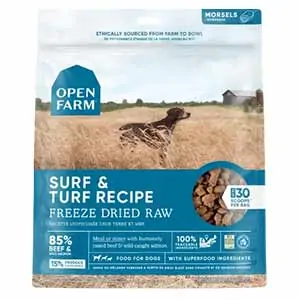 All freeze-dried raw dog food contains 85% meat and 15% produce, vitamins, minerals, and natural supplements. It's available in 3.5, 13.5, and 22-ounce bags.
Harvest Chicken
Homestead Turkey
Grass-Fed Beef
Surf & Turf
Pasture-Raised Lamb
Farmer's Table Pork
Price: starts at $9.99 (3.5-oz bag)
Open Farm Stew (Wet Food)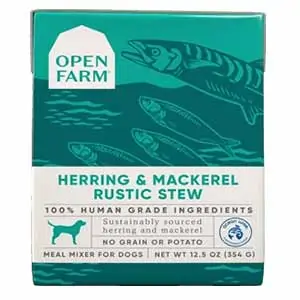 Open Farm calls their line of wet dog food stew. It's made with 100% human-grade ingredients.
Harvest Chicken Stew
Homestead Turkey Stew
Grass-Fed Beef Stew
Chicken & Salmon Stew
Wild-Caught Salmon Stew
Herring & Mackerel Stew
Price: $47.99 (12 packs of 5.5 ounce boxes)
Open Farm Dog Treats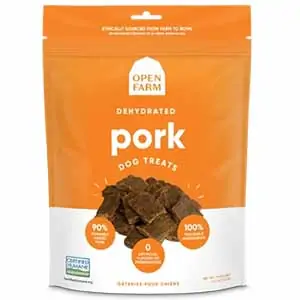 All dog treats are dehydrated, and they're glycerine, grain, and gluten free-free. They come in 4.5-ounce bags.
Cod Skins
Beef
Chicken
Pork
Turkey
Price: $12.99 (4.5-oz bag)
Open Farm Dog Supplements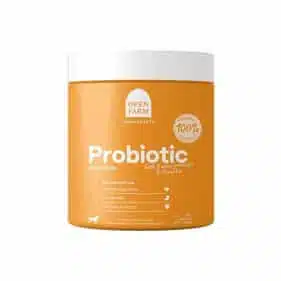 All of their chewable supplements are all-natural and have the National Animal Supplement Council (NASC) seal of approval.
Probiotic
Hip & Joint
Skin & Coat
Calming
Immune
Price: starts at $29.99 (90 chews)
Our First-Hand Experience With Open Farm
"Open Farm sent me samples of their kibble and gently cooked dog foods in exchange for an unbiased review. My hound-mix Sally can be a little ornery with eating her meals, so at times we've added wet food to her kibble to entice her to eat. There is no enticing needed to get her to eat her Open Farm meals. The girl enhales it! In fact, we may need to start using a slow feeder to slow her down some!"

– Kimberly Alt, rescue dog parent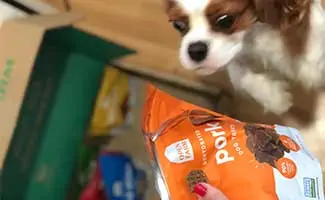 "We were sent a sampling of Open Farm's dehydrated dog treats in exchange for an honest review. Georgie, a Cavalier King Charles Spaniel puppy, loved all the flavors and gobbled them up. They were a nice consistency in that they were easy to break off and chew (versus other treats that are tough and chewy)."

– Sadie Cornelius, Cavalier King Charles Spaniel parent
Frequently Asked Questions
Here are some of the most common questions we get from our readers about Open Farm.
Has There Been An Open Farm Dog Food Recall?
No, there's no record of any of Open Farm's dog food, treats, cat food, or other products being recalled for any reason.
Is Open Farm Dog Food Human-Grade?
Open Farm's freeze-dried and wet dog and cat food are made with human-grade ingredients.
Where Can I Buy Open Farm Pet Food?
If you're wondering where to buy Open Farm dog food, Open Farm's products are available online and in more than 5,000 pet stores around the U.S.
Who Owns Open Farm Dog Food?
Open Farm is a family-owned pet food company based in Toronto, Canada. Isaac Langleben, his wife, Jacqueline Prehogan, and brother-in-law, Derek Beigleman, launched Open Farm in 2013. Their manufacturing facility is a family-owned company in Minnesota called Barrett Ag Service, which has been in the pet industry for 30 years.
Learn More About Open Farm's Philosophy
In the video below, co-owner Jacqueline Prehogan talks about why they started Open Farm and the philosophy behind their practices.
What's Our Final Verdict?
We've reviewed a ton of different dog food brands, and Open Farm's practices surpass many we've seen in terms of carefully sourced ingredients. Their attention to the welfare of animals is extremely impressive compared to many other brands. This is pet food that you can feel better about feeding your dog.
However, if you're still exploring other types of healthy dog food, be sure to read our reviews of the best dog food delivery services, including personalized fresh meals and kibble, all-natural kibble, and dehydrated dog food. We also have our article on the best dog foods for most diet types, ages, health issues, and more.
Tagged With: Food Delivery