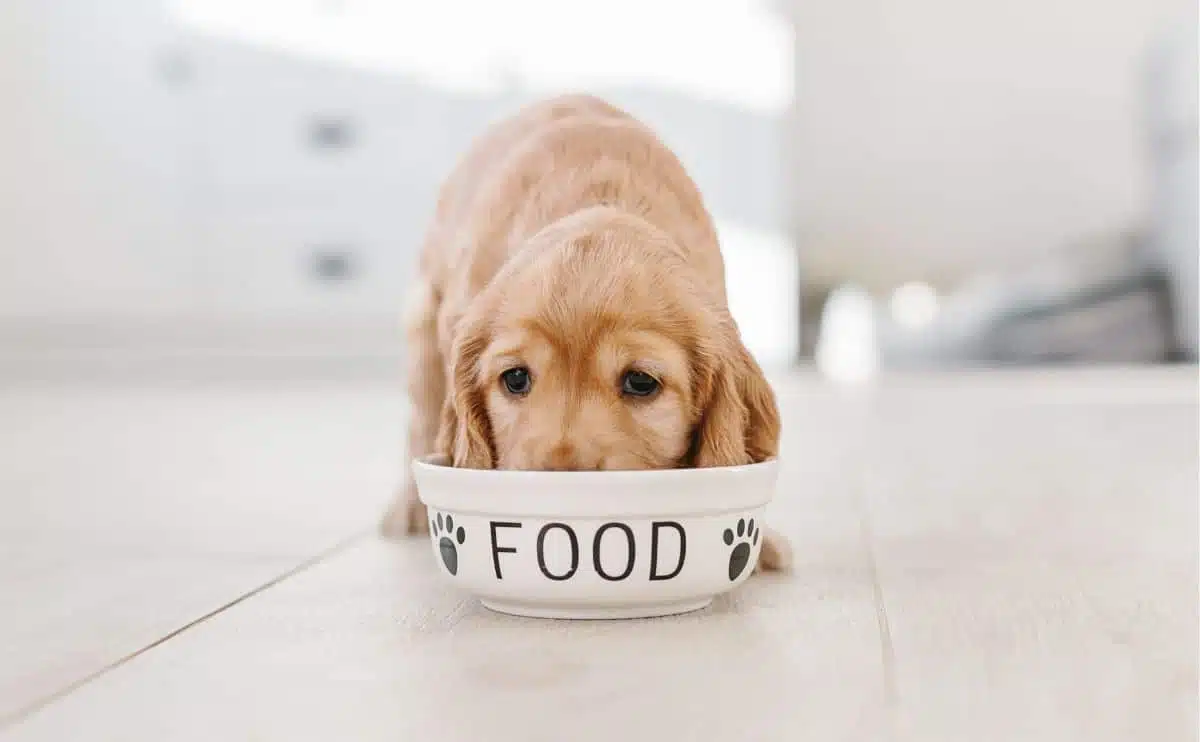 What's the best dog food? That's such an open-ended question, right? Dogs have very different dietary needs, depending on their age, allergies, and many other health concerns. We know it's so hard to find the best dog food for your pup's diet type and nutritional requirements, as well as your budget. So we've broken down some of the best dog foods on the market into specific categories to help you decide which is the best option for you and your pup's needs.
Best Dog Foods For Diet Type, Life Stages, Health Concerns & More
As we said above, we've chosen our best picks for very different needs for your dog's situation. But with all of our top picks, our experts always consider the quality of ingredients, company reputation, pricing, customer reviews, and many other factors. All of the following dog foods meet the standards of the Association of American Feed Control Officials (AAFCO) for a nutritionally complete and balanced diet and are made in North America.
Best Fresh Dog Food: The Farmer's Dog
The Farmer's Dog features fresh, human-grade dog food made with all-natural ingredients. They personalize your dog's ingredients and portion sizes based on your pup's profile, including age, breed, weight, body shape, activity level, health concerns, and more. And they ship it right to your door within days of cooking.
They have four grain-free recipe options (chicken, turkey, beef, and pork) developed by board-certified American College of Veterinary Nutrition (ACVN) nutritionists and flash-frozen to preserve nutrients and freshness. Recipes are packed with fruits, vegetables, lentils, fish oil, and a blend of vitamins and minerals and contain no fillers or preservatives and is great for picky eaters.
Price
The Farmer's Dog bases its pricing on your dog's age, weight, and other factors.
Plans start at $2/day
Free shipping (you can customize shipping frequency)
Our readers have access to 50% off your first box. No code is needed; use this link, and the discount will be applied! You can also visit our dedicated The Farmer's Dog coupons page.
Full Review Of The Farmer's Dog | More Fresh Dog Food Reviews
Best Dry Dog Food: Blue Buffalo Life Protection Formula
It's hard to pick the best dry dog food from all of the excellent options on the market these days. But our experts pick Blue Buffalo Life Protection as the best overall dry dog food.
This reasonably-priced adult dog food recipe includes a great balance of high-quality lean proteins and carbohydrates, as well as LifeSource Bits — a super-healthy blend of antioxidants, vitamins, and minerals selected by holistic veterinarians and animal nutritionists to support your dog's whole-health requirements.
This recipe contains no chicken by-product meal, corn, wheat, soy, artificial flavors, or preservatives. It's not grain-free, but many experts believe that most dogs need healthy grains in their diet if they don't have allergies. If you're looking for a grain-free adult dog food option, see our review of Wellness CORE Grain-Free below.
Price
Best Wet/Canned Dog Food: Wellness Complete Health
Wellness is a highly-rated pet food brand that uses natural ingredients (no fillers), focusing on whole-body health. They have an extensive line of high-quality wet and dry food for dogs and cats.
As with all of their dog foods, this canned turkey and sweet potato recipe is nutrient and protein-rich to give your pup plenty of energy and includes carefully selected ingredients to support immune and digestive health, as well as a healthy coat and skin. The only downside is that it's a bit pricey.
Price
Best Budget-Friendly Dry & Wet Dog Food: American Journey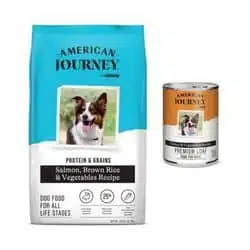 Are you on a limited budget but want a high-quality diet for your pup? Chewy brand American Journey could be just the ticket. Their grain-free salmon and sweet potato kibble recipe is a customer favorite, but American Journey carries an extensive line of affordable grain-free and grain-inclusive dry and wet dog food.
They also offer puppy, senior, and limited-ingredient formulas. All feature real animal protein as the first ingredient (chicken, beef, lamb, duck, etc.) fortified with whole fruits and vegetables, omega fatty acids, and plenty of other nutrients for whole-body health. Another huge plus, their food contains no wheat, corn, soy, by-products, artificial preservatives, flavoring or coloring.
Price
Full Review Of American Journey Dog Food
Best Dehydrated Dog Food: The Honest Kitchen Whole Grain Chicken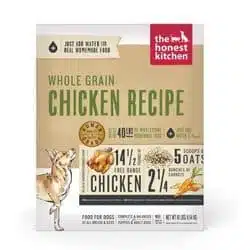 The Honest Kitchen is a highly-reputable brand that features 100% human-grade dog food in all of its formulas. Among their most popular offerings is this whole grain chicken dehydrated dog food, which includes such real whole food ingredients as free-range chicken, organic oats and barley, carrots, and bananas.
Their dehydrated formulas come in a variety of proteins (and grain-free options), all of which make an excellent stand-alone meal or delicious and nutritious kibble topper. The Honest Kitchen also offers human-grade kibble clusters, bone broth, goat's milk probiotic boosters, treats, and more.
Price
7-lb box (makes 28 lbs of dog food): $59.99
Our readers have access to 30% off your first order with the Honest Kitchen with coupon code CJ30. Use this link to get started.
Full Review Of The Honest Kitchen
Best Dog Stew: Nutro Hearty Stews
If your dog loves a good chunky stew in gravy, Nutro Hearty Stews are a fantastic option. We recommend the roasted turkey, sweet potato, and green bean recipe, but they also offer beef, chicken, and lamb recipes.
All stews are grain-free, have real protein as the #1 ingredient, and include real vegetables, vitamins, and minerals. They're also non-GMO and contain no by-product meal and no artificial preservatives, flavors, or colors. Nutro also has an extensive line of dry dog food and other wet food options.
Price
Best Raw And Freeze-Dried Dog Food: BARF World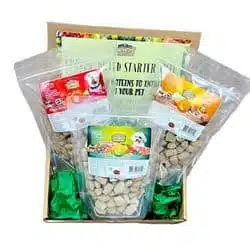 A pioneer in the raw dog food industry, BARF World offers raw diets in multiple forms, including frozen patties, nuggets, chubs (tubes of raw blend), and freeze-dried nuggets. BARF, which stands for Biologically Appropriate Raw Food or Bones And Raw Food, claims that a raw diet can result in a pet free of allergies and digestive problems.
Their AAFCO-compliant food includes muscle meat, bone, fat, organ meats, vegetables, and fruits and contains no grains or preservatives. They deliver right to your door and have a 60-day money-back guarantee if you and your pup aren't satisfied with their diet.
Price
Frozen: starting at $139.97 for 24 x 8-oz. patties
Freeze-Dried: starting at $38.97 for nuggets (14 oz)
Use this link to get the best deal we can offer from BARF World.
More Top Picks For Raw Dog Food Delivery | More Top Picks For Freeze-Dried Dog Food
Best Raw-Coated Kibble: BIXBI Rawbble
BIXBI's Rawbble line of dog food features freeze-dried raw-coated kibble that's grain-free and has limited all-natural ingredients. It's made and sourced in the U.S. with fresh meat, carbohydrates from lentils and whole peas, fruits, vegetables, and essential vitamins and minerals. It comes in chicken, duck, lamb, and pork recipes.
A lesser-known dog food brand, BIXBI offers high-quality, all-natural dry, wet, freeze-dried dog food, and dog treats. They also have an impressive line of organic mushroom supplements formulated to support overall wellness and specific health needs, like digestive problems, skin allergies, joint pain, and more.
Price
Best Natural Dog Food: Spot & Tango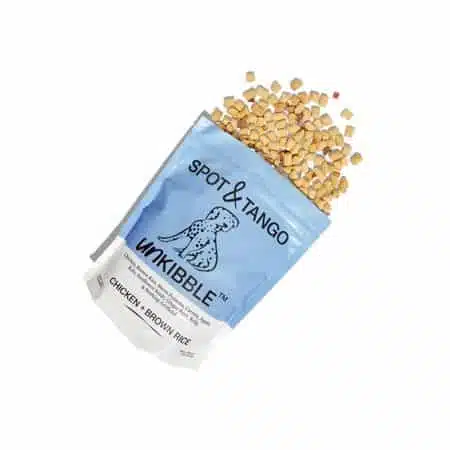 Spot & Tango offers excellent fresh meals and a high-quality dehydrated dog food called Unkibble. Both options are made from all-natural, human-grade ingredients, including real meats, vegetables, fruits, and more (no fillers, additives, or preservatives).
They customize the ingredients and portion sizes based on a profile you fill out on their website, including your dog's breed, gender, age, weight, body shape, activity level, health conditions, and other factors. Their shelf-stable Unkibble is a fantastic option if you want human-grade dog food but don't have room in your fridge or freezer to store fresh meals.
Price
Spot & Tango's pricing is based on your pet's age, weight, activity level, and more.
Unkibble plans start at $7/week
Fresh plans start at $15/week
Free shipping (shipping is every 4 weeks)
Are you looking for a Spot & Tango promo code? Visit our dedicated Spot & Tango coupon page to check out the latest offer and save.
Full Review Of Spot & Tango | More Top Picks For All-Natural Dog Food
Best Organic Dog Food: Castor & Pollux Organix
All of Castor & Pollux Organix's dry dog food recipes are USDA-certified organic, made with 95% or more certified-organic ingredients, and cooked in an organically certified kitchen in the U.S.
This chicken and sweet potato recipe is grain-free and made with non-GMO ingredients. The #1 ingredient is organic, free-range chicken. It's packed with all the nutrients your pup needs and a blend of organic superfoods, including flaxseed, blueberries, and coconut oil. It also contains no corn, wheat, soy, artificial colors, flavors, or preservatives.
Castor & Pollux Organix also offers recipes with healthy grains and for puppies, small breeds, seniors, and more.
Price
Best Ethically Sourced Dog Food: Open Farm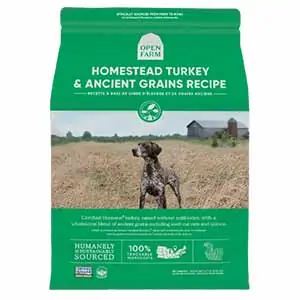 If you're committed to purchasing only ethically (and sustainably) sourced dog food, then we think Open Farm is your best bet. Open Farm sources all meats from Certified Humane farms. Certified Humane sets high slaughter, cruelty-free standards and restricts the use of hormones and steroids. The seafood adheres to both Ocean Wise and Seafood Watch standards. They also source all vegetables and fruits from local and regional partner farms.
Open Farm carries a huge variety of dog food products — grain-free and grain-inclusive kibble, fresh meals, freeze-dried raw dog food, wet food, treats, and more. They also have puppy and senior food, as well as seven different protein options, including fish, lamb, venison, etc.
Price
Open Farm carries so many dog food types and formulas in varying sizes that we've only included a few pricing examples here. You can save 5% off if you sign up for auto-shipping.
Beef Kibble w/ Grains (22-lb bag): $86.99
Grain-Free Beef Kibble (24-lb bag): $94.99
Beef Freeze-Dried Raw Dog Food (22-oz bag): $54.99
Turkey Stew/Wet Food (12 packs of 5.5-oz. boxes): $47.99
Fresh Beef Meal (16 lbs): $159.99
Get free shipping on Open Farm orders larger than $50 via this link.
Best Holistic Dog Food: Holistic Select Natural
Holistic Select Natural dry dog food is our top pick for the best holistic dog food (food containing special ingredients for overall body health). This lamb recipe includes optimal protein levels, plus prebiotics and probiotics, live yogurt cultures, digestive enzymes, and natural fiber to promote a healthy digestive system.
Omega 3 fatty acids from salmon oil and flaxseed support a healthy coat and skin. It also contains antioxidants (immune system), glucosamine (joint health), taurine (heart health), and more.
Price
Learn More About The Benefits Of Holistic Dog Food
Best Grain-Free Dog Food: Wellness CORE Grain-Free
If your pup has allergies or doesn't digest grains well, Wellness CORE's kibble is a great choice. It contains 34% protein (deboned turkey and turkey and chicken meal), 16% fat content, and 4% fiber.
This kibble also includes omega fatty acids from salmon oil and flaxseed to support a healthy coat and skin, as well as antioxidants, glucosamine, probiotics, and taurine for overall body health.
Price
Learn More About A Grain-Free Diet For Dogs
Best Dog Food For Sensitive Stomachs: Canidae Pure
A limited-ingredient dog food is often the way to go if your dog has a sensitive stomach, and Canidae Pure, with only eight base ingredients, may be a great solution for your dog's tummy issues. This grain-free adult dog food contains real lamb, goat meal, venison meal, lentils, peas, tapioca, canola oil, and sun-cured alfalfa.
Not only are the real-food ingredients less likely to upset a dog's stomach, but this recipe also contains all the essential vitamins and minerals and a blend of probiotics to promote a healthy gut.
Price
Best Dog Food For Allergies: Ollie
Ollie is another company that delivers personalized fresh dog food right to your door and can be an excellent option if your dog has allergies. Their all-natural, human-grade meals contain no soy, corn, or wheat, and they can customize ingredients based on your dog's specific allergy issues (you just let them know when you fill out your dog's profile).
Ollie offers four recipes (beef, turkey, chicken, and lamb), all of which include high-quality proteins, fresh produce, and healthy oils, vitamins, and minerals. Meals contain no preservatives, fillers, or artificial ingredients. Just keep in mind that they ship in bulk every four or eight weeks, so you'll need plenty of freezer room to store their meals.
Price
Plans start at less than $4/day and average $8/day (depending on the size of your dog and portions they eat)
Free shipping
Our readers can get 50% off their first box. Use this link to take advantage of this offer (no discount code needed).
Full Review Of Ollie | More Dog Food For Allergies Reviews
Best Dog Food For Skin Allergies: Purina Pro Plan Sensitive Skin & Stomach
Many pet owners say this Purina Pro Plan dog food formula works wonders with skin allergies compared to many alternative products. Its #1 ingredient is salmon, rather than traditional chicken, turkey, or beef protein sources that can aggravate skin allergies. It also contains no corn, wheat, or soy.
This formula is also fortified with live probiotics for digestive and immune health and contains easily digestible oatmeal as a healthy carbohydrate source. It's also a good alternative to our top pick for the best dog food for sensitive stomachs.
Price
Best Dog Food For Weight Loss: Hill's Science Diet Perfect Weight
Many veterinarians recommend Hill's Science Diet Perfect Weight for a healthy weight loss diet. In fact, more than 70% of dogs lost weight within ten weeks on this diet in clinical studies. It contains 28.7% lean protein and 11.2% fat, as well as a complete balance of vitamins, minerals, and amino acids with no artificial colors, flavors, or preservatives. However, this dog food isn't grain-free or gluten-free if those dietary needs are concerns for your pup.
If you're not a big kibble fan or your pup has special dietary needs, another fantastic option to help your dog lose weight is The Farmer's Dog (our top pick for the best fresh dog food). They can customize your dog's food, including ingredients and portion sizes, for your dog's weight loss goal.
Price
More Top Diet Dog Food Options & Weight Loss Tips
Best Vegetarian & Vegan Dog Food: Wild Earth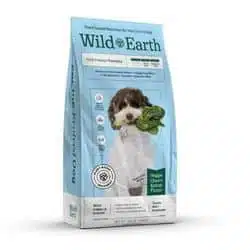 Featured on Shark Tank, Wild Earth makes veterinarian-developed, nutritionally complete vegan kibble with no animal-derived ingredients. Their kibble is high in protein (31%) from all-natural, clean food sources plus superfood ingredients like oats, chickpeas, and sweet potato.
They also have vegan treats that contain the superfood koji, another great source of protein for vegan dogs. None of their products have artificial ingredients or fillers.
Price
Subscribe for auto-shipping and save 30% off your first order and 5% on future deliveries.
Starting at (4-lb bag): $39.00
More Top Picks For Vegan Dog Food
Best Insect-Protein Dog Food: Chippin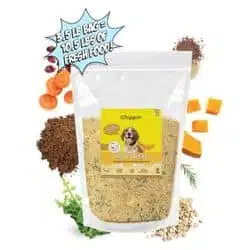 View on Amazon | View on Chewy
Insect-protein pet food is getting a lot of buzz these days as an allergy-friendly and extraordinarily sustainable alternative to traditional animal-protein diets. If you're sold on the multiple benefits for your pup and our planet, we recommend Chippin's dehydrated cricket dog food.
This grain-inclusive nutritious chow, which meets AAFCO standards for adult dogs, features human-grade cricket protein sourced from a family farm in Canada. It's fortified with fresh fruits and veggies, omega-3s, essential amino acids, vitamins, and minerals. Chippin also carries an assortment of dog treats.
Chippin is also an eco-friendly option for pet parents with their food using 80%+ fewer resources than others on the market.
Price
With Chippin, you can subscribe for auto-shipping and save 20% off your first purchase and 5% on future deliveries.
3.5-lb bag (makes 10 lbs dog food): $63.99
Best Keto Dog Food: Ketogenic Pet Foods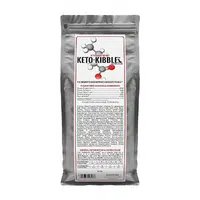 Has your veterinarian recommended a ketogenic diet for your pup? Ketogenic Pet Foods Keto Kibble is an excellent choice for high-protein and very low-carb dog food. This all-natural kibble is loaded with vitamins and minerals and also contains probiotics for gut health and fish oil for skin and coat health.
It comes in two AAFCO-compliant formulas that contain organic chicken. Grain-free Keto Kibble is 60% protein, 16% fat, and 5% carbohydrates. And the Keto Foundation kibble recipe with brown rice contains 40% protein, 18% fat, and 5% carbs. Both recipes get positive customer reviews.
Price
More Top Picks For Keto Dog Food
Best Homemade Dog Food
If you're into homemade dog food, be aware that your dog likely needs vitamin and other nutrient supplements if homemade food makes up most of his diet, whether it's vegan, vegetarian, or includes meat and animal products.
We recommend learning more about nutrition requirements for dogs. The book Feed Your Best Friend Better: Easy, Nutritious Meals and Treats for Dogs is a good resource. Consult with your veterinarian to make sure your dog's getting all the nutrients he needs.
Our Best Homemade Dog Food Recipes
Best Dog Food For Puppies: Taste Of The Wild High Prairie
This grain-free puppy food is packed with lean protein and all the vitamins and minerals growing puppies need. It's made without grain, corn, wheat, fillers, preservatives, or artificial ingredients, so it's easy for puppies to digest. It also includes healthy antioxidants from plenty of vegetables.
The flavorful kibble is small enough for puppies of all sizes to chew easily. And an added bonus — all of the ingredients are sustainably sourced.
Price
Best Dog Food For Small Dogs: Royal Canin Small Breed
Royal Canin is a high-quality dog food brand specializing in formulas for five different dog sizes, from extra-small to giant breeds. This formula has precise nutrition for small dogs ten months to 8 years old, weighing 9 to 22 pounds.
Its ingredients include lean proteins and L-carnitine to give your small dog energy while helping maintain optimal weight. It also contains fatty acids to support skin and coat health. The kibble is also an ideal size for small dog breeds. This formula isn't grain-free or gluten-free.
Price
Full Royal Canin Review | More Picks For Top Small Breed Food
Best Large Breed Dog Food: Diamond Naturals Large Breed
Like Royal Canin, Diamond Naturals also specializes in dog food formulas for various breed sizes. Optimal protein, fat, and amino acid levels in this recipe provide the nutrients large breeds need for lean, strong muscles and to maintain ideal body weight.
This holistic formula contains glucosamine and chondroitin for joint health, probiotics for digestive health, and omega-6 and omega-3 fatty acids from superfoods to help maintain healthy skin and a shiny coat. It's also made with sustainably sourced ingredients, including cage-free chicken, and contains no corn, wheat, fillers, preservatives, or artificial flavors or colors.
Price
More Picks For Top Large Breed Dog Food
Best Senior Dog Food: Purina ONE Vibrant Maturity
Veterinarian-recommended Purina ONE offers this formula for dogs seven years old and up. It includes special vitamins and minerals to enhance physical energy and mental sharpness and support your dog's immune system and eye health.
Natural sources of glucosamine also help with aging and aching joints. Real chicken is the #1 ingredient, and it contains no fillers. Purina also has a Vibrant Maturity wet food alternative if your elderly pup has trouble chewing kibble.
Price
Best Dog Food Delivery Services
If you're strapped for time to shop for dog food in person, we can help you find the best dog food delivery services to help you take shopping off your plate. See our reviews of the best dog food delivery services, whether you need name-brand kibble, customized fresh dog food, or several other options. Many of the delivery services we review in that article can deliver the dog food we recommend here.
Tagged With: Comparison, Food Delivery