Senior dogs have different nutritional needs and require less calorie-dense food. It is essential that older pups control calorie intake and refrain from eating a diet that is high in unneeded nutrients. They must have a healthy protein, fat, phosphorus, and sodium mix. Additionally, hydration is a big concern for older pets and must be addressed in their diet. Dogs need a healthy diet throughout their lives; as they age, these needs change. We found some of the best dog food for senior dogs that owners may want to consider. We also discuss aging canines' nutritional needs and what owners can do to support them.
At A Glance: A Few Of Our Top Picks
Senior Dogs Nutritional Needs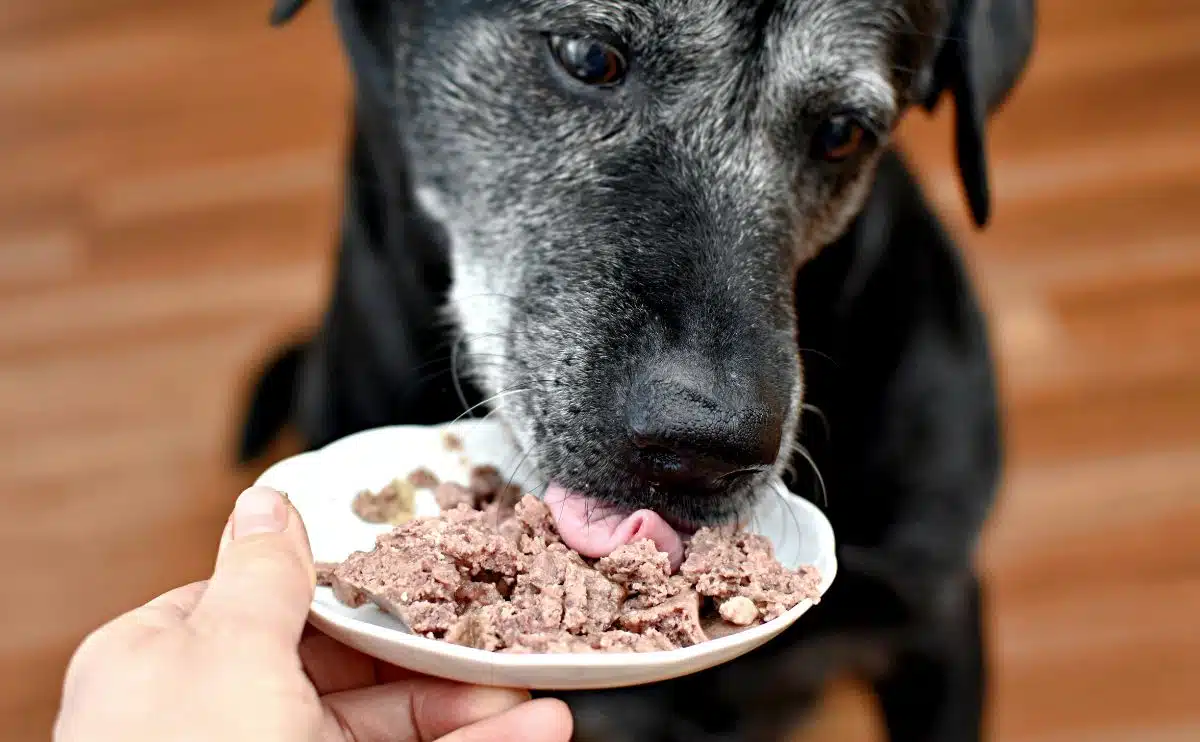 Dogs are considered mature when they reach half of their life expectancy. Small breeds are considered seniors when they reach between 8 and 10 years of age. Large and giant breeds are considered seniors between five and eight years old. A canine is considered geriatric when it has lived past its breed's expected lifespan.
As canines reach their golden years, their body conditions start to change. Additionally, they have a decrease in activity, mobility, and abilities. These physiologic changes affect how much energy a canine needs, directly impacting their diet. Feeding elder canines appropriate nutrition is vital to support their overall health and ensure they maintain a healthy weight. It is crucial to prevent obesity in aging pets, as this condition leads to a higher risk for osteoarthritis and diabetes and contributes to a shorter lifespan. Many older pups experience appetite loss, less energy, and even cognitive issues.
Protein: Protein is essential for canines of all ages. Older canines may have a more challenging time digesting and processing protein, which can lead to kidney problems. However, the protein they do consume should be high-quality and easily digestible. Seniors should eat a diet of 25% protein (at least) from high-quality protein sources. It is a misconception that older canines need less protein. They require about 50% more protein to maintain their muscle mass than younger canines. The Association for Pet Obesity Presents recommends 28 to 32 % protein for healthy senior dogs.
Fats: Fats are an essential energy source for canines, but seniors require less fat than younger pups because they are less active. Too much fat in their diet can lead to obesity and other health problems.
Fiber: Fiber helps promote healthy digestion and can aid in weight management. Senior dogs may require more fiber than younger ones due to changes in their digestive system. However, too much fiber can lead to digestive problems, so it is essential to consult with your veterinarian to determine the appropriate amount of fiber for your aging pet.
Vitamins and Minerals: Older pups may require additional vitamins and minerals to maintain their health. Vitamins and minerals such as calcium, phosphorus, and vitamin D are essential for bone health, while antioxidants like vitamin E and beta-carotene can help boost the immune system. Elements like chondroitin, glucosamine, and taurine are necessary for joint and bone health.
Water: Older canines may become dehydrated more quickly, so it is crucial to ensure they always have access to clean, fresh water. Dehydration can lead to serious health problems, so be sure your older pooch drinks enough water throughout the day.
When canines reach their senior years, they can develop sensitivities and allergies to certain ingredients in their diet. Food intolerance can develop at any point in their lifetime. As many older canines may be affected by gastrointestinal issues or other dietary concerns, paying attention to what your pet is eating and how they react to it is essential. Canines often develop intolerances to chicken, beef, wheat, and dairy products. Additionally, soy, eggs, corn, and some preservatives may cause problems.
If you are unsure of what is causing your pet's stomach concerns, you can discuss this with your pet and try an at-home allergy test. These kits test for dietary intolerance, sensitivity, and some environmental allergens. They are relatively easy to do, simply send a hair or saliva sample to the company's lab, and they will send you the results within a few weeks.
Best Dog Food For Older And Senior Dogs
The Farmer's Dog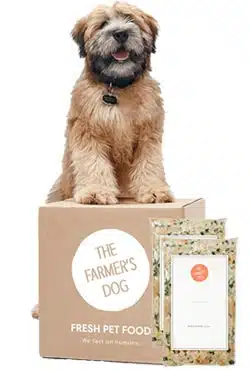 Our top choice overall for senior dogs is The Farmer's Dog. This is a top pick for several reasons. The Farmer's Dog makes fresh, human-grade meals using all-natural ingredients. They offer four limited-ingredient recipes. Four protein choices: turkey, pork, chicken, and beef, are crafted into recipes with fresh vegetables, salmon oil, minerals, and vitamins. Recipes contain no soy corn or wheat. Board-certified American College of Veterinary Nutrition (ACVN) nutritionists formulate all recipes. Meals are gently cooked and flash-frozen to preserve nutrients and freshness.
These meals are wonderful for aging dogs. Food is gently cooked, making it full of nutrients and easy to digest. It has no processed ingredients and is better for overall health. A fresh diet is also helpful for pups with weight concerns, which many seniors have. The Farmer's Dog offers personalized plans for your pet's needs. Owners fill out a survey and give information about their pup's needs. Food is portioned out to suit each animal's needs. Calories depend on serving sizes. This is a subscription service, and meals are shipped right to your door.
Price
Starting at $2/day for small dogs, but varies based on your pet's weight, age, and other factors
Our readers have access to 50% off your first box. No code is needed; just use this link to apply the discount! You can also visit our dedicated The Farmer's Dog coupons page.
Full Review Of The Farmer's Dog
Best Wet or Canned Dog Food For Seniors
Blue Buffalo Homestyle Senior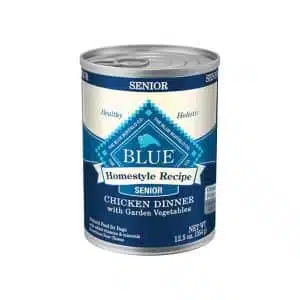 View on Amazon | View on Chewy
This recipe is a top choice for canned senior dog chow. It has high protein content and no fillers like wheat gluten. Protein comes from fresh chicken, chicken broth, and chicken liver. The recipe includes carrots, peas, brown rice, barley, oatmeal, and sweet potatoes. The recipe contains chondroitin and glucosamine to support joint health. No fillers, by-product meals, wheat, corn, soy or artificial flavors, or preservatives.
This meal is high in nutrients and easy to eat. It has a smooth, soft texture, making it suitable for older pets who may have trouble chewing. Boosts 396 calories per cup. This can be served as an entrée or mixed in with dry kibble. Easy to digest, affordable, and in stock with many major retailers.
Price
Best Dry Dog Food For Senior Dogs
Nulo Freestyle Senior Grain-Free Trout & Sweet Potato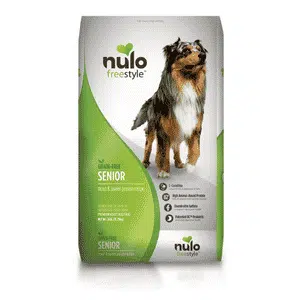 View on Amazon | View On Chewy
Dry kibble is a staple in most pets' diets. Even seniors need to eat kibble for vital nutrients and to help maintain teeth cleanliness. This grain-free, dry kibble is high in animal protein. Deboned trout, turkey meal, salmon meal, yellow peas, sweet potato, chickpeas, deboned turkey, pea fiber, and chicken fat are among the ingredients.
The recipe includes glucosamine, chondroitin, and L-carnitine for joint health and weight control and has 396 calories per cup. This is a popular choice for fussy eaters, as it is easy to digest and does not contain chicken, corn, wheat, or other fillers. It was developed to support digestive, bone, joint, and immune system health.
Price
Best Soft Dog Food For Senior Dogs
JustFoodForDogs Pantry Fresh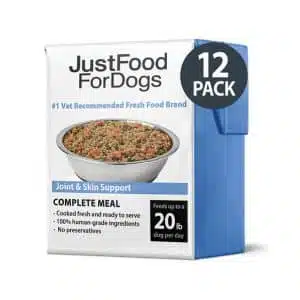 This is a fresh, 100% whole food ingredient diet that is shelf stable. It stays good for two years on the shelf. This is a fantastic alternative to fresh meals and does not take up room in the freezer. Veterinarians formulate recipes and use no preservatives, rendered meats, fillers, artificial colorings, flavors, or growth hormones. Foods are prepared in the kitchen, not manufacturing plants. Recipes are grain-free and boost 31 calories per ounce. Meals are soft, highly nutritious, flavorful, and easy to digest.
This high-protein diet offers top nutrition, and a soft texture, making it easy to eat for seniors. The Joint & Skin Support recipe is made with pork loin, quinoa, kale, carrots, apples, rice starch, sunflower oil, coconut oil, fish oil, and a JustFoodForDogs nutrient blend. The company makes several Pantry Fresh options, including those for special needs like renal and hepatic support.
Price
Best Small Breed Senior Dog Food
Nutro Natural Choice Small Breed Senior Chicken & Brown Rice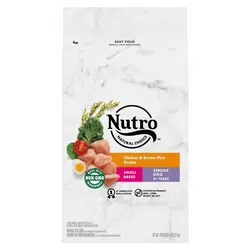 View On Amazon | View on Chewy
Small breeds often experience dental issues as they age, making picking the best chow even more important. This recipe uses chicken, chicken meal, whole grain barley, split peas, rice, oatmeal, and fish oil, among other ingredients. It uses no corn, wheat, or so and is free from by-product meals. It uses no artificial flavors or ingredients. The recipe is fortified with calcium, protein, and fiber to support healthy joints and digestion. Has 320 calories per cup.
This kibble is formulated especially for aging small breed pups, a fairly narrow market. Small breeds can easily chew and digest this bite-sized kibble. Essential antioxidants to support immune system health, and glucosamine and chondroitin sulfate for bone and joint health. This formula is for small breeds over 8 years old.
Price
Best Large Breed Senior Dog Food
Blue Buffalo Life Protection Formula Large Breed Senior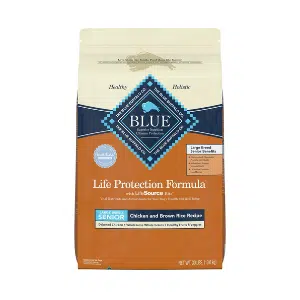 View on Amazon | View on Chewy
This recipe is formulated specifically to support large-breed canines in their golden years. Protein comes from deboned chicken. Kibble is formulated to support larger breeds' immune systems and physical needs. Bone and joint support are critical. This kibble has added nutrients to support larger and giant breeds' unique needs. There are no corn, wheat, soy, or chicken (or poultry) by-product meals, and it has 343 calories per cup.
The recipe starts with real meat and vegetables and includes fish oil for omega fatty acids. It offers a healthy balance of protein and fat. Kibble also has added LifeSource Bits, a blend of nutrients enriched with a Super 7 package of antioxidant-rich components.
Price
Best Senior Dog Food For Sensitive Stomach
Nom Nom Fresh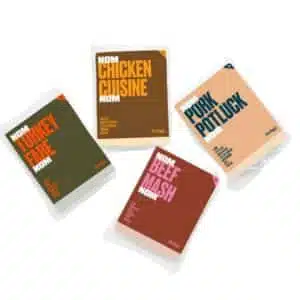 Fresh meals are an excellent choice for the sensitive stomach of an older canine. The Farmer's Dog is a top choice, but there are others to choose from. Nom Nom offers four proteins: beef, chicken, pork, and turkey. Human-grade meals are much easier to digest, taste better, and have higher nutritional value. For a sensitive stomach, a fresh diet can be life-changing. Nom Nom formulates all recipes to support aging canines. They are softer, have higher digestibility, and offer substantial protein.
Nom Nom is a subscription service, and recipes are created by a board-certified veterinary nutritionist. It is a subscription service, but owners can try out a sample pack commitment-free. Owners see a difference in pets in just 30 days. This is also a more affordable option than some other meal delivery services.
Price
Best Senior Dog Food For Weight Loss
Ollie Fresh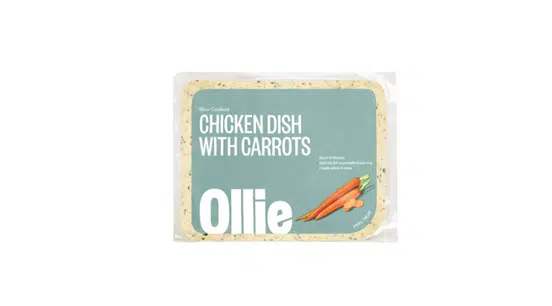 Ollie is an excellent choice for older pups that need to lose weight. Ollie makes fresh, human-grade meals as well as baked human-grade meals. This gives owners multiple choices, and they can pick plans that offer entirely fresh meals, half-baked and half-fresh, or a more budget-friendly half-fresh plan. Owners take a short quiz that helps create a customized meal plan based on their pet's needs. Owners then try out a starter box, and if they like it, continue with the subscriptions.
Ollie is extremely healthy and uses all-natural ingredients. Fresh recipes include beef, chicken, turkey, and lamb. Baked recipes are cooked in small batches and include beef and chicken. Fresh recipes are slow-cooked and flash-frozen for freshness. Proteins include real animal proteins and organ meat. Recipes include salmon oil, amino acids, and vitamins to help keep dogs healthy. Owners can mix and match proteins to keep their pets interested and control portion size. This chow is highly nutritious, tastes great, and will satisfy more than traditional dried kibble. This is especially important for weight loss.
Price
Fresh starts at $1.57 a meal, Mixed at 41.36 a meal, and Half Fresh at $1.00 per meal
Best Dog Food For Senior Dogs With Bad Teeth
Wellness Complete Health Senior Formula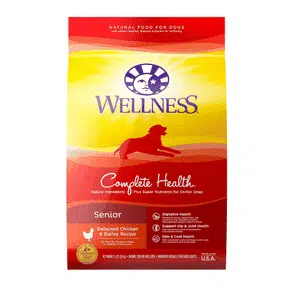 View on Amazon | View on Chewy
This soft, blended pate is easy for pups with poor teeth to eat. This one is full of animal proteins, including chicken broth, chicken, whitefish, and chicken liver as protein sources. Uses no corn, wheat, soy, peas, or artificial ingredients. It has a meaty taste and is easy to digest. The recipe is full of antioxidants and omega fatty acids to support skin, coat, and immune system health. This complete and balanced recipe supports skin, coat, digestive eyes, teeth, and overall health. It also works to boost your older pup's energy.
No meat by-products, fillers, or artificial preservatives. The blend of easy-to-digest proteins provides a meaty flavor. This product can be a true lifesaver for pups with dental trouble. It can be served alone or mixed in with soft kibble.
Price
What Is The Healthiest Dog Food For Senior Dogs?
Primal Freeze-Dried Nuggets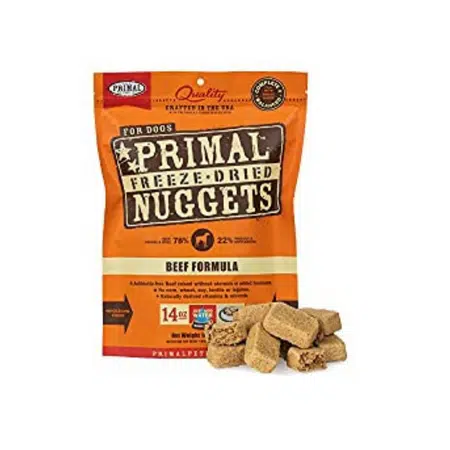 View on Amazon | View on Chewy
A fresh diet is the healthiest for seniors. This can be expensive, however. Freeze-dried products are a wonderful way to give pets the same benefits of fresh meals without as high a cost, and it stays fresh longer. Primal Freeze-Dried nuggets are an excellent choice. Recipes use animal meat and organs. The recipe is protein-rich, easy to digest, and provides top-level nutrition. These come in chicken, beef, lamb, duck, pork, rabbit, turkey & sardine, and venison. They are designed to give canines all the nutrients from an ancestral diet. Includes fresh, ground bone for extra protein.
This chow is easy to feed. Owners just soak it in warm water, bone broth, or goat milk and serve. Easy to digest as there is no corn, grains, gluten, wheat, or soy. These are high in protein and fat, which is exactly what a senior pup needs. Canines enjoy the taste, get top nutritional value, and are full for longer. Organic fruits and vegetables and ingredients like apple cider vinegar, coconut oil, and salmon oil boost the antioxidants. Overall, this is a wonderful choice for any pooch, but it will be very appreciated by your elderly pooch.
Price
Meeting Aging Dogs Nutritional Needs
Meeting an aging canine's nutritional needs is no easy task. Food tastes, preferences, and conditions will change as your pet ages. Owners can discuss any specific concerns with their veterinarian. Providing the best quality nutrition possible is very important, as is looking for meals formulated to meet the needs of aging dogs. Remember, they need higher protein and fat but may eat less. Owners should be careful not to switch up their older pet's diet too often, which can lead to digestive issues and stomach discomfort.
For some older canines, a joint supplement may be necessary. If you are considering this, you can discuss with your veterinarian what supplement is best. These come in many different forms and may benefit older pups suffering from joint pain, mobility issues, or conditions like osteoarthritis and hip dysplasia. Owners may want to consider adding a daily joint supplement to their pet's diet. The best dog joint supplements may help reduce the symptoms and severity of these age-related health problems. As with any dietary supplement, it is important to speak to your vet and get their approval first, especially if your older pup is on any medication or has specific health concerns.
Tagged With: Aging, Comparison, Food Delivery