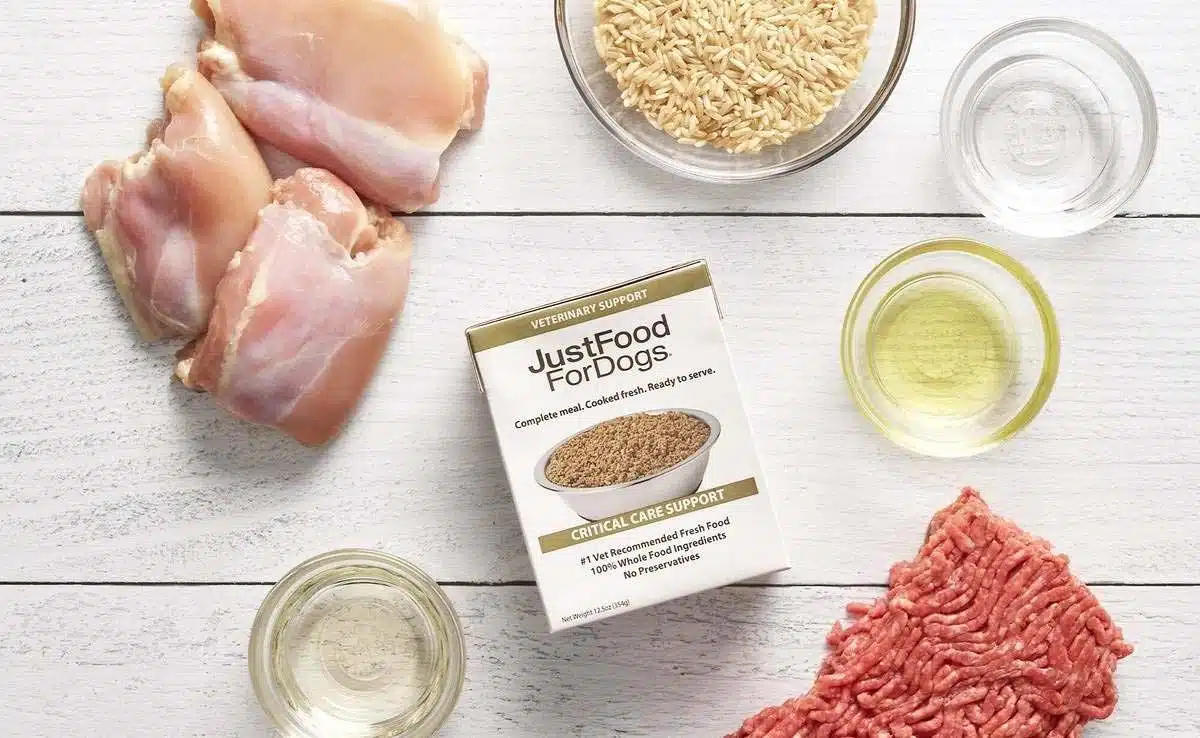 JustFoodForDogs (JFFD) was the pioneering company in what's become a booming segment of the pet food industry — fresh, whole-ingredient pet food. Now, with many strong competitors offering high-quality, human-grade dog food, how does JustFoodForDogs compare? Are their fresh frozen and pantry fresh diets the best choice for those of you looking for healthy pet food? And is JFFD an affordable option? We'll give you all the information you need to make the right decision for your pup.

JustFoodForDogs Dog Food Review
Product Name: JustFoodForDogs
Product Description: JustFoodForDogs prepares human-grade, all-natural food for dogs.
Summary
JustFoodForDogs' fresh frozen meals are an excellent value for the quality and carefully chosen ingredients compared to other fresh meals.
Our team rates dog food based on several factors, including variety, nutritional value, pricing, customer support, and more.
Pros
All-natural, 100% human-grade pet food
Food prepared in USDA-certified kitchens
Wide variety of food, treats, supplements, and nutritional blends
Free from artificial preservatives and flavors
Offers a fresh cat meal
Made in the USA
100% satisfaction guarantee
Cons
The company recalled some batches of its food in early Jan. 2018 for listeria contamination
Fresh food isn't pre-portioned for your pet like similar companies (Farmer's Dog, Ollie, etc.)
Key Features
All ingredients are 100% USDA-certified for human consumption
All products are formulated by a diverse team of veterinarians, including a board-certified nutritionist, toxicologist, and dermatologist
Year-long research feeding trials determined that their meals improved immune health
Offers a line of veterinary support recipes for dogs with specific illnesses (requires vet prescription)
Nutrition team can formulate a custom diet based on your dog's medical records (requires a one-time $250 fee)
Named the #1 vet-recommended fresh pet food in 2019 survey
Company is active in ongoing research into the benefits of fresh dog food
All recipes meet the guidelines of the Association of American Feed Control Officials
JustFoodForDogs Recipe Ingredients
At the heart of JFFD's recipes are human-grade, restaurant-quality whole foods. This means real meat, not animal by-products or ground-up meal ingredients. Their meat also contains no growth hormones. With no fillers, preservatives, or any artificial ingredients, every recipe also includes:
Fresh, locally sourced vegetables and fruits.
Premium fish oil that's high in omega-3 fatty acids, which are important for maintaining healthy skin, a shiny coat, and brain development during growth.
JFFD nutrient blend of essential vitamins and minerals. Their blend is formulated to meet AAFCO guidelines and compounded from 100% human-grade nutraceuticals regulated by the FDA.
What sets JFFD apart is the attention to each recipe's unique blend of ingredients. Recipes are developed by JFFD's team of more than 10 veterinarians led by its chief medical officer, Oscar Chavez BVetMed, MRCVS, MBA. Whether your furry friend can benefit from a low-calorie diet, high or moderate protein levels, no grains, and much more, you can likely find an excellent match for your pup's dietary needs.
Products & Price
JustFoodForDogs has a wide assortment of products available, including dog and cat food, prescription diets, supplements, treats, and nutrient blends. They also offer a wide variety of recipes for dogs to satisfy the pickiest of eaters.
Fresh Frozen Dog Food
JustFoodForDogs offers eight fresh frozen recipes formulated thoughtfully by the company's team of veterinarians. Each meal is targeted toward different dietary needs for puppies, highly active or large-breed dogs, underweight or overweight pups, and more. All recipes contain meat/fish, vegetables, fruits, fish oil, and the JFFD nutrient blend of vitamins and minerals. And some also include grains.
You can store them in your freezer for up to one year. Once thawed, you can keep them in your fridge for up to four days (three days for fish). If you're not sure which meal your pup will prefer, they have a seven-recipe sampler variety pack you can try out first. Prices vary by recipe and start at $66.15 for seven 18-oz pouches.
Recipe
Ideal For
Special Features
Calories
Chicken & White Rice
Puppies and adult dogs
High in calcium and phosphorus to promote bone and tissue growth
43/oz
Beef & Russet Potato
Active and underweight dogs
High-calorie, gluten, and grain-free
44/oz
Turkey & Whole Wheat Macaroni
Large-breed, active, or underweight dogs
High-protein, high-calorie
49/oz
Lamb & Brown Rice
Older dogs or smaller appetites
Moderate protein and gluten-free
42/oz
Fish & Sweet Potato
Overweight dogs, puppies, and dogs with allergies
Low-calorie, gluten, and grain-free
26/oz
Venison & Squash
Dogs with allergies or sensitive stomachs
Low-calorie, high-protein and gluten and grain-free
25/oz
Joint & Skin Support
(Pork Loin & Quinoa)
All dogs, dogs with allergies and/or arthritis
High-protein, includes Type II collagen
32/oz
Balanced Remedy
(Turkey & White Rice):
Dogs with gastrointestinal problems
Low-fat, moderate-protein
39/oz
PantryFresh Dog Food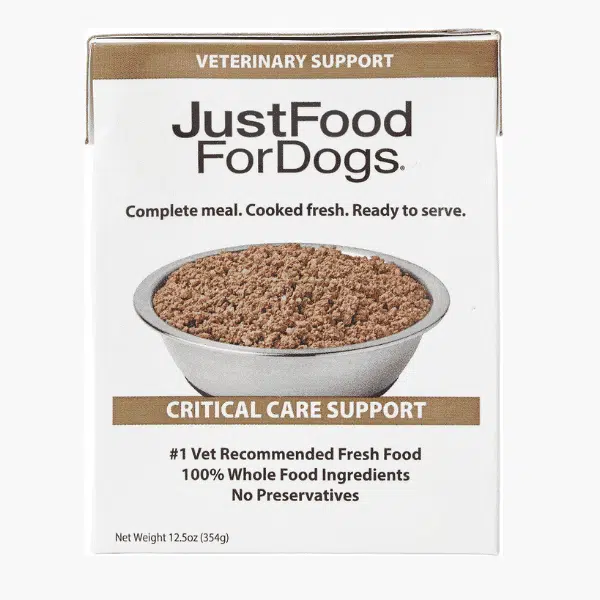 JustFoodForDogs PantryFresh shelf-stable line is an excellent alternative for fresh whole dog food if you don't have freezer space. The available recipes include the same ingredients as those above, just with dehydrated ingredients. They come in Tetra Pak boxes that have a two-year shelf life and are recyclable. Refrigerate after opening. Pricing varies by recipe and starts at $77.40 for twelve 12.5-oz boxes. There's also a sample variety pack available to see which meal your dog prefers.
Chicken & White Rice
Beef & Russet Potato
Turkey & Whole Wheat Macaroni
Lamb & Brown Rice
Joint & Skin Support
Balanced Remedy
Veterinary Support Dog Food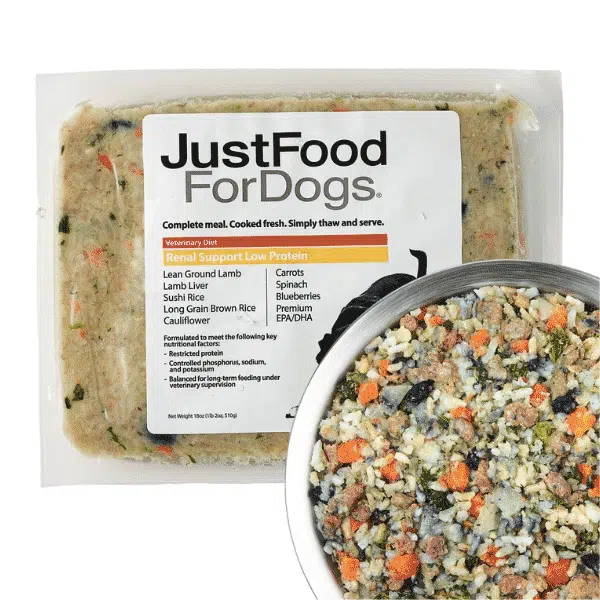 These meals are formulated to address specific dietary needs for dogs with such conditions as diabetes and kidney and liver problems. They're available in fresh-frozen or pantry fresh options. They require a prescription from your vet. Prices vary widely and start at $55.65 for seven 18-oz pouches (fresh-frozen) and
Renal Support Low Protein (Ground Lamb): for kidney health, with restricted phosphorus and controlled electrolyte levels
Hepatic Support Low Fat (Eggs, Cod & Sweet Potatoes): for liver health with controlled levels of protein, calories, phosphorus, and copper
Metabolic Support Low Fat (Turkey Breast, Ground Beef & Acorn Squash): for diabetes and other metabolic concerns with restricted simple carbohydrates and increased fiber
Critical Care Support (Beef, Chicken & Brown Rice): for low appetites (high-calorie and restricted simple carbohydrates)
Dog Meal Toppers & Treats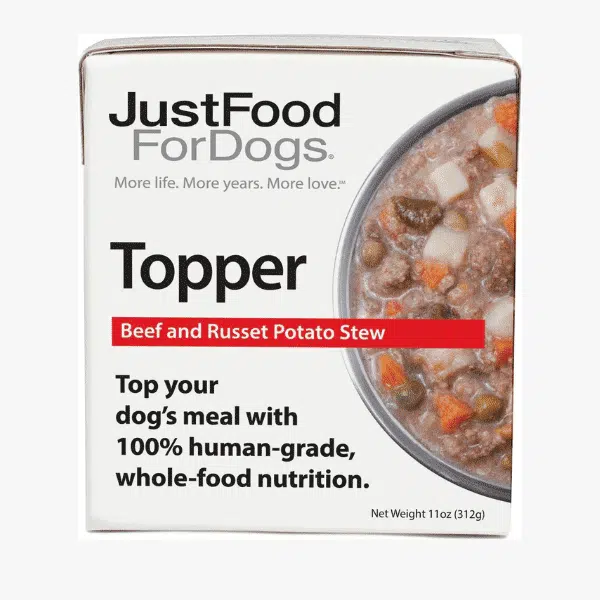 JFFD's meal toppers are a healthy, tasty boost for any dry dog food. Made with human-grade whole ingredients, toppers come in two flavors: chicken and rice stew or beef and russet potato stew. Like the PantryFresh line, the toppers are boxed in Tetra Pak packaging that has a two-year shelf life and is recyclable. Pricing is $59.40 for twelve 11-oz boxes.
Made with limited ingredients and no preservatives, JFDD's low-calorie, all-natural dog treats are dehydrated and oven-baked and have a crispy, crunchy texture. They offer chicken, beef, salmon, pumpkin, and other flavors. Starts at $12.95 for a five-oz bag.
Dog Supplements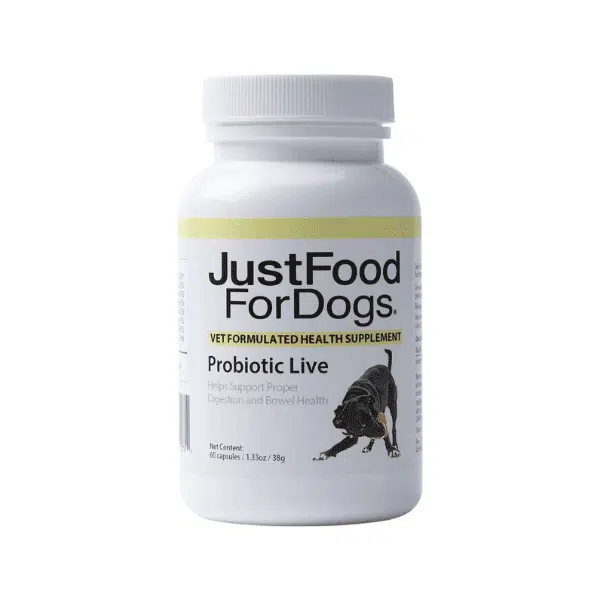 JFFD's all-natural dietary supplements are designed by their board-certified veterinary toxicologist to address common canine ailments. Their Skin & Allergy Care supplement helps support a healthy immune system and pets with seasonal allergies. Joint Care supports joint structure, connective tissue, and joint mobility.
They also offer a supplement for anxiety, a probiotic for GI issues, and more. Their supplements are on the pricey side, starting at $38.95 for 60 capsules. We think you can find better and less expensive options. See some of our top picks for the best dog supplements and vitamins.
JustFoodForDogs Coupon
Get 35% off your first order at JustFoodForDogs. Just use this link to get started.
Our Personal Experience With JFFD
When we take our dogs on vacation, JustFoodForDogs is the most convenient way to supplement our dogs' meals with some human-grade real food on top of the more processed kibble. Our dogs love the taste and it keeps them coming back for more meal after meal. Plus, the small, shelf-stable packages are easy to pack in the car without taking up valuable cooler space!

Michelle S., Canine Journal
Frequently Asked Questions
Here are some of the most common questions we get from our readers about JustFoodForDogs.
Has There Been A JustFoodForDogs Recall?
JustFoodForDogs has had one recall. In January 2018, JustFoodForDogs voluntarily recalled three fresh recipes (Beef & Russet Potato, Fish & Sweet Potato, and Turducken) because the human-grade green beans, which JFFD purchased from a restaurant supply distributor, were possibly contaminated with Listeria monocytogenes. No confirmed Listeriosis cases in dogs were reported, but there were some reports of short-term symptoms in some dogs (diarrhea and vomiting).
Is JustFoodForDogs Dog Food Human-Grade?
Yes, JFFD uses 100% USDA human-grade ingredients in all of its pet food, and its kitchens are USDA-certified and inspected. JFDD has two master kitchens in Irvine, CA, and New Castle, DE, as well as nine open-to-the-public kitchens in California, Seattle, Chicago, and New York City.
Where Can I Buy JustFoodForDogs Pet Food?
JFFD's pet food is available for purchase online via their website and major online retailers like Chewy, Amazon, and Petco. You can also find their products at Petco and Pet Food Express stores nationwide, select veterinary clinics, and JustFoodForDogs retail kitchens.
Who Owns JustFoodForDogs?
Shawn Buckley founded JFFD in 2010 and opened his first location in Newport Beach, CA, in 2011. Buckley teamed with Oscar Chavez, a veterinarian and former professor of clinical canine nutrition, to develop a variety of premium pet food formulas, including customized blends for special dietary and nutritional needs. In 2017, the company received a growth investment from the private equity firm L Catterton. Still owned by partner Buckley, the company's headquarters is in Irvine, CA.
JustFoodForDogs vs Other Companies
Interested in seeing how JustFoodForDogs stacks up against other popular pet food companies? We've written comparison articles for you to see how JFFD and other leading dog food companies compare.
What's Our Final Verdict?
We highly recommend JustFoodForDogs' fresh frozen dog and cat food and pantry fresh dog food. Their fresh frozen meals are an excellent value for the quality and carefully chosen ingredients compared to other fresh meals. However, if you'd prefer to have your pup's fresh food customized and pre-portioned, see some other fresh dog food delivery services that we recommend.
And if you're looking for another premium shelf-stable dog food options, check out our reviews of the best dog food delivery services, which include dehydrated fresh food, personalized kibble, and much more.
Tagged With: Food Delivery