Reading the nutrition labels of some dog foods can be scary. They often include ingredients you can't pronounce and manufacturing processes you may not trust. When it comes to dog food, if you wouldn't eat it, why should your dog? That's where The Farmer's Dog comes in.
The Farmer's Dog's founders, two dog dads, felt that many dog foods sold today are highly processed and low-quality. So, they set out to incorporate human-grade ingredients into recipes formulated specifically for dogs, creating a healthier option for pet parents.
The recipes are pre-portioned to your dog's weight, breed, and activity level and are delivered directly to your door. Ingredients are sourced from small farms, so you can trust it's real food. Plus, you can take comfort in knowing that a certified nutritionist created a balanced and nutritious meal for your pup (without having to do all the cooking and research yourself).
Visit The Farmer's Dog Website
Article Overview
The Farmer's Dog
Pros
Choose from 4 healthy recipes (developed by board-certified ACVN veterinarian nutritionists): chicken, turkey, pork, or beef
Human-grade ingredients with no preservatives or fillers
Food delivered within days of cooking (flash-frozen to preserve nutrients)
You can personalize plans, and meals are pre-portioned to meet your unique needs
Auto-ship or adjust your shipping frequency and pause or cancel anytime
Free shipping with ability to ship more food at one time to reduce delivery frequency and environmental impact
Eco-friendly packaging
Responsive customer service
Made in the USA
Cons
Since the food is so fresh, you need to keep it frozen and transfer a pack to the fridge the day before you use it so it can thaw
Our quote was more expensive than the other fresh dog food companies we review here (but we recommend running a quote for your unique pet's needs)
Key Features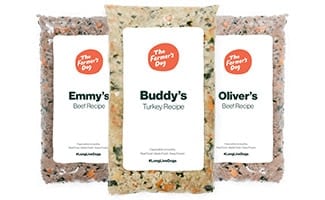 Recipes developed by board-certified American College of Veterinary Nutrition experts
Complete and balanced meals according to the Association of American Feed Control Officials (AAFCO) standards
Human-grade USDA ingredients are locally sourced
Their dog profile takes 15+ different health issues into account (allergies, gluten or grain sensitivity, ear infections, digestive issues, etc.), with the option of adding any other health issues not listed
Freshly made prepared foods that are flash-frozen to ensure food is as nutritious as possible
Meal plans are all personalized to each dog's unique qualities, goals, and lifestyle – you can adjust the flavors and quantity of packs in each shipment
The company bundles and labels each order to include individual packages, your dog's name, and the food's manufacturing date
Delivered to your door regularly
No specific puppy formula, but all recipes are AAFCO-certified for all life stages. Beef has the highest protein, beneficial for growing pups, and is recommended for puppies.
They don't currently offer a grain-inclusive option but claim to be looking into expanding their recipe selection in the future. Most vets do not recommend grain-free diets due to the possible correlation with an increased risk of heart disease, which is currently being investigated by the FDA. We recommend mixing in cooked rice or kibble with grain to ensure a healthy diet and stretch the length of a bag of food.
Price
The Farmer's Dog bases its pricing on your dog's age, weight, and other factors. Smaller dogs start at $2/day. The following price* is based on a mixed-breed male, one-year-old, 38 pounds, healthy size, neutered, no health problems, or allergies. (Note: This is NOT the same dog used in the example below.)
$52.11*/week
Free shipping
Pro Tip: Mix the food with rice to make it last longer and stretch your dollar.
Coupon
Our readers have access to 50% off your first box. No code needed; just use this link and the discount will be applied! You can also visit our dedicated The Farmer's Dog coupons page.
Our Personal Experience With The Farmer's Dog
We got the opportunity to test out The Farmer's Dog on my dog in exchange for an honest review. Our pup already ate pretty healthily (cooked rice and chicken), so we were excited to give this a try.
First, you'll fill out a quick form with basic info like your dog's name and where you live.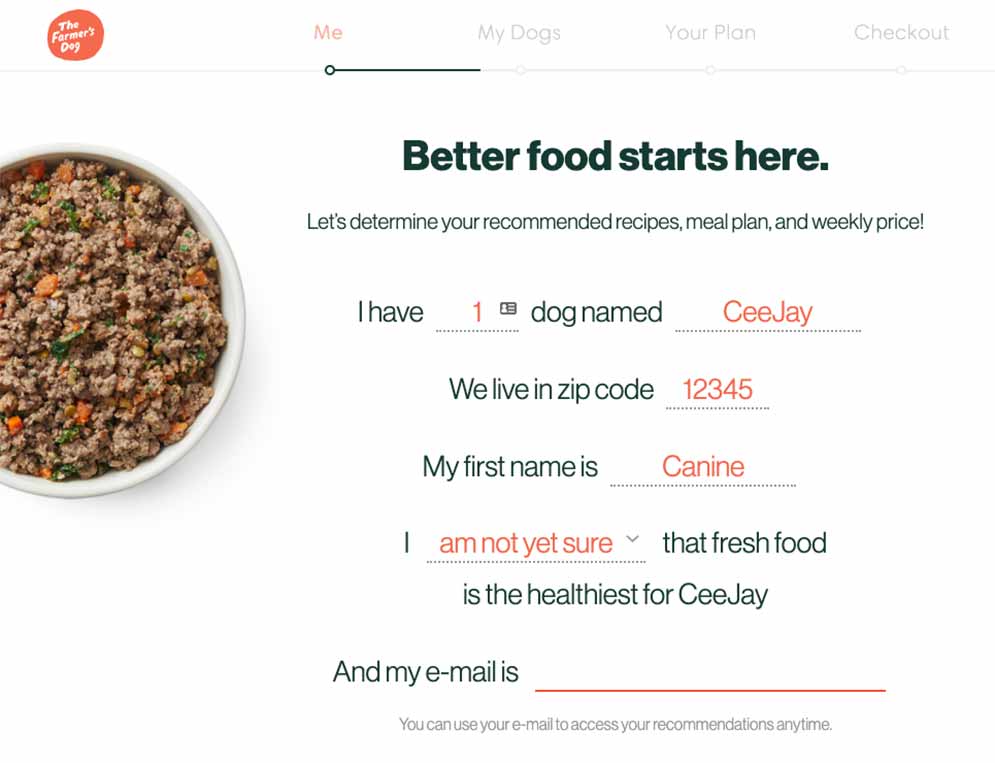 Then, they ask about your dog's size and activity level.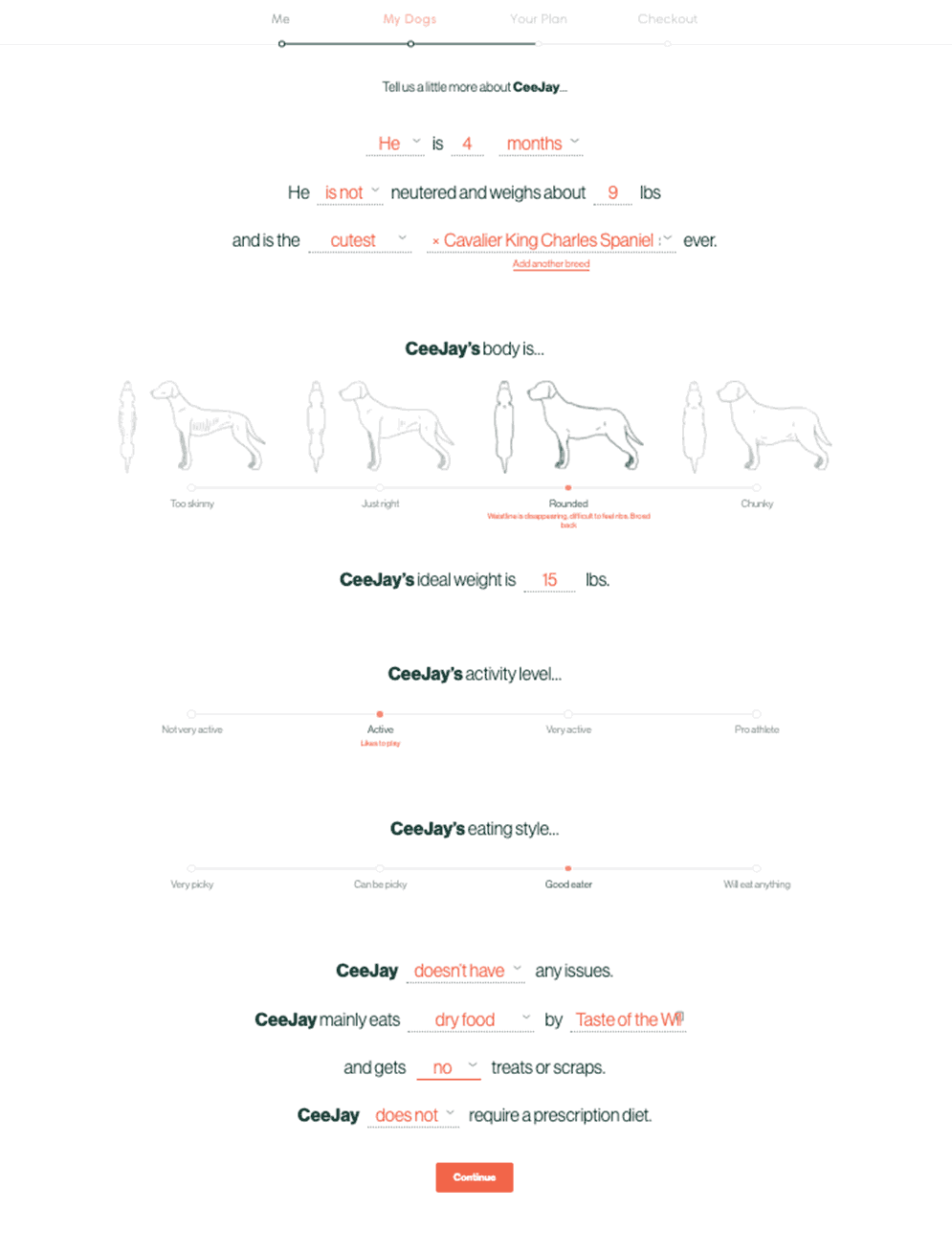 They'll use this information to calculate the serving size and frequency of meal delivery. On the final page, you can select the flavors.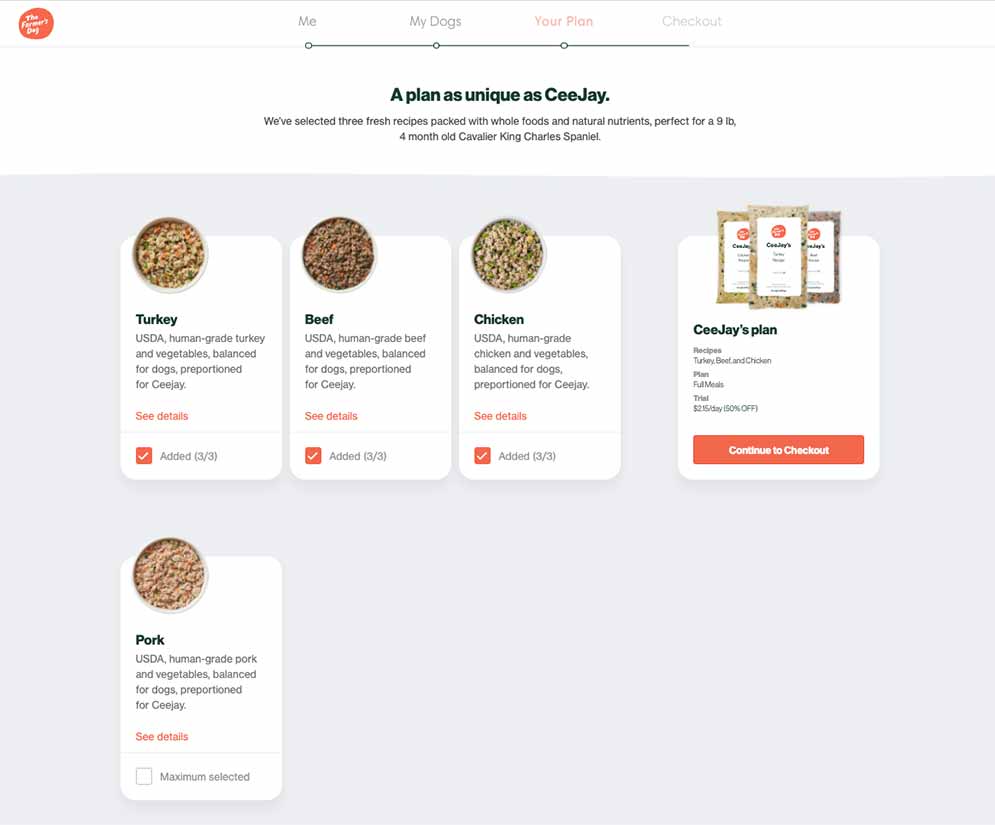 The cardboard box arrives sealed with dry ice and biodegradable insulation (that melts under hot water in the sink) to keep the food cold.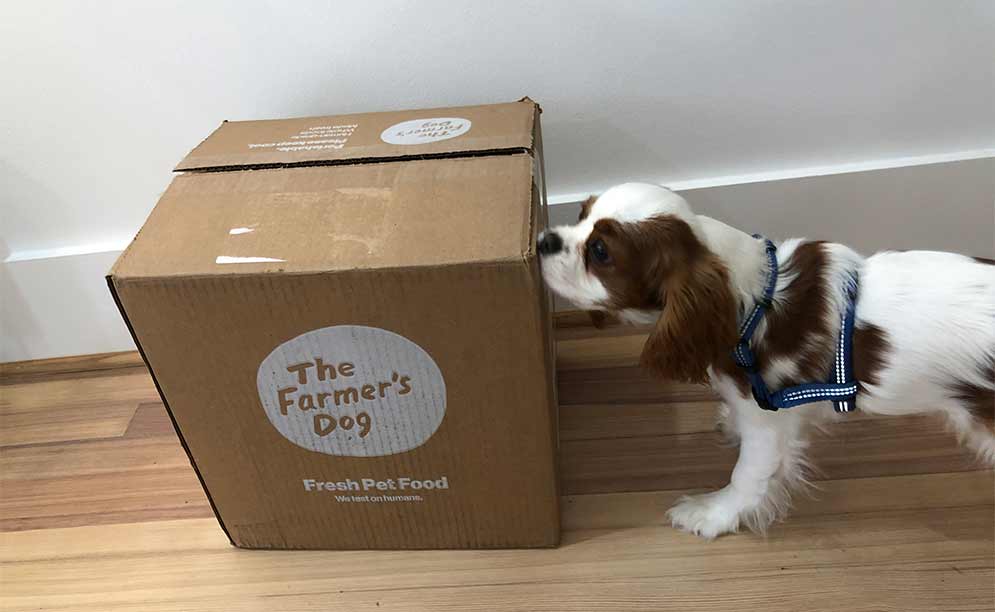 Inside are the frozen pouches of food, a reusable cardboard container, and feeding instructions according to your dog's size and weight. We also received an insulated reusable bag for keeping frozen dog food cold while traveling.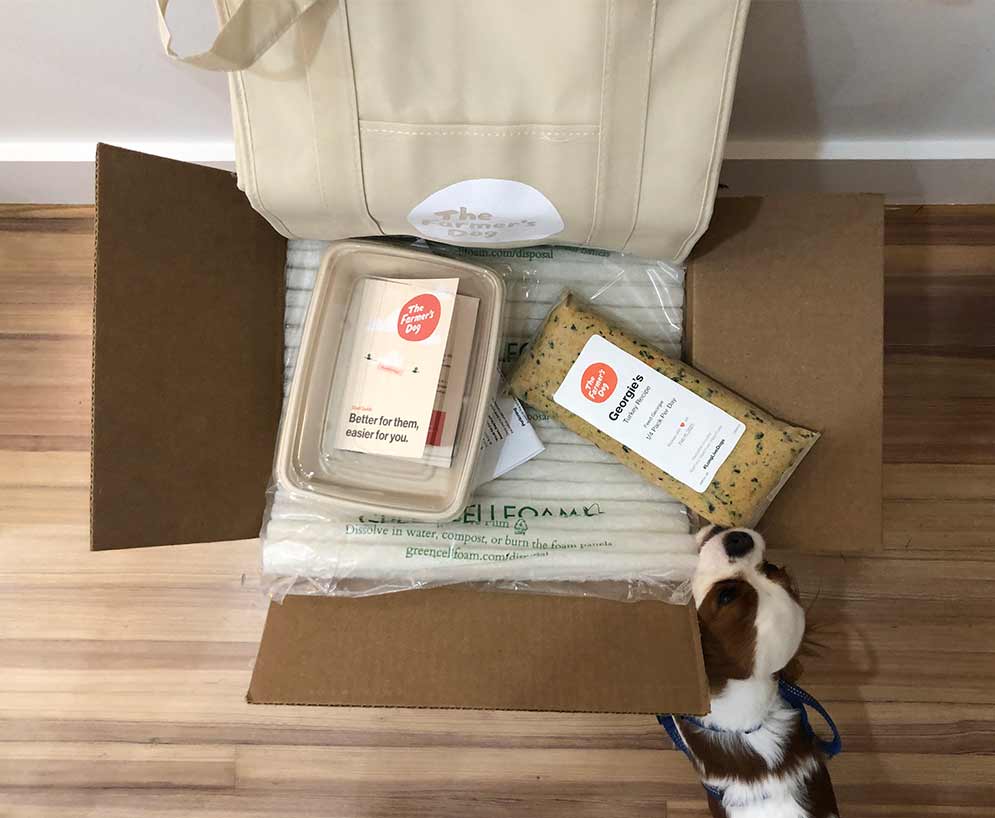 They recommended starting by mixing the new fresh food with your dog's current dog food to make a gradual digestive transition. Learn more about how to change your dog's food safely.
Pro tip: Upon thawing out, gently squeeze out the entire bag into the container provided. Since it's refrigerated, I sometimes zap it in the microwave for 10-20 seconds to bring it to room temperature. I also mix it with a bit of Jinx kibble so that there are grains in my dog's diet (or you can use rice.) The Farmer's Dog does offer mixing plans if you're looking to incorporate just a bit of fresh food into your dog's diet.
The verdict? Our dog LOVES it! Gobbles it down fast and has had much more consistent bowel movements. Our Cavalier King Charles Spaniel has also lost and maintained a much healthier weight since switching (and their coat is noticeably more shiny and healthy). And since our trial, we're now paying customers for more than two years!
Video: Unboxing And Eating The Farmer's Dog
Watch this quick unboxing video to see some of our experiences. (Not pictured: the biodegradable insulation made of cornstarch dissolves under warm water in the sink.)
What Do People Think Of The Farmer's Dog?
Positive Reviews
I was surprised by how much I like the farmers dog. I love that they take steps to be more eco friendly, and their customer service responded quickly when I reached out. The shape of each bag makes them easy to store in the freezer and it's easy to correctly portion each meal. My dog loves the taste and I am completely sold on fresh food. – Max, Trustpilot 9/14/2021
Customer service has been wonderful, I had a problem with one of the recipes (turkey) my dog just didnt like it, i called customer service and they changed my order with no questions asked. the food always comes on time and still frozen solid even during this covid crap. my pup has been thriving ever since I made the switch. shes gained some weight but not too much to where she's turning obese. she loves this food except for the turkey and I don't have to force feed her with a spoon anymore. thank you farmers dog!! – CW, BBB 9/3/2020
Negative Reviews
I will start out by saying our dog absolutely loved the Farmer's Dog food and he has not been excited about his food since we brought him home, so that makes our experience even more upsetting. Three out of 5 of our total orders from Farmer's Dog have not arrived, or have been late to arrive- leaving us scrambling to find something to feed our dog for days at a time while we wait and refresh our tracking on the food. We have been in contact with several representatives (who have been very nice) but have not had much help with this. Our last time we were actually encouraged to buy more and assured that would show up and hold our dog over and that did not even show up. We have been cooking our dog food for about a week now waiting. For something of this price, there should be higher concern and priority with timing and shipping. We are very dissatisfied. – Emily M., Trustpilot 10/16/2021
Not a great experience, my dogs received the trial order and seemed to like it, we then got another shipment but with everything going on with Covid it took 2.5 – 3 days to get to us via *****, the dry ice was melted and the food mostly defrosted. I emailed them regarding this and they said that as long as it was still cold (which it was) then it was fine. But it's not fine. My dogs refuse to eat it. The turkey smells spoiled, sorta vinegary. I emailed twice asking for the next order to be held because of everything going on with Covid right now and because ***** is taking so long to get to us, but they were not able to. I now have a ton of food that my dogs refuse to eat. It's a lot of money to waste on spoiled food, and unfortunately I feel dismissed every time I mentioned this they sent me the same exact response… Kelly B., BBB 6/12/2020
Is The Farmer's Dog Food Worth The Price?
Visit The Farmer's Dog Website
The Farmer's Dog does come with a steep price tag, but the premium food may be worth it to enhance the long-term health and well-being of your dog. See why it is our choice for the best fresh dog food for weight loss, best fresh dog food delivery, and best fresh dog food overall. Now, not everyone can afford gourmet meals all the time, but it is nice to splurge every once in a while.
The company also offers recipes and is currently developing nutrient packs to make healthy dog food at home. Learn more in our interview with The Farmer's Dog founder, Brett Podolsky.
If you're looking for an alternate fresh meal and dog food delivery options like The Farmer's Dog, check out our full dog food delivery comparison. We also have some homemade dog food recipes that you can try if you're up for making your own dog food.