To sustain this free service, we receive affiliate commissions via some of our links. This doesn't affect rankings. Our review process.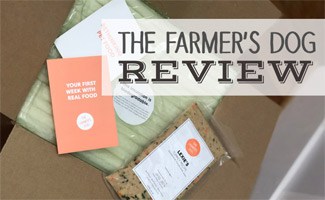 Reading the nutrition labels of some dog foods can be scary. They often include ingredients you can't pronounce and who knows what kind of manufacturing process was used. When it comes to dog food, if you wouldn't eat it then why should your dog? That's where The Farmer's Dog comes in.
This company provides human-grade (and tested), grain-free recipes with food sourced from small farms so you can trust it's real food. Plus you can take comfort in knowing that a certified nutritionist created a balanced and nutritious meal for your pup (without having to do all the cooking and research yourself).
Visit The Farmer's Dog Website
Article Overview
The Farmer's Dog
Pros
Choose from three healthy recipes (developed by board-certified ACVN veterinarian nutritionists)
No preservatives or fillers
Food delivered within days of cooking (never deep frozen)
Auto-shipping and you can adjust shipping frequency and pause or cancel anytime
Free shipping with ability to ship more food at one time to reduce delivery frequency and environmental impact
Made in the USA
Plans can be customized and meals pre-portioned to best meet your unique needs
Cons
Since the food is so fresh, you may need to freeze it before it's used up
More expensive compared to more traditional dog food options (kibble, homemade)
Key Features
Recipes developed by board-certified ACVN veterinarian nutritionists)
Complete and balanced meals according to AAFCO standards
Human-grade USDA ingredients made in New York
Freshly made prepared foods with a short shelf life to ensuring food is as nutritious as possible
Meal plans are all grain-free and customized to each dog's unique qualities, goals and lifestyle – you can adjust the flavors and quantity of packs in each shipment
They don't currently offer a grain-inclusive option, but claim to be looking into expanding their recipe selection in the future.
Packages are individually packaged with your dog's name and date it was made
Delivered to your door on a recurring basis
Price
The Farmer's Dog bases its pricing on your dog's age, weight, and other factors. Smaller dogs start at less than $3/day. The following price* is based on the profile of a mixed-breed male, 7 years old, 24 pounds, healthy size, no health problems or allergies.
$35.30*/week
Free shipping
Pro Tip: Mix the food with rice to make it last longer and stretch your dollar.
Coupon
Our readers have access to
50% off your first box.
No code needed
,
just use
this link
and the discount will be applied!
Our Personal Experience With The Farmer's Dog
We got the opportunity to test out The Farmer's Dog on my dog Lexie in exchange for an honest review. She already ate pretty healthily (cooked rice and chicken) so was excited to give this a try.
First, I filled out a quick form with some basic info like my dog's name and where we live.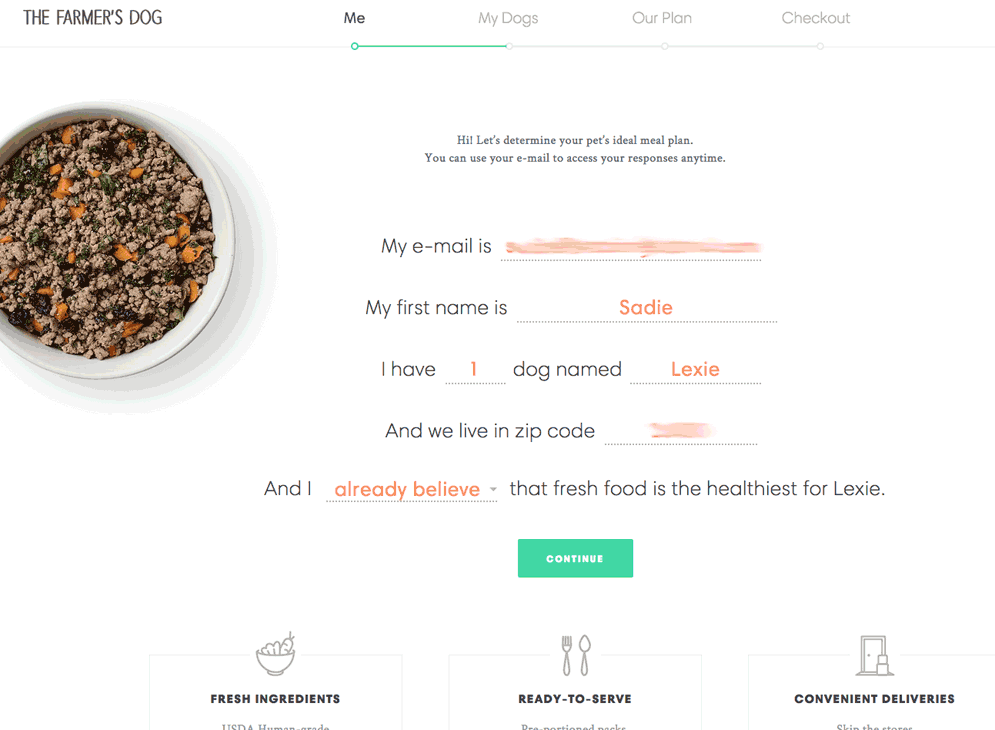 Then, I was asked about her size and activity level.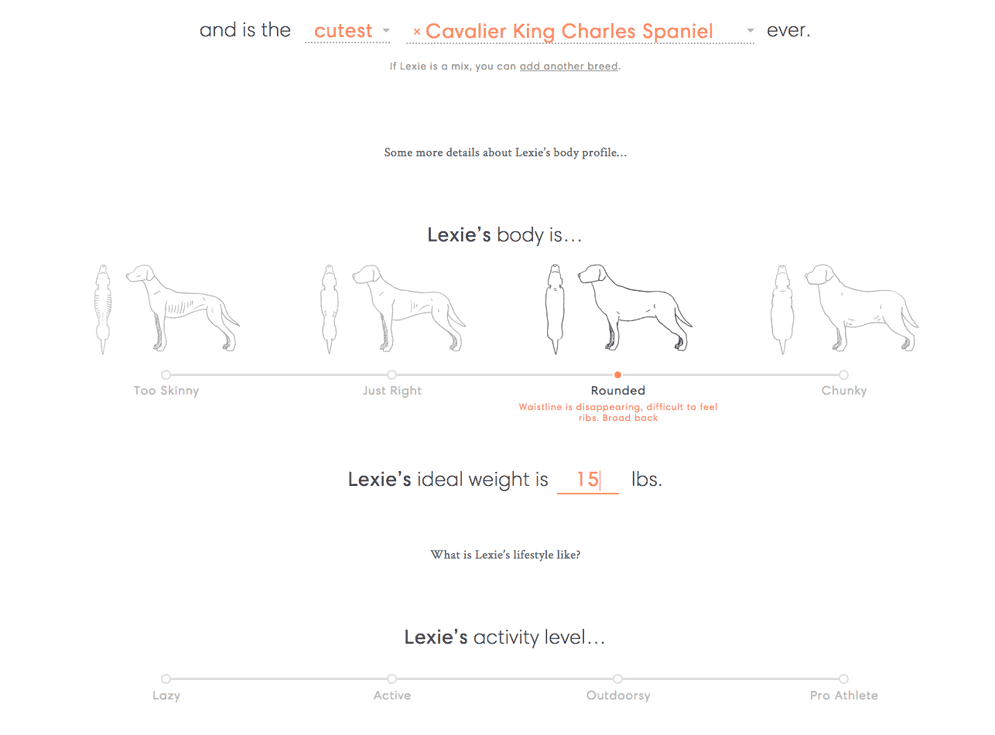 Finally, I picked out the flavor and entered our shipping details. The ordering process was super easy!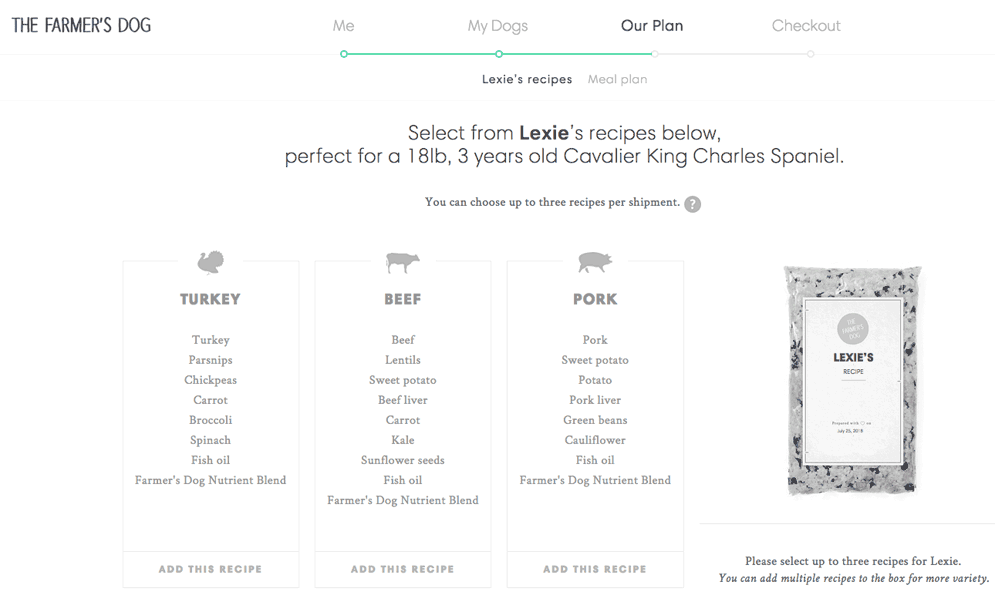 The cardboard box arrived sealed with ice packs and biodegradable insulation to keep the food cold. Upon opening, I found four pouches of food, a reusable cardboard container and feeding instructions.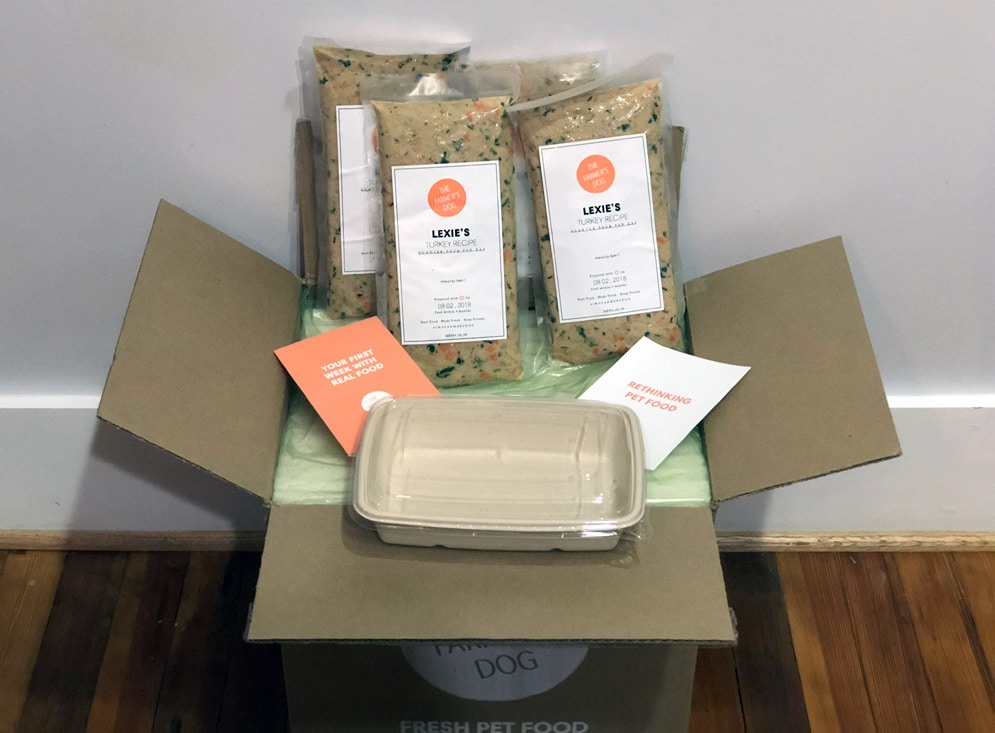 I read the instructions which said to put two bags in the freezer and two in the fridge. According to her size and weight, she should get a fourth of a bag per day (since she eats twice a day this is 1/8th of a bag per meal). They also recommended starting by mixing the fresh food with her current food to make a gradual digestive transition, but since Lexie already ate a pretty fresh diet, I wasn't too concerned about going "cold turkey" on her turkey (pun intended).
Pro tip: Upon thawing out, gently squeeze out the entire bag into the container provided. Once you open the bag, the food tends to stick to the sides of the inside of the bag which is difficult to get out.
The verdict? Lexie LOVES it! She gobbles it down fast and has had much more consistent bowel movements since switching. She's also lost and maintained a much healthier diet since she was on kibble (and her coat is noticeably more shiny and healthy).
Since it's refrigerated, I usually zap it in the microwave for 10-20 seconds just to bring it to room temperature. It smells so good that I've considered trying it, and I've been a vegetarian for most of my adult life!
Video: Unboxing And Eating The Farmer's Dog
Watch this quick unboxing video to see some of our experience. Not pictured: the biodegradable insulation made of cornstarch which dissolves under warm water in the sink.
What Do People Think Of The Farmer's Dog?
Positive Reviews
"It's significantly more expensive than regular kibble, but the health benefits are worth the cost." – Kate Barrington, Business Insider 8/8/2018

"The plastic pouches were easy to store in my freezer and in my fridge and I just cut the package in half, squeezed the morning meal out, and did the same for the evening meal — no fuss whatsoever. " -Geraldine, The Kitchn 2/8/2018
Negative Reviews
"Currently, they can't support dogs on a prescription diet, and there's no way to specify "no green beans" in case of allergies." – Jaden, Steamy Kitchen

"The container was not air tight sealed. I ended up using my own tupperware to retain nutrition and avoid harmful bacteria from growing. It would be nice if they could invest in an airtight tupperware in the future." – A Frenchies Life 8/21/2017
Is The Farmer's Dog Food Worth The Price?
Visit The Farmer's Dog Website
The Farmer's Dog does come with a steep price tag, but the premium food may be worth it to enhance the long-term health and well-being of your dog. See why it is our choice for best fresh dog food for weight loss. Now, not everyone can afford gourmet meals all the time, but it is nice to splurge every once in awhile. The company also offers recipes and nutrient packs so you can make your own healthy dog food at home, but these nutrient packs were on backorder at the time of publishing. Learn more in our interview with The Farmer's Dog founder, Brett Podolsky.
If you're looking for alternate fresh meal and dog food delivery options like The Farmer's Dog, check out our full dog food delivery comparison. We also have some homemade dog food recipes that you can try, if you're up for making your own dog food.
Why are you considering dog food delivery?
Disclaimer: The information provided through this website should not be used for diagnosing or treating a health problem or a disease. It is not a substitute for professional care. If you have or suspect you may have a health problem, you should consult your health care provider.
Disclaimer: This website contains reviews, opinions and information regarding products and services manufactured or provided by third parties. We are not responsible in any way for such products and services, and nothing contained here should be construed as a guarantee of the functionality, utility, safety or reliability of any product or services reviewed or discussed. Please follow the directions provided by the manufacturer or service provider when using any product or service reviewed or discussed on this website.