To sustain this free service, we receive affiliate commissions via some of our links. This doesn't affect rankings. Our review process.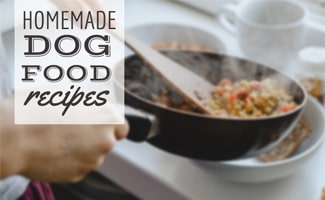 Imagine if you had to eat the same food every meal, every day of your life. Beyond being painfully dull, wouldn't you question whether you're getting a nutritionally balanced diet? Welcome to a dog's life.
Long ago before commercially produced dog food, dogs ate a lot of the same foods as humans. There's a reason our dogs beg for our food – they're meant to eat a variety. Table scraps anyone?
We've cooked up some tips on how to make dog food, nutrition guidelines and our favorite homemade dog food recipes. We guarantee your pup will benefit from your efforts and could even improve behavioral problems that stem from dietary deficiencies.
Article Overview
What Are The Benefits Of Homemade Dog Food?
Homemade dog food can benefit your canine companion in a number of ways — especially if you have a pet who suffers from allergies, gastrointestinal sensitivity or skin problems.
It's also a good idea to have these recipes handy in case you happen to run out of dog food. Treat your dog as you would any of your other family members by preparing nutritious food from trusted ingredients.
What Nutrition Guidelines Should You Follow?
Get 3 Free Pet Insurance Quotes
Here are some general guidelines for a balanced diet. But just like humans, every dog is different, so this is not meant to be a one-pup-fits all rule. Serving size, your pup's weight, size and activity level are all factors you should take into consideration when determining what's right for your dog.
40% Protein – animal meat, seafood, eggs or dairy
10% Carbohydrates – grains and beans
50% Vegetables
Fat – from oil or meat
Calcium – crushed or powdered eggshells; a supplement
Fatty acids – cooked egg yolks, oatmeal, plant oils and other foods
Before embarking on a homemade diet, consult with your veterinarian to make sure you're not barking up the wrong tree with your dog's unique nutritional needs.
Low-Calorie Dog Food Recipes
A note about calories: all the recipes listed below are better for your dogs than canned dog food or kibble because they are made from all natural products with no additives or preservatives. That being said, they are relatively lower in calories as a result but should be consumed in moderation (service side similar to what they currently eat). See serving size recommendations above.
Homemade Dog Food Delivered
In an age of UberEats, Caviar and having just about everything you can think of delivered, we are lucky enough to have the option to purchase fresh, natural dog food that can be shipped to your doorstep too. It can be a huge time-saver and worth the cost after you add up how much buying all the ingredients is.
Pet Plate ships frozen so you can keep it for when you want to treat your pup or serve it every day as a part of regular meal time. No dog will complain about this tasty meal made with fresh and easy to pronounce human-grade ingredients and you can spend your time on more important things, like belly rubs and walks!
Our Favorite Homemade Dog Food Recipes
We've written up some of our favorite dog food recipes to share with you. To jump to a recipe you're interested in, click on the link below. We also have some yummy organic dog treat recipes and treats made with Thanksgiving leftovers.
Note: Serving size is not included because portion sizes vary depending on a number of factors including breed, activity level, age, and health of your dog. We recommend feeding your dog a comparable amount of ounces/cups that you would usually feed your dog.
Beef Stew, Doggie Style | Turkey, Rice and Veggie Mix | Easy Crockpot Beef & Rice Meal | Pumpkin Dog Biscuits | Grain-Free Chicken Jerky Strips | Frozen Banana Treats
Beef Stew, Doggie Style

A much healthier alternative to canned dog food, this recipe is loaded with fresh protein and vitamins and can be stored in your fridge for most of the week.
Ingredients
1 pound of beef stew meat
1 small sweet potato
1/2 cup of carrots, diced
1/2 cup of green beans, diced
1/2 cup of flour
1/2 cup of water or organic vegetable oil, plus 1 tablespoon of vegetable oil for frying
Total: Makes approx 4 cups (or 32 fluid ounces)
Directions
Cook the sweet potato in a microwave for 5 to 8 minutes until firm but tender. Set aside.
Slice the stew pieces into smaller chunks, about the size of a nickel.
Cook the stew pieces in a tablespoon of vegetable oil over medium heat for 10-15 minutes or until well-done.
Remove the beef chunks from the pan, reserving the drippings.
Dice the sweet potato.
Heat the drippings over medium-low heat. Slowly add flour and water into the dripping while whisking to create a thick gravy.
Add the meat, sweet potato, carrots and green beans into the gravy and stir to coat.
Cook until the carrots are tender – about 10 minutes.
Serve cool.
Store remaining stew in the fridge for up to five days.
Turkey, Rice and Veggie Mix

This is an excellent recipe for pooches who may need to keep the pounds off. With a good balance of lean animal protein, healthy carbs and veggies, it yields 10 cups of dog food and can be refrigerated for up to five days.
Ingredients
6 cups water
1 pound ground turkey
2 cups uncooked brown rice
1 teaspoon dried rosemary
1/2 (16 ounces) package frozen broccoli, carrots and cauliflower
Total: Makes approx 12 cups (or 96 fluid ounces)
Directions
Place the water, ground turkey, rice and rosemary into a large Dutch oven.
Stir until the ground turkey is broken up and evenly distributed throughout the mixture.
Bring to a boil over high heat, then reduce heat to low.
Simmer for 20 minutes.
Add the frozen vegetables, and cook for an additional 5 minutes.
Remove from heat and cool.
Refrigerate until ready to serve.
Easy Crockpot Beef & Rice Meal

We love this recipe for its nutritional value, its quick prep time (10 minutes) and the easy crockpot cooking. It yields 12 cups and can be frozen for future feedings.
Ingredients
2 ½ pounds ground beef
1 ½ cups uncooked brown rice
1 (15-ounce) can kidney beans, drained and rinsed
1 ½ cups chopped butternut squash
1 ½ cups diced carrots
½ cup frozen peas
4 cups of water
Total: Makes approx 11 cups (or 88 fluid ounces)
Directions
Stir in all ingredients with 4 cups of water in a crockpot.
Cover and cook on low heat for 5 to 6 hours or high heat for 2 to 3 hours.
Stir as needed and cool to room temperature.
Pumpkin Dog Biscuits

Are you looking for a doggie digestive aid? Pumpkin is easy on sour stomachs and can help alleviate your dog's digestive issues. These homemade dog biscuits are a great way to introduce an all-natural tummy aid into your pup's diet.
Ingredients
1/3 cup extremely cold water
2/3 cup pumpkin puree (canned or homemade)
2 cups whole grain brown rice flour
1 large egg (you can omit this if your dog is allergic to eggs)
2 1/2 tablespoon flaxseed oil or olive oil
Total: Makes approx 24 1 oz balls (or 24 fluid ounces)
Directions
Preheat the oven to 320 – 350 degrees.
Use two baking sheets and baking paper to avoid sticking.
Mix lightly beaten egg and pumpkin in a separate container until smooth. (If you don't want to use egg then smooth out the pumpkin puree separately and proceed to the next step.)
In a larger bowl, combine flax-seed oil and brown rice flour.
With constant stirring, add the pumpkin mixture to the rice mixture and slowly add water. Be sure to leave some of the rice to be used as some sort of toppings.
Hand mix the ingredients thoroughly.
Using two pieces of baking or waxed paper, roll dough out to desired thickness.
Remove the top baking paper.
Evenly pour rice flour onto the top of the dough and lightly press it to the waxed baking paper.
Remove the paper and cut to desired sizes.
Place in the oven for 35 to 40 minutes or until the top is completely dry.
Cool and store in a dry plastic or glass container until ready to be served.
Grain-Free Dog Food Recipe: Chicken Jerky Strips
Don't trust store-bought rawhides, which often have a ton of additives and preservatives? Homemade chicken jerky strips are a perfect replacement. This grain-free recipe is a much healthier alternative and very easy to make. Store them in an air-tight container in the fridge for up to two weeks (if they last that long!).
Ingredients
2 to 4 boneless, skinless chicken breasts
Total: Makes approx 10-20 strips
Directions
Preheat oven to 200 degrees
Trim all excess fat off the chicken breasts
Cut into 1/8 inch thick strips using a paring knife
Bake for 2 hours on a baking sheet until the strips are dry and hard
Cool completely before presenting to your pooch.
Frozen Banana Treats

After a long walk in the hot sun, what pooch wouldn't want a refreshing treat? We absolutely love this simple recipe – yogurt, banana and peanut butter. It's a frozen smoothie for your dog. Need we say more?
Ingredients
4 cups plain yogurt
2 tablespoons peanut butter
3 bananas, ripe, peeled & mashed
Total: Makes approx 8 1 oz treats
Directions
Blend all ingredients into a puree.
Pour into 4-ounce plastic cups (ice trays or toddler popsicle trays work well).
Freeze until firm.
Can be kept in the freezer for up to two weeks.
How To Make Dog Food
It's important not to stray from homemade dog food recipes or substitute ingredients as you might for yourself and your family. Dogs have different nutritional needs that require cooking recipes exactly as instructed. Be sure to cook all animal products thoroughly to kill harmful bacteria and cook all grains, beans and starchy vegetables to make them easier for your pooch to digest.
When in doubt, an excellent resource is Home-Prepared Dog & Cat Diets: the Healthful Alternative
by Donald R. Strombeck, DVM, Ph.D., a long-time expert in veterinary medicine. First published in 1999, the book is considered by many pet nutritionists to be the Bible of healthy homemade pet nutrition.
For even more cooking options, be sure to check out Home Cooking for Your Dog: 75 Holistic Recipes for a Healthier Dog
.
We strongly emphasize discussing your dog's specific nutritional needs with your vet first as every pup is different. And remember that switching your dog's food to homemade from kibble is a slow process so patience is key.
What About BARF?
No, we're not implying your new canine culinary skills will cause your pet to throw up. We're referring to the raw diet fad, more affectionately known as "BARF" (which stands for Biologically Appropriate Raw Food). BARF has gained a lot of popularity among dog owners over the last few years. The basic idea is to feed your dog raw meats, grains and veggies just as his canine ancestors did millions of years ago.
Learn more about the benefits, risks and get a raw dog food recipe to try at home in our raw dog food diets article.
Video Cooking For Canines: Online Help
There's no shortage of homemade dog food recipes you can find online. We stumbled upon this fun and informative video series that gives you weekly recipe tutorials, tips and more. Check it out in case you want to subscribe through YouTube.
Most of all, have fun with your new status as your pup's chef. We hope we've given you some good places to start and tasty recipes for your pooch to appreciate. Even if you're not a master in the kitchen, homemade dog food sure beats every day of kibble!
What Foods Should Your Dog Never Eat?
As a dog owner, you've likely come across this essential list before, but it's always good to have it on hand as a reminder, especially if you're cooking dog food from scratch. The principal toxic foods include:
Chocolate
Onions and garlic
Avocados
Grapes and raisins
Macadamia nuts
Raw bread dough
Alcohol
For a more extensive list, check out this article.
Tired Of Cooking?
If all that sounds like a lot of work but you want your pup to experience homemade food, give Pet Plate a shot. With this service, you can have natural, fresh dog food sent right to your house (we're big fans and customers ourselves)! Or read our article on other dog food delivery options to have healthy fresh meals, kibble or other dog food arrive at your doorstep when you need it.
Do you have any homemade dog food recipes to recommend?
We are a participant in the Amazon Services LLC Associates Program, an affiliate advertising program designed to provide a means for us to earn fees by linking to Amazon.com and affiliated sites.
Disclaimer: The information provided through this website should not be used for diagnosing or treating a health problem or a disease. It is not a substitute for professional care. If you have or suspect you may have a health problem, you should consult your health care provider.
Disclaimer: This website contains reviews, opinions and information regarding products and services manufactured or provided by third parties. We are not responsible in any way for such products and services, and nothing contained here should be construed as a guarantee of the functionality, utility, safety or reliability of any product or services reviewed or discussed. Please follow the directions provided by the manufacturer or service provider when using any product or service reviewed or discussed on this website.