Does your dog go nuts over peanut butter? It's a favorite treat for many of our furry friends, but did you know that some peanut butter brands can actually be toxic for dogs? It's extremely important to choose a dog-friendly peanut butter with ingredients that are safe and healthy for our pups. We share which peanut butter brands and ingredients to avoid, feeding guidelines, and our recommendations for the best peanut butter for dogs.
At A Glance: Best Peanut Butter Brands For Dogs
What Peanut Butter Is Safe For Dogs?
One of the most common questions pup owners have is, can dogs have peanut butter made for humans? It depends on the ingredients. The most crucial thing to keep in mind is that dogs require xylitol-free peanut butter. Xylitol is a sugar substitute used in sugar-free chewing gum, toothpaste, chewable vitamins, baked goods, and some human peanut butter brands. While safe for humans, xylitol is extremely toxic to dogs.
Another problem for dogs with some human peanut butter is the sodium content. While our four-legged friends require some salt in their diet, too much can cause dehydration and even salt toxicity. Most dog food contains all the salt dogs need in their daily diet, so veterinarians recommend avoiding giving your pup salty human foods. And some human peanut butter brands contain salt levels that are too high for dogs if they eat too much.
Many human peanut butter products also contain unhealthy fats and artificial preservatives. When eaten regularly, these ingredients can lead to health problems down the road. So, whenever choosing peanut butter for your pup, read the ingredients carefully. And make sure you check the ingredient list on your family's favorite spread in your pantry to make sure it's safe before you share it with your dog.
Is Peanut Butter Good For Dogs?
Dog-safe peanut butter is a nutritious treat for most pups when given in moderation. It's rich in protein, healthy fats, and fiber and a good source of vitamins E and B6, magnesium, iron, selenium, and niacin. And peanut butter can be a perfect way to give dogs those dreaded pills, distract them when trimming nails, or entertain them when combined with certain toys.
Still, while xylitol-free peanut butter is safe for dogs, that doesn't necessarily mean it's healthy for all pups. Some dogs should avoid peanut butter or eat it very sparingly. The main concern is that it's high in calories and fat, which can cause problems for some pups.
Peanut butter is generally not a good treat option for overweight or obese dogs and dogs with diabetes and pancreatitis. Although rare, some dogs can be allergic or have a food intolerance to peanuts. And even healthy dogs should eat peanut butter in moderation to avoid weight gain.
4 Best Peanut Butter Brands For Dogs
We've chosen the best peanut butter brands for dogs based on several factors, including dog-friendly and high-quality ingredients, brand reputation, customer feedback, and pricing.
Best Flavor Variety: Bark Bistro Buddy Budder Review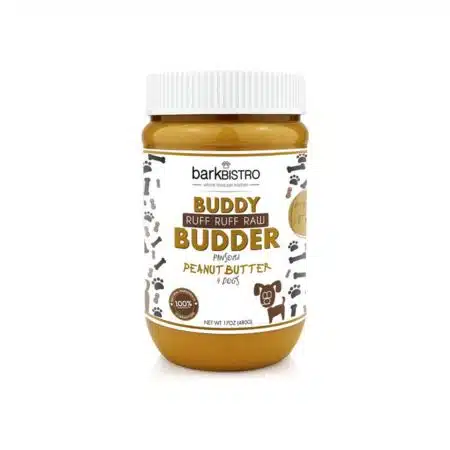 View on Amazon | View on Chewy
Bark Bistro's Buddy Budder is a lip-smacking favorite for pups and their owners. This all-natural, xylitol-free brand (made in the USA) comes in seven different recipes. It's most basic offering, Ruff Ruff Raw, contains only dry-roasted unsalted peanuts and a dash of wildflower honey. With clean non-GMO ingredients and lower calories than many other peanut butters, it's an excellent treat for your pup.
Other recipes start with those two main ingredients and add tasty and healthy boosters, such as air-dried pumpkin, organic bananas, chia seeds, a blend of antioxidant-rich berries, and much more. They even have bacon peanut butter.
Tip: Buddy Budder is a bit on the runny side, so you may want to refrigerate it for a thicker consistency.
Price
Best With CBD: Honest Paws Calm CBD Peanut Butter For Dogs Review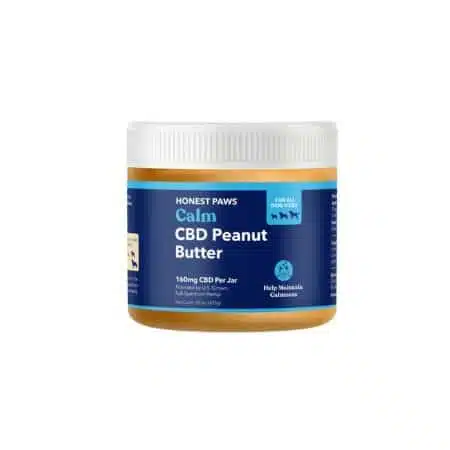 Honest Paws is a leading manufacturer of pet CBD products, including oils, treats, topicals, and yes, even peanut butter for dogs. Infused with organic, full-spectrum CBD (cannabidiol), this peanut butter is a tasty treat with multiple health benefits, including easing anxiety and joint pain. It's made in the USA with USDA organic hemp and non-GMO dry-roasted peanuts and third-party tested to ensure it's free of any chemicals. It also comes with a 30-day money-back guarantee if you're not satisfied.
The recommended amount is one tablespoon (5mg CBD) for dogs under 25 pounds and two tablespoons for dogs weighing 25-50 pounds. However, it's not recommended for larger dogs to achieve effective CBD dosing due to the high calorie and fat content of peanut butter. CBD oil is a healthier option for large dogs.
Price
You can save 15% off the following price if you sign up for auto-shipping.
Best For Gut Health: Dog For Dog DogsButter Review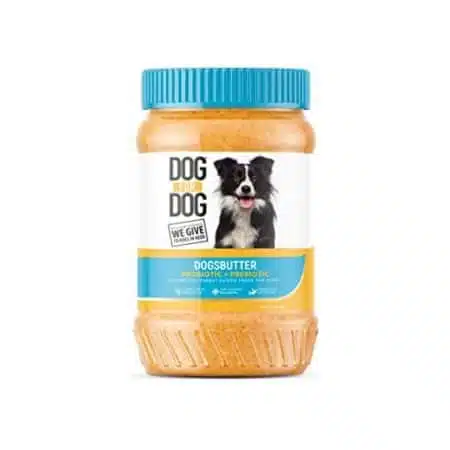 Another dual-functional peanut spread made specifically for our furry friends, Dog For Dog's DogsButter is an excellent way to treat your pup while giving him a gut-health boost. This peanut butter blend not only contains unsalted peanuts, blueberries, and honey, but it's also fortified with six strains of canine-beneficial probiotics and the prebiotic inulin.
Dog probiotics can help decrease such digestive problems as diarrhea and flatulence, enhance the immune system, and reduce inflammation due to allergies or gut problems, among other health benefits. So this peanut butter for dogs is a win-win on multiple fronts. It's made in the USA, and we love that the company donates 5% of sales to provide food for animal shelters.
Price
Best Single-Ingredient: Spread The Love Naked Organic Peanut Butter Review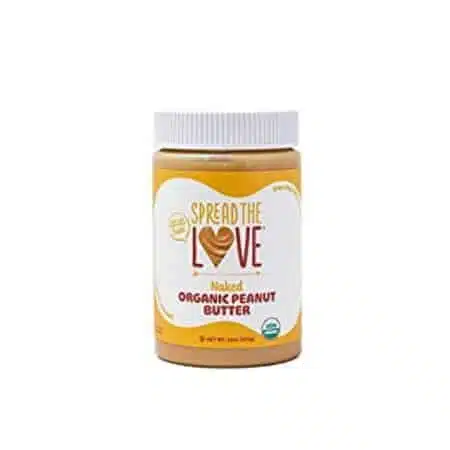 Made in the USA with 100% dry-roasted USDA-certified organic peanuts, this creamy peanut butter is as natural and clean as it gets. Spread The Love is a family-owned company committed to minimal food processing and all-natural products. They make their peanut butter in small batches to ensure food safety and optimal nutritional content. Non-GMO and vegan with no salt or gluten, this spread is an excellent choice for your pup and your entire family.
Price
What About Green Coast Pet & Nature's Logic?
We've reviewed a couple of other popular peanut butter brands made for dogs. Although they didn't make our top picks, you may want to consider them.
Green Coast Pet Pawnut Butter Review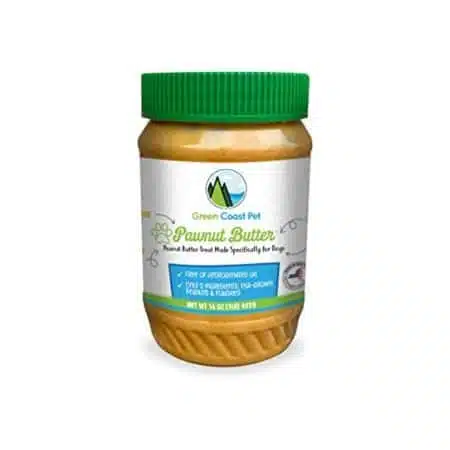 Another peanut butter formulated for pups, Green Coast Pet's Pawnut Butter contains two simple ingredients, U.S.-grown unsalted peanuts and flaxseed. With no added sugar or preservatives, this is another healthy option for your dog. And flaxseed is a great source of omega-3 and omega-6 fatty acids, which support skin, coat, and heart health. It didn't make our top picks because several customers said it's too runny, even when stored in the fridge. And we couldn't find the caloric content of this product.
Price
Nature's Logic Peanut Butter Review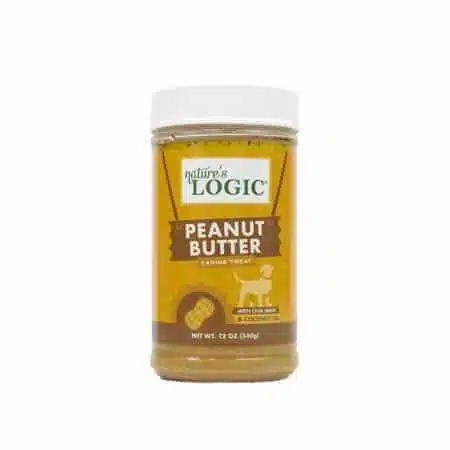 Nature's Logic Canine Peanut Butter is another fairly popular choice. It only contains three ingredients, unsalted peanuts, chia seeds, and coconut oil. Many pet parents say their dogs love it, and it's excellent for baking. Rich in omega fatty acids and fiber, chia seeds are beneficial for skin, coat, and digestive health. However, the inclusion of coconut oil bumps up the fat and calories in this product compared to other peanut butter we review here. At 124 calories per tablespoon, Nature's Logic isn't your healthiest option.
Price
Best Dog Toys To Use With Peanut Better
It likely comes as no surprise for long-time dog owners that the original Kong toy is our recommendation for the best dog toy to put peanut butter in to entertain your pup. But that's not your only option. If your pup is bored with Kong, we also have some other top picks.
Kong Classic Dog Toy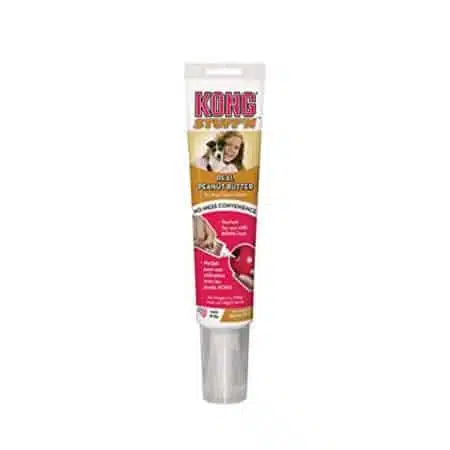 The Kong Classic Dog Toy lives up to its name. This durable rubber toy is a classic staple for pups who love to chew and play fetch. And when you add peanut butter into the hollow center, it's an utter joy for our furry friends (and long-lasting entertainment to give us pup parents a break). Simply add dog-friendly peanut butter straight from the jar or Kong's easy-squeeze tube of natural peanut butter. Freeze it for an added challenge.
Full Review Of Kong Dog Toys & More
LickiMat Soother
Although not technically a toy, lick mats, like the LickiMat Soother, are an excellent way to keep your dog occupied with a peanut butter smear or as a slow feeder for wet dog food. Lick mats can also help ease boredom and stress for anxiety-prone pups.
Our Firsthand Experience With LikiMat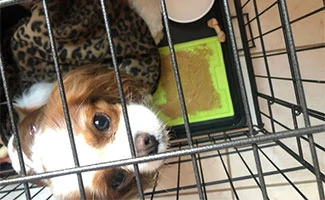 "We tried out the LickiMat in exchange for an honest review, and Lexie, our separation anxiety-prone King Charles Cavalier Spaniel, loves it. She licks until the mat is clean, then she falls asleep on top of it. The only downside is her long ears tend to get messy when they drag through the peanut butter. The mat washes clean, and it's easy to store when not in use. Lexie seems to look forward to when we leave because she jumps when I get the LickiMat out."– Sadie C., Canine Journal
Frequently Asked Questions
Here are some of the questions we see most often about peanut butter and dogs.
How Much Peanut Butter Can I Give My Dog?
Because it's high in calories and fat, it's wise to keep peanut butter portions to a minimum to avoid weight gain. If your pup is nuts for peanut butter, you can give him 1/2 teaspoon for a small dog or 1 teaspoon for a medium or large dog twice per day.
Can Dogs Have Crunchy Peanut Butter?
Yes, crunchy peanut butter is safe for dogs as long as you follow the same ingredient guidelines. But if your pup has digestive problems, the peanut chunks may be harder for him to digest.
Is JIF Peanut Butter Safe For Dogs?
JIF brand doesn't make any of its peanut butter with xylitol; however, it does contain added salt. JIF's regular creamy peanut butter has 140mg of salt per two-tablespoon serving and artificial preservatives, so it's not a wise choice for regular snacks or to use when making homemade dog treats. Better choices are Simply JIF or JIF Natural, which have lower sodium levels.
Is Skippy Peanut Butter Safe For Dogs?
Skippy is another popular brand that doesn't contain xylitol. But, like JIF, it's not the healthiest option for your furry friend. Skippy's regular creamy peanut butter contains 150mg of sodium per serving as well as hydrogenated vegetable oil and sugar, all of which aren't ideal for your dog's health. And Skippy Natural contains just as much salt.
Which Brands Of Peanut Butter Contain Xylitol?
While this isn't an exhaustive list, it includes some of the most popular peanut butter brands and those to definitely avoid. And we still recommend other peanut butter brands over these xylitol-free ones that contain added salt and unhealthy fats.
| Xylitol-Free Brands | Brands Containing Xylitol |
| --- | --- |
| JIF | Go Nuts |
| Skippy | Nuts n' More |
| Peter Pan | Krush Nutrition |
| Smuckers | P28 Foods |
| Whole Foods 365 | Hank's Protein Plus |
| Reese's | |
| Planters | |
| Smart Balance | |
What Human Foods Are Safe For Dogs?
Whether you were surprised or not that some human peanut butter brands are extremely dangerous for your pup, it's important to educate yourself about other foods that are and aren't safe for dogs to eat and drink and what to do if your dog eats a toxic food. While we can share some of our human foods with our dogs (usually in moderation), some are poisonous and life-threatening, even in small amounts.
Tagged With: Comparison, Treats