To sustain this free service, we receive affiliate commissions via some of our links. This doesn't affect rankings. Our review process.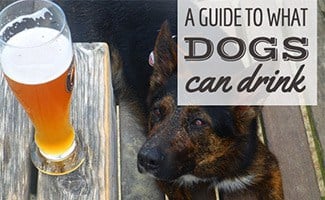 Have you ever thought about sharing your beverages, adult or otherwise, with your dog? Fresh water, of course, is the best way to keep your dog hydrated, but what else can dogs drink? You might be surprised at the number of human beverages that are no-gos.
There are some dog-safe options for your pup's own happy hour, but the bottom line is that water really is the best drink for your dog. If you want to occasionally splash some juice or gravy into their water, that's fine, but trust us – your pup will be just as happy getting an approved canine treat to enjoy with their water as they will taking a sip of your beverage.
Article Overview
Should Dogs Drink Anything Besides Water?
The short answer is no, water should be your pup's primary source of hydration. If you're really fixed on having your canine enjoy the occasional happy your by your side, check out these approved canine fun drinks.
Always remember, our dogs' bodies aren't built the same way as ours, so they can't handle the same level of sugar, caffeine and other ingredients that are safe for us.
What Should Dogs NOT Drink?
Coffee & Tea
Your morning Joe is a big no, as is tea. Dogs can experience caffeine poisoning fairly easily. Because they typically have much lower body weight than humans, dogs can have negative reactions to even small amounts of caffeine.
Juice
Most juices contain added sweeteners and artificial flavors and coloring, which aren't healthy for dogs. Most whole juices are safe in small quantities — for example, letting your dog lick the plate after you cut oranges.
Warning: never give your dog the juice from grapes as they're toxic for dogs. Grape juice may cause kidney failure.
Milk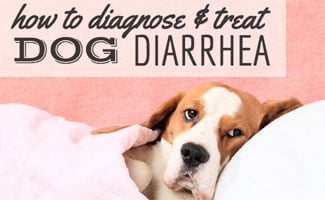 It might seem intuitive that dogs (and other mammals) can drink milk since they do from their mothers after birth. But most dogs become lactose intolerant once they mature and reach adulthood. Their bodies have a tough time digesting lactose, and ingesting too much can result in diarrhea, vomiting and gassiness. A little lap of milk is probably fine in very small doses, but watch your pet after he ingests milk to see if he develops these symptoms.
Lemonade
The citric acid in lemonade can cause an upset stomach in dogs. Lemonade also contains a lot of sugar, which isn't good for dogs. A dog's blood sugar can rise much easier than a human's, causing immediate and long-term health problems.
Soda
Like all caffeinated and sugary drinks, soda is off limits for dogs. While a little sip likely won't hurt him, sharing more of your soda can elevate your dog's blood sugar as well as cause caffeine toxicity.
Beer & Wine
A huge red flag here. Giving dogs beer, wine or any other alcoholic beverage is no laughing matter. Alcohol is extremely toxic to dogs.
According to the ASPCA's Animal Poison Control Center, it can cause vomiting, diarrhea, decreased coordination, central nervous system depression, difficulty breathing, tremors, abnormal blood acidity, coma and even death.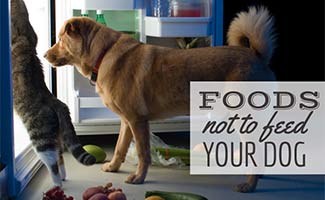 Besides grapes and alcohol, there are many other human foods you should NEVER give your pets. Be sure to read our article that covers foods that are toxic to dogs.
Fun Drinks For Dogs
Just when you think you've seen it all — yes, there are actually non-alcoholic drinks marketed just for pets. If you want your canine to be able to partake in your after work happy hour, try these safe and fun doggie drink options.
Bowser Beer For Dogs
View on Amazon
Bowser Beer is a healthier alternative to sharing your beer with your dog. You can pour some in his water bowl or even pour it over his kibble. This dog beer contains no alcohol, carbonation, hops or added salt or fat. It also contains glucosamine (good for joint health) and malt barley (high in vitamin B).
Their 3-pack contains 3 different fun brews: Beefy Brown Ale, Cock-a-Doodle Brew and Porky Pup Porter. Bowser Beer is made in the U.S. and can be refrigerated for up to a week after opening.
Price: $16.99 ($0.47 / Fl Oz) for 3 bottles
Dogwine
View on Amazon
Dogwine's FetchMe Grigio and FetchMe Noir are a fun way to treat your dog at dinnertime or anytime. Like Bowser Beer, you can opt to pour this non-alcoholic wine over your dog's kibble for a healthy and fun meal. Dogwine contains organic bacon extract and organic salmon oil to boost your pup's healthy skin and coat.
Price: Check Amazon for availability for 2 bottles
Viva Coco Coconut Water Powder For Dogs
View on Amazon
Add Viva Coco Coconut Water Powder to your dog's water for a nutritional, sweet-tasting and refreshing drink. This powder is 100% all-natural and non-GMO and contains essential electrolytes, like potassium, calcium, sodium and magnesium, for ideal hydration. It also has iron, vitamin A and C to boost your dog's overall health. And the company even uses sustainably sourced coconuts for its powder.
Price: Check Amazon for availability for a 3-pack (20 servings in each pack)
Wine For Cats
View on Amazon
Don't leave your cat out of all the fun! Pet Winery CatWine Pawty Pack is a non-alcoholic, organic catnip wine that your cat will be sure to love. You can use it as is, freeze it into kitty pops or pour it over your cat's kibble. It's also enriched with wild Alaskan salmon oil to promote shiny coats and healthy joints and skin. You get two bottles, a Purrgundy and a Meowsling. Gotta love the names!
Price: Check Amazon for availability for 2 bottles
Drinks That Your Dog Should Avoid Or Consume Sparingly (Infographic)
Here's a handy guide you can reference in the future. The bottom line is that water really is the best drink for your dog. If you want to occasionally splash some juice or gravy into their water, that's fine, but trust us – your pup will be just as happy getting an approved canine treat to enjoy with their water as they will taking a sip of your beverage.
How Does A Dog Drink, Anyway? [Video]
Ever wonder how your dog can get enough liquid with just his tongue? Watch how Neo, a Danish-Swedish farm dog, drinks in "Slow Mo Time."
The Best Treats For Your Dog
Always on the lookout for quality dog treats to reward your pup? Be sure to check out our comprehensive reviews of the best dog treats, including recommendations for all kinds of dogs. Also, see our firsthand review of Granola Barks' healthy, certified organic treats that come in several different flavors.
Finally, have you heard about CBD treats for dogs? These all-natural, hemp-derived treats contain no harmful ingredients (no THC) and can help ease all kind of health problems, from anxiety to joint pain.
What do you give your dog to drink other than water?
We are a participant in the Amazon Services LLC Associates Program, an affiliate advertising program designed to provide a means for us to earn fees by linking to Amazon.com and affiliated sites.
Disclaimer: This website contains reviews, opinions and information regarding products and services manufactured or provided by third parties. We are not responsible in any way for such products and services, and nothing contained here should be construed as a guarantee of the functionality, utility, safety or reliability of any product or services reviewed or discussed. Please follow the directions provided by the manufacturer or service provider when using any product or service reviewed or discussed on this website.