To sustain this free service, we receive affiliate commissions via some of our links. This doesn't affect rankings. Our review process.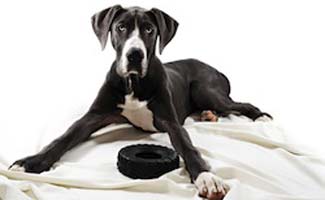 Many well seasoned dog owners warn against the dangers of canine bloat and vets even give recommendations on how to prevent your dog from suffering from canine bloat but some dog owners have no idea what this illness is, how it occurs or how to prevent it. Read on to learn everything you ever wanted to know about canine bloat.
Gastric Dilitation-Vovulus
Canine bloat is the regularly used term for the illness but often times it is referred to by the scientific term Gastric Dilitation-Volvulus (GDV) of simply Gastric Dilation. Canine bloat as it will be referred to from here on out, is a particularly serious and often life threatening illness that strikes a good many dogs every year and the outcome of each dogs affliction depends on a variety of factors. The biggest factor in helping a dog to survive canine bloat is the speed with which treatment is administered to a dog suffering from bloat. But before we discuss the treatment it is perhaps wise to begin with the original question: what is canine bloat?
Much like human beings a dog's stomach resembles something like a balloon. While for humans over eating and eating too quickly can result in bloating and gas as well as an uncomfortable feeling generally humans are able to recover quickly with minimal illness. Dogs, however, are not so fortunate and for them what begins as gas can quickly turn in to something much worse. When a dog eats too much or too quickly canine bloat can occur. During the passing of the food through to the stomach there is a buildup of gasses and the stomach begins to blow up like a large balloon. As gasses continue to build up the stomach stretches and soon it stretches beyond its limits and the circulation of blood to the heart is prevented. During this mass expansion of the stomach the stomach also experiences a lack in blood flow which can result in death of stomach tissue. In many cases of bloat the dog's stomach has also been known to twist which is where the word "Volvulus" comes from in the medical term Gastric Dilitation-Volvulus (GDV). When the stomach turns it twists both at the top and the bottom cutting off the stomach from the esophagus as well as the pyloric valve which prevents the gas from moving out of the stomach at all.
Damage that occurs to the stomach as a result of bloat is not damage that can be repaired or reversed since it generally involves cell death. Veterinarians are not able to regenerate tissue that has necrotized as a result of gastric torsion. If a dog begins to show symptoms of bloat and it is caught soon enough and the dog is rushed in to emergency medical care it is possible to untwist the stomach or relieve the buildup of gasses that are contributing to canine bloat. It should be noted, however, that bloat can become fatal extremely quickly and a dog can die within hours of the onset of bloat so it is vital to get medical attention immediately upon noticing symptoms of bloating in your dog. Generally a dog that does succumb to bloat dies from the cutting off of circulation that occurs from the swelling of the stomach. The dog usually will go in to shock and die from cardiac arrest.
No Definitive Data As To Why Bloat Occurs
Veterinarians have no definitive data as to why canine bloat occurs and despite attempts to intentionally recreate canine bloat in laboratories they have been unsuccessful in doing so as of yet. There are, however, a variety of theories relating to factors that are believed to contribute to bloating. One of the factors that is popularly thought to contribute to the development of bloat is the feeding of one particularly large meal per day instead of breaking a dogs daily food allowance in to two or three smaller meals. Part of this theory comes from the fact that a dog that eats only once a day is generally starving by the time mealtime rolls around and will gulp their food down quickly and along with it they will swallow large pockets of air that contribute to gas buildup.
Theories on Bloat
Another theory that concerns the causes of bloat is that extreme exercise done around mealtime contributes to the development of bloat. Dogs should ideally be given an hour before and after rigorous exercise to calm down from play before eating or allow food to begin digesting after eating. Exercise before food can often leave the dog riled up and extremely eager to eat which again leads to the gulping of food and large pockets of air. Feeding too quickly before exercise can result in bloat due to the fact that running in vigorous exercise can often result in swallowing large pockets of air which contribute to gas buildup in the dog's stomach.
One more argued theory is that bloat is caused by excessive grain in dry dog foods. This theory is rejected by some veterinarians but accepted by many due to the fact that excessive grain use in dry kibble can lead to fermentation during digestion which will release a large quantity of gasses that can lead to bloat. A high quality dry kibble that does not list too many grains in the first few ingredients are generally preferred over dry kibbles that list grain as one of the first three or four ingredients. It should also be noted that this theory also extends to dog owners that wet their dog's kibble. Kibble that has excessive grains in the ingredients list should not be dampened before being eaten due to the fact that water will begin the fermentation process.
Another theory that is thrown around frequently is that drinking large amounts of water during mealtimes can contribute to canine bloat. It is believed that when a dog swallows large gulps of water they oftentimes also gulp large pockets of air which can build up in the stomach. Many people believe that this cause of bloating can be eliminated by removing water from the dogs reach while they are eating and making it freely available at all other times.
Size Pinpointed as A Contributing Factor
A dog's size and breed are also often pinpointed as being a contributing factor to bloat. Larger breed of dogs are generally more susceptible to bloating than smaller dogs due to the fact that they tend to eat larger meals and swallow larger amounts at one time. This does not, however, mean that small dogs do not bloat; plenty of small dogs have suffered from canine bloat. Certain dog breeds are also more susceptible to bloating based on the structure of their chest. Dogs that are referred to as being "barrel chested" or "deep chested" meaning that the sternum hangs down at a lower point from the backbone than other smaller chested dogs, are much more prone to canine bloat than other breed. Breeds that are particularly noted for a high incidence of canine bloat include: Great Danes, Weimaraners, Labrador Retrievers, Saint Bernards, Gordon Setters, Irish Setters, Standard Poodles, Rottweilers, Akitas, Bloodhounds, Newfoundlands, Basset Hounds, Irish Wolfhounds, Borzoi's, Mastiffs, BullMastiffs, Airedale Terriers and Dachshunds.
Bloat Might Be Hereditary
Canine bloat is also assumed to be a hereditary illness and if a dog's parent or sibling has suffered from bloat it is likely that the dog will also suffer from bloating. Dogs are also at higher risk for bloating if they are excessively thin, this results from a dog's eagerness to eat when they are starved and underweight. To avoid the occurrence of bloating in underweight dog's weight should be gained by the feeding of many small meals throughout the day as they will result in less swallowing of air during mealtimes. For this same reason dogs that are fearful or anxious should also be fed small meals in areas of their home where they feel most secure. A dog that is fearful over losing its food for any reason will eat quickly and likely swallow large pockets of air while eating which can contribute to bloating.
Bloat Symptoms
So how exactly is bloat recognizable in dogs and is it possible for a dog to bloat without the causing factors listed above? Yes, any dog can suffer from canine bloat and due to the fact that veterinarians have yet to pinpoint an exact cause of the illness it cannot be determined whether certain dogs will bloat or not. It is possible for any dog to bloat. Bloat is particularly recognizable fortunately; however, as stated above it is extremely fast moving and should receive immediate emergency medical care as soon as symptoms are noticed.
Dogs that are suffering from bloat will not act like their usual selves; they will seem different in personality as well as physical action. Most notably for a dog with canine bloat their stomach will appear large and distended; this will be noticeable at your dog's abdomen. In some breeds a distended abdomen can be difficult to identify; however, running your hand over your dog's stomach will yield an extremely hard stomach that is stretched taut like a drum. The buildup of gasses in your dog's stomach will cause the stomach to feel much like a tightly stretched drum or a ball that has been overinflated. Putting an ear to the dog's stomach will also reveal a lack of normal digestive sounds in the dog's stomach; this is one of the most telling signs of canine bloat. A dog with bloat may also appear to be standing in a hunched over position in an attempt to find a comfortable position, on this same note a dog with canine bloat will generally refuse to lay on their side and will have difficulty finding any comfortable position in which to sit or lay down. A dog with canine bloat will also almost always dry heave or vomit but only produce foam or mucus. A dog will attempt to vomit to relieve the feeling of gas buildup in the stomach; however, due to the tension in the stomach nothing will come up. A dog with canine bloat will also appear anxious and generally will pace repeatedly. Other physical signs of canine bloating include the possibility that the dog will whine, lick the air, look towards their abdomen, stand with their legs spread, have shallow breathing, have a weak pulse, will collapse, will have cold gums, will have dark red gums or in later stages blue or white gums, with have a rapid heartbeat or will attempt to defecate without being able to.
The majority of the symptoms of bloat will be immediately noticeable to anyone who knows their dog's usual behavior and upon noticing any of these emergency signs of bloat the suffering dog should be immediately taken to an emergency veterinary clinic. What does a vet do to relieve a dog with bloat? There are only a few options for a dog with canine bloat. In the event that the stomach has not twisted the vet will insert a small tube down the throat of the sedated dog. This tube should aid the passage of gas from the stomach through the tube; however, if the dog's stomach has already twisted a tube will not pass through the esophagus in to the stomach and an incision will have to be made. For a dog with volvulus the surgery is much more risky than the insertion of a tube down the throat. The veterinarian will make an incision in to the dog's stomach which will relieve the pressure from gas and often times vets will utilize this opportunity to also staple the dog's stomach in place so that if another bloating occurs the stomach will not be able to expand.
Regardless of whether a dog is relieved from its episode of bloat it should also undergo a complete physical examination to ensure that no severe damage was done by the bloating. Often times during an episode of bloating tissue of the stomach can die and must be removed in order to preserve stomach function and prevent decaying tissue from migrating within the body. Many vets recommend keeping an anti-gas over the counter drug on hand to help diffuse a potentially fatal episode of canine bloating. You should ALWAYS consult your veterinarian about the right simethicone containing product for your dog and the right dosage so that you will know beforehand what product to keep in your home to assist your dog in a time of bloating. While the administration of simethicone will help to reduce pressure in your bloated dog's stomach it will not cure bloating and will only serve to buy you some extra time to get in to your veterinarian immediately.
Great Video On The Symptoms of Canine Bloat
Disclaimer: The information provided through this website should not be used for diagnosing or treating a health problem or a disease. It is not a substitute for professional care. If you have or suspect you may have a health problem, you should consult your health care provider.
Disclaimer: This website contains reviews, opinions and information regarding products and services manufactured or provided by third parties. We are not responsible in any way for such products and services, and nothing contained here should be construed as a guarantee of the functionality, utility, safety or reliability of any product or services reviewed or discussed. Please follow the directions provided by the manufacturer or service provider when using any product or service reviewed or discussed on this website.