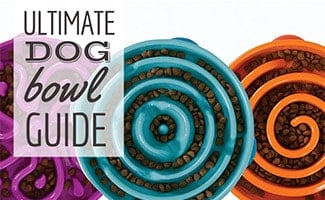 Yes, the food you put in your dog's bowl matters. But so does the bowl you use. Some breeds tend to eat too quickly, while others make quite a mess while eating food and drinking water. Depending on your dog's size and eating habits, a special dog dish may help them eat more comfortably and safely.
Best Dog Food Bowls
Basic: Mlife Stainless Steel Dog Bowls Review
Are you looking for a no-frills, traditional bowl for your pet? This set of two stainless steel bowls is scratch and rust-resistant, so they'll withstand the test of time. The removable rubber base reduces scratches on the floor and keeps the bowl from sliding around while eating. It comes in four different sizes so that you can find the best one for your pup. They stack for easy storage and are dishwasher safe. For under $15, you can't beat the value of these bowls. Plus, if you and your pet don't love them, they'll give you your money back!
| Pros | Cons |
| --- | --- |
| Affordable | Some report difficult to clean and low quality |
| 4 sizes available | |
| Safe for wet or dry food and water | |
| Dishwasher-safe | |
| Long-lasting | |
| Money-back guarantee | |
Pricing
Set of 2 starts at: $9.97
Automatic Feeder: PetSafe Healthy Pet Simply Feed Automatic Feeder Review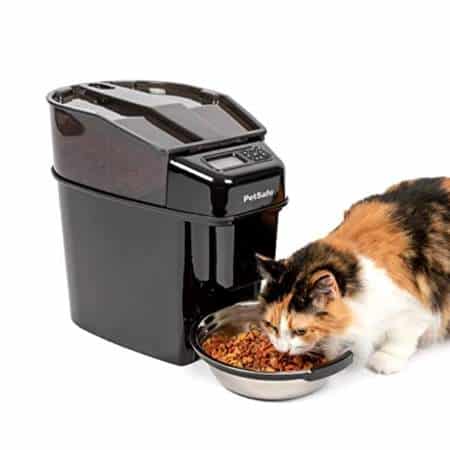 Are you away from home when your dog needs feeding? Or maybe you want to space out several small meals throughout the day. This automatic pet feeder is the solution for you to feed your dog or cat while you're away. You can schedule up to 12 meals a day with this feeder. The portion can range from 1/8 cup to four cups. A Slow Feed Mode also dispenses meals larger than 1/8 cup over 15 minutes to keep your pet from eating too fast.
| Pros | Cons |
| --- | --- |
| BPA-free | Power adapter must be purchased separately |
| Holds up to 24 cups of food | More expensive |
| Wireless (runs on 4 D batteries) | Not ideal for dogs who eat fresh dog food |
| Works with semi-moist foods too | |
| 1-year warranty | |
Pricing
See The PetSafe Automatic Pet Feeder In Action (Video)
See the Slow Feed Mode in action with Rocco testing it in the video below.
Elevated: Suncast Feeding Tray Review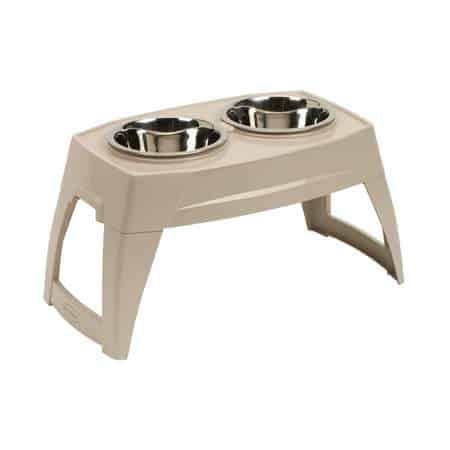 Raised dog food bowls in a dog bowl tray help your dog's neck and posture when eating. Your canine will love having his food closer to its height, and you can refill and wash the stainless steel containers easily. (This bowl can also be used for cats.) The only con we could find is that the stand isn't the most sturdy. However, most reviews we read from customers stated the raised dog bowls were still worth the additional cost.
| Pros | Cons |
| --- | --- |
| Legs store away under the tray | Not super sturdy |
| Includes 2, 8″ stainless steel, removable, dishwasher-safe bowls | |
Pricing
Slow Feeder: Outward Hound Fun Feeder Review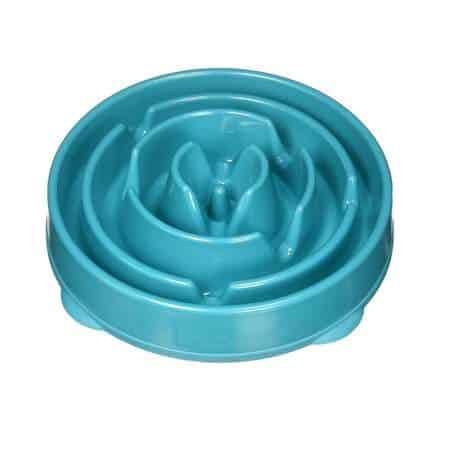 Does your dog inhale its food before you're even finished pouring it? Slow him eating down with this slow-feed dog bowl. This slow-eating dog bowl is designed like a maze for your dog's food. Not only do these bowls slow your dog down, but they also prevent him from bloating, regurgitating, and overeating. This dish holds up to four cups of dog food and is the best slow-feed dog bowl.
Our dog eats so fast that he chokes himself, so we got this bowl to slow him down. He now eats at a normal pace, and the dog trainer also told us that it is will help to tire out his super active puppy brain! Win-win.

– Michelle S., Canine Journal
| Pros | Cons |
| --- | --- |
| Holds 4 cups of food | Confusing for some dogs |
| BPA-free | |
Pricing
Custom: GPET Personalized Bowls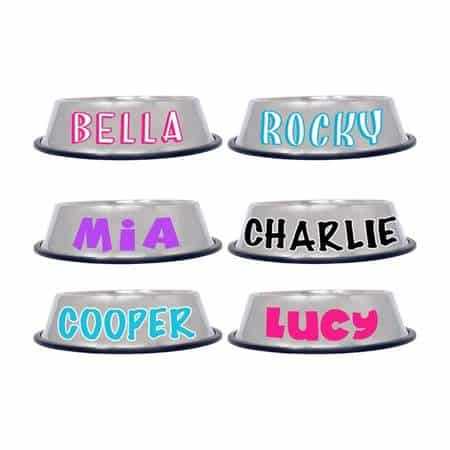 If you'd like to personalize your dog's food bowl with his name on it or some other phrase, check out this 3D printed dog bowl that can be completely customized for your pet. (Bowls will also work for cats.) The font can be printed in three different fonts and one of five colors.
Pricing
Best Dog Water Bowls
Filtered: IRIS Pet Water Fountain Review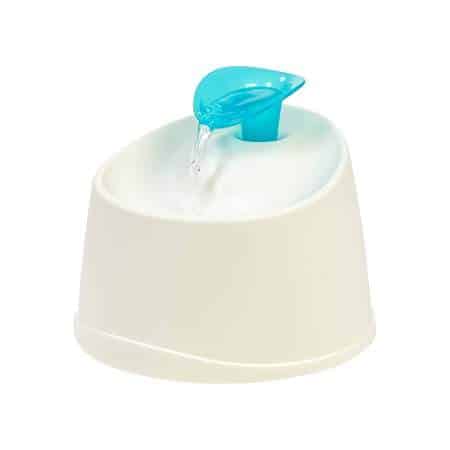 Your pet deserves the best. That's why you should get your dog his very own water fountain, supplying a steady stream of fresh, filtered water. Place the pump inside the chamber, add the filter, fill it with water, and plugin to start serving filtered water that helps prevent urinary and digestive disorders. Learn more in our dog water fountain reviews.
| Pros | Cons |
| --- | --- |
| BPA-free | Must replace charcoal filters every 2-4 weeks (one included, additional filters sold separately) |
| 11-foot long cord | Requires electricity outlet to operate |
| Modern, quiet design | |
| Holds up to 5 1/2 cups of water | |
| Provides continuously clean water | |
| Comes in 2 colors (blue or white) | |
| Filter catches hair and other particles | |
Pricing
Automatic: Petmate Pet Cafe Waterer Review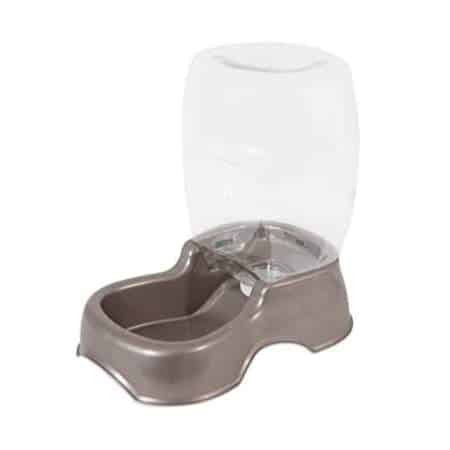 This dog water dispenser has a gravity feed design for dispensing the water for your pet without spilling or overflowing the dish. This dog water bowl is inexpensive, and it performs well, which is why it's our pick for the best automatic dog water bowl. Bonus – it was designed in the USA. The only downside we found is that it can be challenging to clean. If you're away from home for long periods or have a thirsty dog, this water bowl is ideal for you.
| Pros | Cons |
| --- | --- |
| Holds 3 gallons of water | Not the easiest to clean |
| Non-skid rubber feet keep it in place | |
| Easy to refill | |
| BPA-free | |
| No leaking | |
Pricing
Heated: K&H Manufacturing Thermal-Bowl Review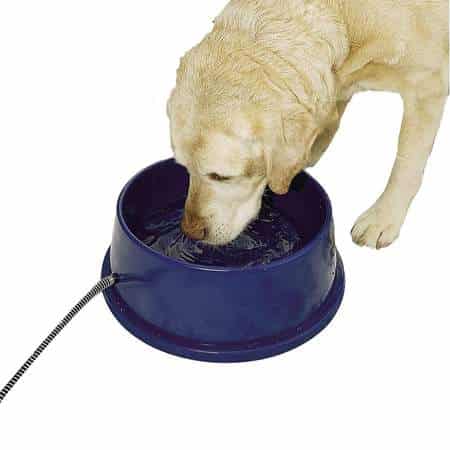 If your pup is outside during colder months, this is the pet water dispenser for you. This bowl keeps water from freezing, even at -20°F. The 5'6″ electrical cord is chew-resistant for your pet's safety. The Thermal Bowl is energy efficient, using only 25 watts of energy.
| Pros | Cons |
| --- | --- |
| Holds 96 ounces of water | Difficult to add an extension cord since most are not weather resistant and/or pet safe |
| 1 year limited warranty | |
| MET safety listed | |
Pricing
Best Pet Bowl Accessories
Collapsible: Comsun Collapsible Dog Bowl Review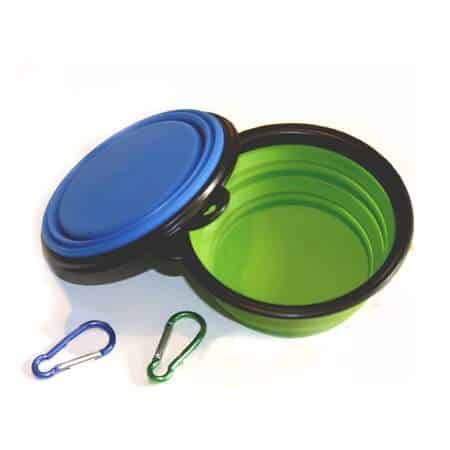 This collapsible dog bowl can hold food or water on the go. The bowl is made of silicone, which makes it easy to wipe the bowl clean after use. Since it's collapsible, it takes up less space for travel. Attached is a carabiner for you to hook the bowl onto a bag, your belt, or something else.
I purchased these for my dog to use when we travel or go for long runs. It's nice to have a collapsible bowl to pour water into and something compact, so it doesn't take up much space when traveling.

– Kimberly A., Canine Journal
| Pros | Cons |
| --- | --- |
| Holds up to 12 fluid ounces or 1.5 cups of dog food | Says not dishwasher safe and material can wear over time |
| Made of eco-friendly material | |
| BPA-free | |
| Lifetime warranty and 100% money-back guarantee | |
Pricing
Dog Food Mat: PetFusion Pet Food Mat Review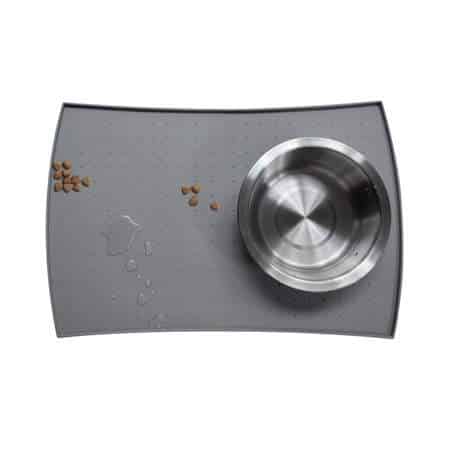 Does your dog's food bowl slide all over the house when they are eating? Or maybe they make a mess, and you want to protect your floors. This dog bowl mat keeps bowls in place while keeping your home clean. It's made out of silicone and is easy to wipe down. The mat has anti-slip bumps on both the top and bottom sides to keep it and the bowls from moving around. It also has a raised outer lip to prevent food and water from spilling off the mat and is the best pet food mat we could find.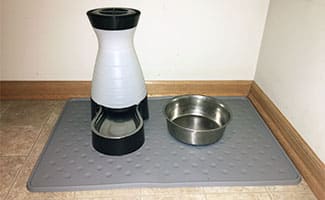 The photo pictured is of my dog's setup. She likes to lick her food bowl clean, which can sometimes end up in the middle of the room. Ever since we started using the mat, the bowl has stayed in place.

– Kimberly A., Canine Journal
| Pros | Cons |
| --- | --- |
| Dishwasher-safe | The non-straight edge shape leaves a gap against the wall which may leave some spills behind the mat. |
| Anti-slip | |
| Works with elevated or regular bowls | |
Pricing
No-Spill Pet Bowl & Mat Set: WESEN Dog Bowl With No-Spill Mat Review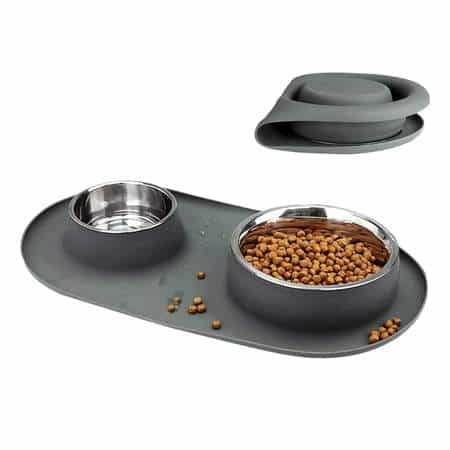 Another option if your dog is a messy eater is a spill-proof (and slide-proof) dog bowl and mat set. This set from WESEN comes with two removable, no-spill containers that are top-shelf dishwasher-safe, and rust-resistant. The silicone mat folds in half, with the bowls collapsing inside each other for storage or transportation. There is an elevated lip around the edge of the mat that keeps spills off the floor. This set comes in two sizes, so it is likely to work for most dog sizes.
| Pros | Cons |
| --- | --- |
| Dishwasher safe | Aggressive eaters may be able to move the lightweight silicone and stainless steel bowls around |
| Anti-slip | |
Pricing
How To Pick A Dog Bowl
Consider your options and make a list of your dog's needs to choose from the best dog food bowls. Does he need something to help keep the dish in place? Are they outside and need water to keep from turning to ice? Make sure you consider all lifestyle criteria when deciding which type of bowls to buy.
Frequently Asked Questions
Why Does My Dog Move His Food Bowl?
Is your dog prone to scootching their bowl across the floor while they eat? It's because they are using their snout to push the food around in the bowl to get it in their mouth. Since they can't use their paws as hands as we do with utensils, they are challenged to pick up every bite and might end up in a bit of a battle with their bowl. If this is the case with your dog, you might consider the no spill mat set above which keeps the bowls secure on the floor.
Are Stainless Steel Bowls Safe For Dogs?
Yes, stainless steel dog bowls are perfectly safe for pups to eat and drink out of. The material is less susceptible than plastic or glazed pottery to leach potentially dangerous chemicals into their food. They're also more durable than plastic or silicone which your dog might be tempted to chew on. Stainless steel is dishwasher friendly and easy to clean. But, keep a watchful eye out for rust as it can appear over time (although that is rare unless your dog bowls are outside exposed to the elements like rain, heat, and sun).
Where Should I Put My Dogs Food Bowl?
You should put your dog's food bowls away from foot traffic so people don't trip over them. If you have a cat in your house, you might need to feed your dog at a specific time and then take away any unfinished food or fence off an area to make sure feline friends can't get to it. Always keep your dog's food bowls in the same spot to help them know where meal time takes place. This will also help you contain any mess in one area should your pet spill while eating.
Wondering What To Put In Your Dog's Bowl?
While on the hunt for the best dog food bowl, we suggest you reevaluate the food you're feeding your dog. All-natural, grain-free, holistic, raw diets and dog food from big-name companies like Taste of the Wild and Blue Buffalo are all options you'll want to consider. Keep in mind that if you choose to change your dog's food to something new, you'll want to transition food slowly to ensure your dog doesn't get sick. And don't forget that dog food can go stale, so make sure you have a suitable storage container.
Tagged With: Comparison