Yes, the food you put in your dog's bowl matters. But so does the bowl you use. Some breeds eat too quickly, while others make quite a mess while eating food and drinking water. Depending on your dog's size and eating habits, a special dish may help them eat more comfortably and safely. The best dog bowl is Peggy11's stainless steel, but we have several other options for various needs.
At A Glance: Best Dog Bowls
Below are some of the most commonly sought-after dog bowls, but for a complete list of our top dog bowl picks for food and water, check out below the table.
Best Overall Dog Bowl: Peggy11 Review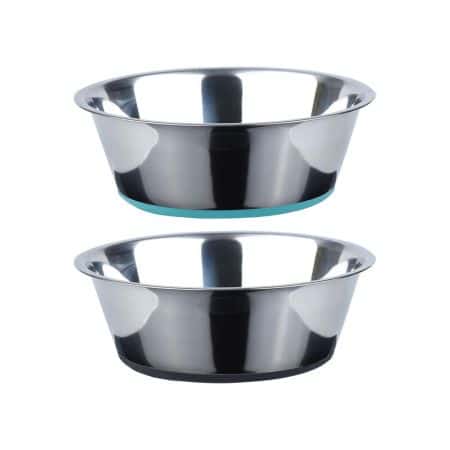 Are you looking for a no-frills, traditional bowl for your pet? This set of two stainless steel bowls is stain and rust-resistant, so they'll withstand the test of time. The rubber base reduces scratches on the floor and keeps the bowl from sliding around while eating. It comes in five different sizes, so you can find the best one for your pup. They stack for easy storage and are dishwasher safe. For under $20, you can't beat the value of these bowls.
| Pros | Cons |
| --- | --- |
| Affordable | Some complaints of the bowls rusting |
| 5 sizes available | |
| Safe for wet or dry food and water | |
| Dishwasher-safe | |
| Long-lasting | |
Pricing
Best Automatic Feeder: PETLIBRO Review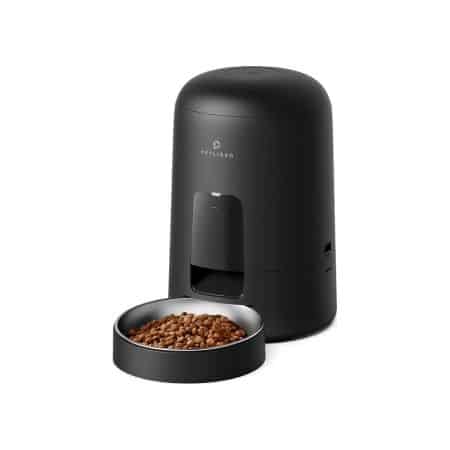 View on Amazon | View on Chewy
Are you away from home when your dog needs feeding? Or maybe you want to space out several small meals throughout the day. This automatic pet feeder is the solution for feeding your dog or cat while you're away. You can schedule up to six meals a day with this feeder. The portion can range from 1/24 cup to 2/3 cup.
| Pros | Cons |
| --- | --- |
| Holds over 8 cups of food | Cannot use with kibble larger than 15mm in diameter |
| Wireless (runs on 3 D batteries) or wall adapter | |
| Control panel is hidden, so pets can't change the schedule | |
| Secure rotor design keeps food fresh and ants out | |
| If it gets knocked over, kibble doesn't spill out everywhere | |
Pricing
Best Elevated Bowl Set: URPOWER Review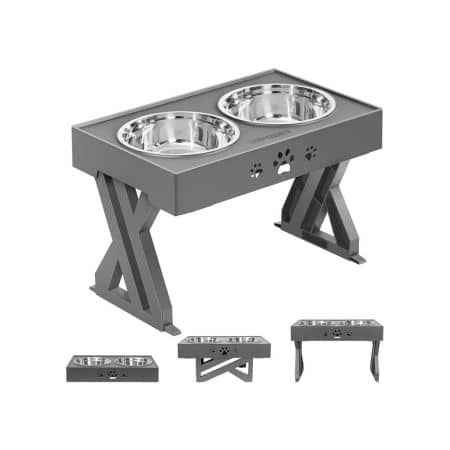 Raised bowls in a tray help your dog's neck and posture when eating. Your canine will love having his food closer to his height, and you can refill and wash the stainless steel containers easily. The non-slip stand has three height positions (2.8″, 8″, and 12″), so it can be adjusted as your dog grows. You can easily remove the legs and tuck them into the sides of the platform for easy storage.
| Pros | Cons |
| --- | --- |
| Legs store away under the tray | Not ideal for smaller dogs |
| Includes 2, 1.5L stainless steel, removable, dishwasher-safe bowls | |
| Reduces strain on joints | |
Pricing
Best Slow Feeder: Outward Hound Puzzle Review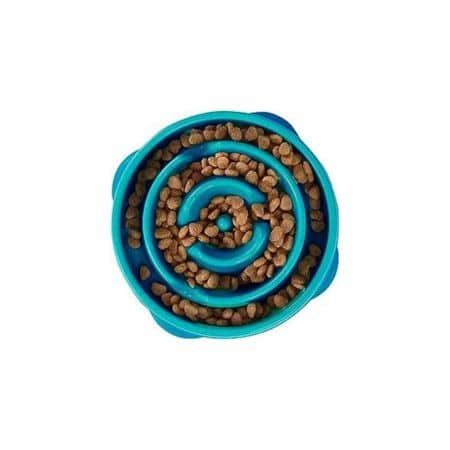 View on Amazon | View on Chewy
Dogs who eat too fast can struggle with canine bloat, regurgitating, and overeating. Using a slow feeder like Outward Hound's can help slow his pace down. The maze-like design creates enough of a barrier to prevent your dog from inhaling his food in a few seconds. This dish holds up to four cups of dog food and can slow your dog down tenfold.
| Pros | Cons |
| --- | --- |
| Holds 4 cups of food | Confusing for some dogs |
| BPA-free | |
| Top rack dishwasher safe | |
| Can be used with wet or dry food | |
Our Personal Experience
"Our dog eats so fast that he chokes himself, so we got this bowl to slow him down. He now eats at a normal pace, and the dog trainer also told us it will help to tire out his super active puppy brain! Win-win."

– Michelle Schenker, cofounder of Canine Journal and rescue dog parent
Pricing
Best Custom Bowls: Generic Review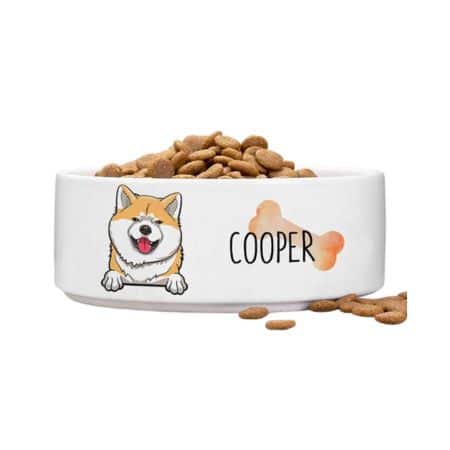 If you'd like to personalize your dog's food bowl with his name and breed on it, check out this custom ceramic dog bowl. It works for wet and dry food and water. These can make for fun gift ideas for the pet parents in your life.
| Pros | Cons |
| --- | --- |
| Custom engraving is permanent, not printed, so it won't peel | Can break if you drop it |
| Dishwasher safe | |
Pricing
Best Filtered Water Fountain Veken Review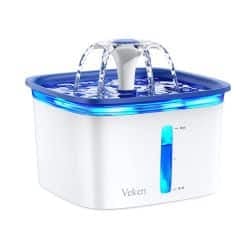 Your pet deserves the best. That's why you should get your dog his very own water fountain, supplying a steady stream of fresh, filtered water. The four-stage filtration system delivers fresh, hygienic water to your pets. Plus, this fountain can easily be used for multiple pets.
| Pros | Cons |
| --- | --- |
| BPA-free | Must replace filter and sponge every 2-3 weeks |
| 6-foot long cord | Requires electricity outlet to operate |
| Modern, quiet design | |
| Holds almost 12 cups of water | |
| Provides continuously clean water | |
| Filter catches hair and other particles | |
Pricing
Best Automatic Water Dispenser: Petmate Review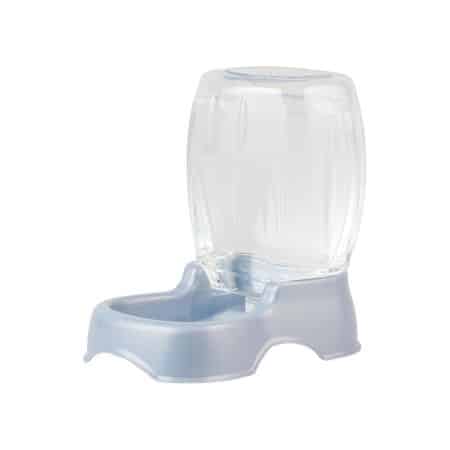 View on Amazon | View on Chewy
This automatic water dispenser has a gravity-feed design for dispensing the water for your pet without spilling or overflowing the dish. It holds three gallons of water, among the largest we found in our research (many others are only one gallon). If you're away from home for long periods or have a thirsty dog, this water bowl is ideal for you.
| Pros | Cons |
| --- | --- |
| Holds 3 gallons of water | Not the easiest to clean |
| Non-skid rubber feet keep it in place | |
| Easy to refill | |
| BPA-free | |
| No leaking | |
Pricing
Best Outdoor Heated Water Bowl: K&H Review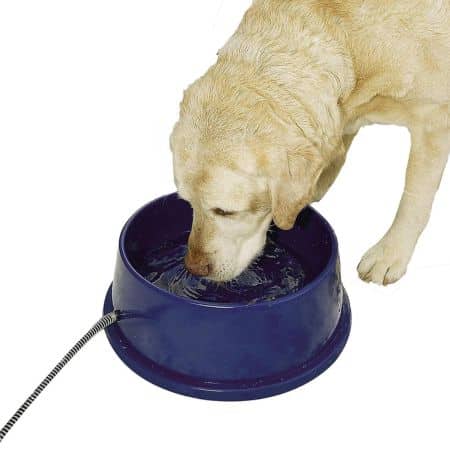 View on Amazon | View on Chewy
If your pup is outside during colder months, this is the pet water dispenser for you. This bowl keeps water from freezing, even at -20°F. The 5'6″ electrical cord is chew-resistant for your pet's safety. The thermal bowl is energy efficient, using only 25 watts of energy.
| Pros | Cons |
| --- | --- |
| Holds 96 ounces of water | Difficult to add an extension cord since most are not weather resistant and/or pet safe |
| BPA-free | |
| MET safety listed | |
Pricing
Best Collapsible Bowl: SLSON Review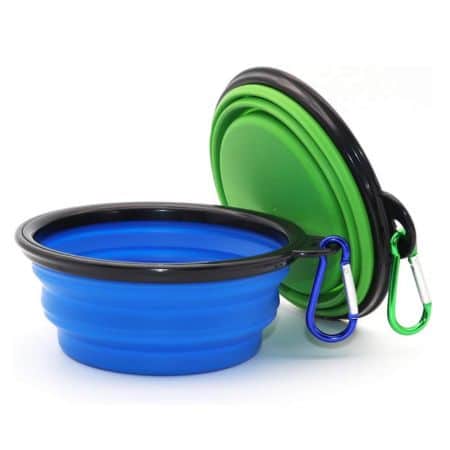 These collapsible dog bowls can hold food or water on the go. The bowl is made of silicone, making it easy to wipe it clean after use. Since it's collapsible, it takes up less space for travel. Attached is a carabiner to hook the bowl onto a bag, your belt, or something else. The bowls are lightweight, so you'll barely notice you're carrying them.
I purchased these for my dog to use when we travel, camp, hike, or go for long runs. It's nice to have compact, collapsible bowls to pour food and water into. She eats and drinks easily out of the bowls, and they take up very little space.
| Pros | Cons |
| --- | --- |
| Holds up to 12 fluid ounces or 1.5 cups of dog food | |
| Space saving | |
| BPA-free | |
| Dishwasher safe | |
Pricing
Best Food & Bowl Mat: PetFusion Review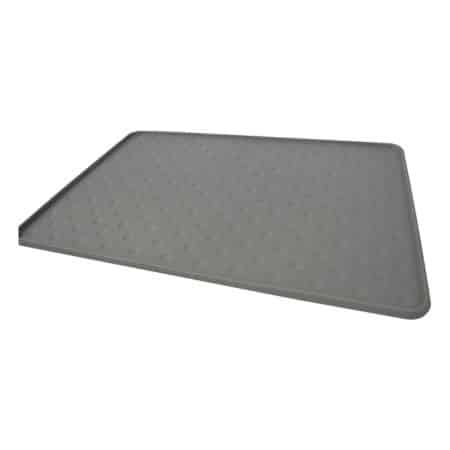 View on Amazon | View on Chewy
This dog bowl mat really tidied up my dog's eating and drinking area. Instead of water splashing all over my floor, it's more centralized on the mat. Thanks to the silicone material and anti-slip bumps, it also keeps her bowls in place. The raised outer lip prevents food and water from spilling off the mat too.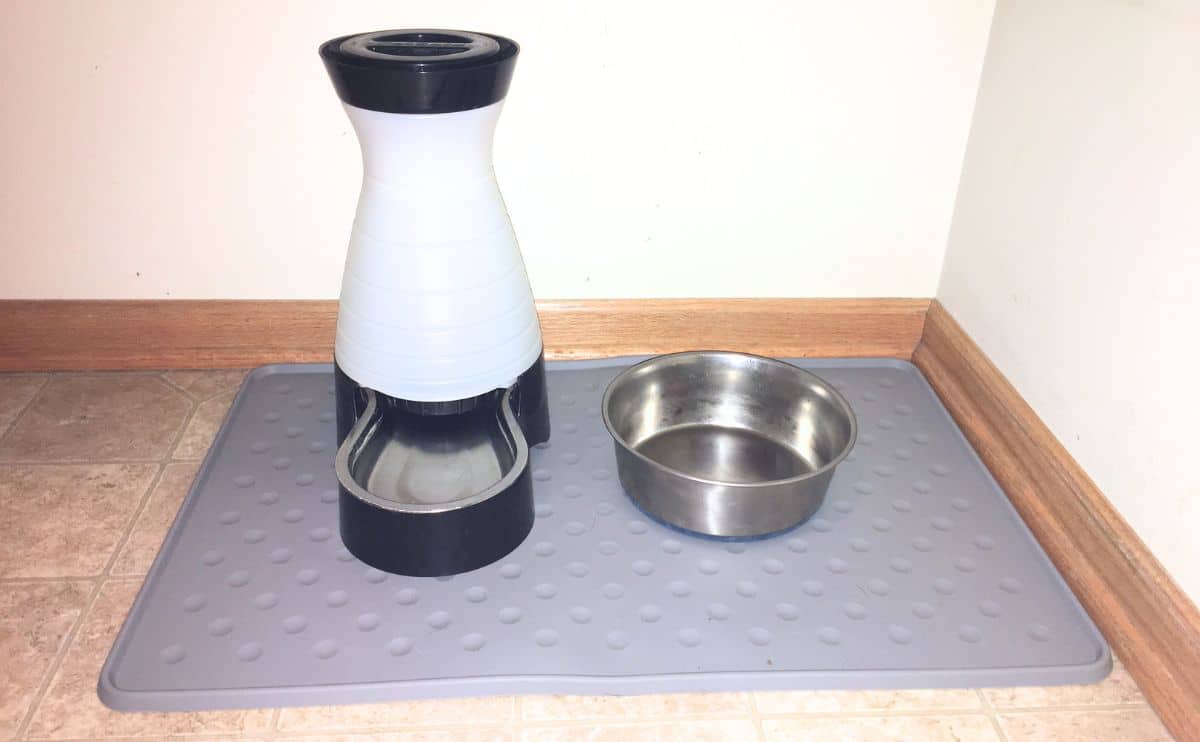 Before I had this, my dog's food dish would end up in the middle of the room because she licks every millimeter of her food dish clean. I've had this mat for several years now, and it's still in great condition and keeps her dishes in place.
| Pros | Cons |
| --- | --- |
| Dishwasher-safe | Difficult to clean |
| Anti-slip | |
| Works with elevated or regular bowls | |
Pricing
Best No-Spill Water Bowl: Slopper Stopper Review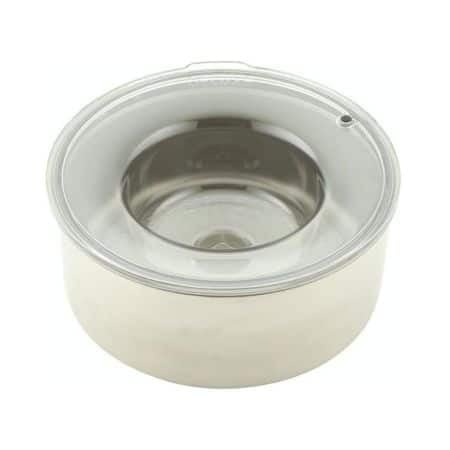 Another option if your dog is a messy drinker is a spill-proof (and splash-proof) bowl. The patented design helps eliminate messes by over 85%. Say goodbye to wet socks due to puddles left behind by your dog. The amount of water released is limited, so it keeps more of your dog's face clean, which prevents splashing and messes. See how it works in the video below.
| Pros | Cons |
| --- | --- |
| Available in multiple sizes | Lid is confusing for some |
| Prevents spills and splashing | Some pets can outsmart it |
| Lid design keeps the face, snout, ears, beard, and feet dry | Stops spills but not slobbering |
| Slows drinking pace | |
Pricing
Best High End: Yeti Dog Bowl Review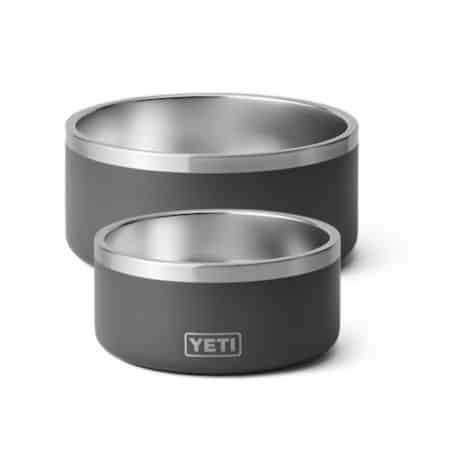 Yeti's Boomer dog bowl is a top-of-the-line dog bowl that works with both food and water. The Yeti dog bowl is double-walled and non-insulated, with a seamless design. Made from stainless steel, it is puncture, rust, and dent-resistant. Yeti's dog bowl comes in a 4 or 8-cup size. The bowl is designed not to tip over and has a Bearfoot non-slip ring on the bottom. With an excellent selection of colors, the Yeti Boomer dog bowl is a long-lasting, well-performing investment.
| Pros | | Cons |
| --- | --- | --- |
| Very durable | | Expensive |
| Easy to clean | | Some owners say their bows have rusted |
| Keeps water fresh | | |
| Customizable, multiple colors, and 2 colors | | |
| No-tip design | | |
| Double-walled and non-insulated | | |
| Highly reviewed | | |
| Reliable company | | |
| Warranty | | |
Pricing
How To Pick A Dog Bowl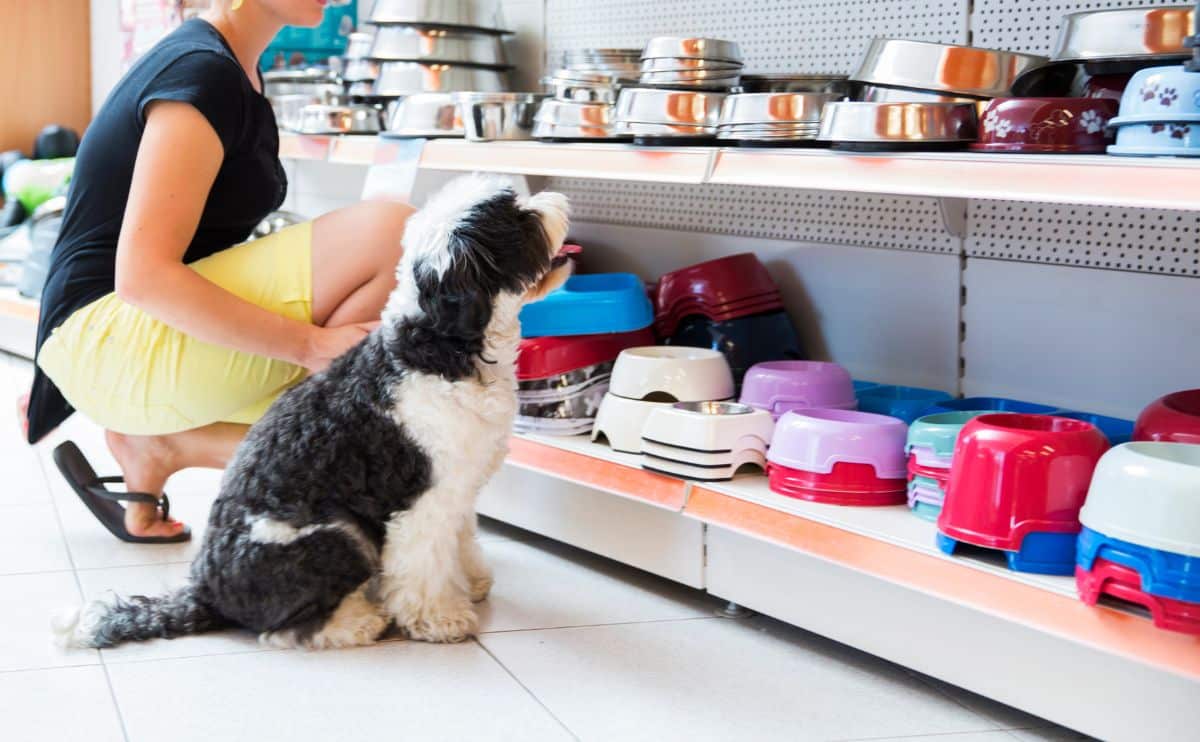 Consider your options and list your dog's needs to choose from the best dog food bowls. Does he need something to help keep the dish in place? Is he outside and needs water to keep from turning to ice? Consider all lifestyle criteria when deciding which type of bowls to buy.
Frequently Asked Questions
Why Does My Dog Move His Food Bowl?
Is your dog prone to scoot their bowl across the floor while eating? It's because they use their snout to push the food around in the bowl to get it in their mouth. Since they can't use their paws as hands as we do with utensils, they are challenged to pick up every bite and might end up in a bit of a battle with their bowl. If this is the case with your dog, consider the food and bowl mat above, which keeps the bowls more secure.
Are Stainless Steel Bowls Safe For Dogs?
Yes, stainless steel dog bowls are perfectly safe for pups to eat and drink out of. The material is less susceptible than plastic or glazed pottery to leach potentially dangerous chemicals into their food. They're also more durable than plastic or silicone, which your dog might be tempted to chew on. Stainless steel is dishwasher friendly and easy to clean. But, watch out for rust as it can appear over time (although that is rare unless your dog bowls are outside exposed to the elements like rain, heat, and sun).
Where Should I Put My Dogs Food Bowl?
It would help if you put your dog's food bowls away from foot traffic so people don't trip over them. If you have a cat in your house, you might need to feed your dog at a specific time and then remove any unfinished food or fence off an area to ensure feline friends can't get to it. Always keep your dog's food bowls in the same spot to help them know where meal time takes place. This will also help you contain any mess in one area should your pet spill while eating.
Wondering What To Put In Your Dog's Bowl?
While hunting for the best dog food bowl, we suggest you reevaluate the food you're feeding your dog. Fresh dog food is becoming an increasingly popular choice among pet parents. The Farmer's Dog is human-grade dog food made with fresh ingredients. We have a review about The Farmer's Dog so you can learn all about it and whether it'd be a good fit for your dog. If you choose to change your dog's food to something new, you'll want to transition food slowly to ensure your dog doesn't get sick.
Tagged With: Comparison