To sustain this free service, we receive affiliate commissions via some of our links. This doesn't affect rankings. Our review process.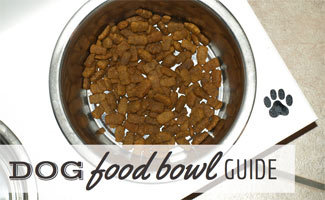 Yes, the food you put in your dog's bowl matters. But so does the bowl you use. Some breeds tend to overeat, while nearly all breeds make quite a mess while they eat and drink. Depending on your dog's size and eating habits, one dog dish may help it eat more comfortably and safely.
Best Dog Bowls
We've reviewed various dog dishes to help you find the best fit for your pup. Does she eat too fast? Does she make a huge mess? Our reviews include the best dog water bowl, food bowl, slow feed dog bowl reviews and small and large dog bowls.
Automatic Dog Feeder | Automatic Dog Water Bowl | Collapsible Dog Bowl | Elevated Dog Bowls | Heated Water Bowl | Dog Food Mat | No Spill Dog Bowl | Slow Feeder Dog Bowl | Personalized Dog Bowls
Best Automatic Dog Feeder: PetSafe Healthy Pet Simply Feed Automatic Feeder Review
Are you away from home when your dog needs feeding? This automatic pet feeder is the solution for you to feed your dog while you're away. You can schedule up to 12 meals a day with this feeder, although your pup probably doesn't need to eat 12 times a day! The portion can range from 1/8 cup for 4 cups.
There is also a Slow Feed Mode that dispenses meals larger than 1/8 cup over a 15 minute period to keep your pup from eating too fast.
Pros

Cons

Dog is always scheduled to eat on time
BPA-free
Holds up to 24 cups of food
Dispenses 1/8 to 4 cups of food per portion
Runs on batteries
Works with semi-moist foods too
Dependable
1-year warranty

Power adapter must be purchased separately
Expensive
Pricing
See The Automatic Dog Feeder In Action
See the Slow Feed Mode in action with Rocco testing it in the video below.
Best Automatic Dog Water Bowl: Petmate Pet Cafe Pet Waterer Review
This dog water dispenser has a gravity feed design to dispense the water for your pet without spilling or overflowing the dish. This dog water bowl is inexpensive, and it performs well which is why it's our pick for best automatic dog water bowl. Bonus – it was designed in the USA.
The only downside we found is that it can be difficult to clean.
Pros

Cons

Holds 3 gallons of water
Non-skid rubber feet keep it in place
Easy to refill
BPA-free
No leaking
Pricing
Best Collapsible Dog Bowl: Comsun Collapsible Dog Bowl Review
This collapsible dog bowl can hold food or water on the go. The bowl is made of silicone, which makes it easy to wipe the bowl clean after use. The bowl is ideal for you if you need to give your pup food or water on the go.
Since it's collapsible, it takes up less space for travel.Attached is a carabiner for you to hook the bowl onto a bag, your belt or something else.
Pros

Cons

Holds up to 12 fluid ounces or 1.5 cups of dog food
Made of eco-friendly material
BPA-free
Lifetime warranty and 100% money back guarantee
Bestseller on Amazon

Does not hold much (only 5″ wide x 2″ deep)
Pricing & Tech Specs
Best Elevated Dog Bowls: Suncast Elevated Feeding Tray Review
Raised dog food bowls and dog bowl stands save not only your dog's neck but also your back. If your dog has a dog food bowl stand, neither of you have to bend over as far to reach the container. Your canine will love having its food closer to its height, and you can refill the stainless steel containers easily.
The only con we could find is that the stand isn't the most sturdy. However, most reviews we read from customers stated the raised dog bowls were still worth the additional cost.
Pros

Cons

Legs store under the tray
Two 8″ bowls included
Bestseller on Amazon
Pricing & Tech Specs
Best Heated Water Bowl: K&H Manufacturing Thermal-Bowl Review
If your pup is outside during the winters, this is the pet water dispenser for you. This bowl keeps water from freezing, even at -20°F. The 5'6″ electrical cord is chew resistant for your pet's safety. The Thermal Bowl is energy efficient, using only 25 watts of energy.
This is the ideal heated dog bowl for pets who spend a lot of time outside.
Pros

Cons

Holds 96 ounces of water
1 year limited warranty

Difficult to add an extension cord since most are not weather resistand and/or pet safe
Pricing
Best Dog Food Mat: PetFusion Pet Food Mat Review
Does your dog's food bowl move all over the house when they are eating? Sounds like they needs a mat to keep her bowl in place. This dog bowl mat is made out of silicone and is easy to clean.
The mat has anti-slip bumps on both the top and bottom side to keep it and the bowls from sliding. It also has a raised outer lip to prevent food and water from spilling off the mat and is the best pet food mat.
Pros

Cons

Holds 1.5 cups of water or food
Dishwasher-safe
Anti-slip
Works with elevated or regular bowls
Many positive reviews on Amazon

The non-straight edge shape leaves a gap against the wall which may leave some spills behind the mat.
Pricing
No Spill Dog Bowl: Fossa No Spill Stainless Steel Dog Food Bowls Review
It never fails, every time your dog goes over to their food and water and makes a mess everywhere. That's why you're looking for a spill proof dog bowl.
This no spill dog bowl is top shelf dishwasher safe. Each stainless steel bowl holds 1.5 cups of food or water. Now after you clean your floors, you won't have to worry about your dog making a mess.
Pros

Cons

Dishwasher safe
Anti-slip
At the time of writing, no 1-star reviews (this is extremely rare)

Lightweight holder and bowls make it easy for pets to move it around
Pricing
Best Slow Feeder Dog Bowl: Outward Hound Fun Feeder Review
Does your dog inhale its food before you're even finished pouring it? Slow them eating down with this slow feed dog bowl. This slow eating dog bowl is designed like a maze for your dog's food.
Not only do these bowls slow your dog down, but they also prevent him or her from bloating, regurgitating and overeating. This dish holds up to four cups of dog food and is the best slow feed dog bowl.
Pros

Cons

Holds four cups of food
BPA free
Many positive reviews on Amazon
Pricing
Personalized Dog Bowls
If you'd like to personalize your dog's food bowl with his or her name on it or some other element, check out this 3D printed dog bowl that can be completely customized for your pet.
Pricing
How To Pick A Dog Bowl
Consider your options and make a list of what your dog's needs are to choose from the best dog food bowls. Does he or she need something to help keep the dish in place? Are they outside and need water to keep from turning to ice? Ask yourself these questions and more.
What To Put In Your Dog's Food Bowl
While on the hunt for the best dog food bowl, we suggest you reevaluate the food you're feeding your dog. All natural, grain free, holistic, raw diets and dog food from big name companies like Taste of the Wild and Blue Buffalo are all options you'll want to consider.
Keep in mind that if you do choose to change your dog's food something new, that you'll want to transition food slowly to ensure your dog doesn't get sick.
What are your dog's eating habits?
We are a participant in the Amazon Services LLC Associates Program, an affiliate advertising program designed to provide a means for us to earn fees by linking to Amazon.com and affiliated sites.
Disclaimer: The information provided through this website should not be used for diagnosing or treating a health problem or a disease. It is not a substitute for professional care. If you have or suspect you may have a health problem, you should consult your health care provider.
Disclaimer: This website contains reviews, opinions and information regarding products and services manufactured or provided by third parties. We are not responsible in any way for such products and services, and nothing contained here should be construed as a guarantee of the functionality, utility, safety or reliability of any product or services reviewed or discussed. Please follow the directions provided by the manufacturer or service provider when using any product or service reviewed or discussed on this website.