Are you not a morning person (but your dogs are)? Or do you travel a lot or work long days, making it hard to get home to feed the pups? Thanks to automatic dog feeders, you can rest assured Fido is getting the correct amount of food on time regardless of where his humans are.
At A Glance: Best Automatic Dog Feeder For…
Best Automatic Pet Feeders
The benefits of an automatic dog feeder aren't only for convenience but also for portion control. We should also note that all of these allow you to schedule or manually dish out your dog's food. And one thing to keep in mind is that if your dog tends to chew on cords, you may want to consider one that operates by batteries instead of a power cord. Here are our picks for the best automatic pet feeders.
Best Smart Feeder: WOPET SmartFeeder Review
The WOPET SmartFeeder lets you remotely schedule your dog's feedings (from one to six times per day) and check in on him during the day. The feeder stores up to six pounds of food, and you can set each meal for 1 to 39 portions (10 grams per portion). So if your dog likes to wolf down his food, this is a great feature.
This pet feeder also has a real-time high-definition camera that lets you see and interact with your pet. You can even talk to him using your smartphone app.
| Pros | Cons |
| --- | --- |
| Built-in camera | No night vision |
| Two-way talk | Some report issues with programming and scheduling |
| Can pre-record a message to play at mealtimes | |
| Can run on batteries or be plugged into wall outlet | |
| Remote scheduling and viewing with iOS and Android apps | |
| 1-year warranty | |
Pricing
Best Low-Tech Feeder: PetSafe Healthy Pet Simply Feed Review
If you don't need a smart pet feeder synced to your phone, this PetSafe auto dog feeder is an excellent option. You can schedule up to 12 meals a day with this feeder, so it would work well for multiple pets eating the same food (as long as they don't steal each other's servings!). It also works excellent as an outdoor automatic dog feeder since it runs on batteries.
Portions range from 1/8 to 4 cups of dry kibble. You can even select a Slow Feed Mode option, which dispenses the meal over 15 minutes to keep your dog from chowing down too quickly.
| Pros | Cons |
| --- | --- |
| BPA-free | Power adapter must be purchased separately |
| Holds up to 24 cups of food | Expensive for no smartphone capabilities |
| Dispenses 1/8 to 4 cups of food per portion | |
| Runs on batteries | |
| Works with semi-moist foods too | |
| Dependable | |
| 1-year warranty | |
Pricing
Best Value: Pawple Automatic Pet Feeder Review
The Pawple automatic food dispenser for dogs and cats is a good value for its reliability and ease of use, and it gets overall excellent customer reviews. You can set up to four meals per day through its automatic timer and portion your dog's food from two teaspoons up to four-and-a-half cups per feeding.
While you can't link it to your smartphone, you can record a voice message to call your dog for mealtime. It runs on USB power but also on three D batteries (not included). The food tray is also dishwasher safe for easy cleaning.
| Pros | Cons |
| --- | --- |
| BPA-free plastic | Batteries not included |
| Holds 20 cups of dry kibble | A few customers reported that the portion control sizes weren't totally accurate |
| Wide variety of portioning options | |
| Can pre-record a message to play at mealtimes | |
| USB powered (or run on batteries) | |
| Great customer reviews for reliability and customer service | |
| 1-year warranty | |
Pricing
What Are My Other Options?
Although these automatic dog food dispensers didn't make our top picks, you may find that one of these is a better fit for your needs or budget.
Arf Pets Automatic Dog Feeder Review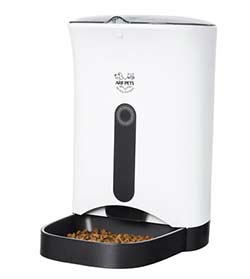 The Arf Pets automatic dog food dispenser is another smart, WiFi-enabled feeder. This timed pet feeder allows you to remotely set up to four feedings per day and control portion sizes from 1 to 10 portions per meal (each portion is 24ml). It has a tamper-proof lid, and the kibble chamber and feeding tray are dishwasher safe.
This feeder also has a built-in microphone that allows you to pre-record up to 10 seconds of audio, allowing pet owners to "call" their pet when it's time to eat.
| Pros | Cons |
| --- | --- |
| Holds 16 cups of dry kibble | Batteries not included |
| Good variety of portioning options | Some complaints that the feeding schedule settings aren't reliable |
| Can pre-record a message to play at mealtimes | |
| Battery operated or wall plugin | |
| Remote scheduling with iOS and Android apps | |
| 1-year warranty | |
Pricing
CleverPet Review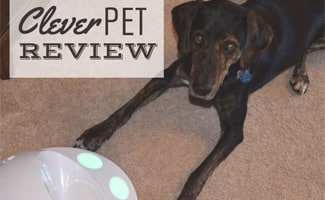 Update: The original CleverPet Hub is no longer available, but a CleverPet V2 has been announced. We will update this article when that version is released.
CleverPet is a game for your dog that allows 50 to 300 plays per day. The game consists of memory puzzles to help your dog increase in skill level over time. Your dog can unlock new challenges at his own pace by tapping lighted touchpads.
You can access the app (iOS | Android) on your smartphone to see your dog's progress and statistics as well as set his schedule, so he eats only when he's supposed to. Simply put your dog's dry kibble into the CleverPet, and he will be rewarded for his learning. CleverPet is ideal for food-motivated, high-energy, and play-oriented dogs.
| Pros | Cons |
| --- | --- |
| 60-day return window for a full refund | Double the price of other automatic dog food dispensers |
| Holds up to 2.5 cups of dry kibble, 18mm (dime size) or smaller | Must be plugged in |
| Customers state their dogs love it | |
| The only pet feeder in this article that teaches your dog | |
| Dog learns sequences, touching lighted touchpads and exploring | |
| Dog proof lid | |
| Cool design | |
| Android and iPhone app | |
| 1-year warranty | |
Iseebiz Hopper Review
Iseebiz's Automatic Pet Feeder allows you to customize your pet's feeding portion from 1 to 39 portions per meal. If your dog or cat has problems with portion control or you have problems with feeding them the proper amount, this smart dog feeder may be the solution. The feeder also features a built-in infrared detector to prevent overflow or clogging.
| Pros | Cons |
| --- | --- |
| Audio recording microphone built in to pre-record up to 10 seconds | No two-way audio |
| Holds 3 pounds of kibble | Programming is more manual than other feeders |
| Backup batteries to use wirelessly or AC adapter | |
| Made from BPA-free plastic | |
Pricing
Tip About Food Capacity Limits
You probably noticed that these auto pet feeders have food capacity limits. You probably won't run into any issues if you have a younger pup or a smaller breed pup, but if you have a medium to large breed, you could be pushing it. Be sure to measure your dog's kibble before purchasing one of these pet feeders to ensure it will work for your dog's feedings.
Keeping Your Dog Hydrated When You're Away
In addition to feeding your dog while you're not at home, you want to make sure he's staying hydrated with clean, fresh water. See our reviews of the best dog water fountains, from basic, battery-operated options to large-capacity water dispensers, outdoor drinking fountains, and more. A dog water bottle could also prove beneficial when you're on the go.
Also, if you're super busy, you might consider a dog food delivery service to have your dog's food delivered to your door regularly.
Tagged With: Comparison