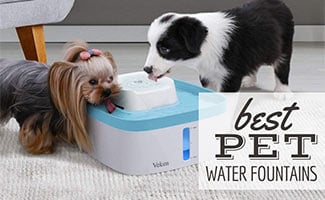 Dogs can benefit from a water fountain as much as humans can. Not only do they provide a steady stream of fresh, filtered water, but it's also a convenient way to make sure you're not having to constantly fill up their empty water bowl.
Pet drinking fountains come in a variety of options depending on your pet's needs and your preferences. We'll take a dip into the best dog fountains on the market and our top picks for each category, from the best outdoor dog fountains to automatic pet water dispensers and more.
Dog Water Fountain vs Bowl
There are several benefits of dog water fountains, including:
Helps Keep Pups Hydrated – Never worry about running out of water if you're gone for extended periods. Also great for homes with multiple animals where you need to refill the water bowl more frequently.
Better Quality Water – The constant recirculation of water keeps it fresh. Most come with filters for an added layer to remove harmful chemicals from the water and a tray to remove debris and hair.
Fun To Use – Dogs love the motion of the water trickling and might think it's a game and want to drink from it more.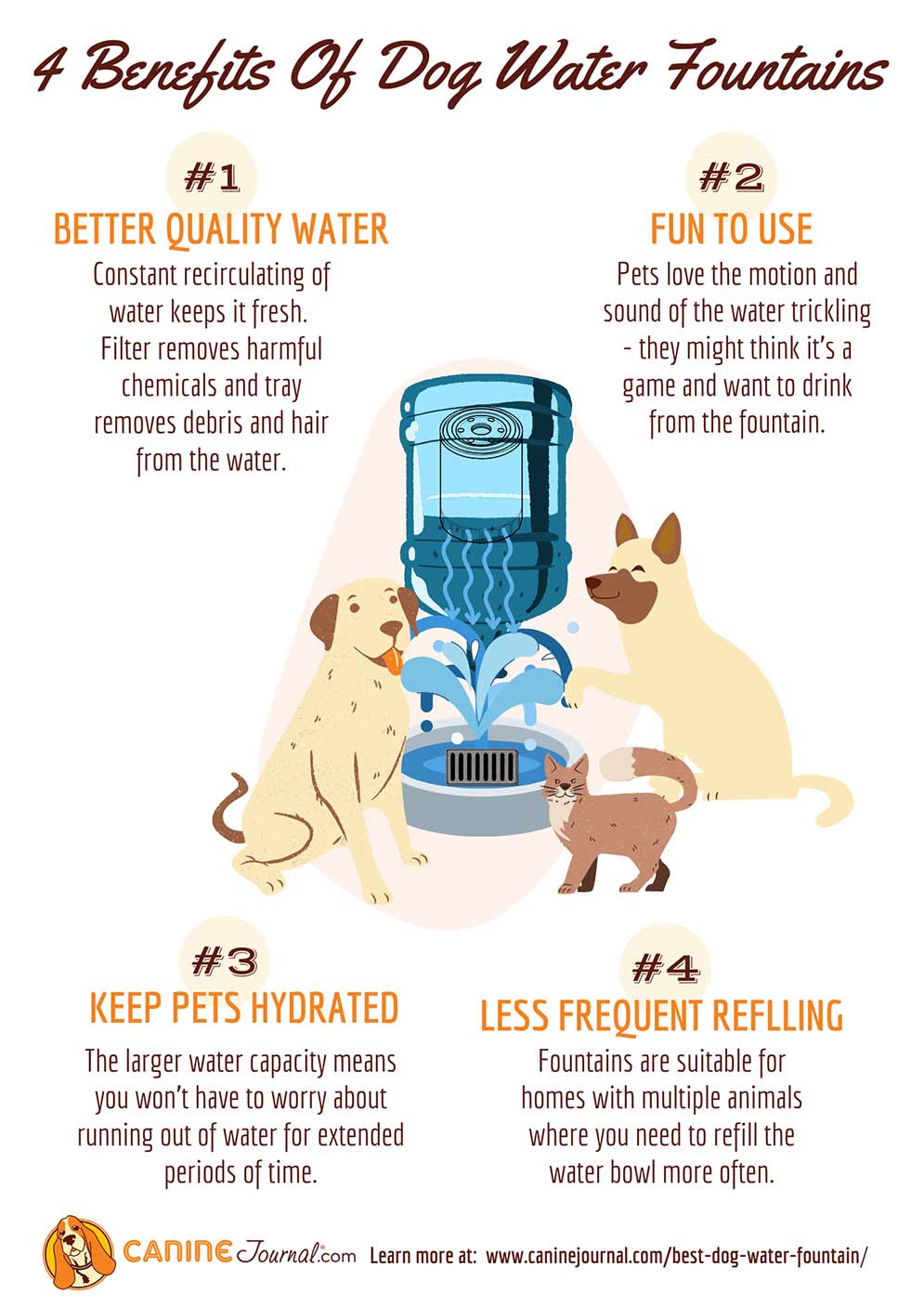 Things To Consider In A Dog Fountain
There are several factors you'll want to consider about what kind of dog drinking fountain to get and where to put your fountain.
Near A Plug – Most dog water fountains require a power source, so you'll need to have it close to an outlet.
Low Traffic Area – The dog water fountain might splash and spray droplets of water onto the floor. So it's best to have it tucked away where you (or anyone else) won't slip and fall. People could also trip over the cord. You might want to put it on top of a rubber mat for easy cleaning too.
Noise Level – The sound of a water fountain might be relaxing or keep you up at night. Make sure you put the dog water dispenser somewhere that's ideal based on your tolerance level for the noise it can produce.
Best Pet Water Fountain By Category
We've reviewed various pet water fountains to help you find the best fit for your pup. Here are our top picks for each category.
Best Basic: Veken 84oz/2.5L
View on Amazon
This pet water fountain is the best overall for a decent starter fountain at a reasonable price. It has excellent ratings and is an Amazon choice. It has a triple filtration system (carbon, cotton, and ion) and three different flow modes (waterfall, flower bubble, and gentle fountain). It comes in two colors, and both have a mat below for slipping and spills.
Pros

Cons

3 layers of containment removal
Comes with 3 replacement filters
BPA-free
Easy to clean
Comes in two color options (grey or blue)

Not ideal for larger dogs
Indoor use only
Smaller capacity to several other fountains we review here (84 oz)
Some might not be crazy about the flower design
Pricing
Best Battery-Operated: PETKIT EVERSWEET 3
View on Amazon
If you're limited to a space that doesn't have access to power, this battery-operated pet water fountain from PETKIT might be a good fit for you. The fountain has a USB cable and 5V adapter as well, but the battery backup is there if you lose power. It has a 360-water flow and also has three filters. You can use this fountain anywhere, including on the go.
Pros

Cons

Does not require power (up to 7 days constant flow before recharging)
Triple filtration system
Quiet and water pump reduces 25% of noise (less than 30 dB)
Easy to clean
Small light to see at night
Smart pump automatically shuts off when water storage level is too low

Batteries and 5V adapter not included
Not ideal for larger dogs
On the pricey side
Smaller capacity to other fountains (46 oz)
Pricing
Best For Large Dogs: PetSafe Drinkwell Indoor/Outdoor
View on Amazon
Have a large dog? It would help if you had a big dog water fountain. This large dog water dispenser from PetSafe is our top pick for the best large dog water fountain due to its capacity of 450 oz. With 3.5 gallons of water, you don't have to refill it often and can even hydrate multiple big dogs or animals at a time.
Pros

Cons

Dishwasher safe to clean
UV-resistant BPA-free plastic for use indoors or outdoors
5.5′ long, anti-bite cord

Limited filtration system (carbon only)
Bulkier design and limited technology features
On the expensive side
Pricing
Best For Multiple Pets: Veken 100oz/3L Automatic
View on Amazon
Another good option for a water fountain that caters to more than one pet is this Veken pet fountain. It's more stylish than the larger capacity fountain above and has two levels to make it easy for pets of all sizes to drink from (including birds and cats.) Similar to the smaller Veken fountain we review above, it has a triple filtration system and comes with three filters.
Pros

Cons

Water level window to see when it needs refilling
Quiet and long-lasting pump
Good-grade, BPA-free material
4 colors to choose from (blue, grey, teal, green)
Large water capacity (100 oz)
Triple filtration system (ion, carbon, and cotton)
Comes with 3 replacement filters
LED light
2-year warranty

No "fountain" stream or adjustable flow
No smart shut off feature
Indoor use only
Pricing
Best For Dispenser Only: JUNSPOW
View on Amazon
If you need an easy way to keep your dog's bowl full without the fountain feature, you might want a pet water dispenser. This automatic dog water dispenser uses gravity to fill the water when it's low. You won't get many bells and whistles with this essential water dispenser, but it does the trick for those who need convenience and can't fill the water often.
Pros

Cons

No pump or motor means it's quiet
No power required or filters to replace
Transparent bucket to see water level
Larger capacity (84 oz)
Made from food-grade materials
Comes with pet placemat

Smaller water dish, more difficult for larger dogs to drink from
No light or smart features
Some report difficult to clean and low quality
No advanced filtration system
Pricing
Best Drinking Fountain: Pioneer Pet Swan
View on Amazon
This pet drinking fountain from Pioneer mimics the look of a faucet with a downward stream of water for your dog or cat to drink out of (like they would a hose.) It has an 80 oz capacity, and limited parts making it easy to maintain. There's nothing super fancy about this fountain other than its elegant swan-like look.
Pros

Cons

For pets that like to drink out of the faucet
Can regulate the rate of flow with adjustable switch
Quiet design
Dishwasher safe
Comes with a replaceable charcoal filter
USB or AV plug

Single filtration system (charcoal)
No reserve tank of water, all in the bowl itself
Smaller capacity to several other fountains we review here (80 oz)
Pricing
Best Stainless Steel: Pioneer Pet Big Max
View on Amazon
Are you looking for a stainless steel pet fountain? This 128 oz fountain, also from Pioneer, comes in stainless steel (or a white or black ceramic). It's easy to assemble and clean and has many of the same features as the Pet Swan, like the adjustable flow and charcoal filter.
Pros

Cons

Multi-level for pets of all sizes
Can regulate the rate of flow with adjustable switch
Quiet design
Dishwasher safe
Comes with a replaceable charcoal filter
12V pump and AV plug
70″ cord length

No fountain stream
Single filtration system (charcoal)
No reserve tank of water, all in the bowl itself
Pricing
Best For Ceramic: PetSafe Drinkwell Seascape
View on Amazon
This ceramic fountain holds 70 ounces of water. It's a little smaller capacity than the other fountains. But, this seascape design looks like a zen spa and will blend in with a home without looking like a dog water bowl. It has a dual filtration system that collects hair and debris along with removing odor and bad taste.
Pros

Cons

Elegant design
Ceramic material is not prone to bacteria or mold
Dual filtration system
5.5 ft cord
Dishwasher safe
Quiet

Does not automatically shut off
No reserve tank of water, all in the bowl itself
Heavier than other bowls (5.2lbs)
On the pricey side
Pricing
Fountain: $89.95
Replacement Foam Filters (2-pack): $5.95
Replacement Carbon Filters (12-pack): $12.95
Best For Outdoors: PetSafe Drinkwell Everflow Indoor/Outdoor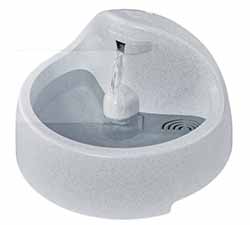 Another good option for an outdoor dog water fountain is PetSafe's Everflow water fountain. This fountain holds up to 192 ounces of water which is the second-largest capacity in our review. It can hook up to your garden house and automatically refill itself when it runs out of water. This outdoor dog fountain is durable and withstands the weather elements. And some people have reported turning this outdoor pet water fountain into an indoor one by using a garden hose with their sink or an adapter to connect to their indoor water supply.
Pros

Cons

Can be used indoors or outdoors
Made with UV-resistant, BPA-free plastic
Large capacity good for pets of all sizes
Dual filter (carbon and foam)
Dishwasher safe
Free-falling stream mimics faucet
No need to refill (if hooked up to garden hose)

If used outdoors, requires a power source (not weather-permitting)
On the pricey side
Pricing
Most Fun: Trio Gato Dog Water Fountain Step On
View On Amazon
This outdoor water fountain allows dogs to step on the paw-activated drinking pet dispenser. If your dog is smart enough to figure it out, they can get water that shoots into the air. It also comes with a hose splitter, so you can keep it hooked up to your hose without having to worry about using up your hose.
Pros

Cons

Can control water pressure
Interactive element for stimulation
Dogs can drink unlimited water on demand
Made of steel and has friction pads to prevent sliding

Can only be used outdoors and must be hooked up to a hose
Better for larger dogs only
Pricing
How To Keep A Pet Water Fountain Clean
Now that you have a better idea of the kinds of fountains available, you might be wondering how to prevent slime in the fountain. Cleaning instructions vary by make and model, but this video should give you a good idea of the maintenance involved and how to change the filter. It usually consists of disassembling it and washing all the parts with a sponge or brush and warm soapy water (in addition to changing the filter, see below.) Be sure to clean your water fountain regularly to keep it from getting moldy.
Don't Forget The Filters
While technically, you can use these water fountains without a filter, it's best to take advantage of having the water as clean as possible for your pup. Each dog water fountain's filters are unique to the product, so we added replacement filters in the pricing section for each fountain we review.
What Else Can Dogs Drink?
Maybe your dog needs a little variety in his beverages too? We share some alternative drinks for dogs. Also, learn more about dog water bottles for drinking on the go. And it might be a good time to upgrade your dog food bowl too.
What are your dog's drinking habits?