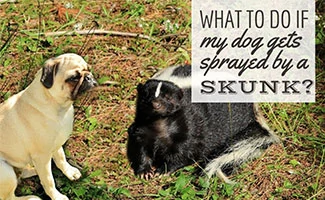 Skunk odor stinks! Plus, it can last 2-3 weeks if left untreated. The longer you wait to wash it off, the harder it will be to eliminate the odor. It may sound like a daunting task, but getting rid of skunk smell on dogs isn't as hard as you'd think.
What To Do If My Dog Is Sprayed By A Skunk?
The first thing you should do is keep your dog outside. Bringing your dog inside will introduce the skunk oil and smell into your home, which will increase your workload.
The next thing you'll want to do is remove the skunk smell from your dog. You may have heard that a tomato juice bath is the best solution, but really, it just masks the odor and doesn't completely eliminate it. The remedy below has been an instant success for many pet parents trying to get rid of the skunk smell on their dogs.
Personal Experience
Having had a German Shephard dog sprayed by a skunk twice in the same walk many years ago, I can tell you from experience that it's very unpleasant. I highly recommend that you take steps to remediate the smell as soon as possible after the spraying. – Neil G.
Best Home Remedy To De-Skunk Your Dog
The sooner you can clean the skunk oil off of your dog, the better the result since it won't have saturated your dog's coat as much.
Ingredients
Directions
Mix all of the ingredients into a bucket.
Work the foaming mixture well into your dog's coat.
Leave the mixture on your dog's coat for 5 minutes.
Rinse the mixture off with warm water.
Follow with bathing your dog with his dog shampoo if desired, but not required.
Extra Tips
Be careful applying this solution around your dog's eyes as it may burn.
Don't use higher than 3% hydrogen peroxide as it may burn your dog.
Mix the solution, use it and discard it. Storing the mixture in a closed container may cause it to explode.
Hydrogen peroxide may bleach your dog's coat some, so be sure to rinse it off after 5 minutes.
If your dog was sprayed directly in the face, rinse their eyes with cool water.
Shower yourself thoroughly after de-skunking your dog. The solution can also be used on people, so if you get any skunk oil on you, you can use the solution to eliminate the odor.
What If My House Smells Like Skunk?
It's important to try and eliminate the smell from your home as quickly as possible. Boil vinegar on the stove to help eliminate the skunk odor lingering in your home. Your home will smell like vinegar, but once it's gone, the skunk odor should be gone too.
Skunk Shampoo For Dogs
Does your dog have frequent skunk encounters? You may want to consider having this skunk odor remover from Nature's Miracle on hand.
You can purchase it in the original or lavender scent. It's guaranteed to work or your money back, and it can be used on pets, carpet, clothes and other contaminated surfaces.
Medical Concerns
Be sure to check your dog over for any injuries as well. If there is a bite or scratch on your dog, you'll want to visit the vet since skunks can carry rabies and other diseases. If your dog is foaming at the mouth, you'll want to get him to the vet as fast as possible.
Tagged With: