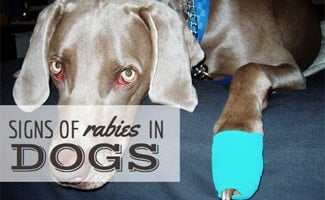 Is your dog foaming at the mouth and acting erratic? Hope not but as a kid that is how the symptoms of dog rabies was always described to me! So, what should we really watch for to keep our furry friends healthy and up to date on their vaccines? And do we need to watch out for infected animals that may be of danger to not only our pets, but us as well? Learn more about rabies and what you should do if your dog is bitten by an infected animal.
What Are Rabies?
Rabies is a fast-moving virus that must be treated sooner rather than later or your dog will die. The first stage of the virus usually lasts 1-3 days. The dog then moves to one of the two types of rabies (paralytic or furious) or both. Sadly, some dogs may die without ever displaying any symptoms.
Furious Rabies
Dogs with furious rabies experience extreme behavioral changes. Dogs become aggressive and attack easily.
Paralytic Rabies
Paralytic rabies is also referred to as "dumb rabies". Dogs suffering from this type experience weakness and loss of coordination and eventually paralysis.
How Do Dogs Get Rabies?
Rabies is secreted through saliva and can be passed to canines through a bite from an infected animal. Dogs can also be infected if they have a scratch or open wound that is exposed to contaminated saliva.
Rabies Symptoms In Dogs
Below are signs to look for.
Changes in attitude and behavior
Changes in bark
Dropped jaw
Excessive salivation
Extreme excitability
Fever
Hydrophobia
Paralysis
Pica (appetite for non-nutritious substances)
Seizures
Shyness or aggression
Unable to swallow
Uncoordinated
Signs Of Rabies In Dogs Infographic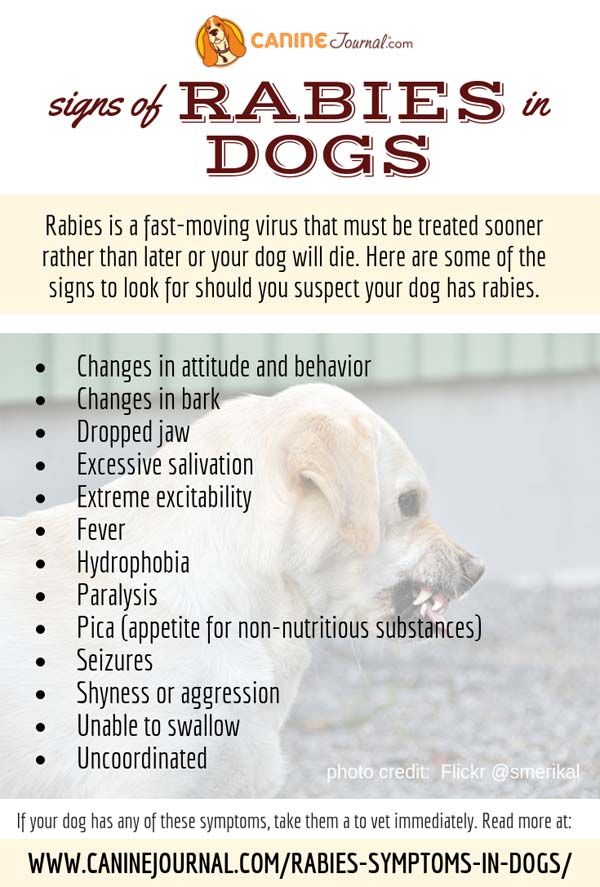 Rabies Vaccine For Dogs
The administration of rabies shots for dogs varies by state. Some states require the vaccine be given yearly while others call for it every 3 years. Be sure to check your states laws so you know the requirements for your canine. The vaccine will help prevent your dog from getting the virus so it's extremely important to stay on top of it.
What Does A Dog With Rabies Look Like?
Below is a video of what a dog with rabies looks like. Warning: Seeing a dog in this condition can be difficult so proceed with caution in watching this video.
If you believe your dog has come into contact with an animal with rabies you should take her to the veterinarian immediately. A professional can asses your dog's situation best and make sure she gets the care needed quickly.
Have you seen an animal with this virus? How did they act?