As much as we love them, dogs can be messy, especially around the water bowl. Does that puddle under and around your dog's bowl look familiar? Sick and tired of cleaning up water messes every time your pup takes a drink? You are not alone. This problem is something that breeds of every size can have. Some dogs are simply messy drinkers who gulp water down quickly and sloppily. Fortunately, there are water dishes made specifically for messy drinkers. The best no-spill dog water bowls can make a big difference in controlling that wet mess.
At A Glance Best No Spill Dog Water Bottle By Category
Pick The Right Spill-Proof Dog Water Bowl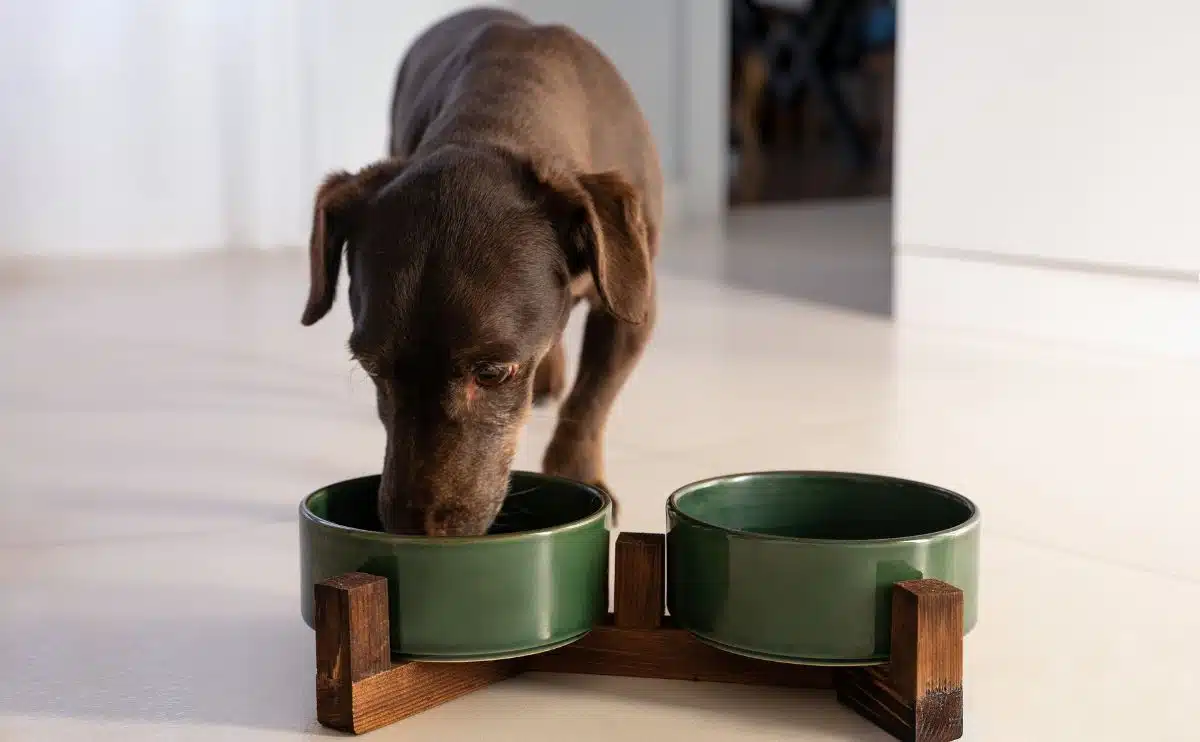 Not all spill-proof dog water bowls work the same because not all dogs spill the same way. Some dogs are tippers, some are splashers, some like to mess around in the water, and others tend to flip their water dishes over. Some dogs want to play and splash water everywhere, while others cannot seem to take a drink without slurping and sloshing all over. There are many different bowls designed to help spilling, as well as those designed not to flip over. However, not every bowl will work for every kind of messy drinker. Keep this in mind as you learn about and select products.
Additionally, some dogs like to make a mess with both their food and water, and there are bowls designed for each.
Things to Consider In A No-Spill Dog Water Bowl
What kind of sloppy drinker do you have? Does your dog put her paw in, splash liquid out, or consistently flip the entire thing over? Do you have a large breed that seems to splash everywhere, no matter what you try? Or do you have a much smaller fur baby who makes a mess because she can't reach the liquid? The first step to picking the best no-spill dog water dish for your pup is to identify the problem.
Best No Spill Dog Water Bowls
Here are a few different kinds to choose from by category.
Best Spill Proof Dog Water Bowl: Slopper Stopper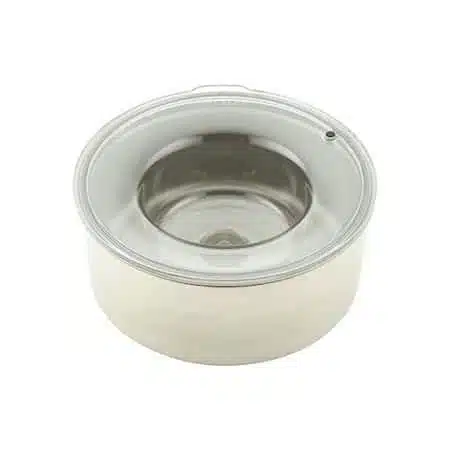 This is a stainless steel dish explicitly designed to stop messy drinking. The Slopper Stopper Dripless bowl was designed specifically to help contain the mess from pet slurping. The patented design helped eliminate messes by over 85% and works to reduce accidental slips and falls from slippery trails, puddles, and damage to your floor. This unique design helps keep a pet's face, beard, and paws dry when drinking. Using a pressure plug, dogs can only get enough to drink, not splash about and make a mess. Finding a truly spill-proof dish is hard, but this one comes close. It comes in several different sizes so that it can be used for small, medium, large, and even mammoth breeds. This is a stainless-steel dish with a durable Triton CoPolyester lid. Depending on the size of your pup, pick bowls that can hold a considerable amount.
| Pros | Cons |
| --- | --- |
| Stainless steel dish made from food-grade metal | Higher price |
| Myltiple sizes | Lid is confusing for some |
| Prevents spills and splashing | Some pets may learn to outsmart it |
| Lid design keeps the face, snout, ears, beard, and feet dry | Stops spills but not slobbering |
| Slows drinking pace | |
| Also works for food | |
| Durable | |
| Made in the USA | |
Pricing
Best Water Bowls For Messy Dogs: Coldest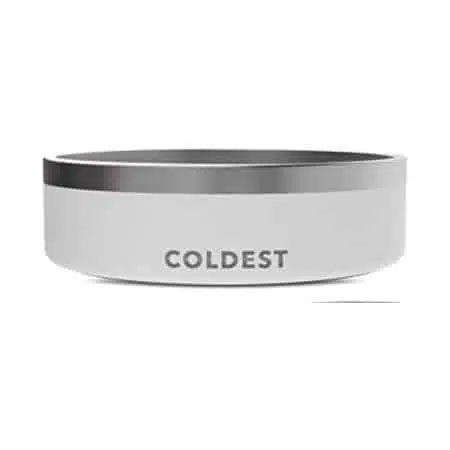 For pets who are messy drinkers and those who like to tip them over, finding a bowl that can prevent that splash and wet mess is important. For those pups, the Coldest stainless-steel option might be a good choice. This stainless-steel option is insulated, nonslip, and designed to be spill-proof. Keeps contents cool and fresh. Comes in four different sizes and several colors. This is triple-insulated and has a smooth finish making it easier to clean. It is made from food-grade stainless steel. Includes a premium. Proprietary bottom grip to prevent spills and damage to the floor. It also makes it very hard to tip over. Of course, no bowl is 100% untippable, as many dogs are very clever.
| Pros | Cons |
| --- | --- |
| Food-grade stainless steel | Not totally untippable |
| Triple insulated | Can develop condensation |
| Innovative proprietary Coldest premium durable bottom grip | It may be small for larger breeds |
| A smooth finish prevents scratching and stays clean | Some owners report rust |
| Multiple sizes | |
| Keeps liquid cold | |
Pricing
Splash Proof Dog Water Bowls: Upsky No Slip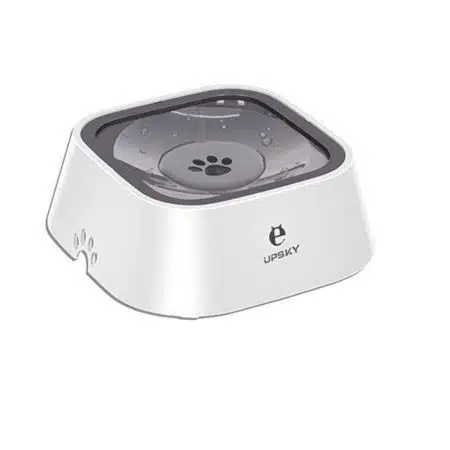 Spill-proof bowls come in a couple of different styles. Some like this one from Upsky. This is a top seller, highly rated by thousands of pet owners. It has a 35-ounce capacity. It features a floating disk and waterproof edge strip. The floating disk adjusts automatically and slows down your pup's drinking speed. The floating disk also creates a no-drip effect, meaning less wet stuff clings to your pet's hair, or can be splashed. One thing to know is that playful pups might find this fun and try to repeatedly push down the floating disk to get out more liquid.
| Pros | Cons |
| --- | --- |
| No-slip design | Not effective for all dogs |
| 35-oz capacity | It may not work for high energy pup |
| Dual design | Not always effective with larger breeds |
| Floating disk slows down drinking, prevents spills | |
| No drip | |
| Keeps liquid clean | |
| Easy to assemble | |
Pricing
Untippable Water Bowls: AG-Unicorn Ceramic Weighted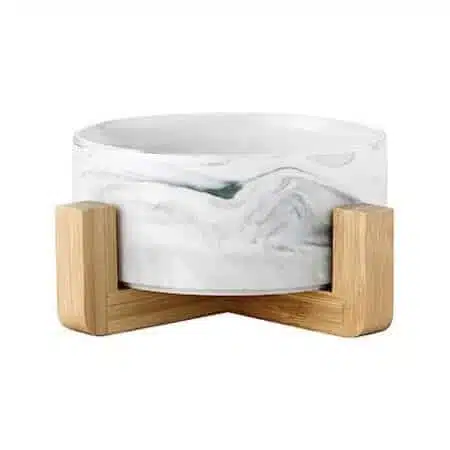 These heavy-duty weighted pet bowls are made from weighted ceramic and have a bamboo stand. Stand prevents the dish from sliding, and it is heavy, making tipping over difficult. Uses nontoxic and lead-free materials. The marbled ceramic design is pretty and looks good in any kitchen. Ceramic dishes are dishwasher-safe. Raised height is easier to reach and soft on the cervical spine. The round pad helps the bowl stand level on an uneven surface.
| Pros | Cons |
| --- | --- |
| Heavy weighted | Some dogs may be able to spill/tip |
| Smooth ceramic | It is not 100% non-tippable |
| Marble texture | |
| Hard to tip over | |
| Pleasant aesthetic | |
| Easy to assemble | |
Pricing
No Spill Water Bowl For Crate: Ray Allen Buddy Bowl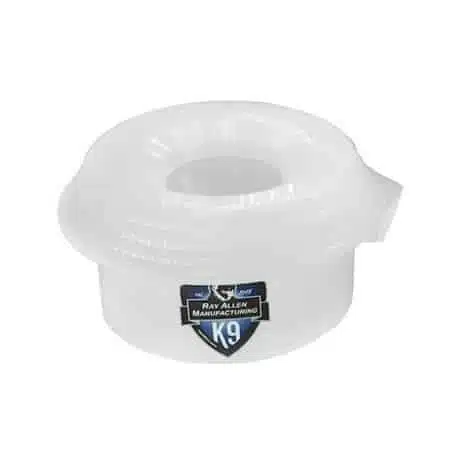 Many owners need a watering dish with less chance of spilling to avoid messes inside the crate. There are a few different ways to go about this, and some owners prefer options that attach to the side of the crate. Though this approach sometimes prevents pets from tipping things over, there are often spills and messes. Most of the options we mentioned here could work well in a crate. The Ray Allen Buddy Bowl is a spill and splash-proof, uniquely designed option that works well in your pet's crate. This product is made in the United States and is designed not to spill, even when flipped upside down. He works to slow down how fast a dog can drink. This one works very well in kennels, and for travel.
| Pros | Cons |
| --- | --- |
| Made from FDA #1 non-toxic polyethylene | It can be hard to open |
| Perfect for kennel | Some owners may have trouble opening at first |
| Spill proof, even upside down | A dog's beard can get wet |
| Discourages paws and noses dipping in | |
| Sturdy and stable | |
| Reduces dripping | |
| 3-part design | |
Pricing
Spill Proof Water Bowl For Large Dogs: LIDLOCK Stainless Feeder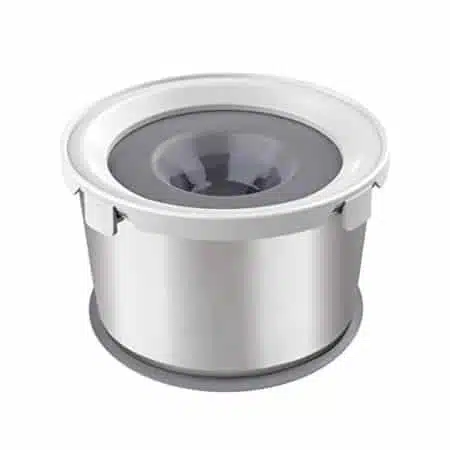 Larger breeds are known for being messy at the water dish, and thankfully there are several options made just for those giant breeds we love. LIDLOK 1.1-gallon slow feeder bowl is made just for the big breeds. It can also work for multi-pet homes. Has a self-adjusting floating cover. The floating disk keeps dust, hair, and debris out. It works to keep liquid flowing but without the mess. It comes with a mat to prevent sliding.
| Pros | Cons |
| --- | --- |
| Made for larger breeds | Does not work for every dog. Some owners still report a mess |
| Detachable parts for easy cleaning and refills | It does not reduce slobber |
| Very sturdy | Some dogs can learn how to remove the plastic disk |
| Dishwasher safe | |
| Allows plenty of water to drink, without big gulps or splashing | |
Pricing
Best No Spill Water Bowls For Travel: Road Refresher by Prestige Pets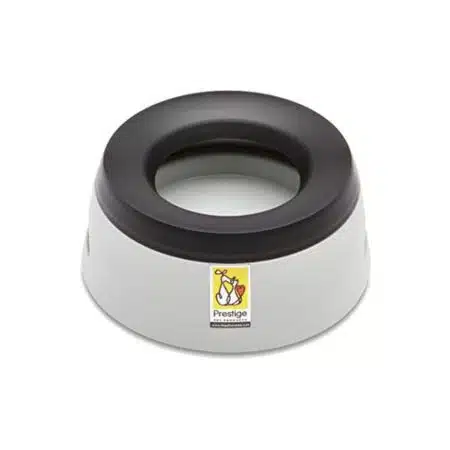 The Road Refresher by Prestige Pets is a top pick for travel as well as for home. Its highly-rated design helps slow down drinking and stop splashing. BPA-free and dishwasher-safe. It helps keep fast gulpers from choking and getting a wet mess everywhere. It has Velcro fasteners to keep it in place as a travel bowl. Features a no-skid base and comes in three sizes. A floating disk stays close to the base, keeping close control of the amount of liquid that gets through. It continuously flows, but pets cannot splash or play. Dishwasher safe on the top rack.
| Pros | Cons |
| --- | --- |
| Protects from dust, dirt, and debris | Some reviews report it is tricky to clean |
| Floating disk design | The lid is hard to remove for some making it tricky to refill |
| BPA-free, heat-resistant polypropylene | Larger breeds may need frequent refills |
| Velcro fasteners | Some do not like the tight fit of the floating disk |
| Smooth, rounded edges | |
| Reduces dripping | |
| Less leaking | |
Pricing
Best No Spill Dog Bowl For Car: Kurgo Portable No Spill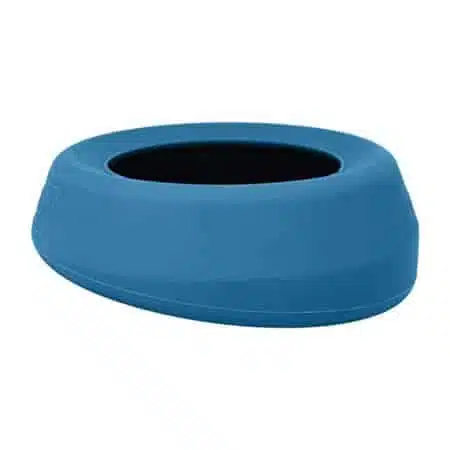 Kurgo is another top pick for a no-spill travel dish. This product has a unique wedge design that sits flat on the car seat—made from food-grade silicone with tapered lips to prevent splashing. PVC and BPA free. Safe for the top rack of the dishwasher. Stands up to temperature changes and the elements. This is an excellent pick for a travel bowl, specifically for the car or truck. It does not spill even when going over rough terrain—also an excellent pick for disabled dogs or those with limited mobility. The wedge shape is very easy to access, and the rubber stays put, even on the car's hood.
| Pros | Cons |
| --- | --- |
| PVC and BPA free | Strong rubber smell when brand new |
| Unique wedge design | Wobbly on some surfaces |
| Great for car travel | Not all dogs like the slanted opening |
| Good in backseat | |
| Easy access opening | |
| No-spill design | |
Pricing
Ways To Discourage Messy Drinking
Dogs are messy drinkers because they do not have cheeks like ours that allow them to suck liquid in. Instead, canines must lap at the liquid with their tongues moving it into their mouths. This action causes splashing; some animals are more vigorous and messier than others.
One way to handle this is to provide the right drinking dish and a mat underneath to catch any mess. There is no way to make a dog drink less sloppily. Owners must work around that. Using non-spill and non-tip bowls, slow-feeding and drinking bowls, and keeping a mat under your pup's eating and drinking area are all ways to reduce the wet mess.
Have You Considered A Water Fountain?
Some dogs may do better with a water fountain. Fountains offer fresh, moving liquid and keep pets constantly supplied with crisp, clean hydration. For some pets, fountains may be a way to prevent playing or spilling. However, for others, this may encourage the behavior. Some fountains are built to be interactive, which is also a great option. Owners may want to consider water bottles, fountains, and automatic dispensers. Dog water bottles are perfect for on-the-go, daily walks, traveling, and sometimes, to help control the mess. If you happen to take your pup swimming we have some recommendations for dog floaties, and pup-sized life jackets.
Tagged With: Comparison, Hydration