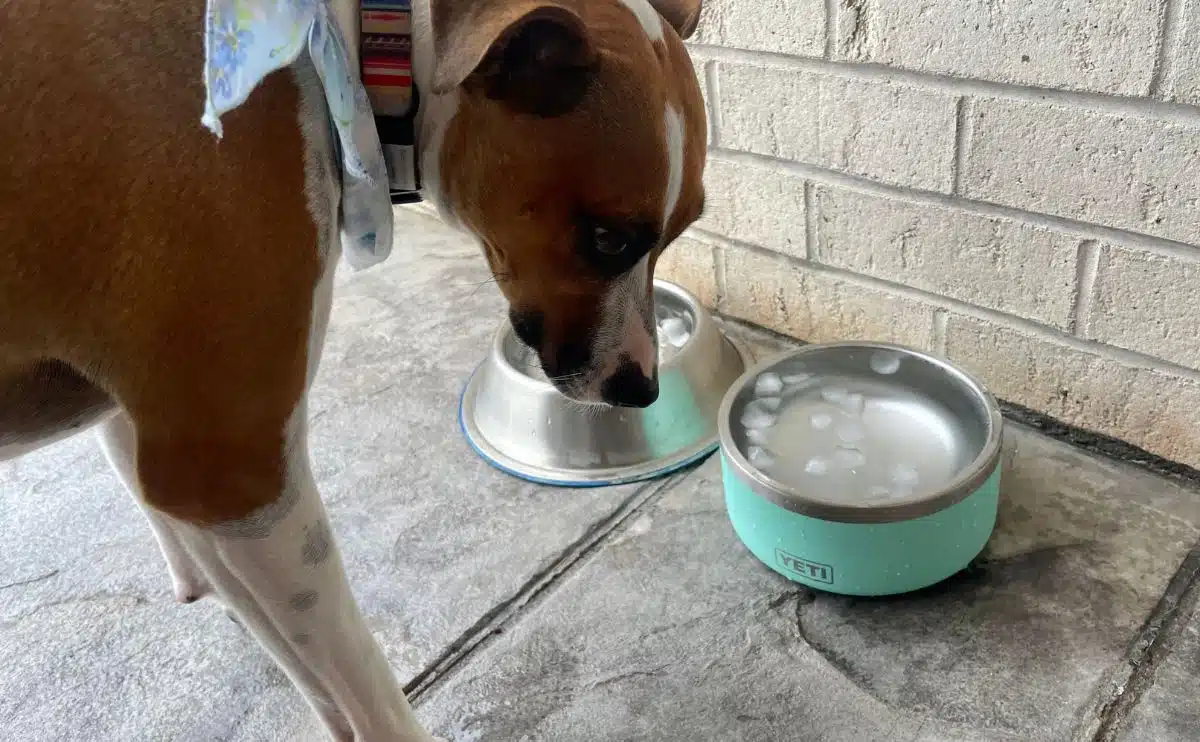 While a lot of focus gets put on what goes into a dog's bowl, the feeding dish itself can make a difference. One doggie dish that has gotten a lot of attention in the last few years is the Yeti Boomer dog bowl. The company is famous for its sturdy coolers, drinkware, bags, apparel, and other products. Unsurprisingly, these feeding bowls are popular, but are they worth the hype?
View on Amazon | View on Chewy
Yeti Dog Bowl Review
Summary
Yeti makes products designed to be tough and stand up to the rugged outdoors. The Yeti Boomer Dog Bowl is a top of the line, sturdy, and durable dog bowl made for both food and water. 
Pros
Very durable
Easy to clean
Keeps water fresh
Customizable
No-tip design
Double-walled and non-insulated
Highly reviewed
Two sizes
Multiple colors
Reliable company
Warranty
Cons
Expensive
Some owners say their bowls have rusted
Key Features
Stainless steel
Puncture, rust, and dent resistant
Dishwasher safe
Non-slip ring on the bottom
Non-insulated double walls
Compatible with dry and wet food
4 or 8-cup size
Seamless design
BPA free
Yeti Boomer Dog Bowl Review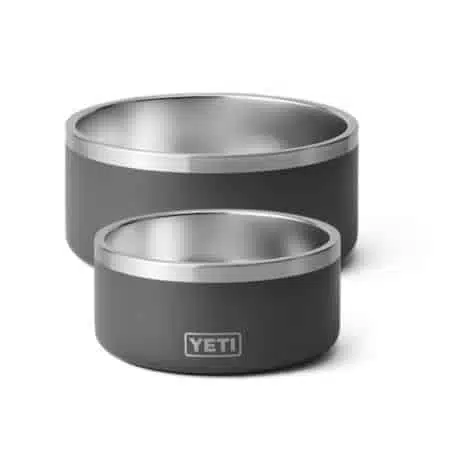 The Yeti Boomer is made from non-insulated stainless steel. These dishes are designed to be tough. They are puncture, dent, and rust-resistant. The design uses a double wall design, which makes these vessels feel super sturdy and durable in hand. The outside color is made to last and does not fade, chip, or crack. This is not surprising, as the company is known for its durability.
The Boomer bowl is heavy, designed to stop dogs from tipping it over, and has a Bearfoot non-slip ring on the bottom to prevent slipping and sliding. It is also smooth in texture, making it hard for pups who like to chew on their dishes. Bowls are dishwasher safe, making cleaning up very easy and convenient. It is BPA-free and uses a seamless design.
Owners can choose a 4 or 8-cup capacity. Bowls come in a selection of colors: steel, white, navy, Nordic blue, Nordic purple, river green, bikini pink, black, seafoam, charcoal, and orange. Not all colors are available for both sizes. They can be customized with your pup's name as well as an image from the available gallery. Owners can even add their own designs. Monograms are also available so owners can create a truly personalized feeding dish for their pup. Embellishments are an additional charge, though the company does offer sales and free customization as a special from time to time.
Our Personal Experience With Yeti Boomer Dog Bowl
"Our dogs have tried a lot of water bowls, and the Yeti Bowl is by far the easiest to clean, has never been accidentally spilled, and always looks brand new. The awesome color options are an added bonus – we really enjoy the color we have."

– Michelle Schenker, cofounder of Canine Journal and rescue dog parent
This bowl gets mainly positive feedback, but some owners say it does not keep the water cool. Our team tested it out and set out the Yeti, and another bowl, both 32 ounces, outside for 5 hours on a day when temperatures ranged from 80 to 86 degrees. On our test, the Yeti stayed about 5 degrees cooler.
Boomer Bowl measurements are:
4-cup capacity – weighs 1.2 pounds empty. External dimensions are 6.8″W x 3.1″H.
8–cup capacity – weighs 1.9 pounds empty. External dimensions are 8.0″W x 3.5″H.
Prices
The Yet Boomer Bowl has a price tag of $40.00 for the 4-cup capacity and $50.00 for the 8-cup. The Boomer Bowl comes with a five-year warranty when purchased directly from the brand website.
Images, designs, and text can be added for additional fees. These vary based on what owners pick. Monograms, for example, cost $6 per side. Designs start at $6, and custom designs have other fees. Customization is available only on the Yeti website, though the dish is available from other online retailers like Amazon and Chewy.
Yeti Dog Bowl Stand: Zpirates Review
It is often asked if there is a Yeti dog bowl stand. Yeti currently does not make a stand, though many other companies and makers have designed stands to fit the Boomer. This is a commonly asked-about item, as many pups need bowls that are up off the ground. When purchasing these products, pick ones that can fit your Boomer size. Look for adjustable stands, as these are often the best to get a good fit. This one, made from bamboo by ZPirates, is adjustable and highly rated. Whenever you pick a stand, look at the dimensions before purchasing.
Yeti's Boomer bowl is designed to be used on flat ground. According to reviews, it is quite difficult for even the biggest dogs to tip over. Putting it in a stand may change the functionality, so you may have some spillage.
Yeti Trailhead Dog Bed Review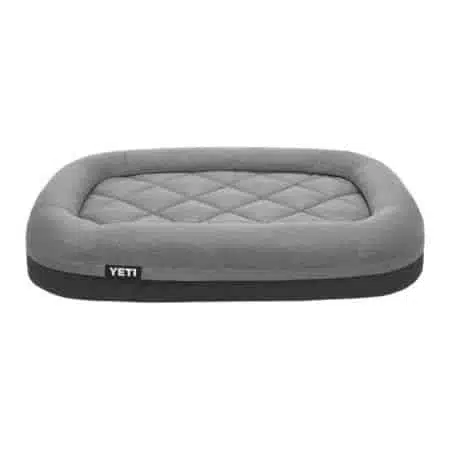 Yeti makes the Trailhead dog bed along with the highly popular Boomer bowl. The two-in-one bolster bed design features a home base and a removable travel pad. It also features a supportive and soft mattress bolster. It is made from high-density foam, along with lighter foam, to make it soft and cozy. The Trailhead bed has a waterproof bottom, perfect for use at home and when exploring the great outdoors. The EVA molded base is water-resistant. The Trailhead bed measures 39.4" inches in length and 29.1" inches in width.
This bed is machine washable. The cover unzips and comes right off. The bed comes with a three-year limited warranty. The bed costs Check Amazon for availability .
The Trailhead bed gets high reviews as a reliable, comfortable bed, though on the higher end regarding price. It only comes in one size, so it may not fit larger and giant breeds. The lack of size choices is the top issue customers have. However, even then, they love the bed.
About Yeti
The brand has been in business since 2006, when it started making coolers designed to stand up to an outdoor adventure. The company has since expanded and now sells many more products. The canine product line came about with a desire to provide pups with the same reliable, sturdy outdoor gear as they are our "most loyal adventure companions." While the product line is limited, both the beds and bowls are highly reviewed, and customers love them.
What's Our Final Verdict?
The Yeti Boomer bowl is a fantastic investment for your pup. Though higher in price than some, the quality, craftsmanship, and functionality exceed most others. The dish is designed to be sturdy and almost untippable, and this one meets the mark. Customers do not mind the higher prices, as it outlasts many other products. A fantastic pick for any pup, especially those that move and tip bowls over. It's almost impossible to chew on, so that is another problem this product eliminates. When it comes to pet-feeding dishes, Yeti is a top pick.
If you are not sure this is the right feeding vessel for your pup, there are many other options to consider. We cover many kinds, including no-spill water and food bowls, as well as water fountains and other food bowls. Some owners may need slow or maze feeders to deter dogs from gobbling their food down too fast.
Regardless of what doggie dish you pick, keep your dog's feeding spot in the same place so they know where to go at mealtimes. Consistent placement also keeps messes contained. Keep bowls away from other pets and try to feed them in different places. Keep cats away from the dog's dish, as they have different needs and should not be eating canine food.
Wondering What To Put In Your Pup's Bowl?
Once you pick the best dog bowl, deciding what to fill it with is the next hurdle. It's always wise to review what you are feeding your pup to ensure you pick the best thing for them. Keep in mind it may not be the same food for each dog, even in the same household. You should always pick food made for your pup's life stage and size. There are plenty of choices, from kibble, all-natural, wet food, human grade, holistic, raw, or even homemade. Always consult your veterinarian about specific concerns regarding your pet's nutrition, including adding supplements.
Tagged With: Hydration