We all know how much our dogs love chewing on everything, their bed included. Giving your pet a place to sleep is one important thing we all agree upon. The good news for those of you with super chewers is there are some excellent chew-proof dog beds available. Now your pet can chew to his heart's content without you having to replace his bed continually. Check out our reviews of the best chew-proof dog beds.
Best Chew-Proof Dog Beds
Below are our top picks and reviews of the dog beds that can't be chewed for your mouthy mutt.
Best Overall: The Original Elevated Pet Bed by Coolaroo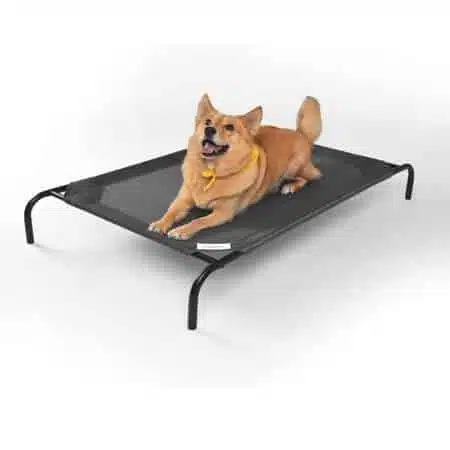 We love the strength and durability of the heavy-duty Original Elevated Pet Bed by Coolaroo. While it may not be the most comfortable chew-proof dog bed around, no stuffing dog beds certainly deserve the top spot on this list. It's built of high-quality materials, including a heavy-duty steel frame and legs. The Coolaroo bed promotes good airflow and proper weight distribution to keep excess pressure off your pet's joints.
It's also easy to assemble and clean. This dog bed is portable and lightweight, so you can even bring it on outdoor trips with your dog. Another bonus is that it's resistant to mites, fleas, mold, and mildew.
| Pros | Cons |
| --- | --- |
| Good airflow | Not very comfortable |
| Keeps dog healthy | Very basic |
| Less pressure on joints | |
| Durable | |
| Easy to wash and maintain | |
| Portable | |
| Indoor and outdoor use | |
Price & Tech Specs
Large: $35.64
Elevated design (7″ high)
Powder-coated steel frame
Polyethylene fabric
Available in several sizes and colors
Best Value: Petmaker Orthopedic Memory Foam Dog Bed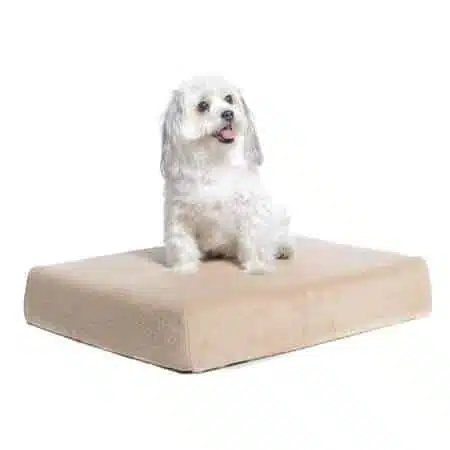 Orthopedic dog beds can be pricey due to the memory foam and extra support needed. However, Petmaker's Orthopedic Memory Foam Dog Bed hits the sweet spot on price without sacrificing durability and support for your dog's joint disorder.
It's built with comfort as the primary goal, without forgoing durability. Its cover is waterproof and machine washable, so cleaning it up is as easy as removing the cover and throwing it in the washer. Note: This dog bed is only for moderate to light chewers and not aggressive chewers, as it is mostly chew-resistant.
| Pros | Cons |
| --- | --- |
| Very comfortable | Not for aggressive chewers |
| Comes in multiple colors and sizes | |
| Easy to clean | |
| Waterproof, machine-washable cover | |
Price & Tech Specs
Orthopedic memory foam layer
3 sizes available
Best Budget Pick: Amazon Basics Elevated Cooling Pet Bed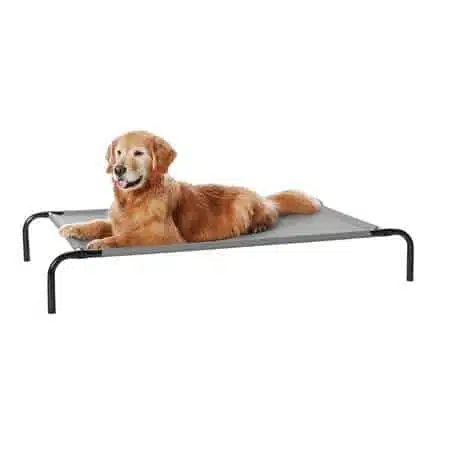 If you're looking for a basic best anti chew dog bed that your dog cannot chew through, this bed is a good option. The Amazon Basics Elevated Cooling Pet Bed is one of the most affordable heavy-duty chew-proof dog beds you can get. It keeps your dog properly elevated at just seven inches off the ground. It's also made of the best materials with excellent construction.
This best-budget dog bed is easy to clean and a breeze to set up. You can bring this around with you easily, as it's lightweight and neatly folds. Your dog will be hard-pressed to find anything to chew on with this dog bed.
| Pros | Cons |
| --- | --- |
| Foldable and portable | May not be ideal for heavy dogs |
| Affordable | Not very comfortable |
| Lightweight | |
| Promotes good airflow | |
| Keeps excess pressure off joints | |
| Easy to assemble | |
| Indoor and outdoor use | |
Price & Tech Specs
Large: $33.25
Elevated mesh platform
Metal frame
Rounded corners
Sturdy feet
7-inch elevation
Comes in 5 sizes
More Chew-Proof Dog Beds To Consider
If the top chew-proof dog beds above don't fit what you're searching for, consider one of the unchewable dog beds below. We think they're still great options for you to consider if your dog's chewing is a problem.
Veehoo Elevated Dog Bed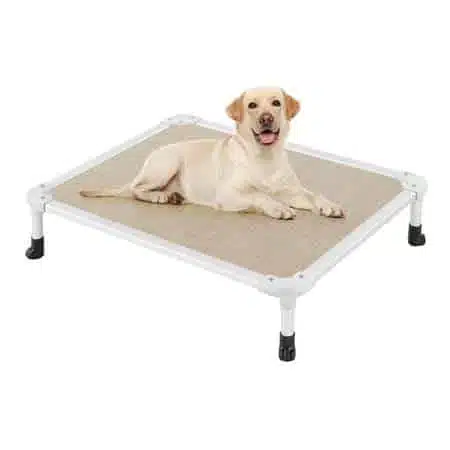 Another great elevated dog bed is this Veehoo chew-proof dog bed. It's made of high-quality materials that will last for years, including a durable Textline fabric that is breathable, waterproof, heat resistant, and UV-stabilized. The frame uses strong powder-coated steel tubing and securely snaps into place, making it easy to assemble. The feet have a non-skid cover, and the bed itself is portable, lightweight, and easy to clean and maintain.
It's available in four sizes and has a weight capacity of up to 150 pounds for the biggest size. If your dog's an aggressive chewer, big and heavy, you need to make sure to get a bed that can hold him or her. Otherwise, it might collapse under that weight and cause unwanted injuries. This Veehoo Elevated Dog Bed is perfect for big breed owners.
| Pros | Cons |
| --- | --- |
| Good for aggressive chewers | Not very comfortable |
| Lightweight | |
| Easy to assemble | |
| Waterproof | |
| Easy to clean and maintain | |
| Up to 150 pounds | |
Price & Tech Specs
Large: $69.99
Durable Textline fabric
Powder-coated steel frame
Non-skid rubber feet
4 sizes available
K9 Ballistics Tough Rectangle Nesting Dog Bed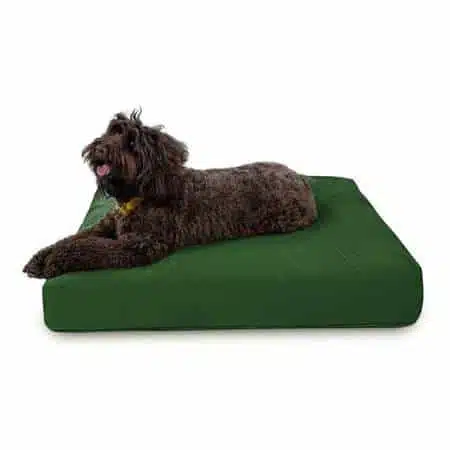 The K9 Ballistics Rectangle Nesting Dog Bed lives up to its claims of being one of the best dog chew-resistant beds. It's heavy-duty and made for dogs who abuse their beds. Using shredded virgin CertiPUR-USA foam, this bed is designed to withstand any chewing. It's also carefully formulated with the proper blend to support dogs who like to dig or scratch before lying down.
It also provides excellent support and weight distribution so your pup can remain comfortable for hours. This bed can support light to massive dogs and could help your dog sleep through the night.
It's resistant to hair, dirt, and moisture. This bed is also waterproof, with a lining that prevents moisture from leaking into the mattress. It's also easy to spot clean with a damp cloth or water hose or throw the entire thing in the washing machine. K9 Ballistics offers a 120-day chew-resistant guarantee.
| Pros | Cons |
| --- | --- |
| Comfortable | Expensive |
| Equal weight distribution | |
| Proper support for your dog | |
| Durable | |
Price & Tech Specs
Shredded virgin CertiPUR-USA foam
Waterproof cover
120-day chew-proof warranty
3 Types Of Durable Dog Beds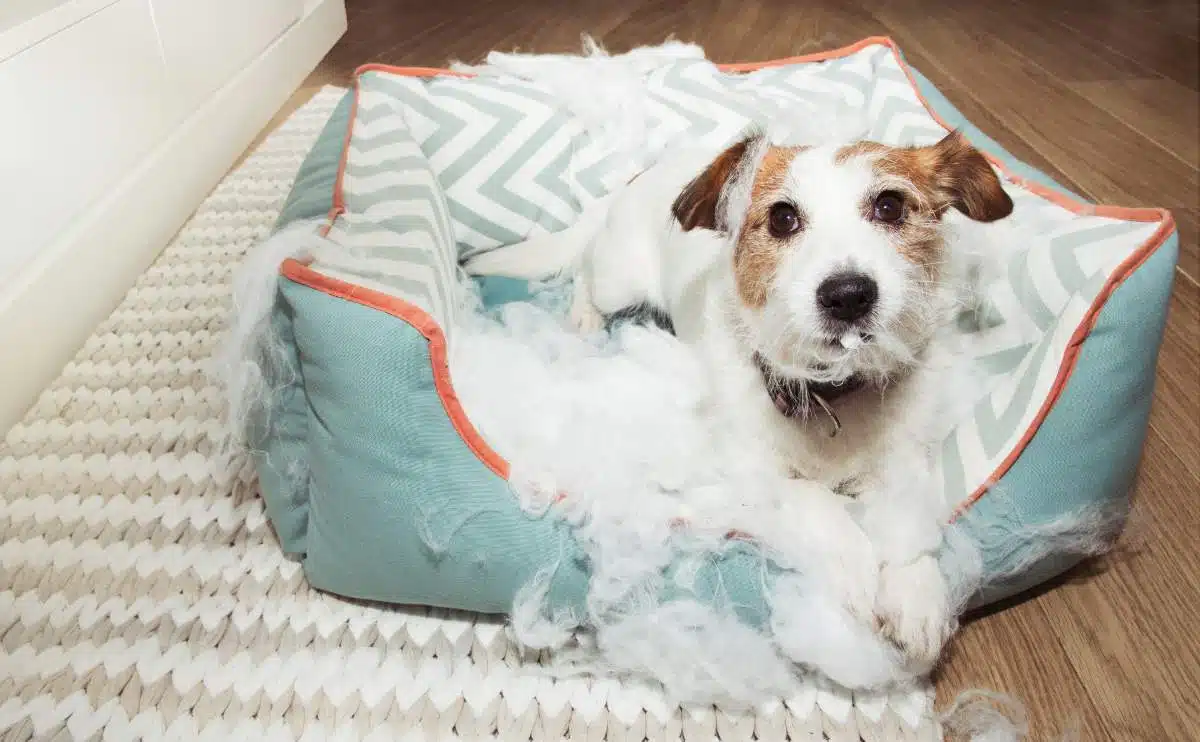 Chew-Proof Dog Beds
A chew-proof dog bed is the most durable type of dog bed. They're designed for aggressive chewers and are sturdy and "indestructible" (although some master chewers can destroy any bed). These types of beds are typically made of metal frames and heavy-duty lining to keep chew-obsessed dogs from destroying their beds. The only downside is that they're not very comfortable for your pup.
Elevated Beds
If you prefer to keep your dog off the floor, a raised dog bed is the right type for you. It uses a leveled, thin, and comfortable platform that has reinforced edges. It provides your furry friend with adequate ventilation while still discouraging them from biting on the edges. These elevated beds are usually the most indestructible dog beds because of their design.
Chew-Resistant Dog Beds
Chew-resistant dog beds aren't as strong as chew-proof dog beds, but they're designed with comfort in mind, containing enough stuffing for your pup. They still use specific materials to discourage destructive chewing, such as finished seams, hidden edges, and more durable fabric.
Does Your Dog Need A Chew-Proof Or Chew-Resistant Bed?
It's essential to consider your dog or puppy's needs when choosing a bed. Puppies love chewing, but this is a behavior that can be trained. Standard dog beds are usually enough for most dogs.
However, if you have a stubborn dog that's an aggressive chewer and training isn't working, buying a chew-proof or chew-resistant dog bed may be the best choice for you. Overweight dogs also need more durable beds, as the stuffing usually compresses when they lie down on it. This will wear out and deflate a standard dog bed faster.
Chewing Level Of Your Dog
Aggressive chewers will benefit from beds that have metal or other hard frames. Raised beds are great for this, mainly because the bed is just a piece of heavy-duty fabric or mesh, which cannot be chewed because it's securely attached to the metal edges. The legs are also usually made of the same rigid material.
If your dog is a moderate chewer, then a bed that's made of a more durable material like ballistic nylon or canvas is more appropriate. It's strong enough to withstand moderate chewing but is still more comfortable than heavy-duty beds. For passive chewers, any standard dog bed will do. Design, comfort, and price will be your only essential considerations.
The Trainability Of Your Dog
Let's face it: chewing is expected in all canines, especially in puppies. Most dogs can be trained out of bad chewing behavior. You must first address the chewing behavior and make genuine attempts to train your dog to stop him before giving up and entirely relying on chew-proof beds.
This is better and more affordable for you in the long run. Moreover, training out this behavior will also prevent your dog from chewing other furniture around your house. This will undoubtedly save you a ton of money.
A good tip is to ensure that your dog is well-exercised and that you give him toys to play with. A lot of dogs chew out of boredom or curiosity. Redirecting their attention to a more appropriate chewing toy can help keep them from destroying their bed.
It's also essential for you to train your puppy to not chew his bed. Otherwise, he might grow up with this habit. It will be more challenging to correct this behavior when he's an adult. However, if you have genuinely tried everything to train your pup and failed, then an indestructible dog bed may be the only answer to your problem.
What To Consider When Choosing A Durable Dog Bed?
Dog beds come with various features, and finding the best one that fits your pet's needs is vital in making the right choice.
Construction & Design
Durability and build are the most important considerations for choosing your best dog bed. The best dog bed you can get is a mattress with double stitching at its seams. This gives improved durability and ensures it won't easily come apart.
Consider the thickness and type of foam or stuffing of the bed too. Some are made of a thin or flimsy material that quickly decompresses. For raised pet beds, consider the joints' construction, design, and material. This can be a weak point with this type of bed — it can be dangerous for your pet if it gives way while he's on top of his bed.
The Material Of The Bed
The following are the three most common materials used for the sleeping panel or covering of dog beds.
Ballistic nylon – This is the best material for a chew-proof dog bed. Dogs don't like chewing on nylon due to its slippery surface. Even those that are okay with chewing nylon beds will find this material tough to destroy.
Canvas – Like ballistic nylon, most dogs don't like chewing on canvas. Though this isn't as tough as the former, it's usually durable enough that your dog will be unlikely to chew on this material.
Denim – Imagine chewing on your jeans. It doesn't seem very pleasant. Denim is well-known for being a very durable cloth material. Unless your dog has gotten used to chewing on denim toys or your jeans, he most likely won't chew on a denim bed. This is the weakest material among these three, but it's still more durable than standard cloth.
Size
Some dog beds come in multiple sizes, while others only come in a standard size. Dogs, on the other hand, can range in size from very small to extra big. It's vital to get a bed that suits the size of your dog. Measure the length of their body from the tip of their nose to the end of their tail. This should give you a good idea of the size of the bed to look for. Your dog's weight should also be a consideration.
This will affect your bed choice in two ways. First, you will have to consider the bed's weight capacity if you have a heavy dog. Second, you have to see if it will provide your overweight dog enough support when lying down so that no unnecessary pressure is placed on his joints, as this can lead to chronic pain or joint conditions.
Maintenance & Ease Of Cleaning
We know how messy and dirty our beloved dog can get. It's typical for dogs to go straight to their bed just after playing outside in the dirt. Moreover, senior dogs who have severe incontinence can accidentally pee or poop on their bed, even if they're trained not to do so. Puppies also have very limited bladder control the younger they are.
It's also common for a dog bed made of a material that can absorb odors to end up smelling like a stinky dog. You need to consider how easy it is to clean your dog's bed. Having a waterproof or water-resistant cover is a great bonus, as it doesn't require as much regular cleaning, and it will not absorb any liquid or moisture.
The other advantage of this feature is that it makes it easy to spot-clean certain areas without cleaning the entire bed. Consider whether it's machine washable as well so that you can just throw it in the washing machine every time it gets dirty and air dry it under the sun.
Style
You must get a bed that best suits the needs of your pet. Each dog sleeps a particular way, with some curling up into a ball and others sprawling out. You should observe how your dog prefers to spend his time on his bed. Check what position(s) he chooses for sleeping.
For example, a raised bed may not be suitable for your pup if he tends to roll around a lot during his sleep or sprawl out in a way that he might fall off. Some dogs may get hot quickly, especially those with long and thick fur, so a pet bed with thick padding may not keep them cool enough. Consider what will work best for your dog. After all, you wouldn't want to spend money on a bed that he refuses to use because it's uncomfortable.
Cost & Budget
The strongest and best dog beds come at a higher price. This will depend on your budget and how willing you are to spend several hundred bucks for your pup's mattress. Set a ceiling for your budget and try to figure out if your ideal bed fits this. If it doesn't, look for the next cheaper alternative. Paying a little higher for a chew-proof or chew-resistant dog bed that offers a one-year warranty or more is also a wise idea.
Frequently Asked Questions
Here are some additional questions you might be wondering about.
Why Do Dogs Destroy Their Beds?
There are a number of reasons that dogs chew their beds (or any object). Borden and stress are typically two of the most likely causes for dogs to chew on things. Especially when you're gone if they suffer from separation anxiety. Chewing is a way to put their mind at ease.
How To Make A Dog Stop Chewing Its Bed
To get them to stop chewing their bed, you must first address the underlying cause of the stress and anxiety. Try replacing the bed with one of the options above. Also, be sure to leave out chew-proof dog toys and give them other dog-approved things to chew on instead like bones or a Kong filled with peanut butter.
Need Tough Toys For Your Super Chewer?
Does your dog destroy most of his toys within minutes? You can stop wasting a ton of money on regular toys by investing in toys that are designed for aggressive chewers. See our picks for six of the best indestructible dog toys. Or to keep your pup supplied with new tough toys on a regular basis, you may want to consider a monthly subscription box for heavy chewers.
Tagged With: Comparison, Sleep