To sustain this free service, we receive affiliate commissions via some of our links. This doesn't affect rankings. Our review process.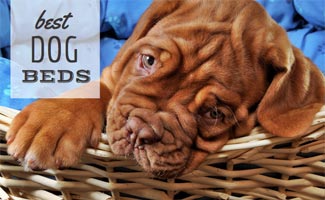 Finding decent dog beds is no easy task. Dogs, just like their owners, have different needs when it comes to a comfortable place to catch their zzz's. The most obvious consideration is the right size, but you also should factor in their personality, agility, health issues and available space in your house.
We've narrowed down the options into different categories to make it easier for you to find just what you're looking for, and we give you some of our best dog bed recommendations based on our dog bed reviews research.
Article Overview
Why Invest In A Dog Bed?
Even dog owners need their space. If your bed is your alone (or couple) time, it's important to invest in a dog bed so your pup doesn't get too cozy and accustomed to sharing yours every night. In fact, a Mayo Clinic sleep study found that a large number of pet owners who suffer from sleep problems have their pets sleep in their bed every night. Learn more about the pros and cons of allowing your dog to sleep in your bed.
How To Keep It Clean And Last Longer
To keep your dog's bed clean and free from hair and allergy-creating dander, you might also want to add a PawSheets dog bed cover for easy machine washing. Make sure you order the correct size to match the dimensions of the dog bed you order.
Best Standard Dog Beds
Here we review the best dog bed types based on a variety of factors: breed, coat type and temperature sensitivity.
Best For Small & Medium Breeds
If you own a smaller or medium-sized breed, you have a wide variety of dog bed selections since they are more compact. Be sure to keep the bed in proportion with your dog's size.
Buying a bed that's too large for your dog can leave him or her feeling insecure, so look for a bed that's just large enough for your dog to stretch out. Smaller dogs are also much more likely to get chilly, so it's important to find a bed that keeps drafts to a minimum.
Nest or donut dog beds are a popular choice for small and medium-sized breeds. Typically they're round or oval with lots of cushioning and raised sides to help your small pup feel contained and comfortable. Pay attention to the quality of the filling material to ensure protection from hard surfaces. Our dogs love the Furhaven Donut Dog Bed and that is why it's our pick.

Editor's Choice: Furhaven Donut Dog Bed on Amazon
Best For Large & Extra Large Breeds
It's harder to find more of a variety and better quality dog beds for larger breeds than for smaller dogs. Most of the good ones are thick and made of memory foam to give your dog plenty of cushioning against the hard floor.
Extremely large dogs can cause the foam to flatten out over time, so you may need to buy a replacement at some point. Or consider choosing a crib mattress with spring coils to provide greater support over a longer period of time.
Editor's Choice: Overstuffed Orthopedic Foam Bed on Amazon
Best For Hairless Or Cold-Natured Dogs
Is your dog always shivering? A concern for owners of hairless dogs or smaller breeds is their dog's desire to stay warm. Simple padded beds just don't cut it.
Consider a bed that allows for burrowing like the Cozy Cave, which gets excellent customer reviews. Nesting beds and slumber beds are also a good option for these dogs because dogs can sink in to the softer filling material of the bed. Some dogs love the feeling of "burying" themselves and feel more secure in these beds.
Editor's Choice: Snoozer Cozy Cave Bed on Amazon
Best For Dogs With Long Or Thick Fur
Thick haired or long-haired dogs have an unfortunate tendency to overheat, and beds that emphasize "snuggling" only add to the amount of heat trapped by your dog while they are sleeping. If your dog tends to overheat while they sleep, the best bed choice for you would be a cot style bed.
A cot bed usually features a mesh material for the dog to lay on in addition to legs that elevate the bed off the ground. These two features allow for plenty of air circulation around your dog as they sleep.
These beds are also great for older dogs with incontinence issues because of the ease of cleaning. We recommend the Coolaroo for its excellent durability and excellent customer reviews. And it also makes a great outdoor dog bed!
Editor's Choice: Coolaroo Elevated Pet Bed on Amazon
Best Beds For Specific Needs Or Concerns
Depending upon the individual needs of your dog, you may be looking for a bed that meets certain criteria rather than a bed that falls in to a specific category. Below we will take a look at beds that suit various situations.
Best For Dog Odor
If you have an especially smelly dog or just hate dog odor in your house, a cedar filled bed could be just what you need. These beds are particularly odorous and can significantly cut down the dog odor in your house — and your dog's own body odor, particularly for pups with the instinct to disguise their scent.
These dogs will often roll around on their beds so they smell like cedar. Cedar-filled beds aren't as comfortable as cotton-filled ones and don't offer as much padding. Further, some dog allergies don't gel well with cedar filled beds. Otherwise, they're a great way to keep your home odor free.
Editor's Choice: Dallas Manufacturing Co. Weatherproof Bed on Amazon
Most Environmentally-Friendly Dog Bed (Recycled Materials)
With increasing levels of eco-awareness, some dog owners are interested in purchasing only earth-friendly products. There are many dog beds available that are made from recyclable materials.
For instance, the P.L.A.Y. Pet Lifestyle bed is manufactured from recycled plastic bottles. These bed options are often more expensive than other options; however, they are usually built for durability and contribute towards an eco-friendly lifestyle.
Editor's Choice: P.L.A.Y. Eco-Friendly Bed on Amazon
Best For Dogs With Anxiety
For some anxious dogs, burrowing beds like the Cozy Cave (see above) are an excellent option. However, other dogs that suffer from anxiety may be afraid of the darkness or the concept of being hidden or covered.
Another good option for anxious dogs is a nest bed or bolster dog bed that features raised sides without the covering over the top. Bolster beds are generally more expensive than simple padded beds because most are better made and filled with more durable stuffing.
Bolster beds also tend to be bulkier than other types of dog beds, so you need to make sure you have space at home. We think your dog will love the additional support and feeling of having their own "couch."
Editor's Choice: PetFusion Ultimate Dog Bed on Amazon
Our Firsthand Experience
Kimberly, a writer for Canine Journal, has the large size bed for her 60-pound hound mix, Sally. Sally loves lounging on this bed. Sometimes she is all sprawled out on it, and other times she is curled up in a tiny ball.
Best For Elderly, Arthritis Or Joint Pain
Elderly dogs and dogs that have arthritis and other joint concerns need supportive beds. This means that their beds should be thick and provide plenty of push back rather than simply sinking or relocating filling when the dog lies on the bed.
The most popular choice is the orthopedic memory foam bed, which conforms to your dog's shape but provides support for aching joints. If your dog is elderly and more prone to bladder leakage, look for a waterproof orthopedic bed or a waterproof cover.
Memory foam holds in odor, so keep this in mind when searching for an orthopedic bed for your elderly pup.
Editor's Choice: Go Pet Club Orthopedic Bed on Amazon
Best For Dogs With Allergies
Finding beds for allergy-prone dogs can be tricky, and the answer will depend upon what your dog is allergic to. It is always best to avoid beds that contain fillers like cedar since they can cause skin irritation. A good alternative is a hypoallergenic dog bed cover, like Teton Dog's DIY Cover.
The cover itself is made of 100% waterproof Nanopore fabric (no chemical waterproofing) and is a barrier against dirt, dust, mites and fleas. And there's no toxic, allergenic or cedar filling — you stuff the cover with whatever works best for your dog.
Editor's Choice: Design-It-Yourself Dog Bed Cover on Amazon
Best For Small Spaces
If you're striving for space in your home, chances are you have a small to medium-sized dog and need a compact dog bed. Corner beds are a great option to save space because they fit where most furniture items don't, making use of unused space.
Another option for smaller dogs is a dog bed that also serves as a crate and end table with a removable door.
Editor's Choice: Snoozer Corner Pet Bed on Amazon
Editor's Choice: DenHaus TownHaus Dog Crate on Amazon
Video: Dogs Love To Sleep
We're sure a lot of you dog owners out there will appreciate the following video of dogs refusing to get out of your bed (just like their humans sometimes).
Keep Your Dog's Comfort In Mind
There are plenty of options to choose from when it comes to picking the best dog bed for your pup. Whether you compare dog beds you can go for comfort and expense, comfort and affordability, or have special needs (like arthritis or orthopedic), there are so many varieties of dog beds on the market — the good news is you have options to ensure that your dog is happy and your wallet isn't completely empty.
What kind of dog bed have you found that best satisfies your dog's needs?
We are a participant in the Amazon Services LLC Associates Program, an affiliate advertising program designed to provide a means for us to earn fees by linking to Amazon.com and affiliated sites.
Disclaimer: This website contains reviews, opinions and information regarding products and services manufactured or provided by third parties. We are not responsible in any way for such products and services, and nothing contained here should be construed as a guarantee of the functionality, utility, safety or reliability of any product or services reviewed or discussed. Please follow the directions provided by the manufacturer or service provider when using any product or service reviewed or discussed on this website.