Best By Size…

Large

Medium

Small
Your dog deserves a good night's sleep, especially as they get older and more susceptible to aches and pains. An orthopedic dog bed can help your dog sleep comfortably and wake up well-rested. Our recommendations will help you find the best based on your dog's size, sleeping habits, and other needs like waterproofing and cooling features.
Article Overview
What's An Orthopedic Dog Bed?
These specialty pet beds provide extra relief to dogs recovering from surgery or suffering from chronic conditions such as hip dysplasia, arthritis, or other joint, bone, or muscle disorders. The best orthopedic dog beds consist of memory foam, which conforms to your dog's entire body to provide soothing support for aching joints.
Best Orthopedic Dog Bed
We've separated our reviews into two sections to help you find our picks by size or by special features you want.
By Size: Large | Medium | Small
For Large Breeds: Big Barker Review
View Big Barker on Amazon
Big Barker is as durable as they come. The company specializes in well-crafted large (designed for 50lb+ pups) orthopedic dog beds that won't flatten from your dog's hefty weight.
This dog bed consists of 3 layers of thick, 7″ American-made therapeutic foam designed for optimal weight distribution and comfort. It promises to protect joints and the most painful pressure points. And Big Barker meets CertiPUR-US standards for safe content, emissions, and durability and offers a ten year "can't flatten, won't flatten" warranty.
Pros

Cons

Machine-washable cover is easy to remove
Open cell foam technology releases heat for comfort and joint support
Pillow top for head and neck support
Foam promises to retain 90% of original shape & loft
Specially designed for big dogs (50lbs+)
10-year money-back warranty
Made in the USA

Expensive
Lacks waterproofing
Big Barker Support Foam Explained
The graphic below shows the differences between the Big Barker foam and most typical dog bed fill. Its support provides comfort and prevents sinking.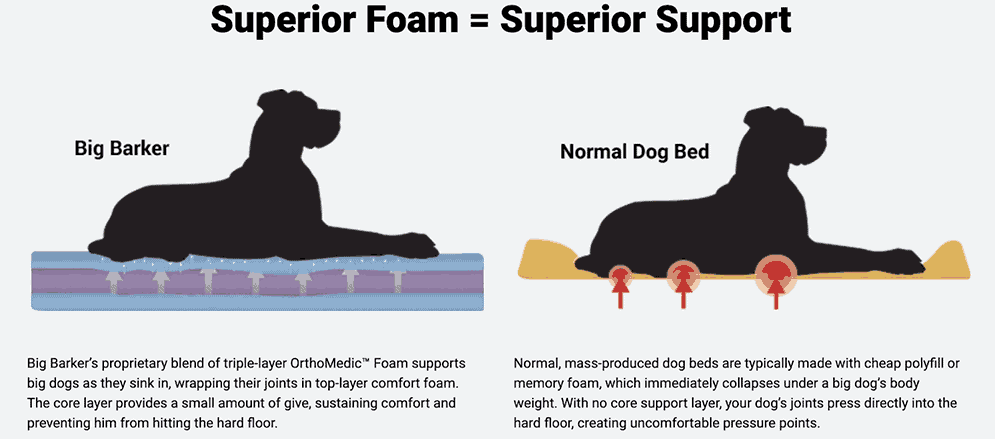 Pricing & Specs
Giant (60″ x 48″ x 7″): $399.95
Available in Large, X-Large, and Giant
Four colors: Burgundy, Chocolate, Charcoal Gray, and Khaki
If you buy this bed, you may also want this Big Barker waterproof cover to protect your investment
Best Medium Orthopedic Dog Bed
View Brindle on Amazon
The affordable Brindle 4″ solid orthopedic dog bed features 2″ of comfort memory foam and 2″ of high-density support foam to provide soft support to relieve achy joints, arthritis, and hip dysplasia.
This bed retains its shape while consistently conforming to your dog's weight and pressure. And it's waterproof, naturally hypoallergenic, and resistant to dust mites.
Pros

Cons

Competitively priced
Ideal construction of soft and supportive memory foam

100% waterproof encasement cover

Zippered velour cover is easily removable and machine washable

3-year warranty

Foam thickness not ideal for very large/giant breeds
Doesn't have cooling properties
Some complaints about the cover ripping
Pricing & Specs
Best Small Orthopedic Dog Bed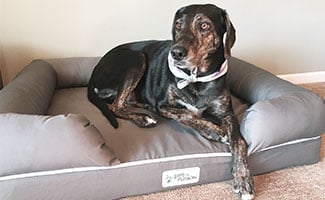 PetFusion's Ultimate Memory Foam Dog Bed is an ideal combination of affordability and solid orthopedic support for small to medium-sized dogs. The solid, certified, high-density memory foam and stuffed bolster provide comfort and relief from aching joints. And dogs can nestle their heads and legs under the bolster.
The bed is also available in larger sizes for bigger breeds. The cover is waterproof and easy to remove for the washing machine.
Personal Experience
Kimberly, a writer for Canine Journal, has the large bed for her 60-pound hound mix, Sally.
Sally loves lounging on this bed. Sometimes she is all sprawled out on it, and other times she is curled up in a tiny ball. It's one of her favorite places in the house.
Pros

Cons

Competitively priced
Made with high-density memory foam
Inner waterproof liner
Outer bolster for added support and nestling
Easily removable cover for pad and bolster is machine washable
1-year warranty

Padding not thick enough for larger, heavier dogs
Some complaints that the pad isn't firm enough and the bolster isn't tall enough
Pricing & Specs
Small (25″ x 20″ x 5.5″): $69.95
Available in Small, Large, and X-Large
Two colors: Chocolate and Slate Gray
If you buy this bed, you may also want this replacement cover, especially if your dog has a destructive nature
Top-Rated Orthopedic Dog Beds For Special Features
Below you'll find our reviews for other top-rated orthopedic dog beds based on properties you may consider must-haves for your pooch.
For Hip Dysplasia | With Bolsters | Waterproof | For Cooling
For Hip Dysplasia & Pain
View The Dog's Bed on Amazon
The Dog's Bed Premium Orthopedic Memory Foam Dog Bed consists of a 4″ base with 2" of premium-grade, high-density orthopedic memory foam to provide contouring support for older dogs with arthritis pain, muscle stiffness, hip dysplasia, arthritis, and aching joints.
This dog bed is a perfect solution for most dogs who like to stretch out and laze — and can easily convert to a great orthopedic dog crate pad.
Pros

Cons

Made with premium-grade memory foam that holds its thickness over time
Waterproof inner lining
Easily removable and machine washable outer and inner linings
Fabric is resistant to molds, mildews, and dust mites

May be too narrow for larger dogs
Some customer complaints about the inner waterproof lining not working or it being noisy
Pricing & Specs
Large (40″ x 25″ x 6″): Check Amazon for availability
Available in Small, Medium, Large, X-Large and XX-Large
Seven color combinations: Gray with black trim, Brown plush top, Gray plush top, Gray with blue trim, Gray with green trim, Gray with orange trim, Gray with pink trim
With Bolster
View BuddyRest on Amazon
The BuddyRest Crown Supreme Memory Foam dog bed is an excellent choice if your dog needs the added support of side and back bolsters. While expensive, this bed has a lot going for it. The memory foam is gel-infused to regulate your dog's temperature, and it holds its shape for years.
The Crypton performance fabric stays clean, repels odors, and doesn't need washing as often as many other covers. You get a 10-year warranty to boot.
Pros

Cons

Odor and stain-resistant fabric with removable cover
Gel-infused memory foam keeps dogs cool
10-year warranty
Handmade in the U.S.

Expensive
Doesn't have an inner waterproof liner
Pricing & Specs
Large (40″ x 30″ x 11″): $199.99
Available in Medium, Large and X-Large
Four colors: Champagne beige, Dark chocolate, Fathom gray
Waterproof
View KOPEKS on Amazon
The KOPEKS Orthopedic Memory Foam Dog Bed is made with high-end, mattress-quality materials that are easy on your dog's sore joints. This bed has two water-resistant zippered covers that are easy to remove and wash. And the soft, micro-suede cover is super comfy for your dog.
Pros

Cons

100% orthopedic-grade, hypoallergenic memory foam
Thick, waterproof inner lining
Pillow-top for head and neck support

Several complaints that the bed and pillow don't expand fully after unpackaging
Zipper tends to break easily for some customers
Pricing & Specs
Large (35″ x 28″ x 5.5″): $89.95
Available in Small, Large and Jumbo XLL
Two colors: Chocolate Brown, Gray
Cooling Orthopedic Dog Bed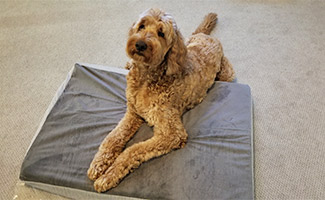 BarkBox is known for its dog subscription boxes, but it also has a memory foam platform bed. The mattress is excellent for orthopedic joint relief, has a waterproof lining and a machine-washable cover that's easily removable.
At 3 inches, the bed isn't as thick as others in this review, but it claims to help relieve body aches, joint pain, hip dysplasia, and arthritis. The bed comes vacuum packed in a box and inflates fully after 72 hours. One cool perk is that it comes with one of BarkBox's squeaker toys.
Personal Experience
Jeff, a writer for Canine Journal, received a BarkBox Memory Foam Bed in exchange for this review.
My Goldendoodle Gary is very happy with this bed. I've even found my 2-year-old human son sneaking in a nap on it! They could probably afford to have a larger size; the XL is almost too small for all 90 lbs of Gary, but he is a huge dog. They included an orange squeaker toy as a surprise, and he loves playing with it!
Pros

Cons

Machine-washable cover is easy to remove
Waterproof inner liner
Temperature-regulating gel memory foam
More affordable than many other beds
1-year warranty

Foam thickness not ideal for large breeds
Some beds don't fully inflate
Complaints of the liner not being waterproof
Pricing & Specs
Large (22″ x 35" x 3"): $38.99
Available in Small, Medium, Large and X-Large
Four colors: Blue, Grey, Sand, Espresso
Is It Time For An Orthopedic Pet Bed?
Check out the video below to learn how to spot the signs and symptoms of dog joint pain and arthritis.
More On Doggy Joint Pain
It's devastating as a pet owner to watch your dog deteriorate and suffer from arthritis or hip dysplasia. Getting an orthopedic dog bed is just one step you can take to give your pup the relief he deserves. Of course, be sure to see your vet if your pup is symptomatic. We also have a more in-depth review of dog beds and a comparison of elevated dog beds that are not necessarily orthopedic.
Which orthopedic dog beds would you give two paws up (or down)?