If your pup has separation anxiety or is just happier with a snuggly dog bed, you have a lot of choices for dog beds that can help soothe your pup to sleep or just hang out when he's feeling insecure. Our calming dog bed reviews give you some of the top-rated stress relief dog beds to help your pup feel safe and secure.
5 Factors To Consider When Shopping For Calming Dog Beds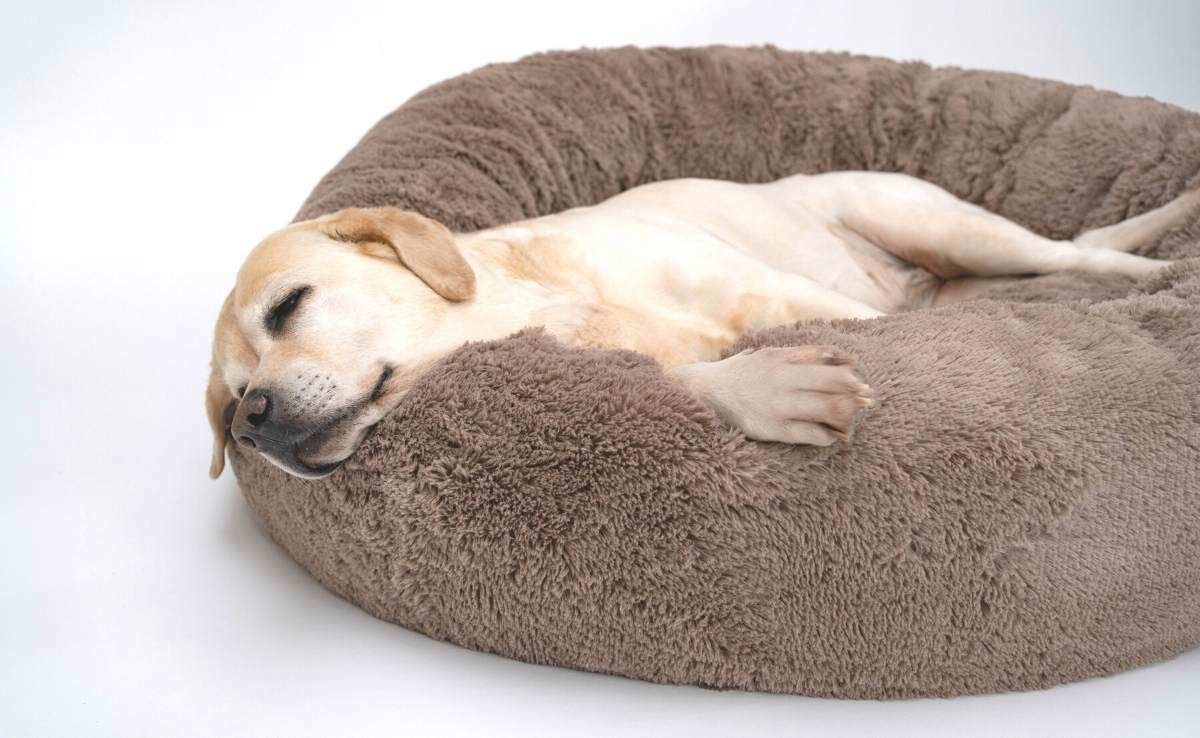 When shopping for a bed for restful sleep for your dog, there are several important factors to consider to ensure that you choose the right fit for your furry friend. Here are some key factors to keep in mind:
Size and Fit: Select a dog bed that is appropriately sized for your dog. It should be large enough for your dog to stretch out comfortably but not so large that they feel insecure. All the beds we recommend come in multiple sizes.
Material: Calming dog beds are made from high-quality, non-toxic, and hypoallergenic materials, such as memory foam, orthopedic foam, or plush fabrics. These materials provide support and comfort.
Design: Some calming dog beds are designed to mimic the feeling of being cuddled or swaddled, which can help reduce anxiety.
Washability: Most beds we picked have removable, machine washable covers or liners. Dogs can be messy, and it's essential to keep the bed clean and fresh.
Best Calming Dog Beds
On the surface, many calming dog beds look like the same donut-shaped product, but there are some differences in quality. We've dug into the features of each of the most popular anti-anxiety dog beds to find the ones that we think are the best for your needs.
Best Overall: Best Friends By Sheri The Original Calming Donut Dog Bed Review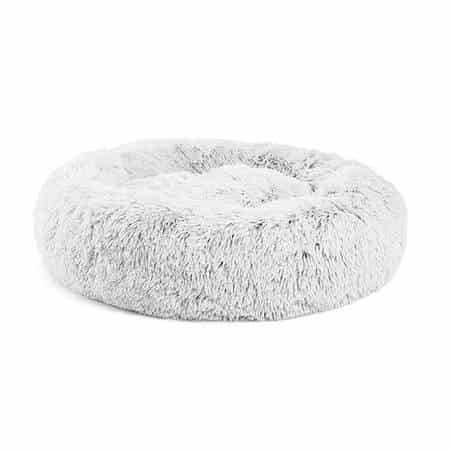 The Best Friends By Sheri bed is our overall pick for the best anti-anxiety dog bed who can benefit from a soothing dog bed. It has a round shape, a slightly raised rim, and is made from faux shag fur to give your dog a comfy place to burrow down and curl up. The specially designed AirLOFT fiber filling holds up over time, keeping the bed full and fluffy, even after washing. It's extremely popular, with overall excellent customer reviews.
Our Personal Experience With Best Friends By Sheri
"Our dogs adore this donut bed, especially our anxious 35-pound mixed-breed, Lily. It comforts her in a cocoon of cozy security, sending her right off to sleep."

– Michelle Schenker, rescue dog mom
| Pros | Cons |
| --- | --- |
| High-quality, durable, and comfortable materials | May not be ideal for very large or heavy dogs |
| Non-toxic materials (Consumer Product Safety Commission tested and certified) | Some complaints about it being too thin on the bottom |
| Small bed is machine-washable and larger beds have a removable machine washable cover | |
| Water and dirt-resistant bottom | |
| Comes in 4 sizes and 8 colors | |
| Matching blanket available | |
Price
Best For Small Dogs: SAVFOX Original Calming Bed Review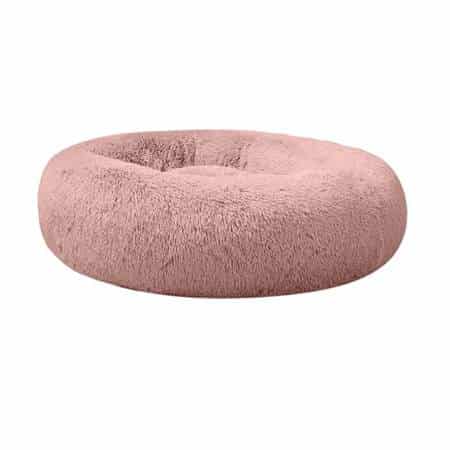 Many other anti-anxiety dog beds may be too large if you have a very small dog, but SAVFOX has an extra small size for dogs under 11 pounds. The design of the SAVFOX calming pet bed is similar to our best overall pick with a donut shape and raised rim. This self-warming bed is filled with premium quality virgin cotton and is made of faux plush fur and durable nylon.
| Pros | Cons |
| --- | --- |
| Excellent choice for very small breeds (as well as dogs up to 150 pounds) | Doesn't have a removable cover |
| Comfy plush material with quality cotton filler | Some complaints that it flattens out over time |
| Machine-washable | |
| Waterproof, dust-resistant, and anti-slip bottom | |
| Comes in 5 sizes and 5 colors | |
Price
Best For Large Dogs: PUPPBUDD Calming Dog Bed Review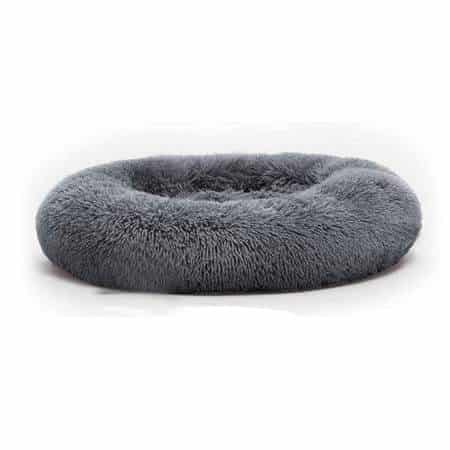 If you have a large dog and don't think the round, donut-shaped beds are ideal, this PUPPBUDD bed could fit the bill. This bed's oval shape is better for larger dogs who like to stretch out while sleeping. It also has a thicker middle than some other calming beds to help support heavier pups. And the raised rim helps with head and neck support. It's stuffed with eco-friendly cotton fiber, and the cover is soft faux fur.
| Pros | Cons |
| --- | --- |
| Oval shape is good for larger dogs | Doesn't have a removable cover |
| Eco-friendly cotton fiber filling | Some users say the sizes run small |
| Machine-washable (but the manufacturer recommends hand-washing) | |
| Waterproof and non-slip bottom | |
| Comes in 4 sizes and 7 colors | |
Price
Best For Burrowers: PetFusion Calming Cuddler Dog Bed Review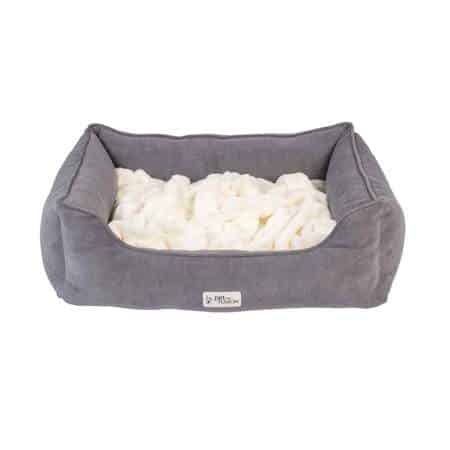 If your dog finds comfort by burrowing, this soothing pet bed could be a perfect choice. Unlike our other reviews, this PetFusion bed is rectangular rather than round. It has a loose, soft blanket that's attached to the bed, so your burrower won't fling it off. It's also a great place for your pup to hide toys and treats. The bed has a memory foam base for good support, and the materials are pet-safe.
"Our older dog Lily loves digging around to make the perfect nest and the memory foam helps her arthritic body. She starts snoring almost the second she is burrowed in."

– Michelle, Canine Journal
| Pros | Cons |
| --- | --- |
| Ideal for burrowers | No large sizes |
| Made with pet-safe materials | On the pricey side |
| Removable machine washable cover | Only comes in 1 color (gray) |
| Waterproof inner liner and tear-resistant cover | |
| Non-skid bottom | |
Price
Best Hooded: FurHaven Round Snuggery Pet Bed Review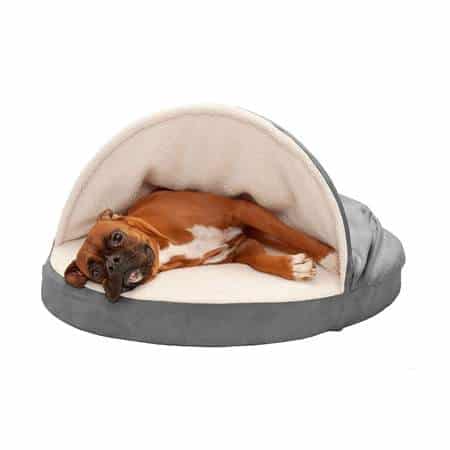 Some dogs prefer some type of cover to feel soothed. This round FurHaven cave bed has an attached hood/blanket that your dog can snuggle into. The bed has a thick three-inch memory foam base that contours to your dog's body and can help soothe joint pain. And it's lined with insulated sherpa for a cozy, warm sleeping environment. You can add the plastic tubing to convert the blanket into a hood if that's a better option for your pup.
Our Personal Experience With FurHaven Snuggery
"As soon as it's dark outside, Barley is ready for lights out. This bed offers all the cover he needs to keep him warm and hide his eyes from inside lights, allowing him to sleep in complete comfort until sunrise."

– Michelle Schenker, rescue dog mom
| Pros | Cons |
| --- | --- |
| Blanket hood design helps provide a soothing space | Some complaints that the tubing is flimsy and doesn't stay in place well |
| CertiPUR-US memory foam made in the USA | Some users say the beds run small |
| Thick, wooly lining for warmth | |
| Machine-washable removable cover | |
| Comes in 4 sizes and 11 colors | |
Price
How Do Calming Beds Help With Anxiety And Stress?
See this segment from the Hallmark Channel that discusses the benefits of calming dog beds and features our best overall pick, Best Friends By Sheri.
Should I Consider CBD To Help My Anxious Pup?
Instead of putting their pups on medication, many pet parents are turning to all-natural cannabidiol (better known as CBD) pet products to help ease their dog's anxiety. Learn more about CBD for pets in our reviews of the best CBD oils for dogs. We also review the best CBD dog treats.
Do You Need Another Type Of Dog Bed?
All anxious dogs deserve multiple sleeping places, whether he's feeling scared or just needs for restful sleep. We have multiple articles on the best types of dog beds for whatever you're looking for. See our reviews of the best dog beds for various needs and preferences, the best orthopedic dog beds, and the best raised dog beds to see if these products are a good fit for your pup.
Tagged With: Comparison, Sleep