To sustain this free service, we receive affiliate commissions via some of our links. This doesn't affect rankings. Our review process.
Have you heard about the latest all-natural remedy to help your dog with anxiety, chronic pain and other health issues? An increasing number of pet parents are turning to Cannabidiol (better known as CBD oil) in an effort to improve their dogs' lives.
Some dogs, however, turn their snouts up if you try to apply CBD oil on their tongue or mix it in with their food. CBD dog treats and other edibles can be a good alternative — as long as you find high-quality products.
*Always consult your veterinarian before you give your pets any supplements or medications.
Article Overview
What Is CBD?
CBD is extracted from the flowers and buds of cannabis (marijuana or hemp plants). CBD, however, doesn't produce the "high" associated with marijuana because it doesn't contain the chemical tetrahydrocannabinol (THC).
For further clarification, hemp and marijuana both come from the cannabis plant but contain different levels of THC. Marijuana can contain as much as 30% THC, while hemp has a max of only 0.3% THC. So, while marijuana-derived CBD oil is still illegal in most states, the hemp-derived oil is legal in all 50 U.S. states.
Human use of CBD oil is growing in popularity, but are CBD oil, treats and other edibles safe for dogs?
Many vets recommend CBD products for dogs, even as veterinary scientific research into this new remedy is in its infancy. Studies in humans, however, show that cannabinoids have anti-inflammatory effects and can help with anxiety, aggression, pain, seizures, muscle spasms and neurological disorders.
If you're wondering about the safety of cannabis for dogs, be sure to read our in-depth article that discusses 8 things you need to know about marijuana and dogs.
Note: CBD products for pets and humans are not currently regulated by the FDA.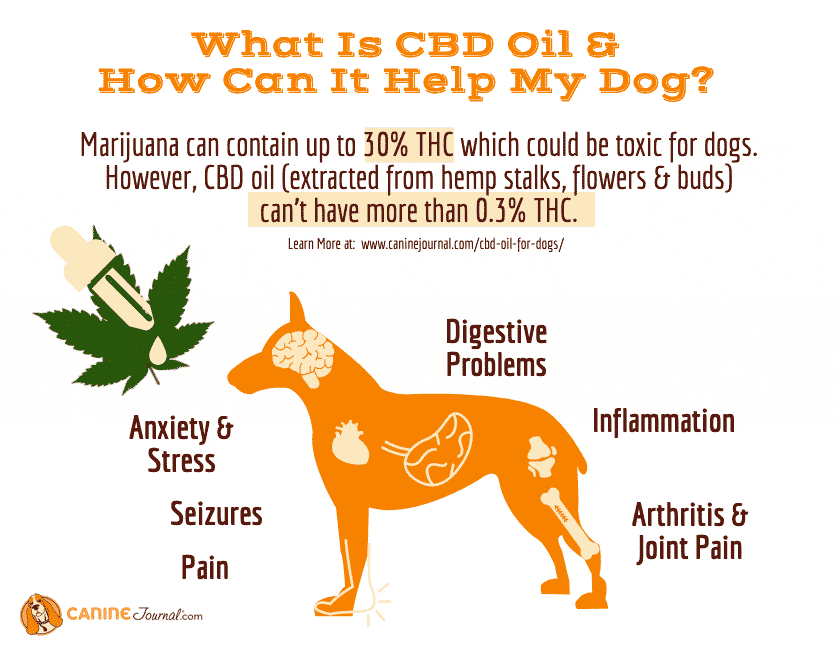 To share this infographic on your site, simply copy and paste the code below:
How Can CBD Help My Dog?
Like humans, dogs and cats have an endocannabinoid system that allows them to benefit from CBD oil. This system allows the active ingredients in hemp to help relieve many symptoms.
CBD dog treats and oils can ease several conditions your pup may suffer from either occasionally or chronically, including:
Anxiety and stress
Moderate to severe pain
Chronic inflammation
Arthritis
Joint pain
Seizures
Digestion problems
Learn More About The Benefits Of CBD Oil For Dogs
CBD Oils vs CBD Treats: Is There A Difference?
So, you're probably wondering if treats or oils are more effective for your dog. In general, CBD oil is a better delivery system. In humans, research has shown that the most effective way for the body to absorb CBD oil is by placing it under your tongue. This hasn't yet been proven in dogs, but some experts assume it's similar for dogs.
For dogs who aren't fans of oils, CBD treats (the canine alternative to CBD gummies) can be a great alternative. They come in a variety of flavors (bacon, heck yeah!) that dogs will love, and dosing guidelines can be easier to follow than with CBD oils.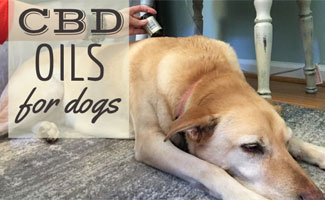 Some people believe that the baking process can potentially decrease the efficacy of the CBD in the treats, but based on our research, we've found many customers who use CBD dog treats and swear by the benefits they've seen in their dogs.
Ultimately, it's important to go with a company that produces only the highest quality of CBD and ingredients that they include in their treats. Learn more about how to find high-quality CBD oils and companies. We've found these companies for you to help you choose the best CBD treats for dogs.
About CBD Dosages
There are no regulated dosage recommendations for CBD for dogs — or even humans — at this point. What's more, there aren't even any generally accepted guidelines about how much CBD for dogs is effective for certain conditions, even taking weight into consideration. So you'll notice that each company can differ significantly in the amount of CBD in each treat and the number of treats they recommended.
Expert's Take On CBD Dosage For Dogs
Dr. Erin Chu, a veterinary geneticist at Embark Veterinary, studied veterinary medicine and weighs in on how much CBD you should give your dog.
Not all CBD treats are created equal. Like many over-the-counter supplements, the actual quantity, and quality, of the active ingredient may vary widely not just across brands but also across batches. As of now, regulation of CBD pet treats is not clear-cut. Do your own research as well before you choose a brand–try to find one that states its quality control and assurance measures. Even better, find one that veterinarians recommend!
The consensus, however, is to play it safe and start with a very low dosage (3mg or lower). Stick with this regimen for a week or longer to see if you notice a difference in your dog. If he's not showing improvements, then you can up the dosage — as long as your vet gives it a nod. Keep in mind that your dog's weight is a major factor in how much of any supplement you should give. Learn more in our CBD Dosage Guide.
Best CBD Treats
All of the companies we review here extract their CBD from hemp plants using the gold-standard CO2 extraction process, which helps ensure that there are no pesticides or solvents in their CBD.
HempMy Pet Organic Dog Biscuits Review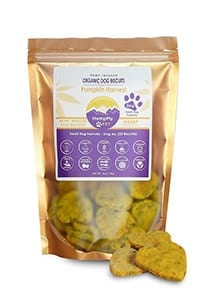 #1
HempMy Pet's organic biscuits are ideal if you want all-natural ingredients. And if you're just starting out with CBD for dogs (or you have a small dog), HempMy Pet's 2mg-strength dog biscuits could be a great way to introduce CBD into your dog's system. They also offer a 5mg-strength biscuit for larger dogs.
It's clear that HempMy Pet is committed to quality. They make their biscuits with human-grade and organic ingredients in small batches to maintain quality standards. They're also gluten-free, GMO-free and cruelty-free. All of their products contain less than 0.3% THC. And the company also contributes to animal rescues and sanctuaries.
Recommended servings (they don't specify how many to give each day):
1 biscuit (2mg) per 10 lbs of body weight
1 biscuit (5mg) per 50 lbs of body weight
Pros

Cons

Biscuits made with organic, gluten-free, pesticide-free and cruelty-free ingredients
Available in 2mg and 5mg strengths
Third-party tested (results included with every product)
They grow their own organic, non-GMO hemp
Made in the USA

5mg bag is expensive for only 15 biscuits
Only 2 flavors
They only offer refunds for unopened products returned within 30 days
Price
You can subscribe for monthly deliveries and save 10%. Free shipping on all orders.
$25/bag for 2mg, 25-ct. Pumpkin Harvest Biscuits
$32/bag for 5mg, 15-ct. Pumpkin Harvest Biscuits
Coupon
Get
20% off your order at HempMy Pet
with coupon code
CanineJournal20
. Just
click here
to get started!
Read Our In-Depth HempMy Pet Review
King Kalm Crunch CBD Treats Review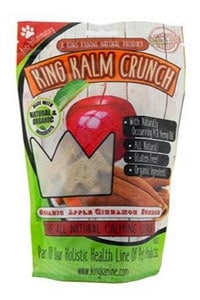 #2
King Kanine is a top manufacturer of CBD products exclusively made for pets. In addition to oils, they offer 3 flavors of King Kalm Crunch CBD treats. These cookies are formulated with naturally-derived cannabidiol and other organic ingredients, like honey, apples and turmeric.
If the baking process concerns you, this company bakes their cookies slowly at a low temperature and then dehydrates them to maintain the nutritional value. They're also gluten-free and rich in vitamins and Omega-3s. Each cookie contains 0% THC and 3-4mg of King Kalm CBD.
Per the treat bag, King Kanine says that one cookie is equivalent to 3 ml of 150mg CBD oil. So, according to its dosage chart, King Kanine recommends a 75 lb dog be given 1 a treat per day for health and immunity support as well as for mild anxiety, nausea or vomiting and pain from injury, surgery, hip dysplasia, etc. The same weight dog can have up to 2 treats per day for severe pain, cancers and epilepsy. The dosage for your dog will depend on its size and the severity of the condition being treated or managed (dosage info is included on the back of the treat bag and it is per day).
Personal Experience
We tried the Blueberry version of this product (3-4mg each) and the 150 mg CBD oil for free in exchange for an unbiased review. Our dog has advanced hip and back arthritis. While she loved the fish oil mixed with the CBD oil, she is an even bigger fan of the treats! It's also not as messy (my fingers smelled of fish oil after each dose of the oil) and a lot more fun to give a treat than to try to squirt a vial of oil into my dog's mouth!

We would recommend this product to anyone who wants to ease their dog's arthritis pain or anxiety and have an easy, and obviously tasty, way to deliver the "medicine!" With 30+ treats in a bag and each treat containing about 3 mg of CBD, a bag of treats is comparable to nearly 100 mg of oil. This makes a $35 bag of treats a good option for your dog and your wallet compared to a bottle of 75 mg CBD for $40 or 100mg for $60! – Michelle, co-owner of Canine Journal
Pros

Cons

Treats are cooked at a low heat to maintain quality
All-natural, organic and gluten-free ingredients
Every product is fully tested by a Certified ISO-17025 Lab (results on website)
CBD is derived from non-GMO and organic hemp
Made in the USA
30-day money back guarantee (full refund or exchange)

Expensive compared to other treats we review here
Only available in 3mg CBD strength
Price
$34.99/bag for ~30 treats
Free shipping over $100
Organic Apple Cinnamon, Blueberry & Honey Oats
Coupon
Our readers have access to an exclusive
10% off at King Kanine
offer just by using
this link
.
Read Our In-Depth King Kanine Review
Honest Paws CBD Treats Review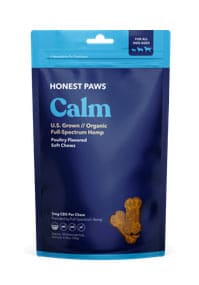 #3
Honest Paws has several dog CBD treats that include full-spectrum CBD oil, organic ingredients and 0% TCH. Their reasonably priced treats only come in a 5mg potency, which could be a good option if you've been giving your dog lower potency treats without seeing much effect (so, they could be a better bang for your buck).
They maintain strict formulation practices for the highest quality with all of their products, so we think they're trustworthy. And you can see their testing results for every batch on their website.
Recommended serving:
Under 25 lbs: 1 treat daily
26-50 lbs: 2 treats daily
Over 50 lbs: 3 treats daily
Pros

Cons

Treats include organic, non-GMO and soy-free ingredients
Independent lab tested (results for each batch available on website)
CBD derived from organic hemp grown in Colorado
Made in the USA
30-day money back guarantee (full refund or exchange)

Only available in 5mg strength
Lab results say they don't test for pesticides (many others do)
Price
You can subscribe for monthly deliveries and save 15%.
Coupon
Free Shipping on orders more than $40 at Honest Paws with code SAVE20
. Use
this link
to take advantage of this discount code.
Read Our In-Depth Honest Paws Review
Other CBD Dog Treat Reviews
Hempure CBD Pet Chews | MediPets
Hempure CBD Pet Chews Review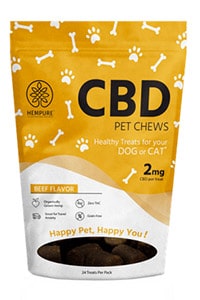 Unlike our top 3 picks, Hempure doesn't solely focus on CBD products for pets. They only offer one CBD oil and one CBD treat for pets in the form of 2mg-strength pet chews. They're a good option for introducing CBD to your pets or if you have a small dog but not ideal for larger dogs.
Their pet chews are good for dogs or cats, and they guarantee that their formulas contain 0% THC. While the CBD they use in their treats is derived from organic, non-GMO hemp, their grain-free, beef-flavored pet chews aren't all-natural and many ingredients aren't organic.
Pros

Cons

All products fully-tested by a certified ISO/IEC 17025:2005 lab (results listed on their site)
CBD is derived from organic hemp grown in Colorado
Made in USA

Doesn't specialize in pet CBD products
Chews don't contain entirely all-natural ingredients
Only one flavor and one strength
They only offer refunds for unopened products
Price & Ingredients
Hempure only offers 2mg-strength, beef-flavored chews.
$26.00/bag for 24 chews
$54.99/bag for 48 chews
Free shipping over $25
Coupon
Our readers can save
15% off all Blue Label Hempure CBD Products
with code
BLUE15.
Use
this link
to take advantage of this offer.
MediPets CBD Treats Review
MediPets by Diamond CBD has the a large variety of dog and cat CBD treats compared to other companies. You can find your dog's favorite flavors (bacon, yum), and their treats also vary in CBD strength, ranging from 3mg to 5.5mg.
Your purchase from MediPets also contributes to their partner, Saving Sage Animal Rescue Foundation, a nonprofit and volunteer-run animal rescue organization in South Florida. Saving Sage dedicates time to the most urgent, abused and neglected animals to keep them out of shelters.
So why isn't MediPets in our top 3? Their parent company, Diamond CBD, has had a lot of turnover, continually changing its team and brand look. We've tried contacting them directly, and they've gone radio silent. This causes concern in our minds: if this is how they conduct business, how do they treat their customers?
Recommended servings:
1 to 3 treats every 12 hours
Pros

Cons

Wide variety of flavors and CBD strengths
Treats for dogs and cats
All products tested by an independent lab (results listed on their site)
CBD derived from organic hemp
Made in the USA

Treat ingredients aren't all-natural
They only offer refunds for unopened products returned within 15 days
Price
MediPets sells 15 varieties of dog treats and 1 for cats. Quantities vary by bottle, but most contain an average of 25 treats.
$39.99 each
Free shipping over $100
Coupon
Get 30% off your MediPetsCBD
order with the coupon code
CBDEALS30
via this link
.
What Meds Are Safe For My Dog?
If you haven't tried CBD oils yet, we encourage you to check out our reviews of the best CBD oil for dogs (many of the companies are the same that we review here).
Not sold on hemp products to relieve your dog's pain or other health concerns? Some other natural options include essential oil therapy, acupuncture and massage. If you are seeking a more pharmaceutical route, read our companion articles to learn which pain meds are best for dogs and which OTC medications are safe for dogs.
Have you already tried giving your dog CBD oil? Did you notice any results?

Disclaimer: The information provided through this website should not be used for diagnosing or treating a health problem or a disease. It is not a substitute for professional care. If you have or suspect you may have a health problem, you should consult your health care provider.
Disclaimer: This website contains reviews, opinions and information regarding products and services manufactured or provided by third parties. We are not responsible in any way for such products and services, and nothing contained here should be construed as a guarantee of the functionality, utility, safety or reliability of any product or services reviewed or discussed. Please follow the directions provided by the manufacturer or service provider when using any product or service reviewed or discussed on this website.