To keep the lights on, we receive affiliate commissions via some of our links. Our review process.
Choosing the correct CBD dose for your dog can be pretty confusing. First of all, each company's dosing guidelines can vary widely because the concentration of CBD varies in the oils they produce.
The dosage can also differ depending on the condition you're trying to treat. For example, higher doses are typically recommended for more serious health conditions and lower doses for occasional anxiety or general well-being.
And of course, you have your dog's weight and underlying health issues to take into consideration.
With no standard guidelines or regulated doses, how do you know how much CBD oil to give your dog? Use our comprehensive dosage guide to know you're giving your dog the ideal amount of CBD oil. And, always check the packaging carefully to make sure you are giving the company's recommended amounts.
Don't let the confusion behind dosing deter you from the ultimate health benefits your dog can enjoy from this all-natural remedy.
Benefits Of CBD Oil For Dogs
Before diving into dosing guidelines, here are some of the health conditions that CBD claims to help treat in your dog.
Anxiety and stress
Moderate to severe pain
Chronic inflammation
Arthritis & joint pain
Nausea
Symptoms from cancer
Some dog owners report it also can help treat epileptic seizures, but scientific studies are still underway to confirm this benefit. We recommend talking to your vet before starting treatment for this or any other of the claimed benefits to make sure CBD is safe for your pup.
Learn More About The Benefits Of CBD Oil For Dogs
Tips About CBD Oil For Dogs
There are three major factors that influence the dosing of CBD for dogs (and cats).
The potency of CBD in the oil, treat, or capsule
Your dog's size and weight
The ailment you're treating
Always keep these factors in mind, and follow these additional tips from holistic veterinarians who have loads of experience using CBD for pets:
Consult your veterinarian before you give your pet any treatments.
Consider your dog's other health conditions that may affect his ability to react to or metabolize CBD, i.e., liver or kidney problems.
Find a high-quality CBD oil that's free of any kind of toxins. Since the industry isn't yet regulated, there are some potentially sketchy products out there.
Buy the correct potency for your dog's size. Most oils come in different CBD potencies, i.e., 75mg for small dogs; 300+mg for large dogs. Each company differs in the potency levels they sell. Note: this potency is only for the amount of CBD, not THC (the CBD products we review do not contain THC).
How Much CBD Oil Should I Give My Dog?
The best advice we can give you is to start small and then ease into the manufacturer's dosing guidelines for their specific products. Companies that formulate their own high-quality CBD typically give you very detailed instructions on how to dose their various products. But not all do, so it can be helpful to know how to calculate optimal CBD dosages.
Calculating CBD Oil Dosages For Medicinal Use
If you're planning on using CBD oil for medicinal purposes, e.g., to treat arthritis pain or ease seizures, here's how to calculate a safe and effective dosage for your pet. First, you need to calculate approximately how many milligrams (mg) of CBD your dog should have based on his weight. A safe rule of thumb is 0.2mg of CBD per pound. So, if your dog weighs 25 pounds, you'll give him 5mg of CBD.
Then, you need to calculate how much oil you should give your dog based on how many milligrams (mg) of CBD is in each milliliter (ml) of oil. This will depend on the formula strength you're using.
Here are some common formula strengths and how much CBD is in each (based on a 30ml bottle):
75mg formula=2.5mg of CBD per ml of oil
150mg formula=5mg of CBD per ml of oil
300mg formula=10mg of CBD per ml of oil
600mg formula=20mg of CBD per ml of oil
So for a 25-pound pet who needs 5mg of CBD, you'd give him 2ml of the 75mg formula, 1ml of the 150mg formula, 0.5ml of the 300mg formula. We would not recommend using the 600mg formula on small pets due to the difficulty in administering 0.25ml with the oral syringe most companies provide.
How To Determine CBD Oil Dosage For General Well-Being
If you're using CBD oil for general well-being, your dog may not need this higher dosage level. You can always cut down the dosage if you want.
CBD Dosing Example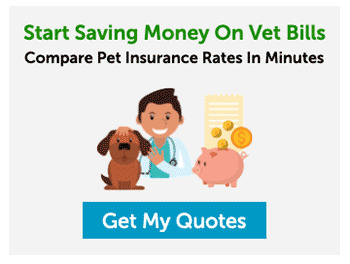 Even with all this information, it's hard to picture what actual dosing guidelines look like from different companies. Here, we've included what King Kanine, a company that specializes in high-quality CBD oils and treats for pets, recommends when dosing their pet CBD products. King Kanine's dosage guidelines apply to both dogs and cats.
IMPORTANT: This dosage may not apply to the product you are using from another company.
First, you have to choose the formula based on your pet's weight. This is the concentration of CBD in each bottle. King Kanine offers three formulas: 75mg, 150mg, and 300mg. Each formula bottle contains 30ml of oil. (King Kanine's CBD is suspended in krill oil, but the type of oil varies by company.)
King Kanine Formula Recommendations
King Kanine 150mg Formula Dosing Chart
Each formula contains a detailed dosing chart that includes how many milliliters you should give based on your dog's weight and whether you plan on using it for standard or medicinal use. The chart also includes a helpful graphic of the oral syringe you'll use to administer the dosage. This chart is for King Kanine's King Kalm 150mg formula.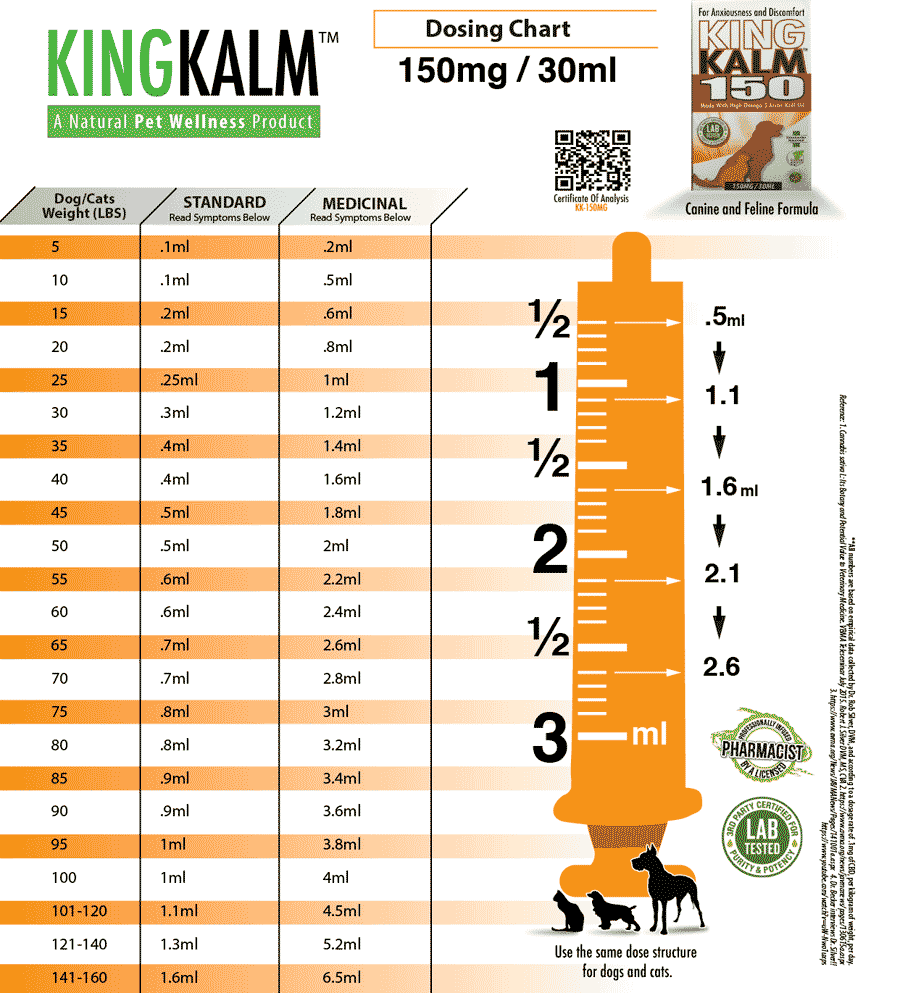 What About CBD Dog Treats?
If you purchase CBD dog treats from a reputable company, they'll give you serving size suggestions based on your dog's weight. But you can still use the calculation method above to determine how many King Kanine treats will be effective for your pup.
What Are The Best CBD Oil & Treats For Dogs?
Finding the right dosage of any medication is crucial for your dog since their systems are more sensitive than humans. But the encouraging news about CBD (if you buy a high-quality product) is that pure CBD is non-toxic for dogs. And there don't appear to be any harmful side effects from using this all-natural remedy, even on a regular basis.
Be sure to see our reviews of the best CBD oil for dogs and cats, the best CBD dog treats, and best CBD subscription options. We give you tips on how to find high-quality CBD products, as well as reviews of our top picks.
Tagged With: CBD, Reviewed By Dr. Racine, DVM