To sustain this free service, we receive affiliate commissions via some of our links. This doesn't affect rankings. Our review process.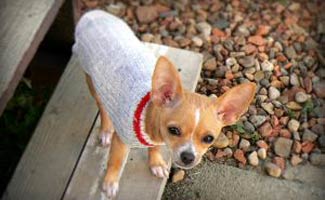 This question for our Pet Doc comes from the concerned owner of an 8 month old Chihuahua named Whisper.
My Dog Is Having Seizures – Help!
I think my little 8 month old Chihuahua Whisper she is having seizures. She acts like she is in her own little world sometimes. She loses her balance, and doesn't eat for a while after she comes out of it. And sometimes her nose will be dry and warm. She goes around eating sticks all the time. This started about two months ago and hasn't really changed.
Dog Seizures: Our Pet Doc Responds
Thanks for the great question. I agree that there is a strong possibility that Whisper may be having seizures. Classic seizures are broken down into three phases/stages. Those are classified as:
The Three Stages of Seizures
Preictal (pre-seizure)
Ictal (seizure)
Postictal (post-seizure)
There are many manifestations of these stages and not all dogs will act the same. Many times the pre-seizure activity will include hiding, trembling, anxiousness, and attention seeking behavior. The seizure can be anything from a mild tremor to what most people think of when describing seizures. That would be lying down, shaking, losing control of bodily functions, etc.
The post-seizure activity is almost always seen as a time of disorientation, loss of balance, fatigue or lethargy. If Whisper is in fact having seizures, and again it sounds very possible, then it is of the utmost importance to try to find out what may be the underlying cause for the seizures. Your veterinarian will most likely request to do bloodwork, urinalysis, and possibly other tests to include radiographs. Based off his or her findings your veterinarian will be able to help you either diagnose the underlying cause or control the seizures with medications.
Concerned Your Dog is Having Seizures? See Your Veterinarian
So in closing my recommendation would be to take Whisper to your local veterinarian. Questions you should be prepared to answer include:
When did the seizure symptoms start?
Have they changed?
How many times have you seen the seizures?
What is the frequency of seizures within a week, a month?
Are you aware of any consistent predisposing factors that may occur after eating, exercise, are associated with sleeping, etc.
I hope this helps and please keep us informed!
Disclaimer: The information provided through this website should not be used for diagnosing or treating a health problem or a disease. It is not a substitute for professional care. If you have or suspect you may have a health problem, you should consult your health care provider.
Disclaimer: This website contains reviews, opinions and information regarding products and services manufactured or provided by third parties. We are not responsible in any way for such products and services, and nothing contained here should be construed as a guarantee of the functionality, utility, safety or reliability of any product or services reviewed or discussed. Please follow the directions provided by the manufacturer or service provider when using any product or service reviewed or discussed on this website.