To sustain this free service, we receive affiliate commissions via some of our links. This doesn't affect rankings. Our review process.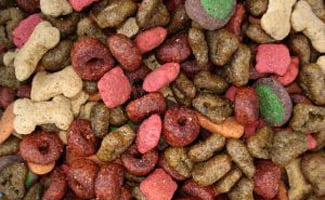 Thinking about changing dog food brands or types because it is less expensive? Or maybe your dog has been sick to his stomach and you want to try out a new food. It may even be that your vet thinks your dog is allergic to lamb. Whatever the reason for the change in dog food, you must take it very slow to allow your pup's tummy to adjust to its new food.
So, the best way to go about changing your dog's food is to have some of the current food still on hand when making the change so that you can feed like this for at least 5 days to allow for the digestive transition needed to avoid sickness:
Day 1: Feed 75% of the current (old) food and mix in 25% of the new food in each serving to start the adjustment period for clean digestion.
Day 2: Adjust to feeding 60% of the old food and mix in 40% of the new food in each serving.
Day 3: Feed 50% of the old food, mixed with 50% of the new food per serving.
Day 4: Feed 40% of the old food, mixed with 60% of the new food per serving.
Day 5: Feed 25% of the old food, mixed with 75% of the new food per serving.
Day 6: Feed 90-100% of the new food as you should be very close to a clean digestive transition period.
Watch for Sick Stomach Symptoms During Dog Food Transition
Throughout this adjustment period, be sure to keep a close eye on your dog and make sure he or she is continuing to drink a normal amount of water, gas is low and that feces remain normal (sounds gross to look at the poop but it is important to keep an eye on your dog's stool to make sure it is not too runny as this could raise concerns of diarrhea and dehydration). If you see a great deal of change in these areas, slow down the process and take more time to ease your dog into the new food. This slow process of changing food should alleviate the majority of issues normally associated with upset stomachs in dogs related to food changes.
Dog is not Adjusting to New Food? Consult a Vet
If the dog food transition is not working no matter how slow you go with the food change, consider going back (slowly) to the old food as your dog may be allergic to the new food. If more serious issues arise during this transition, consult your vet for more assistance.
Disclaimer: The information provided through this website should not be used for diagnosing or treating a health problem or a disease. It is not a substitute for professional care. If you have or suspect you may have a health problem, you should consult your health care provider.
Disclaimer: This website contains reviews, opinions and information regarding products and services manufactured or provided by third parties. We are not responsible in any way for such products and services, and nothing contained here should be construed as a guarantee of the functionality, utility, safety or reliability of any product or services reviewed or discussed. Please follow the directions provided by the manufacturer or service provider when using any product or service reviewed or discussed on this website.