Can dogs be vegan? While dogs prefer meat and animal products, many experts say it's possible to feed your dog a vegan diet — as long as you make sure he's getting the proper supplemental nutrients. We'll guide you on the healthiest way to put your dog on a vegan diet and give you our recommendations for the best vegan dog food brands.
Important Info About Vegan Diets For Dogs
It's a common misconception that dogs are strictly carnivores. Most experts believe that dogs are actually omnivores, meaning they can eat and survive on both plant and animal matter. So that's good news if you're a vegan household wanting to share this lifestyle with your dog. But it's best to wait until your dog is grown. Are you looking for vegan puppy food? Most veterinarians strongly advise against feeding puppies a vegan or even a vegetarian diet.
If you're considering putting your dog on a vegan diet, you should consult with your veterinarian to develop a plan to ensure your dog gets all the essential nutrients he needs. With that said, several commercial vegan dog food brands contain all the nutrients dogs need. We've included these below. But it's still a good idea to run your new food plan by your vet to make sure it's healthy for your dog.
Problems can arise, however, if you put your dog on a homemade vegan dog food diet. Dogs require different nutrients and levels of important vitamins and minerals than humans do. So it's not as simple as feeding your dog what your vegan family is eating.
This is when you must consult with your vet or a vet nutritionist. If you're feeding your dog home-cooked vegan dog food, he very likely will need certain supplemental nutrients. Your vet can help you develop a plan to ensure he's getting everything he needs.
Best Vegan Dog Food Brands
These are the best vegan dog food brands recommended by veterinarians, and all contain the necessary protein levels and other nutrients dogs require. Adult dogs should have a minimum of 18% protein in their diets. We've listed the protein contents in each brand's kibble.
Wild Earth Dog Food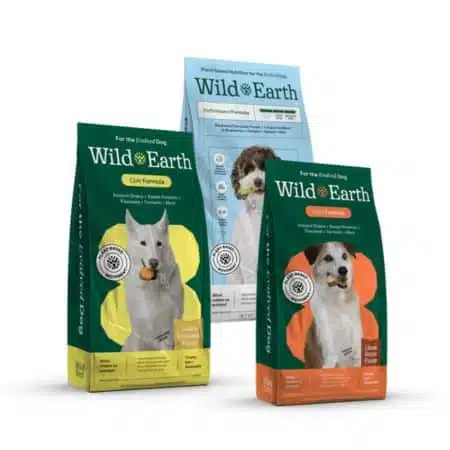 Featured on Shark Tank, Wild Earth makes veterinarian-developed, nutritionally complete kibble and treats with no animal-derived ingredients. Their kibble is high in protein (31%) from all-natural, clean food sources plus superfood ingredients like oats, chickpeas, and sweet potato.
Their treats contain the superfood koji, another great source of protein for vegan dogs. None of their products have artificial ingredients or fillers.
Halo Plant-Based Dog Food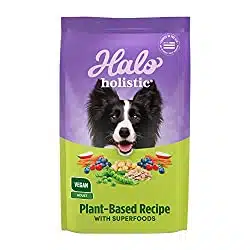 View Kibble on Amazon | View Wet Food on Chewy | View Treats on Amazon
Halo's Holistic Garden of Vegan brand comes in kibble, canned food, and treats. The dog food is complete and balanced with healthy plant-based proteins (20%) from nutrient-rich chickpeas and peas and a unique vegan blend of vitamins, minerals, and trace nutrients. They contain no meat, dairy, corn, or wheat, making them a great choice for dogs with ingredient sensitivities.
V-Dog Food Kibble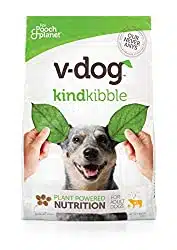 V-Dog is a family-owned company that specializes solely in producing high-quality vegan dog food. They offer kibble, biscuits, and even bones for fresh breath and clean teeth. The kibble contains 24% protein and all essential vitamins, minerals, and amino acids.
None of its products include animal products, wheat, corn, soy, dairy, factory farming, by-products, artificial ingredients, or fillers.
Natural Balance Vegetarian Formula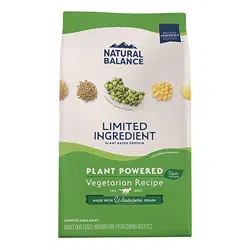 View Kibble on Amazon | View Wet Food on Amazon
Popular dog food manufacturer Natural Balance makes a vegan-only formula for its vegetarian dog food. The kibble contains 18% plant-based proteins plus all the other necessary nutrients dogs need. It also includes brown rice, oat groats, barley, and peas as its main ingredients and has omega fatty acids to help support healthy skin and a shiny coat.
Our Personal Experience With Natural Balance Vegetarian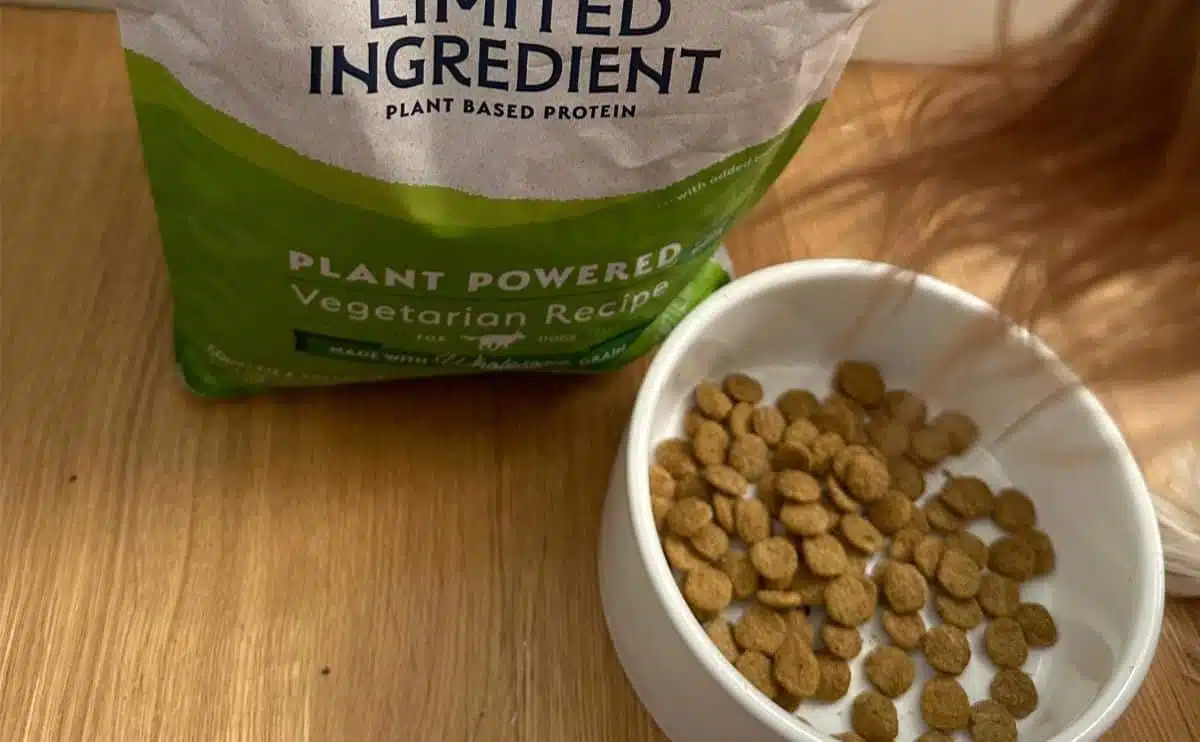 "Our 2.5 year old dog is on a meat-free diet due to anal gland issues. We've tried several vegan brands for our picky eater. He likes Natural Balance and has stuck with their plant-powered recipe. His bowls are normal and he gobbles the little disc-shaped pieces up!"

– Sadie Cornelius, Cavalier King Charles Spaniel parent
Why Does Homemade Dog Food Need Nutrient Supplements?
This brief video from a certified dog nutritionist provides a fantastic explanation of why your dog likely needs vitamin and other nutrient supplements if he's on a homemade dog food diet, whether vegan, vegetarian, or includes meat and animal products.
If you want to go the homemade dog food route and learn more about your dog's nutrition requirements, Feed Your Best Friend Better: Easy, Nutritious Meals and Treats for Dogs is a good resource. But remember to consult with your veterinarian to make sure your dog's getting all the nutrients he needs.
Can Cats Be Vegan?
No. Cats are carnivores and require meat and animal products in their diets. Their digestive systems aren't adapted to plant-based diets, and they won't be healthy or thrive if you only feed them vegetarian or vegan diets.
How Do I Change My Dog's Food Safely?
If you're switching your dog to a vegan diet with your vet's approval, you'll need to know how to transition him from his current food. Dogs' digestive systems are extremely sensitive to sudden food changes and can develop diarrhea, constipation, an upset stomach, and uncomfortable gas. So be sure to read our article on how to change your dog's food safely before starting a new food.
Tagged With: Comparison, Vegan