''
Dog owners know how important it is to find healthy treats for our furry companions like, and that is good for them. While most dogs love meaty treats, a rising number love veggie-based and vegan dog treats. Are vegan dog treats good for dogs? Yes, in many cases, they sure are. In fact, they are an excellent pick for pups with food allergies or those who have trouble with animal proteins. There are a ton of options to choose from, and as dogs can be picky, this can be quite a challenge. We have taken a look at 13 different veggie-based dog treats and share our findings.
At A Glance: Best Vegan Dog Treats
What Are The Benefits Of Vegan Dog Treats?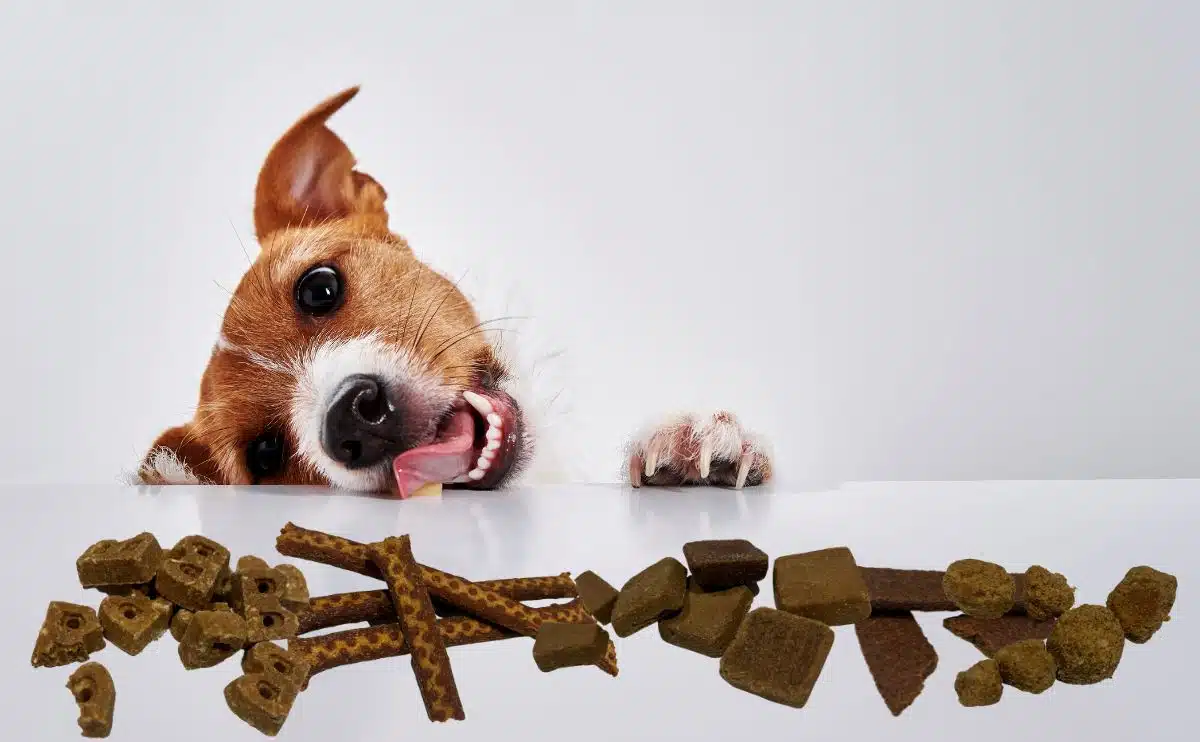 There are several benefits of vegan dog treats. For starters, they are better for animal welfare, as they use no meat products. Vegetable-based treats can also be easier to digest for some dogs.
Some owners prefer vegan treats as they leave less carbon footprint and are healthier for the environment.
Some dogs have a sensitivity to animal protein. For these pups, a vegan snack or diet can be very beneficial to digestion. Vegan treats can improve constipation, loose stool, and gas. This is because plant-based materials may not be as inflammatory as animal proteins.
Canines can experience food allergies just like humans. Some commonly reported ones include egg, dairy, beef, and chicken. Food allergy symptoms can cause dry, itchy skin, rashes, fur loss, yeast infections, Constipation, gas, loose stool, vomiting, eye discharge, and other symptoms. A plant-based diet and vegan treats can eliminate these allergy reactions for some pups.
For canines with weight management and obesity issues, vegan snacks can be a healthier choice made with low-fat, lean, and easy-to-digest elements. Vegan traits are often lower in fat and can be a healthy substitution in the diet of overweight dogs.
Are Vegan Dog Treats The Same As Gluten Free?
No, these two kinds of treats are not the same. Vegan treats include all plant-based foods, while gluten-free treats do not use any foods that contain gluten. Vegan treats do not use any animal proteins, or animal byproducts, whereas gluten-free items may include animal products. There are those that are both vegan and gluten-free. However, reading the ingredient lists and all labels is essential when picking out a pet treat.
Best Vegan Dog Treats By Category
We have a pet parent on the Canine Journal team who is raising a picky, Cavalier King Charles Spaniel pup who just so happens to love vegan dog treats. Our team has tried out all 13 kinds listed and is happy to share our experience with you.
Plant-Based Jerky
Jerky treats tend to be a big hit with pups of all ages, sizes, and breeds. Meat-based jerky is very popular. Fortunately, there are plenty of options for owners looking for plant-based dog jerky treats. We have broken down the details for our top picks.
Top Pick: Clif Pet (Clif bar) Plant-Based Jerky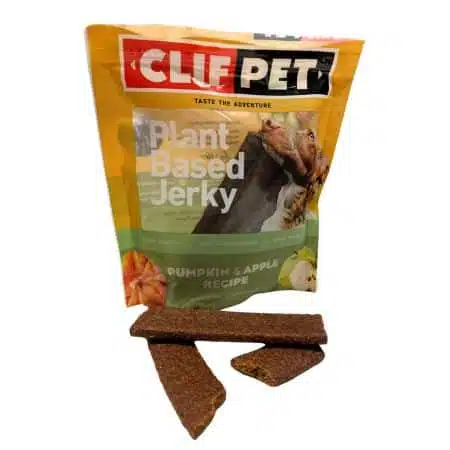 These jerky snacks are made by the same company that makes the delicious ClifBars many people snack on. All plant-based jerky options are made with seven simple, nutrient-dense ingredients. They contain no artificial additives or fillers. These come in three choices of flavors: Sweet Potato & Blueberry, Butternut Squash & Cranberry, and Pumpkin & Apple. Ingredients include pumpkin, flaxseed, pea protein, apple juice concentrate, coconut glycerin, apple, and natural flavor.
Price
$8.99 5 oz. bag
Our canine team tried these and can confirm they are quite tasty.
Personal Experience
"My Cavalier Georgie LOVES these. Pretty tough but easy to chew, too (it doesn't crumble, but it also doesn't last forever) – I got both pumpkin and apple and squash and cranberry."

– Sadie Cornelius, Cavalier Dog Parent
V-Planet Kind Jerky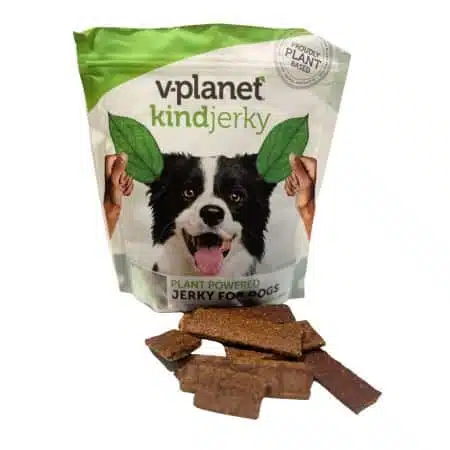 This plant-based jerky uses pea protein as its primary protein source. Other ingredients include sweet potato, non-GMO coconut glycerin, cane molasses, potato flour, flaxseed, chia seed, natural flavor, and apple cider vinegar. Contains no animal products, wheat, corn, soy, or dairy. Does not use factory farming, artificial ingredients, or fillers. Additionally, snacks are designed to leave a smaller environmental paw print. These are also grain free and contain no corn, wheat, or soy.
Personal Experience
"Our dog tried out these treats and found them to be a big hit. These ones are great value and are a little tougher to chew. So, they lasted a bit longer than some other jerky options."

– Sadie Cornelius, Cavalier Dog Parent
Price
$10.61 8 oz. bag
Crumps Naturals Sweet Potato Strips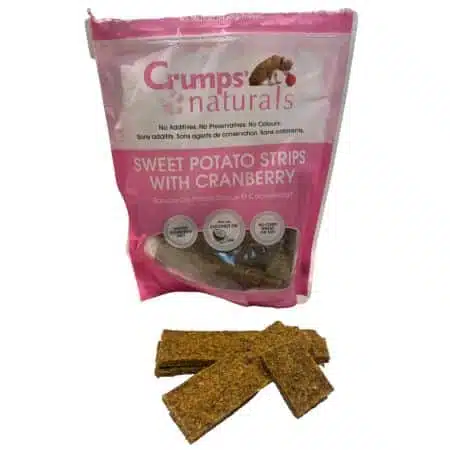 These jerky-style snacks are made from sweet potato and cranberry, sourced from the USA and Canada. Includes dried citrus pulp and coconut oil. We like that they use such limited ingredients, meaning they are easier to digest for those sensitive stomachs. Treats are prepared in small batches to ensure freshness, quality, and taste. They contain no additives, preservatives, or artificial colors. These are nutrient-rich, low in fat, a great source of beta-carotene, and contain no corn, wheat, or soy. These are made in Canada.
Many owners report their dogs liking these but do say they harden quickly and can be hard to break up.
Price
$10.89 5.6 oz. bag
Vegan Soft Chews
Soft chew treats are a little different than jerky and are more like baked cookies or biscuits. These come in several sizes and are perfect for daily snacks, training aids, and rewards.
Top Pick: Cloud Star Wag More Bark Less Soft & Chewy Grain Free Peanut Butter & Apples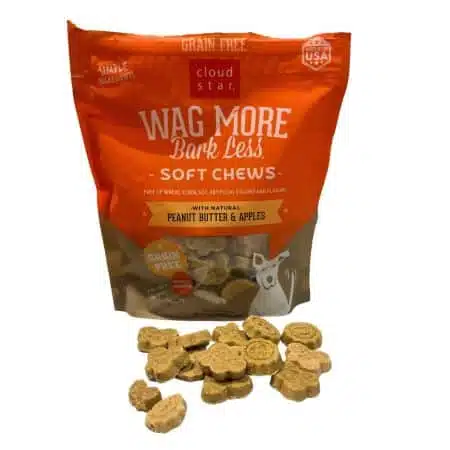 This option offers vegan bites that come in several different flavors, some including meat. However, we like the peanut butter and apple variety. These contain peanut butter, chickpea flour, tapioca starch, pea flour, vegetable glycerin, apples, ground flax seed, phosphoric acid, xanthium gum, Maple syrup, sorbic acid (preservative), mixed tocopherols (preservative), and rosemary extract. These are grain free, contain no corn, soy, or dairy, and only use clean ingredients. Plus, we love the smiling star, sun, and cloud shapes.
Price
$7.49 5 oz pouch
Our canine tester loves these treats. In fact, they are one of his favorite picks.
Personal Experience
"These have been our go-to for a few months now. They're good value for reward"treats since they're small and soft, so you can break them into smaller pieces."

– Sadie Cornelius, Cavalier Dog Parent
Bocce's Bakery Oven Baked PB & Banana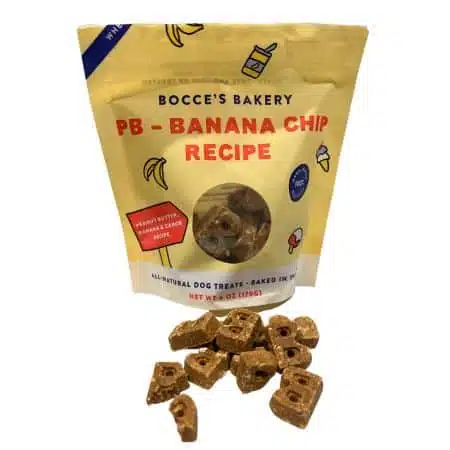 These peanut butter and banana soft chews are a tasty pick. Snacks are wheat free, use 100% natural ingredients, and are baked in the United States. Ingredients include oat flour, peanut butter, banana, rolled oats, coconut glycerin, molasses, flaxseed, vegetable oil, and citric acid. Everything is cooked in small batches, using locally sourced, fresh ingredients. These are simple and fun.
Personal Experience
"We tried these with our pup and enjoyed them because they are easy to break into smaller pieces without crumbling due to the B-shape, something to keep in mind for more petite pups."

– Sadie Cornelius, Cavalier Dog Parent
Price
$6.59 6 oz. bag
Wiggles And Wags Brownies N Blondies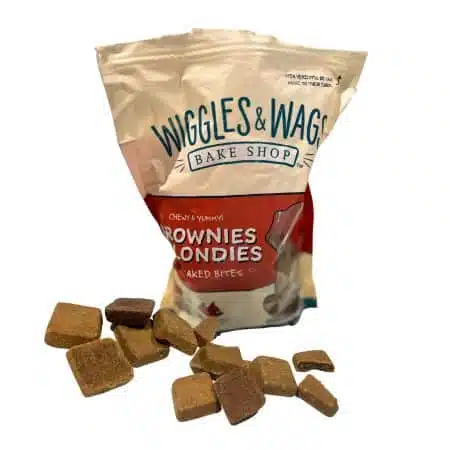 This is another top pick for a soft-baked vegan snack. These soft-baked bites include carob and peanut butter chips for an extra burst of flavor. No added corn, soy, artificial flavors, or preservatives. Ingredients include wheat flour, palm oil, honey, peanut butter, vanilla, way, dried whole egg, and natural smoke flavor. The carob-flavored bites include the same ingredients as well as carob and vanilla.
Personal Experience
"We found these to be super soft, with an appearance similar to a piece of chocolate. These are an excellent pick for smaller, medium, and larger pups because they're medium-sized. Quite easy to break up, and they do not crumble, so they can be broken into smaller pieces for smaller pups like ours."

– Sadie Cornelius, Cavalier Dog Parent
Price
$7.49 12 oz. bag
Crunchy Bones
For dogs who need that satisfying crunch, there is nothing better than a crunchy bone treat. The good news is that these come in all sorts of sizes and flavors, including vegan-based crunchy bone treats. Our team tried out a few and came up with some top picks.
Top Pick: Halo Healthsome Garden Of Vegan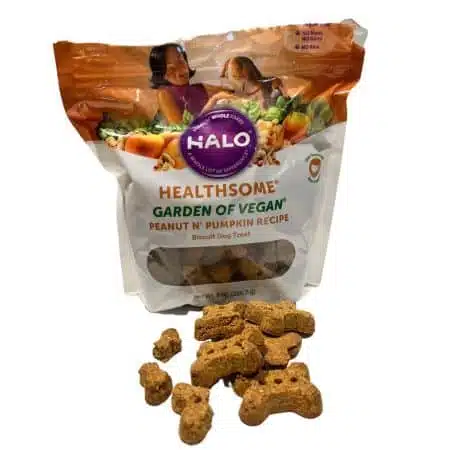 These crunchy bone-type snacks are 100% plant-based. These are made in the United States and contain no artificial or factory farm ingredients. Their recipes use sustainably sourced ingredients, including apples, ground peas, and chickpeas.
This recipe uses peanuts and pumpkin to give a top taste to a low-calorie grain-free treat. Bones are designed to be easy to break, so they can be used for dogs of all sizes and ages. These are grain-free, low-calorie, and an excellent choice for canines with food sensitivities. They also help with promoting healthy digestion.
Ingredients for the peanut and pumpkin recipe are ground peas, ground peanuts, chickpeas, potato flour, pumpkin, sunflower oil, tomatoes, cranberries, apples, and sweet potatoes.
Price
$5.99 8 oz. bag
Personal Experience
"We got these in 2 flavors, and they are a big hit. They are crunch Milkbone consistency, so a good option for a longer-lasting vs soft chew reward, but they are mini-sized, so a big dog might gobble them up quickly. Also, good value at $4.99 for an 8 oz bag!"

– Sadie Cornelius, Cavalier Dog Parent
Wholehearted Crunchy Clovers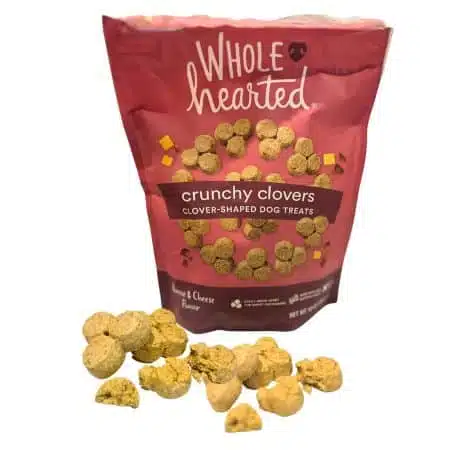 These crispy bites are grain-free and offer a creamy and fruity taste in a crunchy texture. These include pea flour, tapioca starch, chickpeas, blueberries, yogurt, ground flaxseed, canola oil, potatoes, natural blueberry flavor, and mixed tocopherols as preservatives. Wholehearted offers a variety of flavors, including several plant-based and meat-free.
Some flavors include meat. However, there are plenty of vegan options to choose from. These have a satisfying crunch texture but break apart easily to portion out. Made and sourced here in the United States.
Price
Personal Experience
"3 of the 4 are veggie recipes. They're bigger than the Halo bones and can break into 3 smaller pieces. Just started them recently, and he likes them so far (just took some sniffing at first to inspect). Pretty crunchy too."

– Sadie Cornelius, Cavalier Dog Parent
Fruitables Baked Dog Treats Pumpkin & Cranberry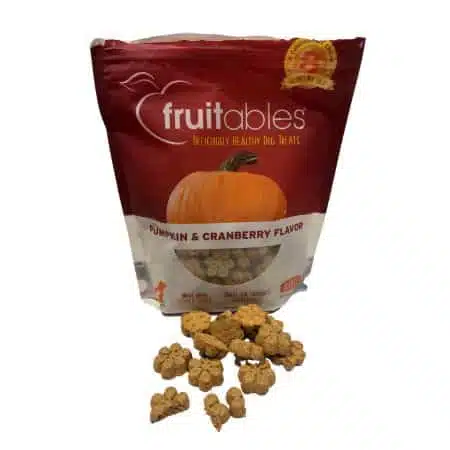 These fruit and veggie snacks are sourced and made right here in the USA. They combine delicious organic ingredients to create a tasty treat with a delightful aroma. Ingredients include superfoods and antioxidants to support overall health. These have a crunchy texture and contain only 8 calories. These are inspired by a tasty muffin hot out of the bakery oven. Ingredients for the pumpkin and blueberry flavor include pumpkin, ground oats, barley, potatoes, sunflower oil, molasses, cinnamon, blueberry pomace, natural blueberry flavor, natural vanilla flavor, mix tocopherols (to preserve freshness), green tree extract, and Rosemary extract.
These all-natural baked biscuits have an enticing aroma and delicious flavor. Almost tasty enough for owners to want to eat.
Price
$4.99 7 oz. bag
Personal Experience
"Another big fan of these crunchy treats. They are harder to break up but about the size of a quarter, so they are not that big, to begin with, and don't need to break them up."

– Sadie Cornelius, Cavalier Dog Parent
Brutus & Barnaby Sweet Potato Crunchy Sticks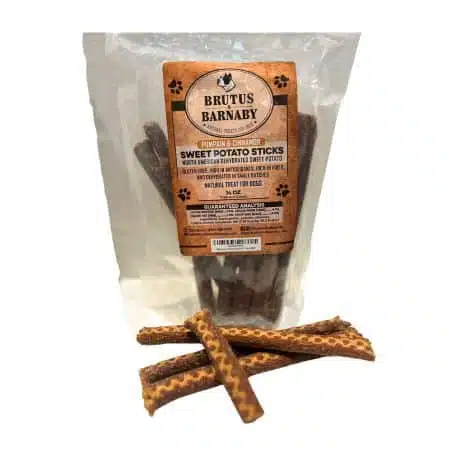 These crunchy potato-based snacks are great for every pup. It is quite easy to break off pieces of any size, so owners can give pets a tiny taste or a whole stick. Natural pumpkin aids in gut health and is a natural diarrhea treatment. This beneficial fiber helps promote a healthy gut. These come in a few different flavors, including cinnamon and pumpkin, cinnamon and apple, and pumpkin and bacon, which are not vegan. Sticks use only three simple ingredients.
For example, the sweet potato and cinnamon flavor includes only sweet potato, apple, and cinnamon. Owners report that these traits are long-lasting, and dogs love the flavor. These are full of vitamins, including A, B6, C, calcium, potassium, and iron. These are low fat and offer great taste and a boost for your canine's digestive and immune system.
Price
$19.98 ($1.43 / Ounce) 14 oz. pack
Personal Experience
"A substitute for a bully stick, but Georgie doesn't like them because they are sweet potato flavored. I think they had another flavor which he enjoys. A longer-lasting treat for when they need a distraction."

– Sadie Cornelius, Cavalier Dog Parent
Portland Pet Food Pumpkin Biscuits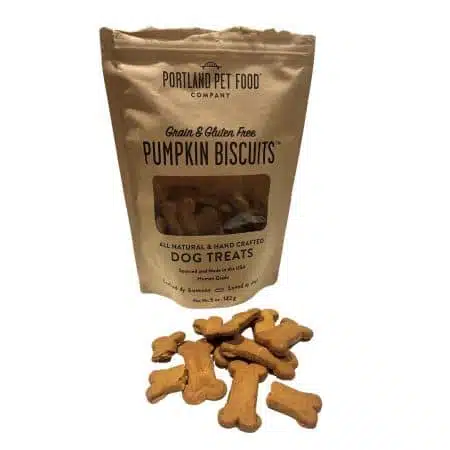 This is a brand of human-grade, grain-free, gluten-free, limited-ingredient snacks. Each vegan flavor uses seven or fewer ingredients. These include organic mint, fresh pumpkin, Bob's red mill garbanzo bean flour, and more. These are great for senior dogs, puppies, those with sensitive stomachs, and all other dogs. They use 100% human-grade natural ingredients. These contain no gluten, wheat, dairy, or grain. They are preservative, artificial coloring, and filler free. Sourced and baked right here in the USA. All biscuits are handmade and twice-baked.
Meat-free options include gingerbread, pumpkin, apple, and mint. The pumpkin biscuits, for example, contain garbanzo bean flour, 100% natural pumpkin, 100% natural peanut butter, molasses, and spices. All their vegan options include peanut butter and garbanzo bean flour.
Personal Experience
"Our dog liked these biscuits because they are human-grade, larger-sized, crunchy, bone-shaped, and made in the USA. Additionally, we like that they give a portion back to animal shelters, which helps justify their slightly higher prices."

– Sadie Cornelius, Cavalier Dog Parent
Price
$9.99 ($2.00 / oz)
5 oz. bag
Top Pick With Superfood: Wild Earth Superfood Dog Treats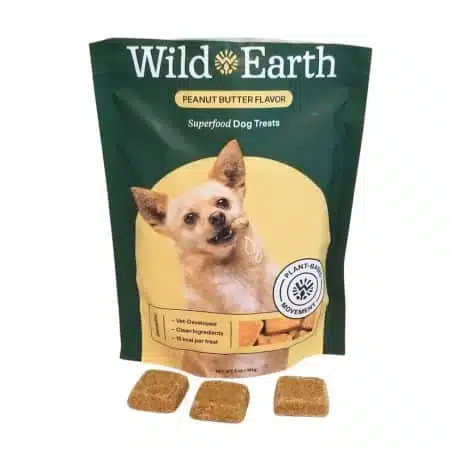 This is another plant-based canine snack that is a top pick from our team. Wild Earth all-natural dog treats include Whole Foods and contain only 15 calories per treat. These are chock-full of Omega fatty acids and prebiotics, promoting a healthy gut. There are no fillers, mystery meats, preservatives, or additives.
These have a natural umami flavor that dogs love. These come in several flavors, including Banana & Cinnamon, Strawberry & Beet, and Peanut Butter. All three recipes include oat flour, peanut butter, flax seed, dried chicory root, and other natural ingredients. These also come with a happiness guarantee. If dogs try them for 30 days and do not love them, the company issues a full refund, no questions asked.
One of our pet parents here at Canine Journal tried these out for their larger-sized dog and report these are a top pick.
Personal Experience
"While on the small size for our big dog, he loves each and every flavor, and I like the fact that they use Koji in the ingredients, a mushroom with protein that also provides amino acids, enzymes, and prebiotics."

– Jeff Butler, Goldendoodle Dog Parent
Price
$10.00 5 oz bag
Homemade Vegan Dog Treats Recipe
Many owners have an interest in making their own vegan dog treats at home. The good news is there are plenty of easy recipes for plant-based canine snacks. We discuss this in further detail in our article about the best frozen dog treats. We include a recipe to make frozen peanut butter banana and frozen pumpkin dog treats. For those looking for organic options, we also cover organic treats and have a simple recipe to suggest. Owners can also look for pet-safe peanut butter along with vegan pet options. Peanut butter is always vegan, and dogs go absolutely crazy for its taste and smell.
One recipe I have tried personally uses only four ingredients, peanut butter, banana, oats or oat flour, and pumpkin.
Ingredients
1 ripe banana
½ to 1 cup rolled oats (can use oat flour instead)
2- 3 tablespoons peanut butter
2 – 3 tablespoons pumpkin puree-not pie filling
Directions
Preheat oven to 375.
Grease or line a baking sheet.
Blend or puree oats to make them into a smoother powder.
Mash the banana, and add pumpkin puree.
Mix in peanut butter and oat flour. Add enough four or oats so it is not too sticky.
Blend ingredients together until they form a soft, sticky dough.
Using a spoon drop approximately 1-inch round balls on a greased or lined baking sheet.
Bake for 7 to 9 minutes.
Let cool on the baking tray, then transfer to a wire rack.
Let them cool completely before giving any to your pup.
This recipe is very simple and versatile and can be added to or have ingredients substituted. For example, owners could substitute apple puree instead of banana or pumpkin. If owners would like to add a dash of cinnamon, garlic, or another flavor, that is okay too. Snacks should be stored in an airtight container and will stay fresh for about a week.
Always proceed with caution when making canine snacks or meals at home. Make sure that you are using organic and fresh ingredients. Always read the labels on ingredients like peanut butter, as some have added sugars and sweeteners. Ensure you never add any "people foods" that are toxic to dogs to keep your pups safe.
Looking For Vegan Dog Food?
Some owners may be looking for plant-based dog food. This may be due to dietary or medical concerns or because the owners themselves live in a meat-free household. If you are looking for more information on vegan dog food, check out our Wild Earth Dog Food review, as well as our comprehensive guide to the best vegan dog food. Though dogs generally do prefer meat, they're omnivores and can survive on a vegan diet. It is important that owners make sure that dogs still get enough protein, vitamins, fat, and other elements that make up a balanced diet. Discuss this option with your veterinarian before making any significant changes. It is also important to discuss supplements and vitamins, as your pup may need some of those if you choose to go with vegan dog food.
Tagged With: Treats, Vegan