If you are lucky enough to have a Cavalier King Charles Spaniel in your life, then you know that they are precious dogs who deserve happy lives. It is the responsibility of their pet parents to invest in their nutrition. Giving them the highest-quality nourishment sets an excellent foundation for their best health. However, clearly understanding what goes into their nutrition can be complicated and overwhelming.
Given all the dog food choices available on the market, it's often difficult to make the proper selection. Some common health conditions plague this breed that might be helpful to consider when choosing your pup's next meal. To make it as simple as possible, we share the key aspects in ensuring your Cavalier's best nutrition, including recommendations on some of the best dog food brands and products available today.
Also, your Cavalier King Charles Spaniel has different dietary needs throughout their lifetime. The responsible thing to do is to pay close attention to these needs at each life stage. Let's take a look at what you need to know to make your Cavalier's diet the best it can be.
At A Glance: Best Dog Food For Cavalier King Charles Spaniels
| Puppies | Adults | Seniors | Overweight |
| --- | --- | --- | --- |
| | | | |
| Diamond Naturals | The Farmer's Dog | Blue Buffalo | Nutro Ultra |
| | | | |
| | | | |
Best Dog Food For Cavalier Puppies
Your Cavalier King Charles puppy is sure to need plenty of great nutrition to start their life off right. Nutrient-dense food made specifically for puppies is necessary for their best development. These choices provide your pup with the energy needed to grow, play, and explore the big world.
Diamond Naturals Small Breed Puppy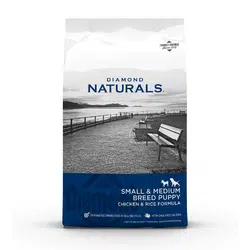 Diamond Naturals has created this wholesome dog food formulated especially for small breed puppies like your Cavalier. Cage-free chicken serves as the first ingredient for a delicious punch of protein. Real superfoods like kelp, coconut, and carrots give your Cav the nourishment needed to take on the big task of growing up. Guaranteed probiotics support your puppy's gut health, so they absorb all the goodness from this ultra-nutritious kibble. This formula contains Omega fatty acids to keep their skin and coat gorgeous. Antioxidants boost your dog's immunity, so they face all the joys of puppyhood with no worry of getting sick.
Wellness Small Breed Complete Health Puppy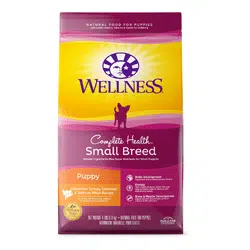 Wellness gives your Cav puppy the whole body nutrition they need to grow up healthy and strong. With a smaller kibble size, you're assured that your puppy is eating easy so that they digest their food properly. Carefully chosen, all-natural ingredients like turkey, salmon, and oatmeal provide a yummy, wholesome dinner for your growing pup. Omega fatty acids, including DHA, promote cognitive and retinal development. This formula also contains antioxidants, essential vitamins, and probiotics, so you know that your dog is getting their fill of the best nourishment possible.
Blue Buffalo Freedom Small Breed Puppy Grain-Free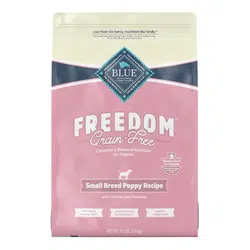 Since your Cavalier puppy may be sensitive to certain ingredients in their food, Blue Buffalo has created this delicious, grain-free recipe for them to enjoy. This formula includes real chicken as the first ingredient for great, filling protein. This kibble also excludes poultry by-product meals. There is not any corn, wheat, or soy in this product. Blue Buffalo has included a suitable blend of carbohydrates to meet your puppy's higher energy needs. DHA and ARA are also added for best brain and eye development.
Merrick Lil' Plates Grain-Free Puppy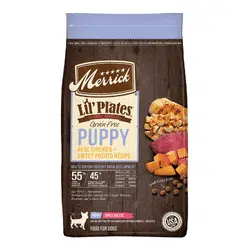 Merrick's Lil' Plates is made with small mouths in mind. Real deboned chicken is the very first ingredient, so you know that your dog is getting the protein they need to start their life right. The recipe contains prebiotics, and probiotics aid digestion so that your dog absorbs every little bit of nourishment found in each piece of bite. The kibble is small with a great crunchy texture to reduce plaque, promoting good dental health. Plus, it has high levels of Omega fatty acids, plus Glucosamine and Chondroitin, which ensure healthy skin, fur, eyesight, and bones.
Now Fresh Grain-Free Small Breed Puppy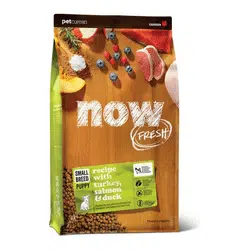 Feed your puppy the freshness of now with this awesome kibble from Now Fresh. This complete recipe gives your Cavalier 100% fresh turkey, salmon, and duck. Omega-3 and 6 oils from coconuts and canola in the recipe give them a healthy coat and skin, plus the energy needed to run and play. This formula is jam-packed with superfoods like peas, cranberries, alfalfa sprouts, pumpkin, and kelp, so you know they're getting the vitamins and minerals needed for total health. This option is great for sensitive tummies as it contains no grains, gluten, or artificial preservatives.
Best Dog Food For Adult Cavaliers
Adulthood brings about many changes for your dog, so it's only right to change up their food too. Keeping them nourished enough to maintain the bodies they developed in puppyhood is crucial to their health and happiness. Understanding their calorie needs is also important, as this life stage is when obesity starts being a real problem. Here are some products that give your adult Cav everything necessary for a fit and fun adulthood.
The Farmer's Dog
The Farmer's Dog offers fresh, human-grade meals using all-natural ingredients. All recipes are personalized to your Cav's specific nutritional needs. You fill out a brief survey, which includes your dog's age, breed, current weight, and size. They also customize the food portions to help with weight control since Cavaliers are prone to obesity and related heart issues. They offer turkey, pork, or beef recipes, developed by board-certified American College of Veterinary Nutrition (ACVN) nutritionists and flash frozen. And you can have all of your dog's meals regularly shipped right to your door.
Price: Varies based on each dog's target ideal weight, age, and other factors (e.g., $52.65/week for mixed-breed male, one-year-old, 38 pounds, healthy size, neutered, no health problems, or allergies) or topper plan for purebred 15 pounds for as little as $1/day
Full Review Of The Farmer's Dog
Nutro Natural Choice Small Bites Adult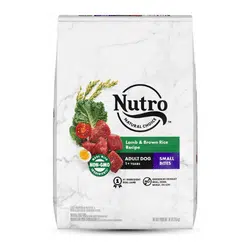 Your small canine companion needs big nourishment as they move into adulthood too. That's why Nutro formulated this special recipe, perfect for your small breed Cavalier King Charles Spaniel. With real lamb as the key ingredient, it also has essential antioxidants added to ensure that your dog's immunity stays strong as they go through life. This kibble is made with no GMOs, meat by-product meal, corn, wheat, or soy. Natural fiber helps aid your pp's digestion, so they absorb all the goodness their food has to offer.
Wellness Small Breed Complete Health Adult
Wellness has kept your dog's wellness in mind as they crafted this premium kibble. With turkey as the primary ingredient, this recipe has wholesome grains, including oatmeal, serving as a rich carbohydrate source for optimum energy. Glucosamine helps keep bone strength high, while antioxidants fortify your pup's immune system. Probiotics in this formula ensure digestion flows smoothly for no stomach upset. This formula is developed without GMOs and artificial preservatives, so you can rest assured your dog gets nothing but wholesome nutrition.
Diamond Naturals Small Breed Adult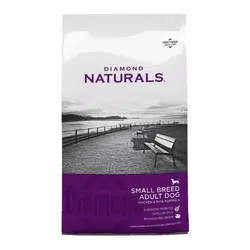 Diamond Naturals knows to give your small dog the hefty nutrition they need for all of life's adventures. This chicken and rice recipe is ultra-tasty, so your best buddy looks forward to mealtime. The correct levels of protein and fat ensure that your dog receives only what they need in order to stay trim and healthy. Superfoods like kale, chia seeds, and blueberries help give your dog vitamins, minerals, and antioxidants essential to their best nourishment. Omega fatty acids keep your dog looking and feeling their best which aids their skin and coat health.
Blue Buffalo Wilderness Small Breed Grain-Free
Blue Buffalo has created this holistic, delicious recipe to satisfy your dog's need for the best nutrition. Real chicken serves as the first ingredient in this formula to give your dog a high-protein boost that is super tasty. It contains no grain, so it's great for sensitive stomachs. Blue Buffalo's antioxidant-rich LifeSource Bits provide your dog with nourishment that serves them from nose to tail. Complex carbohydrates from fruits and vegetables like sweet potatoes, carrots, and cranberries give nutrients and energy, so your dog feels good every day. Smaller kibble ensures that small jaws have no trouble munching on their dinner.
Best Dog Food For Senior Cavaliers
Once your Cavalier King Charles Spaniel has entered their senior years, you might notice new needs coming to light. You must address these needs with the best nutrition possible, as this is necessary for a long and healthy life. At this point in their life, their calorie needs must be taken doubly into consideration to prevent obesity. Less movement means fewer calories needed. Glucosamine and Chondroitin are both necessary for the greatest ease of movement.
Here are some of the best foods we've found that are certain to keep your senior Cav feeling young at heart.
Blue Buffalo Life Protection Formula Small Breed Senior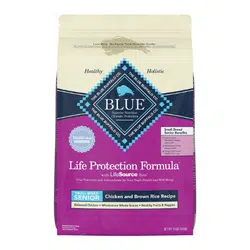 Blue Buffalo's Life Protection formula is perfect for your older friend's health. This formula starts with real chicken for the protein needed to stay strong and active. Brown rice gives them a good boost of energy. The fiber in the rice also helps keep digestion regular. LifeSource Bits, with vitamins, minerals, and antioxidants, help keep your dog healthy and fit. These nourish the immune system, so your pal stays safe from illness. Glucosamine and Chondroitin are also added for good joint and bone health.
Merrick Lil' Plates Grain-Free Senior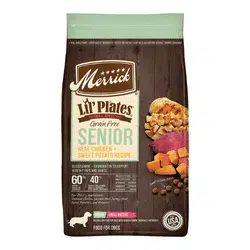 Merrick works hard to "restore the glow to your older amigo" with this delicious recipe. Real deboned chicken is the first ingredient. This yummy protein source ensures that your dog eats well despite pickiness that may develop later in life. Prebiotics and probiotics help keep digestion running. The small pieces also ensure that your buddy chews well and gets the most out of their diet. The kibble's crunchy texture aids in dental health to protect your Cav's smile. High levels of Omega fatty acids give a glow to the skin and coat. Glucosamine and Chondroitin help keep bones and joints strong and active.
Simply Nourish Small Breed Senior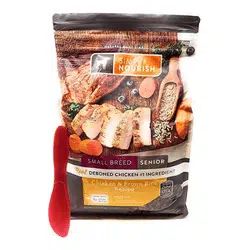 Simply Nourish's senior recipe features ingredients that have been carefully sourced to ensure maximum nourishment. Chicken and brown rice are highly palatable ingredients in this formula that give your dog the energy and nutrition needed to feel healthy and young, even in their senior years. Glucosamine and Chondroitin from chicken meal are sure to keep a spring in your Cavalier's step even in their golden years. This formula contains a great superfood blend of fruits and vegetables such as blueberries, sweet potato, and pumpkin for balanced nutrients and tons of antioxidants. Added vitamins and minerals support your dog's overall health, so they'll feel great for the years to come.
Nutro Natural Choice Small Breed Senior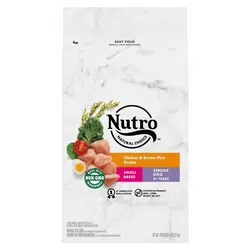 Nutro has created another great recipe for your senior Cavalier with their Natural Choice formula. Your dog gets only the best in natural goodness, with nourishment from chicken and brown rice. This recipe contains essential antioxidants to boost the immune system and keep your furry friend safe from sickness. Calcium is added for your dog's bone strength, so they'll stand fit and strong. Nutro also includes natural fiber to aid digestion. Regular digestion means your dog gets the most out of his food and absorbs all the nutrients needed to stay happy. This food contains no GMOs, corn, wheat, or soy.
Price: $20.98 ($4.20 / lb)
Hill's Science Diet Adult 7+ Senior Vitality Small & Mini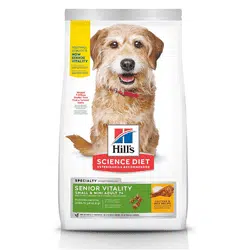 Hill's Science Diet has crafted this recipe made specifically for senior dogs like your Cavalier King Charles Spaniel. It includes powerful antioxidants for a sharp mind and a strong immune system. L-Carnitine is added to help burn calories and keep obesity at bay. Protein from chicken strengthens the whole body and keeps your pup active even as they age. The small kibble size helps your dog pick up and chew their food without trouble, which is great news for senior dogs. Essential fatty acids aid skin and coat health, so they look as great as they feel.
Best Dog Food For Overweight Cavaliers
If you've noticed your Cav has gained a bit too much weight, it's time to get moving. Obesity is detrimental to your dog's health and must be dealt with quickly. Overweight dogs have a shortened life expectancy and are prone to various preventable diseases. They may develop heart disease, skin conditions, joint pain, respiratory problems, and circulatory issues if their obesity is not corrected.
Helping your Cavalier lose weight starts with monitoring their food. They should be eating less, so gradually give them less food until you see them begin to lose weight. Your vet can help determine precise portion sizes, too. Giving them food that keeps them nourished through this time of weight loss is important for their health and safety. They need less fat but larger amounts of protein to give them enough energy to build muscle. Take care to avoid filler ingredients even more now, as these can contribute negatively to your dog's weight loss. Be sure to exercise them frequently, as well.
Nutro Ultra Small Breed Weight Management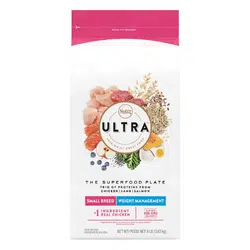 Nutro understands that your overweight pup needs to shed a few pounds. They've created this formula that promises better weight management without compromising flavor. This weight loss formula is crafted with small dogs like your Cavalier in mind. It features three lean animal proteins for maximum energy: chicken, lamb, and salmon. Targeted levels of protein and fat ensure that your dog gets what they need out of their kibble. This formula is also developed to keep the skin and coat healthy. It does not contain artificial ingredients or GMOs, so you know that your dog enjoys only natural, wholesome goodness.
Wellness Small Breed Complete Health Healthy Weight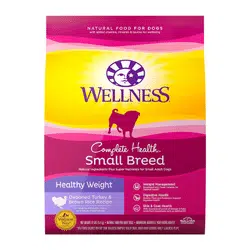 Wellness's Complete Health recipe is so good that your dog won't even know he's on a diet. While calorie content may be reduced, flavor certainly isn't. This is perfect for your overweight buddy who loves chowing down on dinner. A smaller kibble size helps smaller mouths pick up and chew their food easily, getting the most out of their digestion. This formula is developed to support the immune system and maintain energy levels, so they stay healthy during extended exercise. Fruits and vegetables like sweet potatoes, spinach, blueberries, and apples all add the vitamins and minerals necessary to stay strong and healthy even as your pup loses weight.
A Healthy Cav Is A Happy One
Your Cavalier King Charles Spaniel is a wonderful, spunky dog that is full of life. It's important to nourish them as much as possible to keep them happy through all their years. Since their happiness depends on their health, we pet parents must work hard to give our dogs the nutrition necessary for their absolute best lives.
Understanding your Cav's dietary needs gives you the knowledge necessary to keep their small body healthy. This leads to good organ function, sharp minds, clear eyes, and a lustrous coat. Since our dogs give us so much love and devotion, it's only right for us to give that love and devotion back with an investment in the best possible diet. Living a long and happy life with our pets means keeping their health (and nourishment) a top priority.
Tagged With: Comparison, Food Delivery