To sustain this free service, we receive affiliate commissions via some of our links. This doesn't affect rankings. Our review process.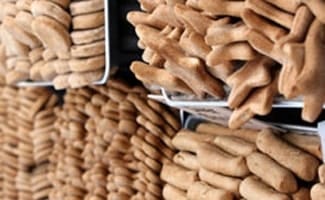 There are many reasons why dog owners opt to feed their dogs organic dog treats, with one of the top reasons being that there is no doubt that these treats are more beneficial than traditional dog treats. Let's examine why organic dog treats may be a good choice for your dog, as well as provide some excellent commercially available organic dog treats and of course provide recipes that you can make yourself.
What Are Organic Dog Treats?
Organic dog treats are treats that have been made using certified organic ingredients. Organic ingredients are produced without using modern synthetics like pesticides and chemical fertilizers. The production method used in creating organic ingredients also avoids using irradiation, chemical food additives and industrial solvents. In the United States, organic gardening is strictly regulated, and food producers have to obtain special certifications to assert that their products are organic.
Organic foods in the United States are managed by the Organic Foods Production Act from 1990 and regulations outlined in Title 7, Part 205 of the Code of Federal Regulations. Organic foods in the U.S. must contain a minimum of 95% organic ingredients. These foods are also not genetically modified foods. In cases where livestock is used as an ingredient, the livestock must be raised without growth hormones or the application of antibiotics and should have access to pastures regularly.
Why You Should Consider Organic Dog Treats
Reduced Chemical Exposure
Products that use organic ingredients do not use ingredients that have been exposed to chemicals that can build up in your dog's system. No one can really know what long-term effects the chemicals used in pesticides and fertilizers can have on our pets but better safe than sorry.
Reduced Allergen Exposure
Many common allergens are left out of organic treats making them a good option for dogs that have various sensitivities. Common allergens that are left out of organic treats include corn, wheat and chicken.
Reduced Calorie Content
Companies that produce organic dog treats are often much more conscious of the overall impact of the product on the dog, and this includes calorie count. By focusing on organic ingredients such as fruits and vegetables, treats tend to have lower grain content, fewer additives and, consequently, lower calorie counts.
Homemade Organic Dog Treat Recipes
When choosing from the organic dog treat recipes below, it is important to pay attention to the ingredients you use. Always ensure the ingredients that you purchase are certified as organic and ensure that you avoid ingredients that your dog shows sensitivities to.
When cutting your organic dog treats, you have the option of the size and shape of your treats. You can use traditional cookie cutters, or find fun shapes, like dogs or bones, to create your dog treats, or you can simply roll small balls of the "dough" by hand. If you prefer all the treats be the same size, try using a melon baller or ice cream scoop.
Baked Recipes
Apple Cinnamon Dog Cookies
Yield: Approx 1-2 dozen medium sized cookies
Preheat the oven to 325 degrees. Combine the ingredients in a bowl and mix thoroughly. Using your hands, knead the dough until it has a consistent texture and roll it out onto a flat surface. Using a cookie cutter or using your hands, create small cookies and place them on a greased cookie sheet. Baking time for these cookies depends upon how thick you make them but averages around 25 minutes.
Baby Food Dog Treats
¼ cup of Cream of Wheat
3 jars of organic baby food (meat or vegetable, or a mix of both, like Earth's Best Organic Baby Food.)
Organic chicken (or other protein if your dog has chicken allergies)
Yield: Approx 1-2 dozen medium sized treats
Add all of the ingredients into a bowl and mix thoroughly. The dough will be thick and pliable, break off small pieces and roll them into small balls. Place these dough balls on a greased cookie sheet and use a fork to flatten each dough ball just a little. Preheat the oven to 350 degrees and bake these treats for 15 minutes or until lightly browned. Cool these treats as you would with human cookies. Then keep them in the refrigerator to keep the ingredients fresh. If you make large batches of these treats, they can also be stored in the freezer until ready to use.
Chicken Cinnamon Dog Treats
1 cup of organic flour
1 cup of low sodium or homemade organic chicken broth
3/4 cup of oatmeal
1/4 cup of cornstarch
1/4 cup of cooking oil
1 tablespoon of baking powder
2 tablespoons of organic cinnamon
Yield: Approx 1-2 dozen medium sized treats
Preheat over to 350 degrees. Add all of the ingredients into a bowl and mix thoroughly. Flatten out the dough and use cookie cutters to cut out your cookies or break off small pieces of dough and roll them into cookie shapes. Place the treats on a greased baking tray and back at 350 degrees for 20 minutes.
Chicken Cookies
3 tablespoons olive oil
1 lb chicken giblets
½ cup broth left over from boiling the chicken giblets
1 cup organic whole wheat flour
3 organic eggs beaten
1 cup organic flour
1 cup organic cornmeal (Arrowhead Mills Organic Yellow Cornmeal)
Yield: Approx 1-2 dozen medium sized cookies
Bring one quart of water to a boil on the stove top and add the chicken giblets. Cook thoroughly and drain, reserving ½ a cup of the broth water.
Preheat your oven to 450 degrees. Add the cooked giblets to a blender along with the reserved stock, eggs and olive oil. Blend until you reach a slightly lumpy consistency and then pour into a large bowl. Add the remaining ingredients into the bowl and mix thoroughly until you get a thicker dough-like mixture. Grease a baking sheet and add smaller spoonfuls of the mixture onto the sheet and bake for 20 minutes. These cookies can be stored for up to three days in the refrigerator and freeze the remaining cookies, removing them as needed to defrost in the fridge.
Honey-Sweetened Peanut Butter Cookies
1/8 cup of water
3 tablespoons unsweetened organic apple sauce
1 large organic egg
1 ½ cups organic brown rice flour (Arrowhead Mills Organic Brown Rice Flour)
2 cups rolled oats
1 cup natural organic peanut butter
¼ cup of honey
Yield: Approx 1-2 dozen medium sized cookies
Preheat your oven to 350 degrees. While the oven is preheating, add all of the ingredients into a large mixing bowl. Combine the ingredients thoroughly until it achieves a smooth and thick texture. Break off small pieces of the dough and roll them into small balls. Place the small dough balls on to a greased baking sheet and flatten slightly using your fingers. Bake for 15 minutes or until light brown. Allow these to cool on a cookie rack and once cool place in an airtight container. These cookies can be frozen to maintain freshness.
Peanut Butter Cookies
2 tablespoons of oil
½ cup organic peanut butter
1 ½ cups organic whole wheat flour (If your dog has wheat allergies, substitute an alternative flour source, like Viva Labs Organic Coconut Flour.)
1 cup water
1 ½ cups organic white flour
Yield: Approx 1-2 dozen medium sized cookies
Preheat the oven to 350 degrees. Add the peanut butter, cooking oil and water in a bowl and mix thoroughly. Add the whole wheat and white flour to the mixture one cup at a time while stirring. Once the mixture has achieved a consistent texture, remove the dough from the bowl and knead by hand. Tear off small pieces of dough and make small balls, placing them on a greased cookie sheet. Bake in the oven for 20 minutes and allow to cool.
Sunflower Peanut Butter Treats
2 cups organic flour
¼ cup organic carrots
1 cup organic peanut butter
1 cup molasses
¼ cup sunflower seeds
½ cup organic apples, chopped
¼ cup oats ground to a powdered consistency
1 cup organic rolled oats (Bob's Red Mill Organic Rolled Oats)
Yield: Approx 1-2 dozen medium sized treats
Preheat oven to 325 degrees. Add the ingredients listed in a large bowl but leave out the molasses until you have thoroughly mixed the dough. Once everything is mixed well, add the molasses and mix it in until the dough has a stiffer consistency. Flour a hard surface and roll out the dough to a ¼ inch thickness. Use a cookie cutter to cut small cookies or a small knife and place the dough on a greased cookie sheet and bake for 30 to 45 minutes. It is also possible to harden these treats using a dehydrator on the highest setting for approximately four hours.
Vegetarian Dog Treat Muffins
2 cups of shredded organic carrots
¼ cup of water
¼ cup of dry oats
1 cored and shredded organic apple (remove all seeds)
¼ cup and 2 tablespoons of molasses
¾ cups of organic whole wheat flour
1 cup organic flax seed (Arrowhead Mills Organic Flax Seed)
Yield: Approx 1-2 dozen mini muffins
Preheat the oven to 400 degrees. Add all of the listed ingredients into a large bowl and mix thoroughly to create a thicker batter. If you have a thinner batter than you desire, add more flour into the mix until you achieve a thicker consistency. Add the mixture in to cupcake/muffin papers, or to a greased cupcake tin, filling them ¾ of the way full. Bake for 15 minutes until brown. Cool, then remove.
Yummy Liver Treats
1 organic egg
1 cup corn meal (Ground millet or Organic, Gluten Free Arrowhead Mills Rice and Shine can be substituted.)
1 cup organic flour
1 pound organic chicken livers (If your dog has chicken allergies you can substitute other liver sources such as beef.)
Yield: Approx 1-2 dozen medium sized treats
Preheat the oven to 400 degrees. Begin with liquefying the livers of your choice in a blender. Next, add the egg and mix well. Add these blended ingredients into a bowl and add the corn meal or corn-meal substitute and flour. Mix well. Grease a deep cookie sheet or jelly-roll pan and pour the mixture into the pan. Bake for 15 minutes. Remove the baked treats from the oven and, while they are still warm, cut them into small squares. This recipe makes a lot of treats, so it is important to keep them in an airtight container to keep them fresh. You could also keep any excess treats in a sealed freezer bag in the freezer.
No Bake Recipes
Go Bananas Puppy Shake
Yield: 1 shake
Using a blender, mix the rice milk or yogurt with the frozen banana until the consistency is smooth and creamy. Serve cold in 4-ounce servings.
If you prefer solid treats, freeze this mixture before serving! If your dog isn't a fan of bananas or if they have a sensitivity to bananas or the sugars in them, try substituting another fruit like strawberries, but never use grapes or raisins.
Peanut Butter and Yogurt Treats (No Bake)
Yield: Approx 1-2 dozen medium sized treats
Melt the peanut butter slowly on the stove top or in the microwave. Mix the softened peanut butter with the yogurt in a bowl and pour the mixture into cupcake papers. Place these homemade cupcakes in the freezer until hardened and cooled.
Dehydrated Recipes
Dehydrated Liver Treats
Organic beef liver (If your dog has a sensitivity to beef, try substituting other liver sources).
Yield: Varies on size of beef liver
Cut the liver into strips approximately 1-inch long and use a dehydrator to dry out the liver. It should take approximately 24 hours for the liver to dry out. If you do not have a dehydrator, you can place the liver strips on a greased cookie sheet and bake for 45 minutes at 325 degrees. After dehydrating or baking the liver, grease drying racks and lay out the liver strips to dry for 24 hours.
These treats are as natural as treats get and can easily be changed by choosing other protein sources. Strips of chicken, turkey, sweet potato, fruits or other vegetables also make great choices.
Sweet Potato Chips
Yield: Approx 5 cups of chips
Make sure to wash and peel each of the sweet potatoes and slice at approximately ¼ inch increments. You can also cut the potatoes into "fry" shapes or strips. Arrange your chips or fries in a dehydrator and allow to cook for 6 to 8 hours on 145 to 155 degrees.
Vegetarian Dog Treat Cookies
¾ cup of dry milk powder
2 ½ cups of organic flour (King Arthur Unbleached, Organic All-Purpose Flour)
2 tablespoons of brown sugar
½ cup of vegetable oil
½ cup of organic carrots or apples
1 organic egg
2 vegetable bouillon cubes dissolved in ¾ cup boiling water
Yield: Approx 1-2 dozen medium sized cookies
Carefully mix all of the ingredients listed into a large bowl. Make sure that the dough has a consistent texture and allow it to form a large ball. Dust the countertop with flour and roll out the dough until you get a ¼ inch thick layer. Cut out smaller cookies using a cookie cutter or a knife. Using a dehydrator dehydrate these cookies for between 6 to 8 hours until they are dried out completely. If you do not have a dehydrator, bake in the oven on a greased cookie sheet at 325 degrees until completely dry.
Commercially Available Organic Dog Treats
There are many commercially available organic dog treat options produced by a variety of companies. Some of our favorites include:
Always Use Caution When Making Dog Treats at Home
When you decide to make your dog treats at home, there are many things you should look out for including quality of ingredients and the types of ingredients you use. The quality of your ingredients should always be organic and fresh to ensure the highest quality dog treats. Most importantly when making your dog treats, be aware of which ingredients you should never use when baking for your dog. There are many "people foods" that can be harmful to dogs. To learn more, visit our article What Foods Are Toxic For Dogs?
What's your dog's favorite treat recipe?
We are a participant in the Amazon Services LLC Associates Program, an affiliate advertising program designed to provide a means for us to earn fees by linking to Amazon.com and affiliated sites.
Disclaimer: The information provided through this website should not be used for diagnosing or treating a health problem or a disease. It is not a substitute for professional care. If you have or suspect you may have a health problem, you should consult your health care provider.
Disclaimer: This website contains reviews, opinions and information regarding products and services manufactured or provided by third parties. We are not responsible in any way for such products and services, and nothing contained here should be construed as a guarantee of the functionality, utility, safety or reliability of any product or services reviewed or discussed. Please follow the directions provided by the manufacturer or service provider when using any product or service reviewed or discussed on this website.