If we asked you where your pup's food is from or some of the key ingredients, would you know? We focus so much on what we put in our bodies that we sometimes forget how vital nourishment is to our furry friends. This concern is why we wondered, "what is the best puppy food?" and want to share our findings.
Puppy Food Requirements
The American Association of Feed Control Officers (AAFCO) sets the nutritional requirements for puppies. Each day, puppies need 21% to 22.5% protein, 8% to 8.5% fat, and a maximum of 4% fiber. Labels can be confusing when you're trying to find out the nutritional value of puppy food. We recommend understanding the need for protein, calcium, carbs, fats, vitamins, and minerals.
Protein
Protein is the key to healthy muscle development, and since puppies are constantly growing, they require more protein than adult dogs. Talk to your vet about the right amount of protein for your pup because over or under-consumption of protein can have a negative effect. While too much protein can cause a puppy to be hyper or aggressive, too little can limit energy and stunt the development of muscles, bones, and joints.
Calcium
Calcium is necessary to support the development of strong teeth and bones.
Carbohydrates
Carbs are a source of energy for puppies. However, without enough exercise to balance it out, overconsumption can cause weight concerns like obesity and can lead to serious health problems.
Fats
Puppies need healthy fats to support their brain development and physical growth, absorb fat-soluble vitamins, keep the nervous system healthy, promote healthy skin and coat, and regulate body temperature. It's essential to be mindful that too much fat can be harmful, causing concerns with the pancreas and affecting digestive health.
Other Vitamins and Minerals
Puppies are constantly growing, and it's essential to give them the vitamins and minerals they need to support that growth. Most puppy foods have a complete nutritional package and do not require supplements. However, it's vital to talk to your vet about your pup's food to ensure she gets everything she needs.
Best Dog Food For Puppies
We chose the best puppy food for each category: canned, grain-free, and dry puppy dog food. We also give you our top picks for small, medium, and large breeds in the dry food category. And on top of that, ALL of these fit the "natural puppy food" classification, so you know you're giving your pup a good meal.
Best Canned Puppy Food: Wellness Complete Health Natural Wet Puppy Food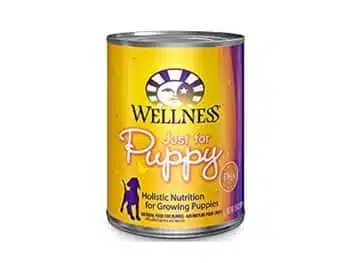 Whether you want to treat your dog to a topping on her dry dog food or give her wet food only, Wellness puppy food is a great solution and one of the most popular puppy food brands. This Wellness dog food can be given to your dog when your dog is a pup, and you can transition her to adult and later to senior dog food as they age.
It's available in different flavors, too, so that you can add variety to your dog's diet. The canned puppy food has 9% protein, 7% fat, and 1% fiber. This puppy pate's main ingredients include chicken, salmon, sweet potatoes, carrots, apples, pears, and more.
| Pros | Cons |
| --- | --- |
| Contains only natural ingredients | Only one flavor for puppies |
| Made in North America | |
| Can be eaten on its own or in combination with dry food | |
Pricing
Best Grain-Free: Orijen Grain-Free Puppy Food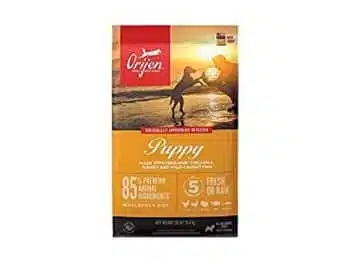 If your pup needs a grain-free diet, this Orijen puppy food is what we recommend. Customers know this is a higher-priced dog food but say it's worth every penny. Pet parents are pleased with their dog's bowels, lack of gas, and overall puppy health. Made up of 85% poultry, fish, and egg, and 15% fruits, vegetables, and botanicals, this kibble is 38% protein, 20% fat, and 6% fiber.
| Pros | Cons |
| --- | --- |
| No artificial colors or flavors | Expensive |
| Grain-free | |
| Made in the USA | |
Pricing
Best Dry Puppy Food
Are you looking for some dry puppy food for your dog's size? Check out our top picks for small, medium, and large breeds below.
Best Small Breed: Blue Buffalo Life Protection Puppy Formula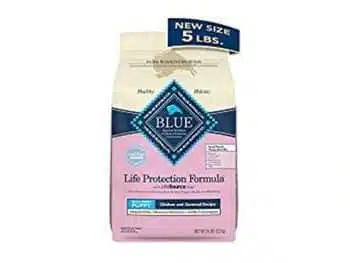 This Blue Buffalo dog food was made especially for smaller breed puppies and is our pick for the best puppy food for small breeds. Customers rave about how much their pups love this kibble. This specially formulated chow for small breeds also has products for adults and seniors in this line, so you can easily adapt to your growing dog's nutritional needs.
| Pros | Cons |
| --- | --- |
| No artificial colors, flavors, or preservatives | Some complaints of digestive issues when switching to this food |
| Contains whole grains, real meat, fruits, and vegetables | |
| Made in the USA | |
Pricing
Best Medium Breed: Taste Of The Wild Grain-Free Dry Puppy Food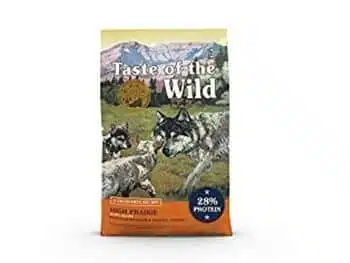 This Taste of the Wild dog food is excellent for your medium-sized breed puppy. This grain-free puppy food has 28% protein, 17% fat, and up to 5% fiber. Some key ingredients include buffalo, lamb meal, sweet potatoes, beef, tomatoes, and blueberries. The combination of fruits, vegetables, and meats helps provide a well-rounded diet for your dog.
| Pros | Cons |
| --- | --- |
| No artificial colors or flavors | A few people have received moldy products |
| Grain-free | |
| Made in the USA | |
Pricing
Best Large Breed: Holistic Select Natural Puppy Food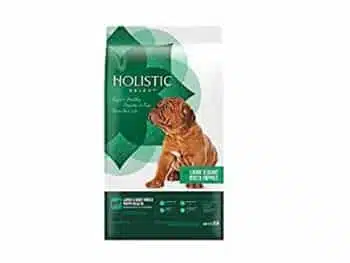 We sifted through some large breed puppy food reviews and found Holistic Select to have the best puppy food for large breeds. This kibble includes probiotics, healthy fiber, digestive enzymes, and more to help your pup feel her best from the inside out. With 23% protein, 12% fat, and 3.5% fiber, this is a protein-packed option for your large-breed puppy. Some key ingredients include apples, beef, blueberries, chicken, lamb, potatoes, pumpkin, and tomatoes.
| Pros | Cons |
| --- | --- |
| No artificial colors or flavors | Only one flavor for large puppy breed |
| Gluten-free | |
| Made in the USA | |
Pricing
Frequently Asked Questions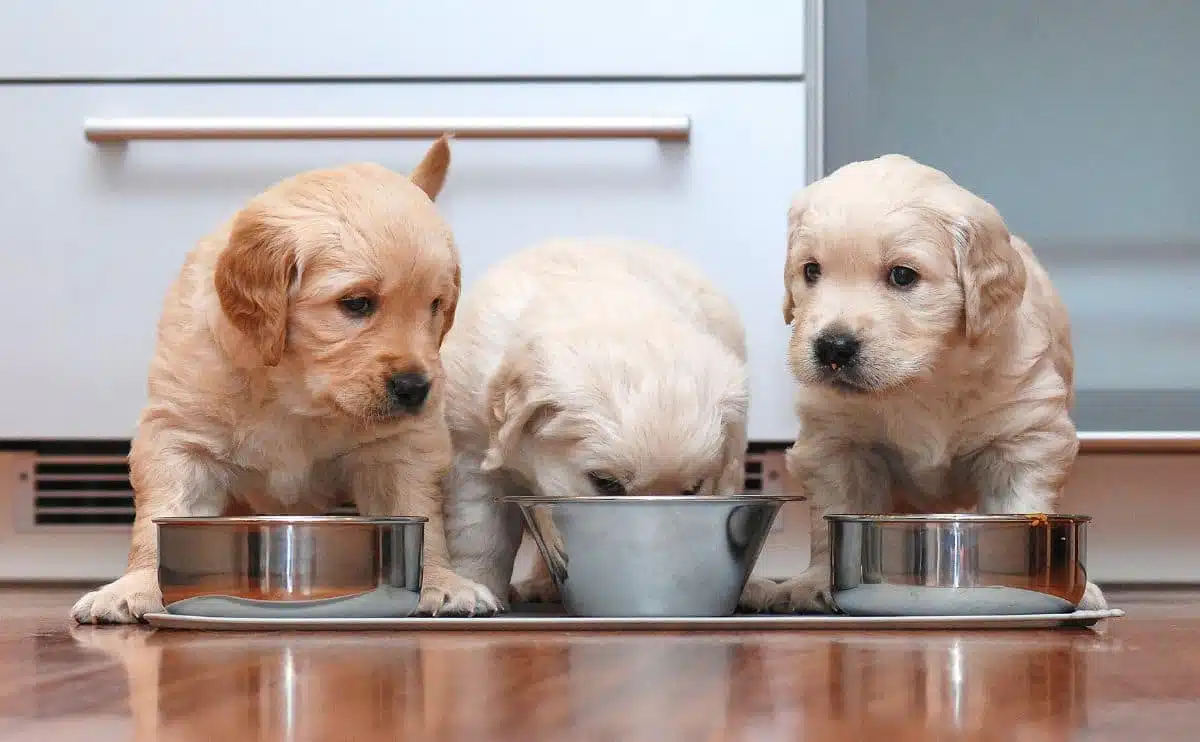 Feeding your puppy can be overwhelming for a new pet parent. Here are some frequently asked questions we think our readers might want to know more about.
Can Puppies Have Adult Dog Food?
Puppy food formulas support the needs of a growing pup, which is why it's a better choice than adult food for your puppy.
How Often Do Puppies Need To Eat?
Depending on the breed, puppies need to eat between three and six times per day for the first three months of their life. Miniature and toy breeds need four to six meals, while larger breeds only need three to four. In months four to six, puppies need to eat about three times a day, and after six months, you can reduce that to two times per day.
While it might be convenient to feed your pup once a day, that generally isn't enough. A dog's stomach will be empty around six to eight hours after eating, so if you only feed her in the morning, she will almost definitely be hungry in the evening.
Why Is My Puppy So Hungry All The Time?
Puppies are so hungry because they grow a lot, and food helps support that growth. The other reason is that dogs have a feast-or-famine mentality embedded in them from their ancestors that were wild. When a wild dog had the opportunity to eat, he ate as much as possible, not knowing when he would eat again. This translates to domesticated dogs as an urge to eat, whether hungry or not.
How Much Food Does My Puppy Need?
Every puppy is different, and the amount of food needed depends on weight, breed, and activity level. While you can find serving-size suggestions on food labels, talk to your vet to ensure you know what's best for your pup and her specific needs.
How Will I Know If My Puppy Is Getting Enough Food?
If your puppy is growing, seems happy, and is playful, chances are she's eating enough. If you aren't sure, you can weigh your pup to ensure she is gaining weight.
What If I Overfeed My Puppy?
Puppies, like humans, can have bad habits when it comes to eating. Be mindful of following a healthy eating schedule and limiting treats so you don't end up dealing with health concerns like obesity.
Should My Dog's Diet Be Grain-Free?
Grain-free diets aren't necessary for every dog but can be helpful if your pup has allergies or digestive concerns. You may not need to go completely grain-free, but purchasing high-quality puppy food that has smaller amounts of grains may be a healthier choice.
Can Puppies Have Treats?
Treats are beneficial when it comes to training your puppy. However, treats are essentially "junk food" for dogs. Use them in moderation to reward behavior and avoid giving them all day and forming bad habits.
Why Won't My Puppy Eat?
It can be concerning if your puppy won't eat. If you notice a loss of appetite, it could be anything from stress to sickness. As long as your pup has an average energy level, it's okay if she misses one meal. If it turns into multiple meals and your puppy becomes lethargic, you may want to visit your vet.
When Should Puppies Switch To Adult Food?
The answer to this question can vary depending on the dog. A dog is ready for adult food when they reach maturity. Small breed dogs can mature as early as nine months, and large breeds can take up to eighteen months to reach adulthood. Learn more about switching your puppy to adult food.
Can My Puppy Have Table Scraps?
Table scraps are not nutritionally balanced to meet your puppy's dietary needs. Also, some human foods can make your dog sick to his stomach.
Can I Moisten Dry Puppy Food?
It's perfectly fine to add a small amount of hot water to dry kibble to soften the food a bit. Be sure to let the food absorb the water before giving it to your pup.
Dog Food Is Confusing
Remember to be patient with your pup. Like anything, trying something new the first time is never easy. Your dog may make a mess or need to try it a couple of times to get the hang of eating kibble, but they'll eventually pick it up.
Caring For All Your Puppy's Needs
Caring for a new pup requires a lot of time and energy. Be sure to get all the information you need to help you keep it simple for you and your new puppy. Check out our complete guide to bringing home your puppy to learn more about what you need to have, know, and do.
Tagged With: Comparison