Whether using treats to train your pup or just as a fun snack, they can push your dog's daily calories over a healthy limit. And too many tasty rewards, especially those that are high in calories and full of low-quality ingredients, can lead to weight gain and subsequent health problems. Fortunately for us pet parents, we have some yummy alternatives for the best low-calorie dog treats to use as healthy natural snacks.
At A Glance: Best Low-Calorie Dog Treats
Why Are Healthy, Low-Calorie Dog Treats So Important?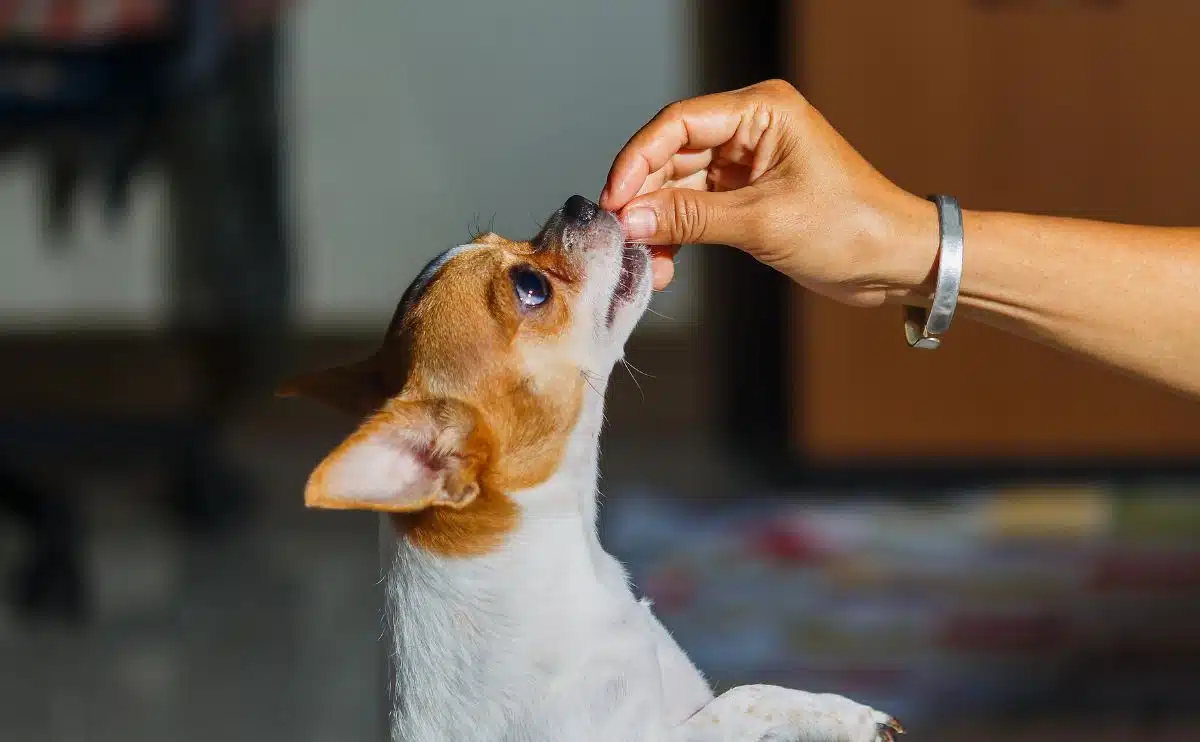 Dogs can gain weight easily, and even a few extra pounds can lead to weight-related health problems down the road, like arthritis, diabetes, heart conditions, and more. So, choosing low-calorie, high-quality, and all-natural treats is crucial to maintain a pup's overall health, especially if your dog is prone to weight gain. Be sure to read the ingredients, including the caloric content, of any treats you're considering.
Expert Tip: Remember to factor in calories your pup consumes from treats and snacks and cut back on your dog's food at mealtimes to compensate for any treats given. Most vets and dog experts recommend following the 90/10 rule: 90% of calories should come from complete and balanced dog food and 10% from treats.
High-Calorie Snacks & Treats To Give Sparingly (Or Avoid)
For many dogs, a high-calorie snack is okay once in a while (as long as you cut back on your dog's food that day in proportion to the treat). But for overweight and obese dogs, it's generally not a good idea. And use caution in breeds that are particularly prone to weight gain, such as Labrador Retrievers, Golden Retrievers, Cocker Spaniels, Pugs, Beagles, Dachshunds, and Basset Hounds.
Some treats and snacks that we've personally found that love (but are high in calories) include:
8 Best Low-Calorie Dog Treats
We chose these healthy, low-calorie dog treats based on the quality of ingredients, brand reputation, pricing, customer feedback, and other factors. We also broke down our recommendations into separate categories to help you find the best options for you and your pup's treat preferences. Every treat we review here is all-natural and made in North America.
Best Overall: Rocco & Roxie Chicken Jerky Sticks Review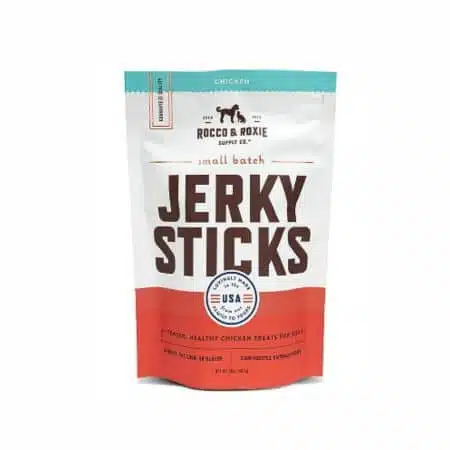 View on Amazon | View on Chewy
Rocco & Roxie is a well-respected brand of high-quality dog products, and these treats are extremely popular among pup parents and their canine companions. Although each chicken jerky stick is 20 calories (which is still low-calorie compared to most dog treats), we've chosen them as our top winner. Why?
What we love about these treats is that a whole 6-inch stick is an excellent option for larger dogs, but you can easily break them up for smaller breeds (a quarter of a stick is only 5 calories). They have a soft, chewy texture and are hickory smoked for 10 hours for a tasty, satisfying reward.
Ingredients: American-Raised Chicken, Rice Protein, Spices, Salt, Sugar, Garlic Powder, Potassium Sorbate, Natural Wood Smoke Flavoring
Calories/Treat: 20 | Crude Protein: 20% | Crude Fat: 4% | Crude Fiber: 2% | Texture: Soft & Chewy
Price:
Best For Training: Pupford Freeze-Dried Rabbit Dog Training Treats Review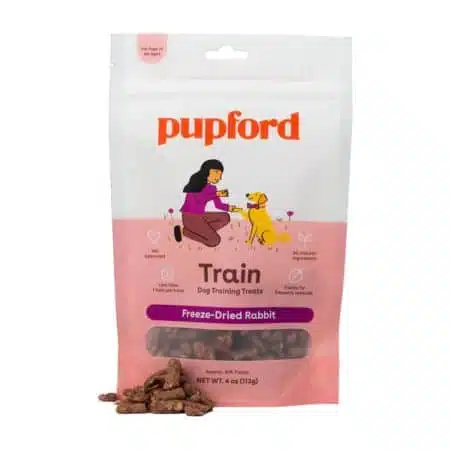 View on Amazon | View on Chewy
While it's somewhat easier to find low-calorie dog training treats because of their small size, the caloric content of these Pupford freeze-dried treats is hard to beat for the quality. When you're training your pup in certain skills, it's crucial to reward her multiple times in a short period of time.
So these high-protein and super low-calorie bites are ideal for those needs. These little chews are also an excellent choice for dogs with allergies or food intolerances because they're grain-free and feature a novel protein that's less likely to trigger allergy symptoms.
Ingredients: Rabbit, Mixed Tocopherols (Natural Preservative & Antioxidant)
Calories/Treat: 1 | Crude Protein: 59% | Crude Fat: 24% | Crude Fiber: 2% | Texture: Soft
Price:
Best Crunchy: Old Mother Hubbard Savory Mix Biscuits Review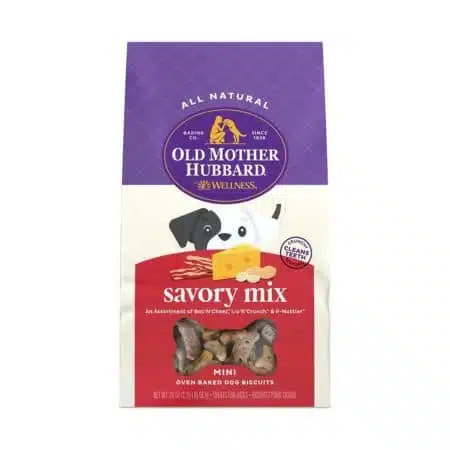 View on Amazon | View on Chewy
Made by premium pet food brand Wellness, these grain-inclusive treats are surprisingly low in calories for traditional dog biscuits. And to give your pup a variety, you get three different flavors in one bag: Liv'R'Crunch, P-Nuttier, and Bac'N'Cheez. Each low-fat treat includes protein and high fiber from all-natural sources. They're slow-baked to preserve nutrients and freshness and are a decent size for all dog breeds.
Ingredients: Whole Wheat Flour, Oatmeal, Wheat Bran, Chicken Fat, Cane Molasses, Apples, Carrots, Chicken Liver, Eggs, Crunchy Peanut Butter, Bacon, Cheddar Cheese, Natural Flavor, Salt, Maltodextrin, Turmeric, Paprika, Natural Bacon Flavor, Paprika Extract, Natural Peanut Flavor, Mixed Tocopherols, Rosemary Extract, Green Tea Extract, Spearmint Extract
Calories/Treat: 10 | Crude Protein: 12% | Crude Fat: 7% | Crude Fiber: 5.5% | Texture: Crunchy
Price:
Best Grain-Free Biscuits: American Journey Oven-Baked Biscuits Review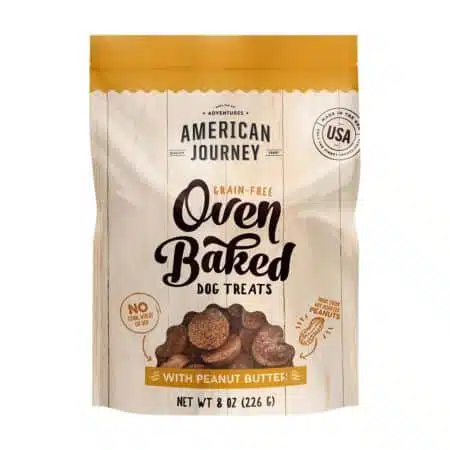 View on Amazon | View on Chewy
If crunchy biscuits are your furball's favorite, but he has a sensitive tummy or allergies, Chewy brand American Journey offers these grain-free, limited-ingredient alternatives. We recommend the peanut butter recipe as the healthiest low-calorie option, but they come in seven other flavors. They're small enough to fit in your pocket for on-the-go rewards but a satisfying size for many pups. Most owners say their dogs love these extremely affordable treats.
Ingredients: Chickpeas, Peas, Peanut Butter, Cane Molasses, Chicken Fat (Preserved with Mixed Tocopherols), Rosemary Extract
Calories/Treat: 13 | Crude Protein: 16% | Crude Fat: 9% | Crude Fiber: 6% | Texture: Crunchy
Price:
Starting at: $4.07 (8-oz bag)
Best Dental: Virbac C.E.T. Veggiedent Fr3sh Chews Review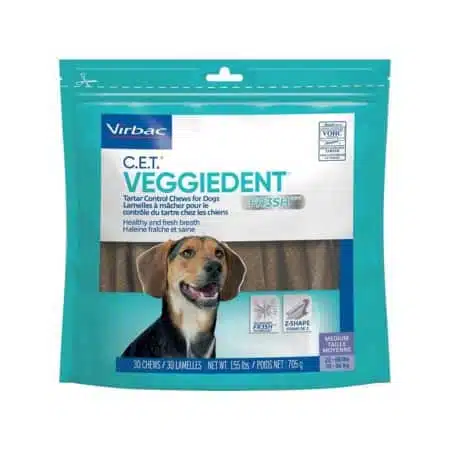 View on Amazon | View on Chewy
Unfortunately, all dental chews are pretty high in calories; however, veterinarians still highly recommend their use to prevent dental disease (along with daily brushing). But these Virbac dental sticks are among the lowest-calorie options for a Veterinary Oral Health Council-approved product that reduces plaque and tartar.
These vegetarian chews get tons of positive reviews for their effectiveness, and most owners say their dogs love the taste and consistency. They come in four sizes: X-small (23 kcal/chew), small (48 kcal/chew), medium (75 kcal/chew), and large (105 kcal/chew). Inulin, a natural prebiotic, is even included to promote healthy digestion.
Ingredients: Corn Starch, Glycerin, Soy Protein Isolate, Rice Flour, Brewers Dried Yeast, Sorbitol, Ground Corn Cob, Erythritol, Potassium Sorbate, Water, Inulin, Pomegranate
Calories/Chew: See above | Crude Protein: 17% | Crude Fat: 0.4% | Crude Fiber: 2% | Texture: Hard & Chewy
Price:
Best Low-Fat: Stewart Freeze-Dried Chicken Breast Treats Review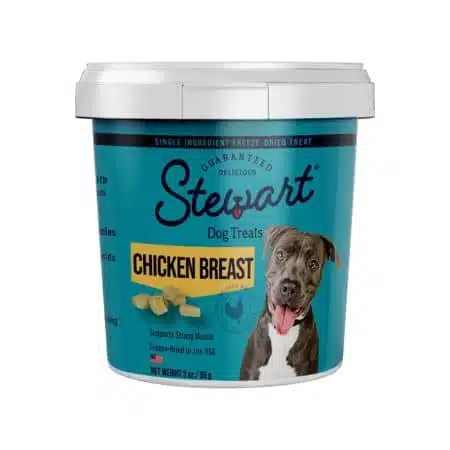 View on Amazon | View on Chewy
We recommend Stewart's freeze-dried chicken bites as the best low-fat dog treats. They also pack a high-protein punch at only four calories each. Made with 100% premium-quality lean chicken breast, they're a great choice for pups with sensitive stomachs and food sensitivities. You can use them as training treats or anytime rewards. They're also easy to break apart into smaller pieces.
Pet parents rave about Stewart's freeze-dried treats, which also come in salmon, beef liver, and chicken liver. If your pup is sensitive to chicken, the beef liver treats are an excellent alternative at 5% fat and 6 calories each. While still low in calories, the salmon and chicken liver treats are higher in fat.
Ingredients: Chicken Breast
Calories/Treat: 4 | Crude Protein: 74% | Crude Fat: 3% | Crude Fiber: 1% | Texture: Soft
Price:
Best Human-Grade: The Honest Kitchen Chicken Jerky Harvest Mini Bars Review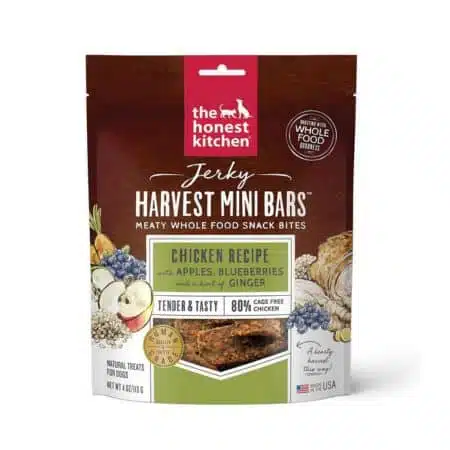 View on Chewy | View on The Honest Kitchen
A pioneer in human-grade dog food, The Honest Kitchen uses only healthy, whole-food ingredients in these protein-packed minibars. Featuring cage-free chicken and highly-nutritious fruits and veggies, these treats also have tons of flavor that many dogs love. They're gently roasted in small batches to retain nutrients, flavor, and a soft texture. They make a fantastic, healthy treat for dogs of all sizes.
Ingredients: Chicken, Oats, Apples, Carrots, Coconut Glycerin, Blueberries, Celery Juice, Chicken Bone Broth, Apple Cider Vinegar, Sea Salt, Mixed Tocopherols (A Natural Preservative), Ginger
Calories/Treat: 15 | Crude Protein: 26.5% | Crude Fat: 22% | Crude Fiber: 0.5% | Texture: Soft
Price:
Full Review Of The Honest Kitchen
Best Sustainable: Jiminy's Chewy Cricket Treat Review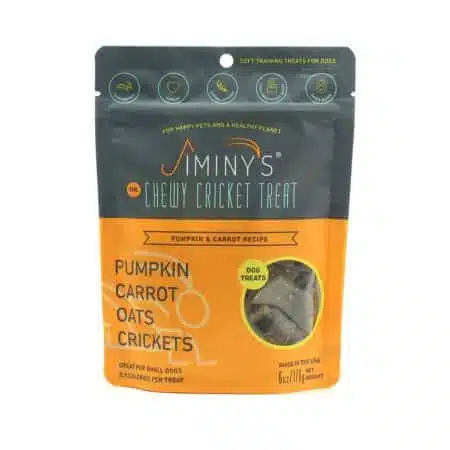 View on Amazon | View on Chewy
Committed to reducing your environmental footprint? Using insect-based dog treats (and food) is an excellent way to help sustain our planet. These small, low-calorie treats feature cricket as a healthier protein source compared to animal meat.
Cricket is high in omega fatty acids, fiber, iron, and vitamins and has also been shown to support gut health in dogs. These treats are also a fantastic alternative for pups with food intolerances. Some customers complain that they're stinky, but they forgo the odor because their dogs love them.
Ingredients: Pumpkin, Carrot, Oats, Cricket, Vegetable Glycerin, Molasses, Tapioca Starch, Vegetable Gelatin, Canola Oil, Salt Natural Flavor, Cultured Dextrose (A Preservative), Distilled Vinegar, Natural Smoke Flavor, Garlic, Rosemary
Calories/Treat: 2.9 | Crude Protein: 12% | Crude Fat: 6% | Crude Fiber: 3% | Texture: Soft & Chewy
Price:
Diet Dog Treats: DIY Alternatives
If your pup is overweight, several fruits and veggies make perfect low-calorie snacks for dogs. Some of your best options are blueberries, broccoli, carrots, celery, green beans, and plain canned pumpkin. They're all super low in calories and fat and also fantastic sources of fiber. A recent study found that a reduced-calorie, high-fiber, and high-protein diet has multiple health benefits for overweight dogs.
While many human foods are safe and healthy for dogs, it's important to familiarize yourself with foods you shouldn't give your pup. Some can even be toxic.
If your furry friend needs to shed some pounds, check out our reviews of the best dog foods for weight loss, including fresh meals, kibble, and canned options. And be sure to consult your vet for a comprehensive weight-loss plan for your pudgy puppo.
Are You Considering A Healthier Dog Food?
In addition to being vigilant about the treats you give your pup, you may want to ensure your dog's diet is providing her with the highest quality nutrition available. If you're not thrilled with your pup's current dog food, take a look at some premium alternatives. We have reviews of the best fresh dog food and all-natural dog food for some high-quality options. You may also want to explore our best dog food delivery article, which includes reviews for some other top-notch food brands that will deliver right to your door.
Tagged With: Comparison, Obesity, Treats