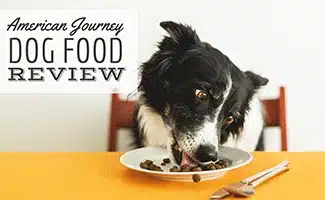 American Journey is a relatively new brand on the dog food market. However, in a few short years, they've managed to make a lasting impression on pets and pet owners who have tried their products.
They have food that caters to all three life stages: puppy, adult, and senior. This is excellent because each life stage has different needs that must be addressed with nutrition specific to the dog's age. They also have options for dogs who have stomach sensitivities. American Journey also includes grain-free and grain-inclusive recipes, so owners are free to take their pick of what suits their dogs better. They also have a few variants of wet food if your pet prefers or needs it in their diet.
Let's take a closer look at everything you need to know about American Journey.
American Journey Dog Food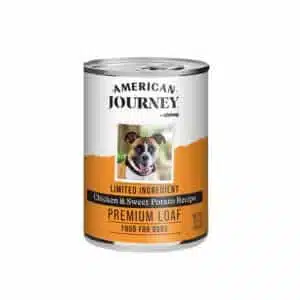 Product Name: American Journey Dog Food Review
Product Description: American Journey is a relatively new brand on the dog food market. Learn about the brand, pricing, retailers & products for all stages of life
Summary
Despite being a newcomer to the dog food industry, American Journey has already made a significant impact. Its premium ingredients, delectable recipes, and reasonable pricing have garnered significant interest from pet owners who are eager to try this brand with their furry companions. The extensive variety of formulations available indicates that American Journey has something to offer to dogs of all breeds and lifestyles.
Brand History
Having been established in April of 2017, American Journey is a new player among the giants of the dog food industry. It's the flagship dog food brand of Chewy.com. Chewy is a trusted brand among pet parents, so it's good to know that American Journey builds on that trust further with the great quality of its products.
Most of American Journey's food is produced in Kansas, while their limited, grain-free formula is made in California. American Journey takes great pride in sourcing its ingredients only from reputable suppliers both in the US and around the world. Throughout its short history, the company has supplied countless dogs with high-quality kibble and wet food that nourishes them completely. The future certainly looks bright for American Journey.
Products
American Journey carries a decent amount of formulas. While we review both dry and wet foods, we place special emphasis on the dry kibble. This is because dry kibble tends to be the most complete in nutrients. It also has food that is tailored to your dog's every life stage. Wet food does not have much in the way of variety, but we'll still be looking at the regular line as well as the limited-ingredient formulas.
Dry Formulas
American Journey definitely has more to offer with its line of dry kibble. Here's the lowdown on their most popular formulas spanning different life stages. We'll also look into their weight loss kibble, which is perfect for pooches who may need to drop a few pounds.
Puppy Formulas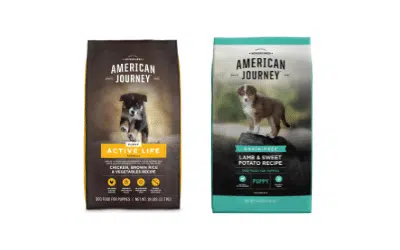 American Journey has three puppy formulas that have gained favor among many pet owners. Two of the formulas are grain-free, while the third one includes grains. This gives good variety among pups with different needs. The grain-free formulas are a bit more expensive than their grain-inclusive counterparts. This is because they have a more complex manufacturing process. While each formula does a good job of providing your puppy with complete nutrition, the grain-free formula is best for puppies with sensitive stomachs.
American Journey's puppy formulas don't have a focus on particular breed sizes. While this is fine for more average-sized breeds, smaller and larger breeds may need more specific nutrition. When picking a puppy formula, you have to consider the quality of food and your dog's breed, and expected size. Puppyhood is extremely important to a dog's development, and, to ensure that your pup grows up to be a healthy adult, they should be eating food tailored to their needs.
Despite this, most dogs have no problem chowing down on American Journey's puppy formula. It contains plenty of nutrients from fruits and vegetables, including antioxidants for a fortified immune system. Omega-3 and Omega-6 fatty acids also play a crucial role in developing eyes and brains, as well as in keeping the skin and coat healthy. American Journey's puppy food contains real, deboned meat or fish as the first ingredient, so your puppy has the fuel they need to grow up big and strong.
Grain-Inclusive Adult Formulas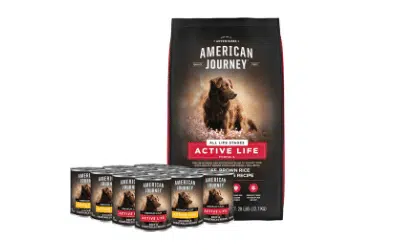 Contrary to popular belief, grains can actually play a significant role in your dog's nutrition. Good grains can supply your dog with complex carbohydrates, which are great sources of energy. They're also packed full of fiber for easier digestion and better nutrient absorption. Fiber also helps keep your dog fuller for longer. The caveat to grain-inclusive food is that many dogs have sensitivities to grain. As such, this formula is best suited for dogs who have stronger stomachs.
American Journey's grain-inclusive formulas come in four delicious flavors (in both dry and wet food options). All of these use whole ingredients, with the primary ingredient always being real meat. This formula has an excellent amino acid profile, a great supply of complex carbohydrates, and a good amount of antioxidants. All of these components work together to provide your dog with stable and complete nutrition.
It's important to note that American Journey's adult formulas are marketed as being for "all life stages." This is usually fine to feed your adult dogs, but puppies and seniors definitely have different requirements in their diet. It's always best to feed your dog food that is appropriate for their life stage. When keeping American Journey's adult formula in mind, you can transition your dog from puppy to adult formula at around the age of one, provided they're of average size.
Grain-Free Adult Formulas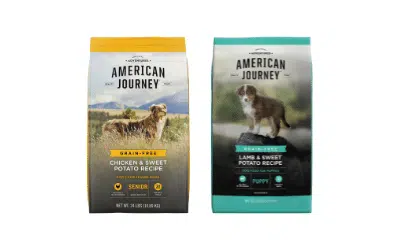 The most popular American Journey's lineup formula is their grain-free adult recipe. It often runs a bit pricier than its grain-inclusive counterpart, but the benefits are well worth the cost. If your dog has sensitivities to grain, it's a great idea to give them a diet with complex carbohydrates sourced from ingredients like sweet potatoes. It's delicious, nutritious, and much gentler on the tummy. Do note that switching from grain-inclusive food to grain-free may need to be under the supervision of a veterinarian. This is to ensure no complications arise from the change in diet.
American Journey's adult formulas hold up well against other food brands. It's no surprise that their grain-free formula also contains impressive levels of high-quality nutrients. Your dogs are sure to get all the nourishment they need from this diet. This includes high-quality protein, a boost of antioxidants, as well as Omega-3 and 6 fatty acids. Vitamins and minerals from the superfoods contained in this formula are also instrumental in promoting your dog's overall health. As usual, we recommend this type of dog food for adult dogs of average size. They receive the most benefit from this formula.
Limited-Ingredient Adult Formulas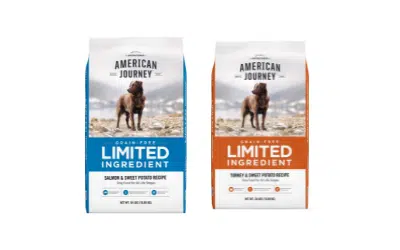 Limited-Ingredient formulas contain only the essential ingredients for your dog's nutrition. This formula is perfect for dogs with allergies and sensitivities since it doesn't contain grains and fillers that could potentially make them sick. There are five formulas to choose from: salmon, duck, lamb, turkey, and venison. A good range of flavors gives freedom of choice to discerning pet parents who want only the most delicious food for their fur babies. More flavors also mean a better chance you'll find something even the pickiest pets will enjoy.
American Journey's limited ingredient formula has fewer key ingredients but doesn't compromise on the nutrition it provides your pet. It's a fairly similar recipe to others on this list, so you may find transitioning from other formulas to this one is quite easy. Rest assured that your dog gets all the nutrients they need from their new diet while being safe from allergies and stomach upset.
Senior Formulas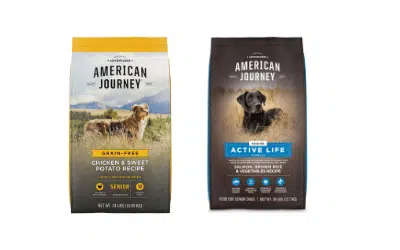 American Journey carries three different formulas specifically meant for senior dogs. These include grain-inclusive chicken, grain-free chicken, and grain-free salmon. The senior formula is also comparable to their Healthy Weight formulas as it has fewer calories. This is great because senior dogs should be eating less than their adult counterparts due to their decreased activity levels.
A senior dog food formula is tricky to get right. Manufacturers need to be aware of the changes in a senior dog's diet requirements. Senior dogs need an increase in Glucosamine and Chondroitin in order to strengthen their aging bones and joints. More vitamins, minerals, and antioxidants are also needed to boost organ function and strengthen the immune system. Luckily, American Journey knows this and has crafted its senior recipe well, making it a great choice for many older dogs.
Active Life Formulas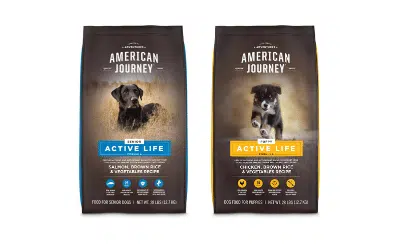 American Journey also carries an Active Life formula. Each recipe in this line provides a blend of nutrients and antioxidants to support a healthy immune system and overall well-being. They also sell a variety pack that features chicken and beef recipes with real, high-quality protein as the first ingredient to fuel an active lifestyle, plus wholesome vegetables and carbohydrate sources.
Wet Formulas
While dry kibble is the best for your dog's overall health, sometimes your dog just needs something to spice up their dinner. Mixing in wet food is a great way of doing this. American Journey creates a selection of wet foods that are perfect toppers for your dog's regular kibble. We'll be talking about the regular wet food as well as the limited-ingredient wet food. It's good to note that both these foods are excellent sources of nutrition for your dog and are a perfect, delicious supplement to any meal.
Regular Formulas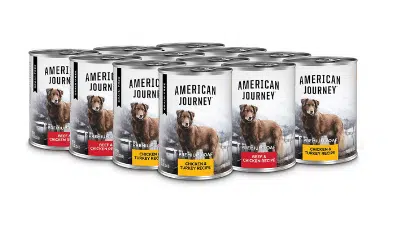 American Journey's regular wet food formulas come in two forms: premium loaf and stews in gravy. They are all grain-free and come in a variety of different flavors. These include Chicken & Vegetables, Beef & Vegetables, Chicken & Turkey, and Beef & Chicken. These are all highly palatable foods that dogs of any age are sure to love. They contain high amounts of protein, omega fatty acids, vitamins, and minerals. They never contain poultry by-product meal, grains, corn, wheat, soy, and artificial ingredients. Your dog gets nothing but delicious, wholesome goodness in every can.
Limited-Ingredient Formulas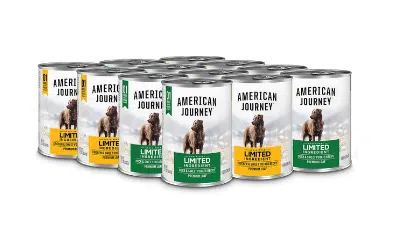 There are three flavors of limited ingredient wet food: Lamb & Sweet Potato, Duck & Sweet Potato, and Chicken & Sweet Potato. While these products only have a limited number of key ingredients, your dog still gets the best in nutrition. This formula is perfect for dogs who may have difficulties processing regular dog food and, as such, need a simpler diet. Limited-ingredient wet foods are an awesome addition to any meal, without the added risk of allergies or sensitivities.
What Dogs Is American Journey Best For?
American Journey's offerings are nicely suited to many different dogs. Their formulas include specific diets for dogs across the life stages and special needs like weight management. You also have the option of choosing between grain-inclusive and grain-free food throughout almost all of their lines. Thus, it becomes easy to cater to dogs who may have more sensitive stomachs. Dogs who have even more sensitivities can benefit from limited-ingredient food, which American Journey also offers. Different wet foods can truly amp up the flavor of your dog's dinner, which is great for pickier pets. Overall, we feel that American Journey does an excellent job of providing delicious meals to almost every kind of dog.
Where To Purchase
American Journey is sold almost exclusively at Chewy.com. PetSmart also carries the brand, though it's easier to source the whole range American Journey has available via Chewy. It's worth noting that neither Chewy nor PetSmart ships outside of the contiguous US. It's possible to purchase their products internationally, but they will have to pay for a package forwarding service.
Pricing
Their dry food comes in sizes of 4 pounds, 12 pounds, and 24 pounds. There are also 14-pound and 28-pound sizes for some other formulas, but the sizing stays similar to the regular sizes closest to them. Expect to pay around $17 for a 4-pound bag, around $32 for a 12-pound bag, and around $48 for a 24-pound bag. American Journey's affordability is a big reason why people are drawn to the brand, and for the high-quality food they receive, it's certainly good value for money.
Is American Journey Right For Your Dog?
American Journey may be relatively new in the dog food industry, but it's already begun commanding attention. With its high-quality ingredients, delicious formulas, and affordable price, it's no wonder pet owners are eager to try this brand out on their dogs. Given the wide range of formulas available, it's clear that American Journey has plenty to offer to pups from all walks of life.
Tagged With: